We use affiliate links. If you buy something through the links on this page, we may earn a commission at no cost to you. Learn more.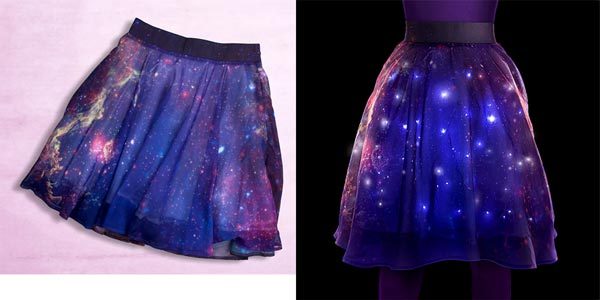 Last year, we told you about a skirt from ThinkGeek that was decorated with constellations that came to life when you turned on its hidden battery-powered LED lights.  That skirt was pretty, but it was missing scientific accuracy. ThinkGeek has introduced a new twinkling skirt decorated with "Great Observatories Unique Views of the Milky Way – a NASA image created from data provided by the Hubble Space Telescope, the Spitzer Space Telescope, and the Chandra X-ray Observatory".
This above-the-knee circle skirt has three layers – a see-through layer printed with the Milky Way image, white gauze layer, and a white liner.  You'll need to do a little assembly by snapping in the stands of 60 cold-white LED wire lights.  The lights can be operated in six different modes, and they will appear violet as they shine through the printed layer.  The lights are not as heavy as Christmas tree light strands, but they are sturdy enough to withstand being sat upon.  With a fresh set of batteries, you'll twinkle for up to nine hours.
After removing the electronics, the 100% polyester skirt can be machine washed in cold and line dried.  It has two side pockets and a 2″ tall flat-front waist, with elastic and a zipper in back.  It's available in sizes S-3X for $59.99.
The Twinkling Milky Way Skirt is a ThinkGeek design and is exclusive to ThinkGeek.