We use affiliate links. If you buy something through the links on this page, we may earn a commission at no cost to you. Learn more.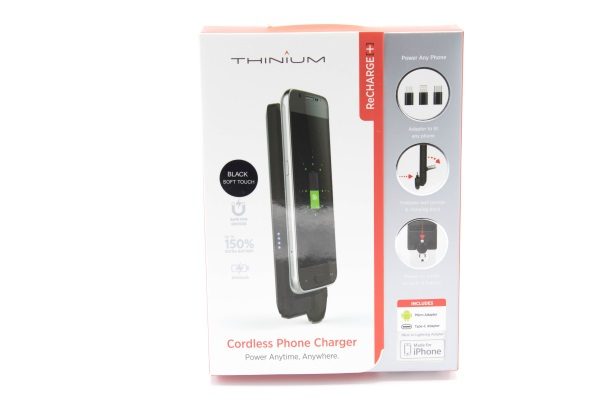 What is it?
The Thinium ReCharge+ 2.0 is a slim Smartphone/Tablet charger that can be used to provide power and charge via several different types of connections, using its interchangeable adapters and built-in USB port. It can be re-charged directly via a wall outlet without the need for a cable or a wall wart.
What is in the box?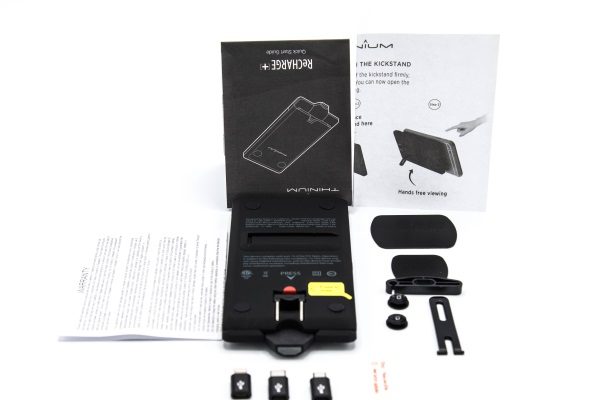 Package contents:
• 1 x Thinium ReCharge+ 2.0 Power pack
• 2 x Magnetic plates
• 1 x Kickstand
• 2 x Suction cups
• 1 x USB-C adapter
• 1 x Micro USB adapter
• 1 x Lightning adapter
• 1 x Booster
Design and features
The Thinium ReCharge 2.0+ is a smooth to the touch, all black, lightweight, versatile charger that can be used to charge or power devices via its USB port or directly charge and power any phone that uses either a USB-C, USB micro or Lightning port. It can also charge 2 devices simultaneously. It has a popup section that uses the various adapters and allows you to connect your phone directly to it. It also has a pop out AC plug that allows a phone that is connected to it to be charged while the Thinium is also being charged from a wall outlet.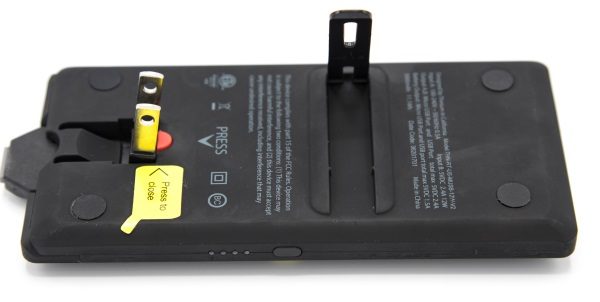 There are suctions cups that are provided that can be mounted to the surface of the Thinium to secure the phone, and there are 2 magnetic plates with a strong adhesive backing that can be attached to the phone or the phone case, and magnetically clamped to the Thinium.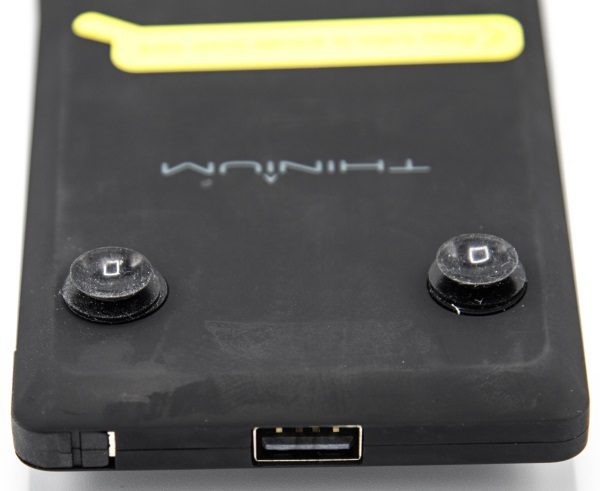 On the opposite side of the Thinium, there is a kickstand that can be used to support the phone horizontally, so that full screen viewing can be enjoyed while it is being charged. The Thinium can also be used in a similar manner to charge a tablet.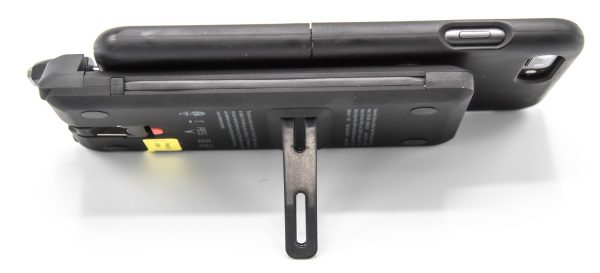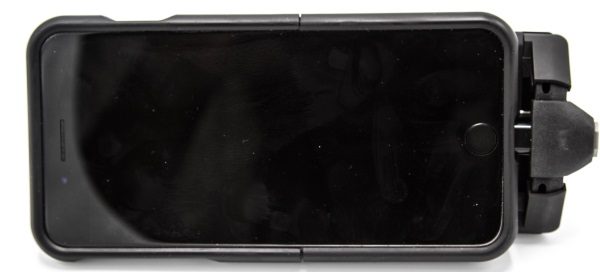 What I like
The Thinium is lightweight and the fit and finish are great. It offers multiple ways to charge devices, and multiple adapters to accommodate different types of ports. I like that the AC plug is built-in so that there is no need for a cable and a bulky wall wart.
What can be improved
While the Thinium offers versatility in several ways, when it was attached to my phone I found it to be very bulky and inconvenient to carry around as a daily charging device. Today's technology offers QI wireless portable chargers that are thin and light, and also include the ability to charge multiple devices simultaneously. In addition, since wireless charging works with many cases that have built-in kickstands, that feature is readily available but in a more convenient package. When I attached the magnetic plate to the back of my case, it did not work for me because my phone case has a built-in kickstand that made the distance between the case and the Thinium too far. I decided to take it off and adhere it directly to the back of the phone to try it without my case. However, the adhesive was so strong that I needed to use a screwdriver to remove it. In my opinion, that would have damaged my phone if attached directly to it and if I later needed to remove it. Prior to removing the magnetic plate from my case, I placed my phone in its case on the QI wireless charger that I regularly use. About an hour later, I picked up my phone and I almost dropped it because the magnetic plate had become incredibly hot. To me, this means that if I decided to use the Thinium charger and the magnetic plate to keep it in place, I would only be able to use the Thinium to charge my phone from then on, because using any other wireless charger would result in this heating or overheating problem.
The other factor that needs improvement is the capacity of the battery and the time it takes to provide a charge. I plugged in my iPhone 8Plus at 58% of charge and it took 2 hours and 40 minutes to charge it to 100%. I then plugged in my iPad Pro 12.9″ which was at 64% to charge, and by the time it reached 71%, the Thinium's battery was completely depleted. The next day I charged the Thinium to full charge and again I plugged it into my iPad Pro 12.9" via the lightning connector. It charged my iPad from 66% to 86% in 2 hours and 30 minutes, and the battery was once again completely drained. While I understand that it is primarily made to be used with phones, it does state that it has the ability to charge other devices via its USB port, and that it can charge multiple devices simultaneously. Based on the initial results of its charging capability, it seemed pointless to test it using my power hungry laptop. Manufacturers today offer slim, lightweight, high-powered wireless chargers with way more capacity. This lack of capacity just compounds the negatives of this device.
Final thoughts
While the Thinium offers some versatility and features in an innovative way, it lacks the portability, and the 3000mAH capacity is simply not enough for what people today demand and need from their devices. The added bulk negates the advantage that most of the other convenient features are intended to provide. While this device may work for some, it is likely to be passed over by most.
Price: $69.99
Where to buy: Thinium Website
Source: The sample for this review was provided by Thinium.