We use affiliate links. If you buy something through the links on this page, we may earn a commission at no cost to you. Learn more.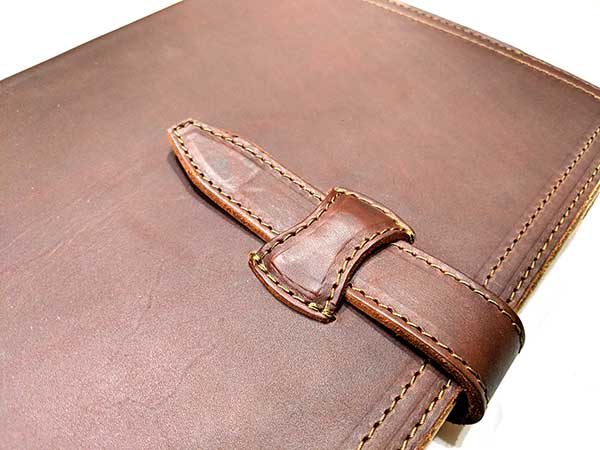 If you've been a reader of The Gadgeteer for any length of time, you'll know that we love leather covers and cases, and one of the most popular and loved maker of leather cases, bags, and covers is the Saddleback Leather Company. We've covered many of their products over the years and I'm happy to say that we have one of their newest products to introduce to you today. It's the Saddleback Leather Company Tablet Notepad Holder, which combines your favorite digital tablet with your favorite analog supplies. Let's take a closer look.
What is it?
The Saddleback Leather Company Tablet Notepad Holder is a portfolio style holder that has been designed to hold and protect a 12.9 inch sized iPad Pro tablet along with other accessories like the Apple Pencil, notepads, and more.
Design and features
The Tablet Notepad Holder is made of one large piece of full-grain leather on the outside and is available in 4 colors that include standard Tobacco, Dark Coffee Brown, Chestnut, and Black.
The edges of the leather are sewn with a double row of stitches both to reinforce the seams and to give it a traditional look and feel.
You'll find no snaps, zippers, or Velcro (ick) being used on this holder. A simple riveted leather tab and loop style fastener keeps the cover securely closed and the only branding you'll find is the Saddleback Leather logo on the bottom right corner on the outside of the cover.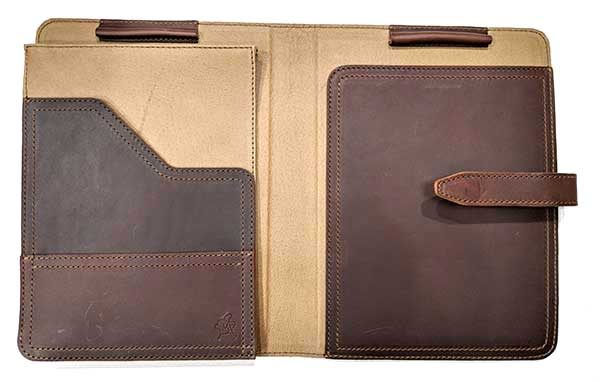 When you open the cover of the Tablet Notepad Holder, you'll see a layout of pockets that include 2 pen/pencil slots at the top, a pigskin lining and sleeve for your iPad Pro 12.9, and 3 additional pockets that can hold flat accessories like the iPad keyboard, notepads, and other papers or folders.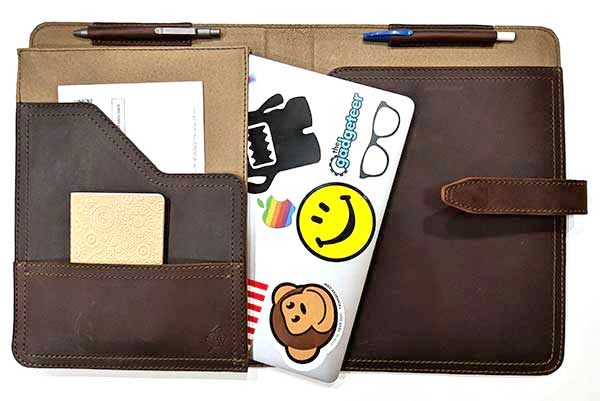 I didn't have a 12.9-inch iPad Pro to test with this holder, but I was happy to find out that my 12-inch MacBook fits in the tablet sleeve perfectly.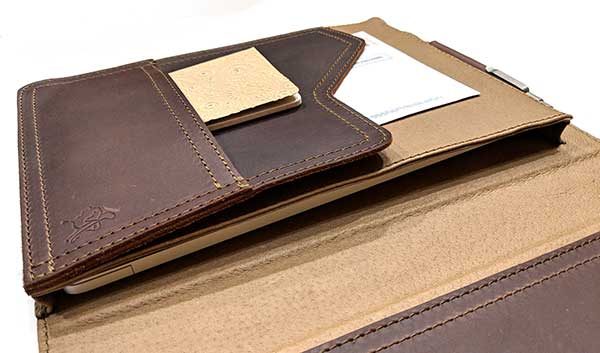 The tablet sleeve is about 11.75 x 8.75 inches so it can fit a variety of laptops and tablets.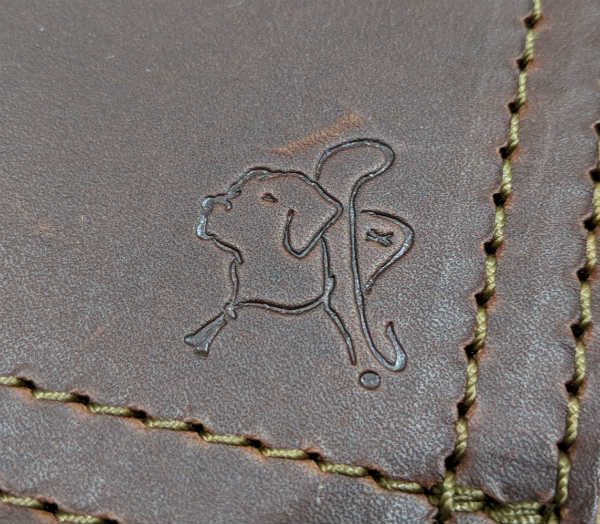 That little squiggle stamp in the lower right corner of the sleeve is Saddleback Leather Co. founder Dave Munson's dog Blue wearing a sombrero. You can read all about Dave and Blue's adventures south of the border here.

With the Tablet Notepad Holder loaded up with gear and the cover secured in place, the holder is not bad as far as bulk. Granted, a full-grain leather case like the ones made by Saddleback Leather Company is never going to be considered lightweight or slim, but I was surprised by how nicely everything works together with this case.
What I like
Plenty of pockets to hold flat items and 2 pen slots
Holds the 12.9 inch iPad Pro or small laptop
Great craftsmanship
100-year warranty
What needs to be improved
Pricey
Doesn't hold a device charger
Final thoughts
Whenever I receive an SB product to review, I know that it will have a rugged design and will be made to last for a century. I also know that bags, cases, and holders made by Saddleback Leather Company are not everyone's cup of tea in both style and price. But for their loyal followers and collectors, the Tablet Notepad Holder will protect their favorite digital and analog gear while making them feel like they just got off a train in Westworld.
Price: $199.00
Where to buy: Saddleback Leather Company
Source: The sample of this product was provided by Saddleback Leather Company.