The Gadgeteer is supported by readers like you! If you buy something through links on our site, we may earn an affiliate commission. Thank you! Learn more.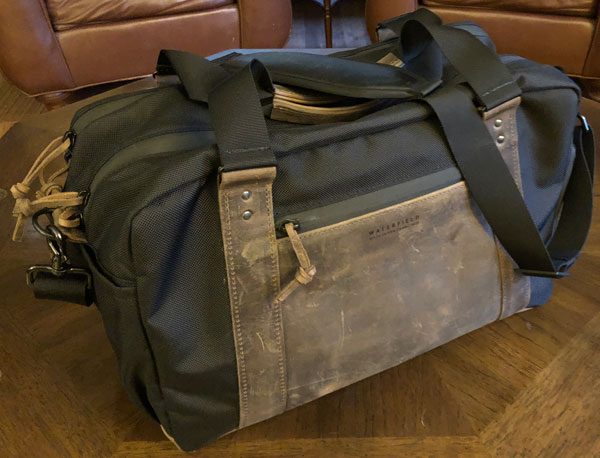 When I first learned of Waterfield's recently released Atlas Executive Athletic Holdall, my first and only thought was…that bag is so me. I do my best to workout as often as I can, especially those days I'm in the office. Making lunch a mandatory exercise time not only makes me healthier but is an excellent break in my hectic day to refocus and distress. The Atlas is designed to (stylishly) enable the tech carrying, modern day fitness folks of the world the ability to transport everything they need in a single EDC bag from their laptop to their gym shoes. So let's see if Waterfield Design hits the mark with their new Atlas Executive Athletic Holdall.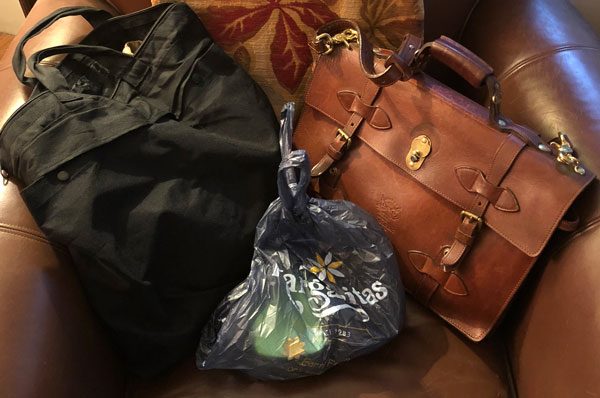 Typically I carry all my needed stuff into the office in a number of different bags: Colonel Littleton Navigator bag as my EDC tech bag, old nylon Air Force helmet bag for my workout gear, and reused plastic bags for lunch. Occasionally I even have to carry additional bags/containers if the office is having an event, definitely adding up to a very cumbersome commute. Being able to smartly consolidate all my cr@p into a single bag is definitely advantageous and desirable.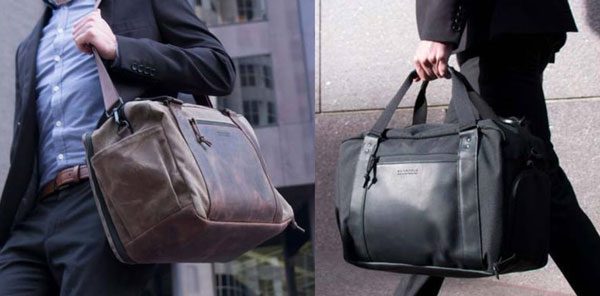 What is it?
The Atlas Executive Athletic Holdall is a combination briefcase, EDC/gear bag, and athletic duffle all in one, that transitions seamlessly from office to gym and back. The Atlas has a padded tech/laptop compartment for all your EDC gear, a separate space to hold clothes, and a collapsible, zippered area to store your shoes.

Design and features
The Atlas Executive Athletic Holdall is available in one size (16″ (L) x 10″ (H) x 8.5″ (W)) that is divided into two compartments: the Briefcase and the Athletic Workout sections. The bag is made in the USA from ballistic nylon (or waxed canvas), reinforced and trimmed in full grain leather.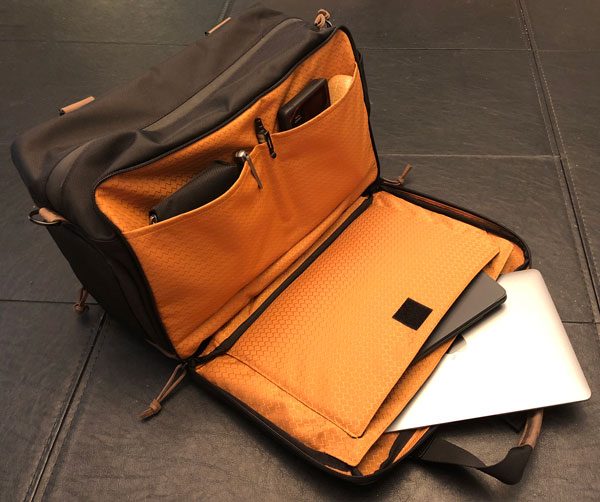 The Briefcase section opens fully enabling the front face of the Holdall to lay flat allowing for easy access to its four slipper pockets. The tech portion of the bag has 2 padded pockets engineered to protect a laptop and a tablet plus two additional pockets for stashing power cords, pens, and other EDC gear. There is a dedicated pen slot between the two smaller pockets. The padded laptop slipper pocket fits up to 15" laptops and the tablet slipper pocket fits up to 13" tablets. The two vertical pockets are deep and large enough to hold a decent amount of stuff. The tablet space held my 12″ MacBook very nicely. You could also transport paperwork in this compartment as well.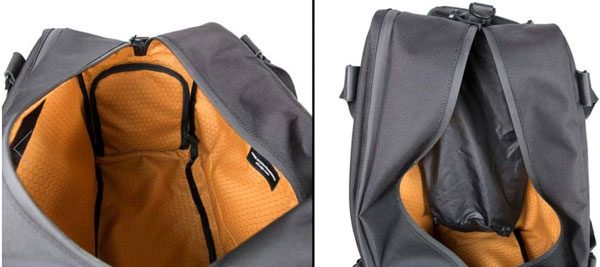 The Athletic Workout compartment can fit a fair amount of workout gear, work clothes, towel, shaving kit, etc. Both interior compartments are lined in WaterField's smooth, finely-woven bright gold fabric.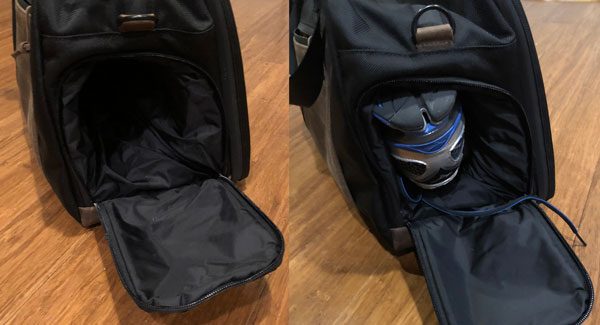 The separate, collapsible shoe pocket can hold a pair of gym shoes or work shoes…here you can see my size 13 running shoes fitting inside. This separation keeps any wetness or dirt from getting on your clothes or tech gear.
Specifications:
Materials:
1050 Denier black Ballistic nylon or brown Waxed Canvas

Full-grain leather accents
Dimensions & Weight:
One size: 16″ (L) x 10″ (H) x 8.5″ (W)

Ballistic 3.1 lbs. / Waxed Canvas 3.4 lbs.
It can transport a lot of gear…

12″ MacBook
10.5″ iPad Pro
Work identification
Bits/cable zipper bag
MiFi
Running shorts / DryFit t-shirt /socks/ shoes
Sunglasses
Keys
Even with all this gear, the Waterfield Altas Holdall can still accommodate my lunch & snacks.
Build and material quality: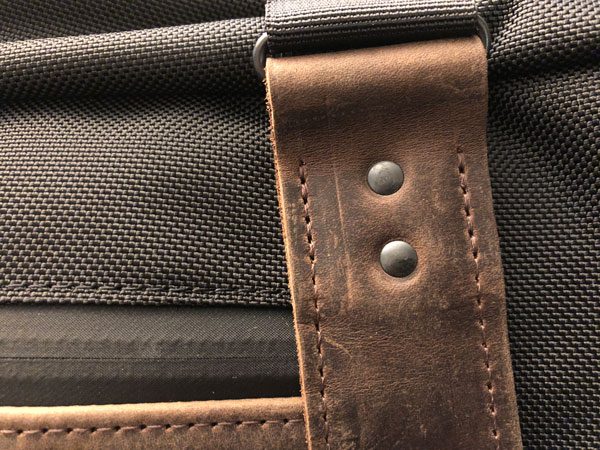 The ballistic nylon, full grain leather, zippers, rivets, and stitching are all very well done and "built to last". In addition to strength, the leather adds a nice look and style to the bag. All of the zippers are low profile, covered, and waterproof. The entire bag holds up to liquids very well, (as the story goes…) I accidentally spilled my coffee all over the bag and it cleaned up like new with a damp rag.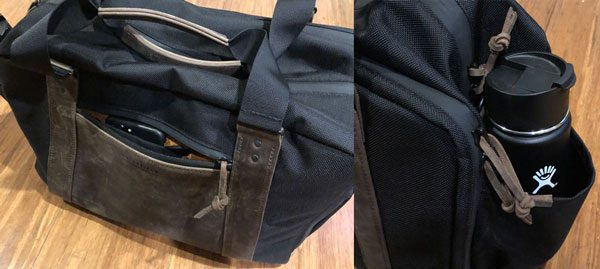 The main face of the Altas has a quick-access, zippered pocket engineered to hold smartphone, keys, business & misc cards, wallet, pocketknife, pens, etc. The inside of this exterior pocket has a dedicated, lined smartphone pocket and key fob for easy retrieval of your cell and/or keys.
The open-topped, end pocket can transport a large water bottle for convenient access.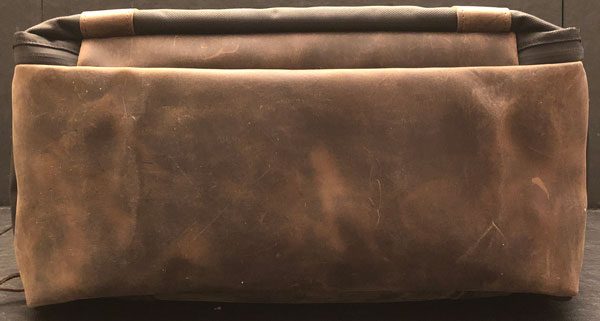 The bottom of the Altas Holdall is completely covered in leather for greater resistance to wear and tear.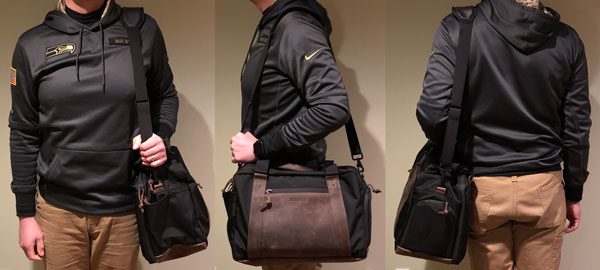 The Atlas Executive Athletic Holdall can be transported in several ways. Waterfield includes a removable suspension strap for carrying the bag over the shoulder or crossbody. The bag rides very comfortably over the shoulder, hanging at hip height.

The reinforced, built-in handle carries comfortably as well. The handle is wrapped in the same full grain leather as the rest of the Holdall, for a solid grip and greater durability. With all my gear, the Athletic Holdall is not all that heavy, especially considering it is approximately three pounds lighter than my all-leather Colonel Littleton Navigator & old helmet bag combo.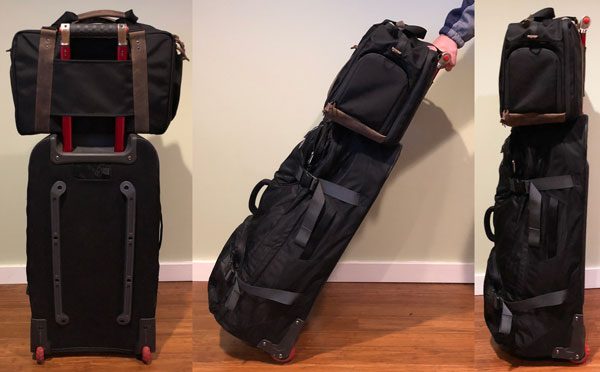 The back of the Altas has a pass-through slot for slipping onto wheeled suitcase handles.
Positives
Excellent material quality and craftsmanship
Well designed/thought out
Stylish, professional design
Wheeled-suitcase handle pass-through
Relatively lightweight
Negatives

The Waterfield Atlas Executive Athletic Holdall available in:
black ballistic nylon with chocolate leather
black ballistic nylon with black leather
brown waxed canvas with chocolate leather
The waxed canvas variant weighs in at 3.4 lbs and ballistic nylon ones, 3.1 lbs. The Altas Holdall meets most airline personal carry-on item size requirements and makes for an excellent overnight bag on the fly.
Waterfield Designs backs all of their products with a (limited) lifetime warranty.
Final thoughts
I really like the Atlas Executive Athletic Holdall from all points of view: quality, function, and design. Waterfield has done an excellent job engineering this bag for the athletic urban warrior, creating a professional looking EDC bag for all your tech and gym gear alike. This bag functions as advertised, a single solution to replace all your other bags…doing so in polished style. While admittedly expensive, the Altas Holdall not only gets the job done, it does so with the looks for both office and Club.
Price: $429
Where to buy: Waterfield Designs.
Source: The sample of this product was provided by Waterfield Designs.
Support The Gadgeteer
:
The Gadgeteer is supported by readers like you! If you buy something through the links on our site, we may earn a small affiliate commission. Thank you! Learn more.