We use affiliate links. If you buy something through the links on this page, we may earn a commission at no cost to you. Learn more.

Along with gadgets and tech-toys, I've been a watch guy forever. Shinola is a US watchmaker that I have had my eye on for years. They are based out of Detroit and create fine timepieces and other luxury items. In this case, Shinola has partnered with New York based knife maker, Michael Zieba to create a high end pocket knife, the New York MS3 Manhattan folder. I'm looking forward to seeing if it has what it takes to make my EDC gear short list. 
Note: Photos may be tapped or clicked for a larger image.
The New York MS3 Manhattan Special pocket knife is made from high-quality titanium and M390 stainless steel held together with blue anodized screws all hand assembled. Every part of this flip-folder pocket knife is perfectly machined, featuring a solid minimalistic design with a nearly instantaneous deployment/flip mechanism.
A Bit of Background:
About SHINOLA:
Shinola is an American manufacturer based in Detroit creating everything from watches, clothing, bikes, to fine leather goods. Their goal is to "…create a community that will thrive through excellence of craft and pride of work. Where we will reclaim the making of things that are made well. And define American luxury through American quality."
About ZIEBA KNIVES
Michael Zieba is a knife maker based in Greenpoint, Brooklyn, New York's industrial Park. With a long tradition and experience in high end metal work and custom knife making, all knives are made by Mike by hand.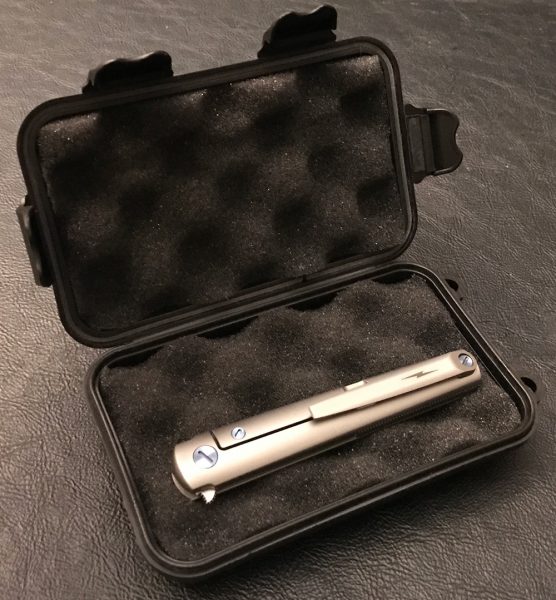 The New York MS3 Manhattan pocket knife comes in a rugged, padded, protective case designed for shipping and storage.
Specifications:
BLADE — 2 5/8 in | 6.7 cm
CLOSED — 4 1/6 in | 10.7 cm
OPEN — 6 3/4 in | 17.1 cm
WEIGHT — 2.2 oz.

The handle is crafted from a lightweight, matte titanium with blue anodized screws that stands out nicely against the flat gray metal. The handle measures just over 4 inches, with an overall length of 6.75 inches when the blade is extended.

The MS3 Manhattan pocket knife features an M390 stainless steel  blade. At 2 5/8 inches, the blade is relatively short (and very pointy) but nicely shaped and wickedly sharp. As you can see, the Zieba Knives logo is engraved into the left side of the blade.

The flip mechanism and frame-lock are both simple and easy to operate one-handed. With minimal moving parts and high quality materials, this pocket knife is definitely engineered to stand the test of time. The belt clip has the Shinola logo etched in it.

The precision frame-lock secures the blade into the open position with zero blade wiggle and little chance of the blade accidentally closing.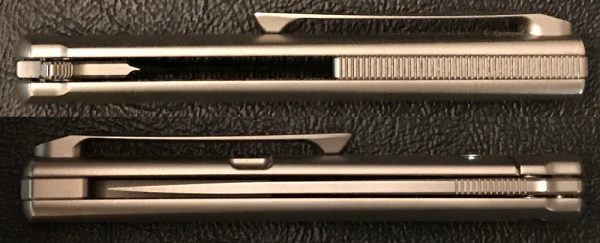 There are ridges machined into the backspacer, thumb ramp, and blade flipper for added grip-ability. The beltclip is stiff and does a good job of keeping the knife securely on your belt or in your pocket.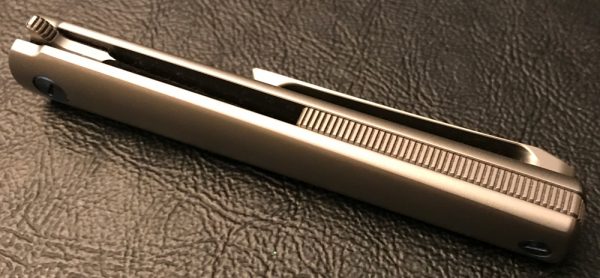 As mentioned above, when closed, the New York MS3 Manhattan pocket knife measures just over 4 inches and weighs 2.2 ounces. It has a very dense, solid feel with good heft to it.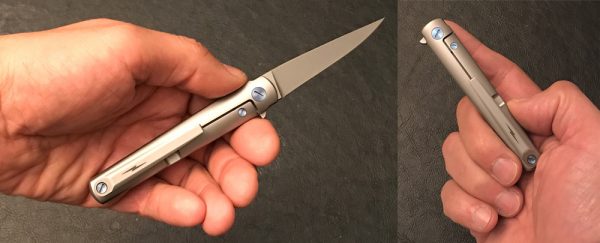 The Shinola + Zieba New York MS3 Manhattan pocket knife has an excellent material/build quality and weight to it. Its matte finish, form factor, and overall size both open and closed feel awesome in the hand. Being the smallest knife I have reviewed thus far, I find it very pocketable and choose to carry it in the watch pocket of my pants vs keeping it in my EDC bag. This high quality flip-folder is currently my favorite knife in my collection. Its overall craftsmanship, size, and weight makes it ideal (at least for me). The Shinola + Zieba MS3 Manhattan pocket knife is without a doubt an expensive, luxury item but if you're looking for a great splurge holiday gift, it is definitely worth your consideration.
One more thing: a good friend (Hi Dave) at my day job is quite the knife connoisseur. Whenever I receive a new high end knife to review, I bring it into work for us to analyze (aka play with) and discuss. He is very knowledgeable and often critical but definitely knows what he likes (and dislikes) in a knife. Well when I showed him the MS3 Manhattan, it was love ❤️ at first sight. Like me, he thought the feel, form factor, and build/material quality were without a doubt top-shelf. So much so, he kept holding/futzing with it for a VERY long time (almost awkwardly so ?) and I was wondering if I was going to have to tackle him while trying to escape with it. All that said, just another testament on just how very nice this knife is…
Updates 11/07/17
Since finishing this review, instead of stashing the Shinola pocket knife in a bag or vehicle I carry it with me nearly every day, everywhere I go. Sadly, I dropped it onto the concrete and was surprised that other than the tiniest of nicks on a corner, there was no other signs of the fall. It continues to be my favorite knife in my collection.
Source:  The sample for this review was provided by Shinola. Please visit their site for more information and to order.
Product Information
Price:
$295
Manufacturer:
Shinola + Zieba
Pros:

Excellent craftsmanship
Premium materials
Nicely sized with solid feel/weight
Engineered to last a lifetime
Smooth opening and closing action
Stiff, secure pocket clip

Cons: