We use affiliate links. If you buy something through the links on this page, we may earn a commission at no cost to you. Learn more.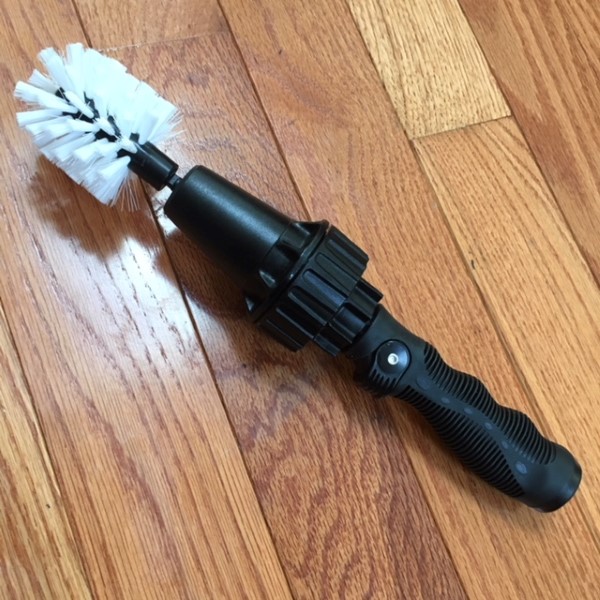 When I was in high school, my dad asked me to detail his Bronco. It took me all day, but his truck looked better than the day he bought it. I remember having to really work at it to loosen up the grime, grease and brake dust. I still love the sense of satisfaction from really cleaning my cars, so the Brush Hero detail brush looked like it might make getting into the nooks and crannies easier.
What is it?
The Brush Hero uses water pressure from a typical garden hose to spin a cleaning head, making loosening dirt easier and more fun.  It's intended for cars, patios and grills, gutters, garden tools, pools, pets and even people (with some caveats.)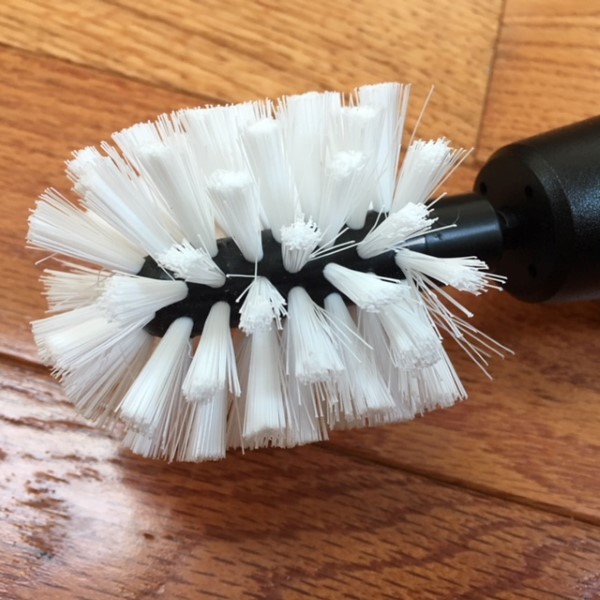 Hardware Specs
Heavy-duty plastic construction
Approximately 13-1/2" long, with cleaning brush attached
2-1/2" at its widest
8.1 ounces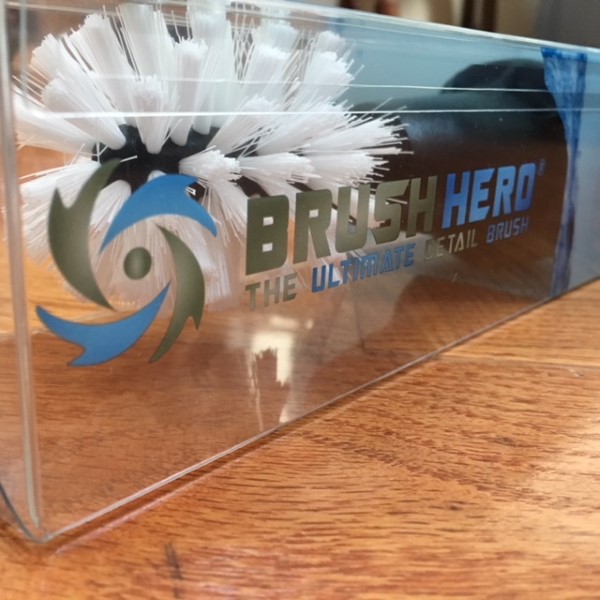 What's in the box?
Brush Hero wand
Two removable brush heads, one firmer for "serious muck", and one softer for "sensitive surfaces."
User manual
Card inviting persons having trouble with the Brush Hero to call "customer service rock Star Julie."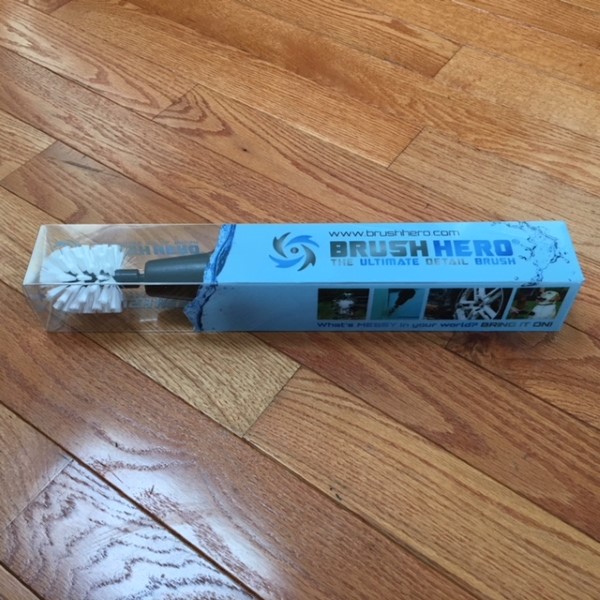 Design and features
Brush Hero comes in a transparent plastic box, adorned with their logo, a list of objects suggested to be cleaned and several usage photos including a happy dog being washed.
The user manual is fun to read. I got several chuckles and appreciated the humor, particularly the "Brush Hero is for external use only" comment (use your imagination here 😉 ).
Never miss one of our posts again. Sent MON, WED, and FRI with the latest gadget reviews and news!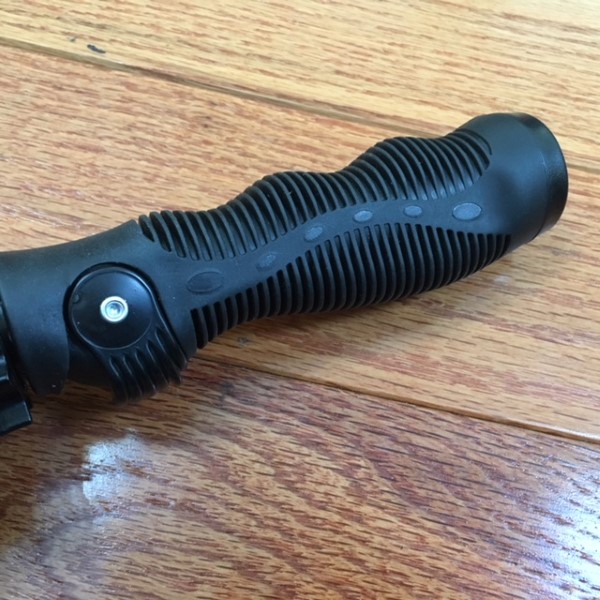 The Brush hero feels tough. I started by attaching a brush head. It goes on with a hefty push and stays on quite securely. The handle is ergonomic, with a grooved surface that will help prevent dropping it when one's hands are soapy. A thumb-operated off switch/pressure control allows the Brush hero to be turned off without having to return to the water valve. I gave the wand a number of twists and bends and determined it should hold up reasonably well under normal circumstances.
The middle of winter in upstate New York's snow-belt isn't a great time of year to give the Brush Hero a proper shakedown, but I gave it the old college try. Firing up a 50,000 BTU kerosene heater and performing a bit of plumbing to give me hot water in my garage, I made an attempt to give my 2008 Smart Car a much-needed bath.
The Brush Hero started spinning as soon as water was flowing. Out of the box, the brush head spins freely, but when in operation, there is a surprising amount of torque, even with my home's moderate water pressure. Concentrating first on my rims, the Brush Hero cut through brake dust, road salt, and mud effortlessly, fitting into the tightest places, even behind the valve stems. The brush spins relatively slowly, but with ample force to dislodge stubborn dirt. Three nozzles at the base of the brush it clean and prevents the brush from trapping debris that might damage my precious vehicle's paint. Water flow is well controlled so I didn't get soaked in my 45-degree garage.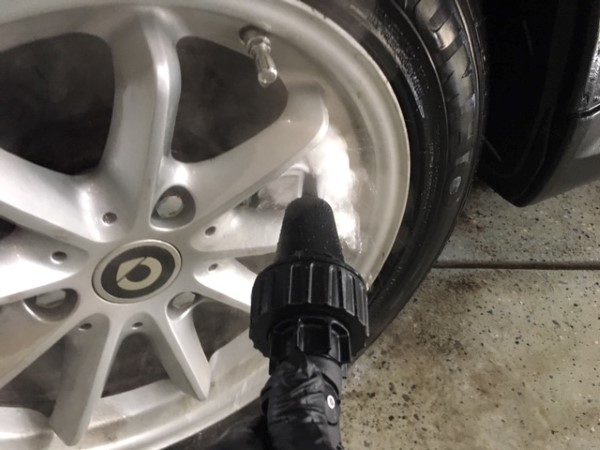 The brush head fits into places that would have been challenging.  I was able to clean the openings around the wiper arms, the air intakes and under the gas door without mucking about finding different brushes. Cleaning the door frames without spraying water all over the interior of my car was a bonus.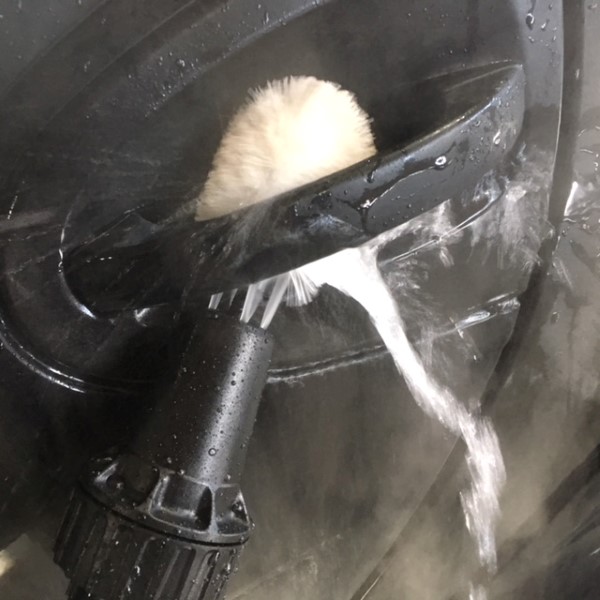 The pressure/shutoff switch worked flawlessly, completely cutting off the water flow. I noticed little difference in rotation speed, but this may be more pronounced with higher water pressure than my house can provide.
Here's the before and after of my little chariot.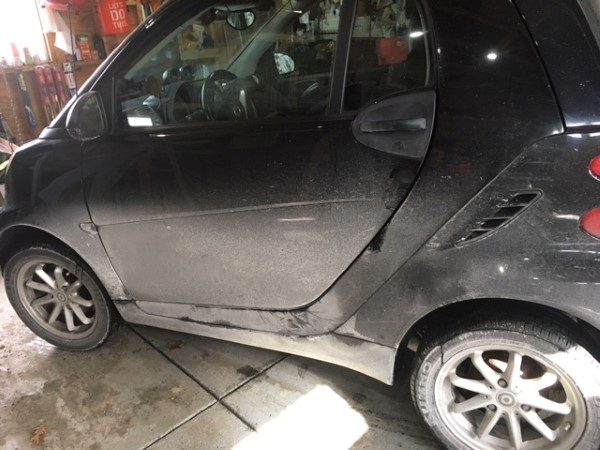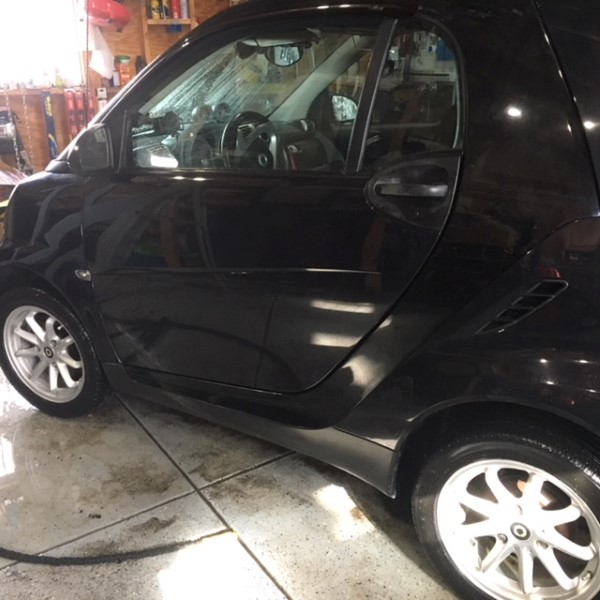 What I like
Well-constructed
Brushes clean well
Excellent torque
Doesn't leak
The valve cuts water flow completely
The brush head fits into places fingers can't
The user manual is a hoot!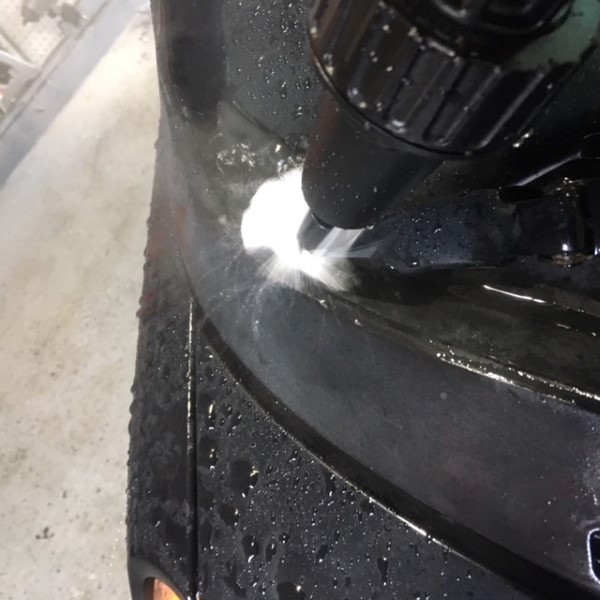 What needs to be improved?
The manual says a hose quick connect is included, but it wasn't in the box
Add an extra external shut-off valve and a few additional quick connect couplings allowing the Brush Hero to be removed and other tools to be installed without the need to turn the water off at the spigot.
Final thoughts
I was initially thinking this was going to be one of those "as seen on TV" type gimmicks. Pleasantly, I found it's well-constructed works as described, and genuinely fun. I'm looking forward to warmer weather when the Brush Hero will definitely be used more often.
Price: $34.99
Where to buy: Brushhero.com or Amazon
Source: The sample for this review was provided by Brush Hero.