We use affiliate links. If you buy something through the links on this page, we may earn a commission at no cost to you. Learn more.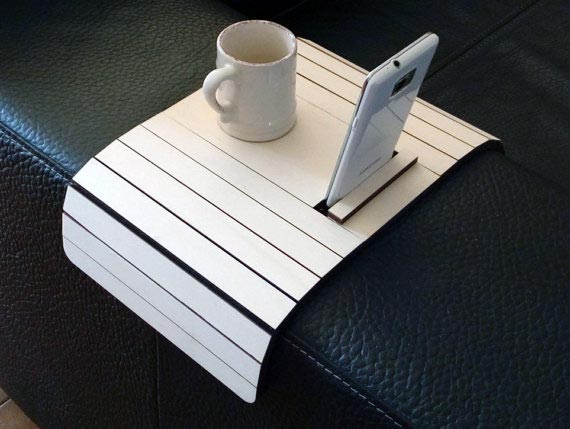 The LOHNtech store at Etsy has another idea for adding a stable place to set your drink without needing to add a table to your room.  Just lay the laser-cut arm rest table over the arm of your sofa or chair (or flat out on the sofa cushion beside you), and you can rest your beverage without risking damage to the sofa.  The arm rest table also has a built-in stand to hold your cell phone.
The table measures 15.1″ x 7.8″ x 0.28″.  It's made of multiple strips of poplar wood with a felt backing, so it can conform to the shape and thickness of the arm of the sofa.  The built-in mobile device stand is available in two sizes to fit devices with a thickness 9mm or less or devices between 9 and 12mm.
It's available in a couple of wood stains or in a selection of colors to match your decor.  The LOHNtech laser-cut arm rest table is hand-made in Italy and is ready to ship in 3-5 business days for $45.57 from the LOHNtech Etsy shop.