We use affiliate links. If you buy something through the links on this page, we may earn a commission at no cost to you. Learn more.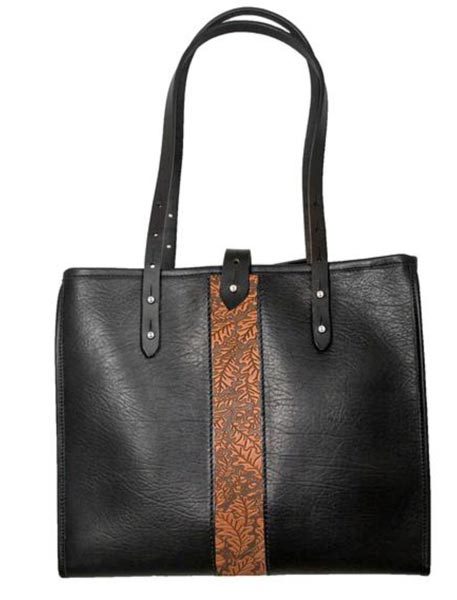 The new Sonoma Tote from Oberon Design is beautifully designed and US bench-crafted, as we expect from Oberon Design.  The bag is made of black leather with tooled leather panels on the front and back of the bag.  The image seen here is the Oak Leaf design in the middle; other choices for the tooled panel include Acanthus in navy, Cloud Dragon in wine, Paisley in orchid, and Wild Rose in black.
Each bag measures 12″ X 14″ X 5″, has straps with a maximum of 12″ under-arm space, and weighs 1.8 pounds.  Construction details include triple-stitched, taped, and bound seams and solid brass Sam Browne studs to attach the straps and close the bag.  The interior has a 9″ x 7″ zippered pocket, 2 additional pockets, and a pen pocket; these are made from spill-resistant, top-grade ballistic nylon.  You'll also find a key loop at the mouth of the bag, so you'll never need to scrounge for your keys.
The Sonoma Tote is $295.00, priced according to their new Oberon Direct program, which means no wholesaling of this bag results in a very reasonable price direct to the customer.  And now for the "do good" part:  In support of the vital ongoing efforts controlling the Sonoma, California fires, with this introductory offer,  $20 of every purchase will go directly to the Sonoma County Fire Relief Fund.  The Sonoma Tote can be purchased at Oberon Design.