We use affiliate links. If you buy something through the links on this page, we may earn a commission at no cost to you. Learn more.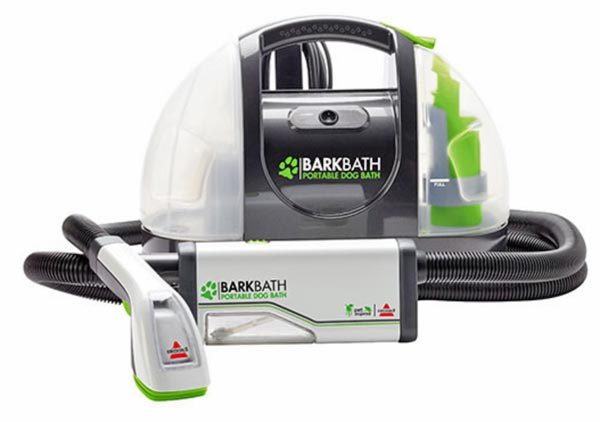 The Bissell BarkBath machine looks like one of Bissell's small spot-cleaning machines for rugs or upholstered furniture.  As a matter of fact, there is even a BarkBath accessory that can be added to some of your small Bissell machines for bathing your dog, but this BarkBath system is for people who don't already own a small Bissell.
The BarkBath Portable Dog Bath & Grooming System consists of a Bissell base unit, a BarkBath unit, and Bissell rinse-free dog shampoo.  You'll also receive a microfiber mat to place under the base unit, and a microfiber towel for washing faces and paws.  You add some shampoo to the BarkBath unit, then you use the dispensing nozzle to spray water through the fur down to your dog's skin.  As the shampoo solution sprays out, there's also a gentle vacuum pulling it back out through the fur.  The dirty water collects in one side of the base unit for easy disposal.  The BarkBath unit can be switched to spray either clear water or a water/shampoo solution.
Bissell says you can clean an 80 pound dog with about 40 ounces of water, where a traditional tub bath for the same dog can take up to 19 gallons.  Using the BarkBath system saves water, and it saves clean up of a messy, hairy tub.  It's so clean, Bissell says you can clean your dog anywhere in your house without making a mess.
The Bissell BarkBath Portable Dog Bath and Grooming System is on sale for $119.99 at Bissell right now;  it's also available for the full price of $149.99 at Amazon.