We use affiliate links. If you buy something through the links on this page, we may earn a commission at no cost to you. Learn more.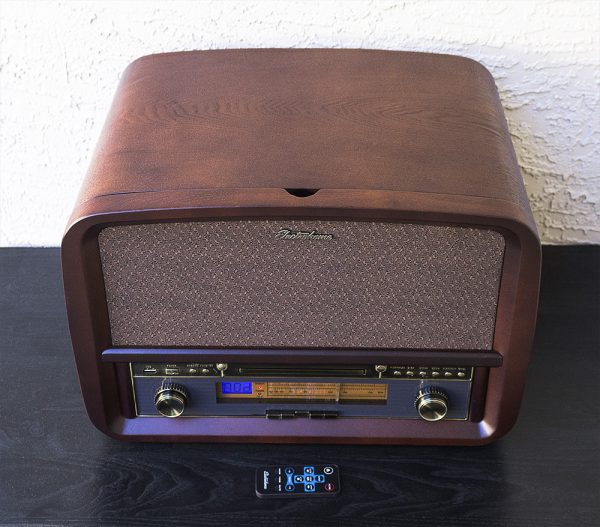 If you are in the market for a record player with that classic vintage look then this unit may be something you are looking for, plus a with a few extras. The Signature Classic Turntable Sound System by Electrohome is a collection of music players wrapped into one. In addition to this compact record player, it has a built-in radio with a classic tuning dial, a CD player, a USB slot, and it also comes with an AUX input so that you can plug your smartphone, tablet, or any other device that connects a 3.5 audio cable. One feature that really stands out on this record player is its ability to record music from the record player, and even the CD player, to a USB drive. More on this feature later.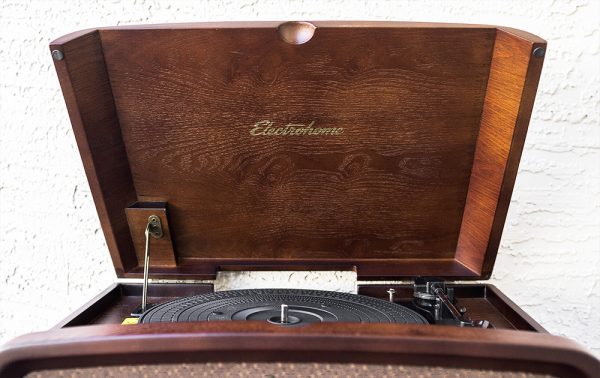 What is it?
The Signature is a record player sound system with a classic vintage retro design and like a typical record player, it can play the 33, 45, and 78 LP records. The Signature has a real wood veneer finish and a nice walnut color to it, too. What adds to the vintage retro look is the warm amber glow of the radio dial on the bottom section of the unit. At first glance, the whole over-all look of this record player could pass as a period piece if it wasn't for the small LCD Display window giving it away.
Hardware specs.
The record player section of the Signature is familiar such as your typical record player with its turntable and tonearm. On the right side of the tonearm is Selector Switch for the different LP speeds. Be aware, the Selector Switch is not so easy to see because it is rather small and seems to be hidden but it is right by the Cue Lever. This system's dimension is 17.9" in. x 13.5" in. x 12.1" in. and weighs about 26 lbs. It isn't a very heavy appliance so carrying it around the room wouldn't be too difficult should you need to move it from one location to another.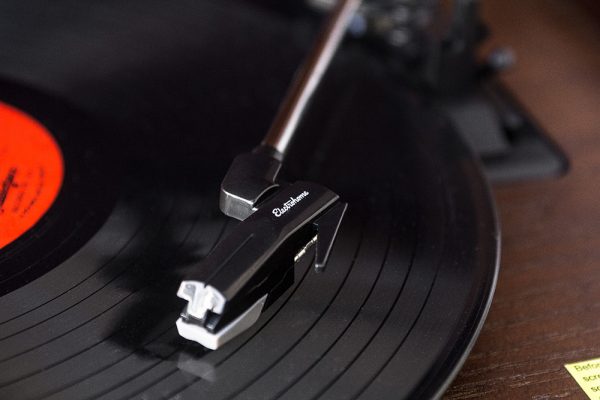 What's in the box?
Included in the box is the stereo system unit, a remote control, an instruction manual, a 45 RPM adapter, and a Quick Start Guide.
 Design and features.
The Signature Vinyl Record Player is a solid and sturdy stereo system that brings back the look, feel, and the sound of yesteryear. With its organic box shape, the Signature has an authentic classic and retro look to it that mimics a true vintage record player.
Some things to keep in mind when you move these record players around is to make sure that the Tone Arm is locked and that the Transit Screw is set. This way the Tone Arm doesn't get broken from bouncing around and so that the turntable doesn't jiggle possibly getting damaged as well.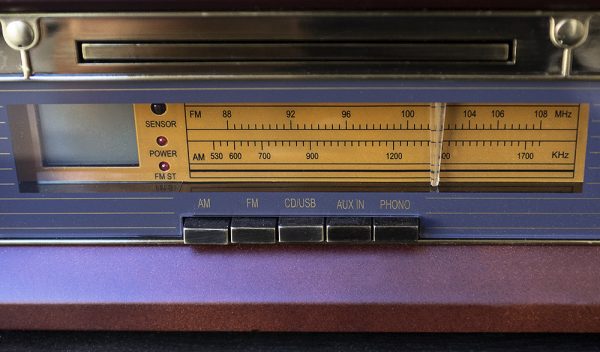 There are push-button selectors on the front to let you choose which mode to put the Signature in.  Not only do the buttons give the appearance of a vintage look but the buttons have a nice firm feel to them. If you have used a stereo system from back in the day with this type of layout, like my parents had with the tape cassette and 8 Track, then you may be familiar with the sound of one button popping up as you push another button down. Just playing with these buttons and hearing the sound takes me back.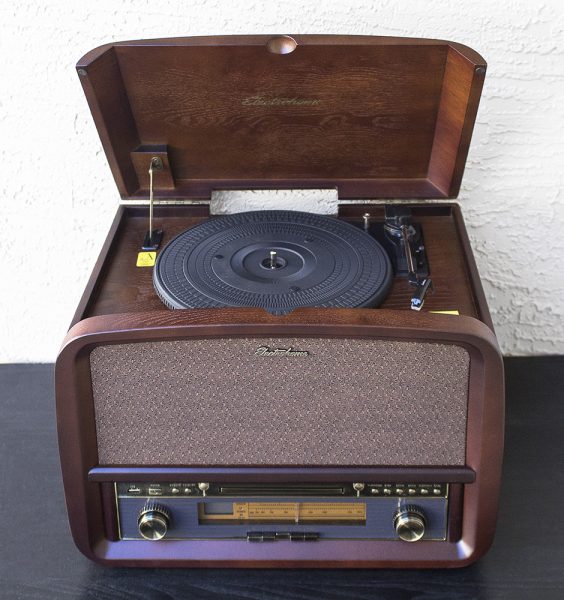 This record player has a nice sound quality to it thanks to the Signature's speakers. There are two 5W speakers along with two 15W speakers, each at 8 Ohms. Although the speakers are lacking in the mid and low frequency, the volume does get surprisingly loud. As nice as the speakers may sound, there are times where I would have liked to have listened to records on my headphones, however, there isn't a headphone jack on this record player. It would have been a nice addition to the Signature if there was a headphone jack.
I think some others would also like the option to listen to a record without disturbing anyone else in the room. There may be times where you really want to get lost in the record and wearing headphones would be better suited. You would think with the technology the Signature has, like the ability to record to a USB flash drive, a simple headphone jack on the side or back of the unit would be a standard feature.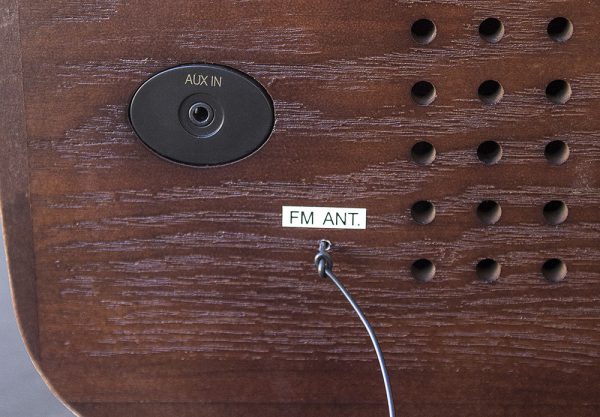 In the back of the Signature stereo system, there is an Auxiliary input jack so that you can connect a device such as a smartphone, tablet or any other device that connects a 3.5 audio cord. This just adds to making the Signature a versatile sound system in addition to its CD player, record player, and USB port. The radio antenna is located in the back of the unit comes neatly wrapped so you may want to unwrap the antenna and position it so that it allows you to get the best reception.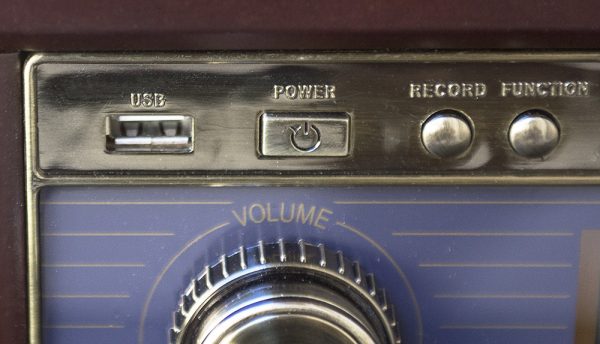 Special feature.
One feature that I was really drawn into is the Signature's ability to record and encode music from a vinyl LP record to a USB device without the use of a computer. This is also possible with the CD player as well. This is the main feature that truly caught my interest with this record player. This is a neat feature basically allows you to record the music from the LP record onto a flash drive. And once you have the music files on a flash drive you have several options such as burning the music onto a CD, transferring it to your smartphone or tablet, or you can just replay the flash drive via the Signature's USB slot.
Keep in mind that you are basically recording in real time so if the record runs over an hour then you will have to let the USB record for the whole duration. Just hope that nothing makes the record player skip, pause, or stop during recording or else you'll have to do the recording all over again. That is unless you don't mind hearing that part of the recording.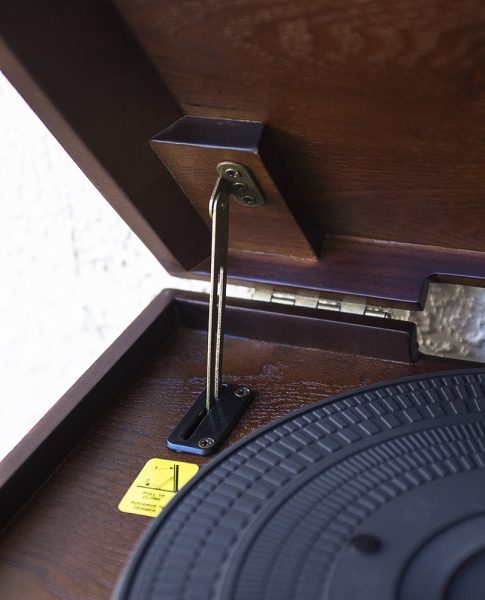 After making a recording from an LP record to my flash drive, the 128kbps MP3 recording had a crisp and clear sound which I was very surprised by. I was honestly expecting a dull and flat recording but it actually sounded very good.  Needless to say, I was impressed with the audio recording. However, I do have some concerns.  You will get a single audio file since the Signature will not separate or divide the music tracks between each song. If you have ever recorded on a DAT or even a MiniDisc recorder, you have the option to separate songs if there is a long enough pause between two tracks. The Signature makes one long music file of the LP record. However, this would not be a deal breaker for me but for some out there may be some concern.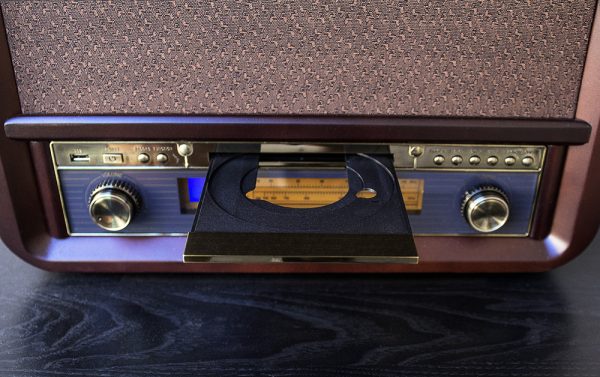 The CD feature is just like your typical CD player on most sound systems. It has a CD tray that opens outward for you to place your CD onto. With the included remote control you can operate the functions of the CD player. Even though the remote is responsive and convenient to have with this system, be aware of its small size. You don't want to misplace it.  However, you can also control the functions of the CD player right from the buttons on the front of the Signature as well.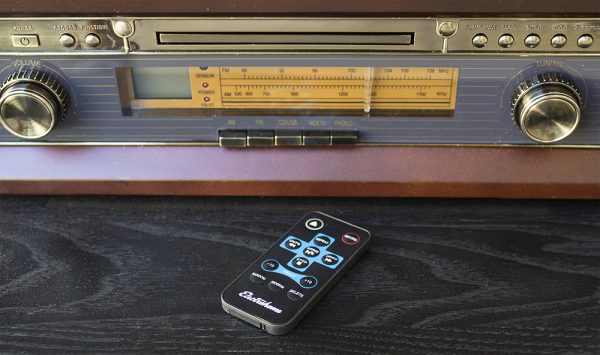 Since this is a classic vintage record player, it wouldn't be complete if you weren't able to dial in the radio stations the old fashion way the control knobs. No digital tuner here.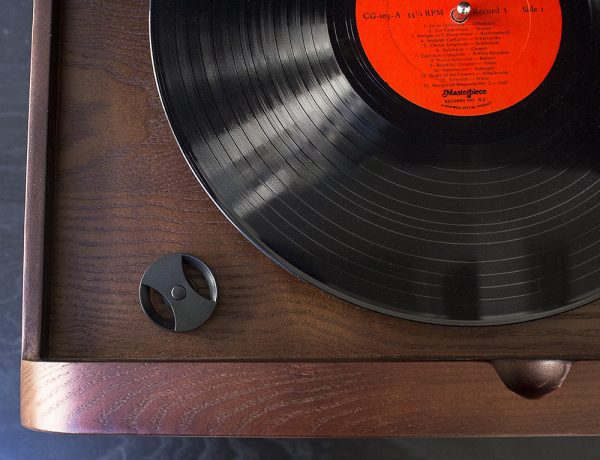 Along with the remote control, the Signature comes with a 45 RPM Adapter and is stored in the corner of the record player cabinet.
What I like
Real wood veneer
Vintage retro look
Encodes LP music to MP3
Compact size
Auxiliary input
What needs to be improved
No headphone jack
Lacking mid and low speaker frequency
Final thoughts.
If you are looking for a record player, and want to listen to CD's and the radio, plus you don't want to take up a lot of space then the Signature Classic Turntable Sound System may be just what you are looking for. And as an added bonus you can listen to your vinyl records anywhere you can insert a USB flash drive since the Signature sound system can record music to that USB flash drive. With the USB flash drive, you can listen to your LP music in your car or on your computer. You can just about listen to your LP records anywhere thanks to the built-in MP3 encoder.
The Signature record player has a nice classic design to it that will add a bit of nostalgia to any room. Along with its retro design from the record player to the dial radio, combined with the CD tray and USB slot, this sound system is a blend of low tech and high tech. Not only will you enjoy listening to music from it but you will also enjoy getting compliments on it. I really like the look and design of this record player. It does exactly want I want it to do, which is play vinyl records, plus it also allows me to record the music from a record on to a USB flash drive so I can listen to the music from a record in my car. Plus I have the music files stored on the USB drive if I ever need them.
Having various ways to listen to music from one source has its advantages when you are limited on space or even if you just don't want to take up a lot of space. And with the Signature sound system, saving space will just be one of the many things you will enjoy about it.
Price: $199.99
Where to buy: Amazon
Source: The sample of this product was provided by Electrohome.