We use affiliate links. If you buy something through the links on this page, we may earn a commission at no cost to you. Learn more.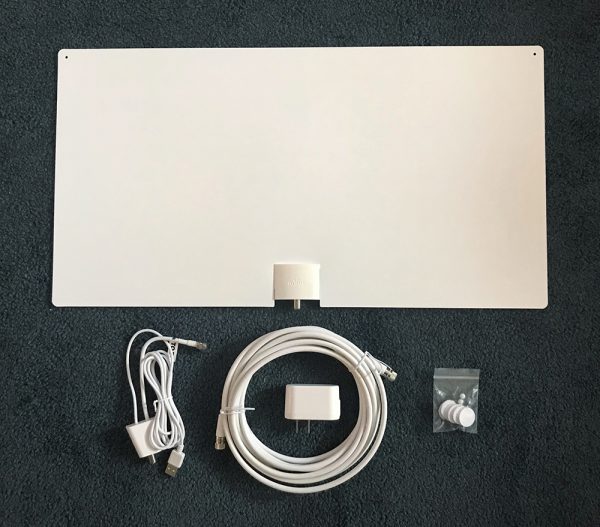 With the increasing popularity of streaming media like Netflix, Hulu and Amazon Prime, it's becoming a much easier decision to cut cable and satellite TV from one's monthly bills. I cringe every time I look at a statement from my cable company, and it seems to get more expensive with every passing month. But dropping cable doesn't have to mean doing away with live TV altogether with ever-improving HDTV receiver technology, like the kind included in Mohu's Leaf Glide antenna.
What is it?
The Mohu Leaf Glide is a compact, amplified HDTV antenna that promises the simplicity of an indoor antenna with the reception power of an outdoor antenna. It pulls in available free HDTV channels within a 65-mile radius.
Hardware specs
Powerful HDTV antenna with a 65-mile radius
Patented SignalLift technology is the best at receiving VHF channels
Amplified by Jolt™ with Clean Peak™ filter technology, removes unwanted RF signals and boosts the ones you want
Multi-directional, no "pointing" required
Paper-thin, reversible (white on one side, black on the other) and even paintable to match decor
What's in the box?
Leaf Glide antenna
16'high-performance cable
USB/Cable connector
AC Adapter
Push pins and velcro stickers for mounting
Design and features
The Leaf Glide antenna was really simple to install. We're talking 5 minutes and done. Since the antenna is essentially a sheet of plastic with a cable port on the bottom, it can easily be hung on any wall with the provided push pins.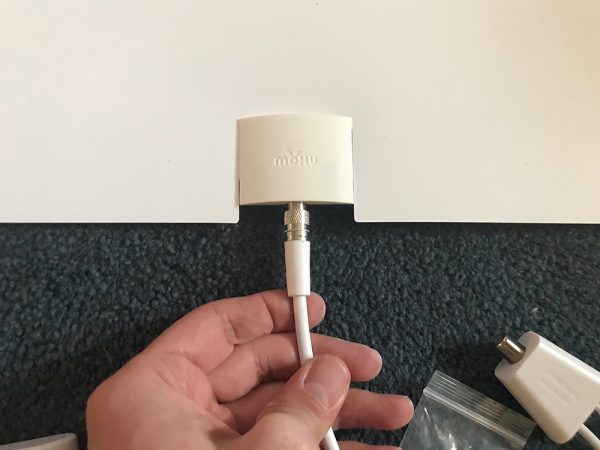 I like the fact that it has a black side and a white side. My walls are white, so the antenna is fairly unobtrusive.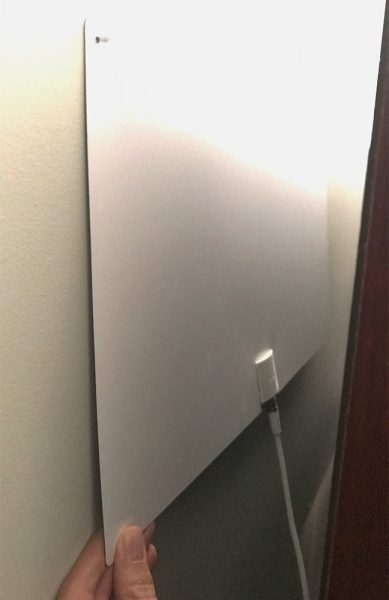 All I had to do was hook the cable the antenna, attach the USB power module, and hook that to the cable and USB ports on the TV.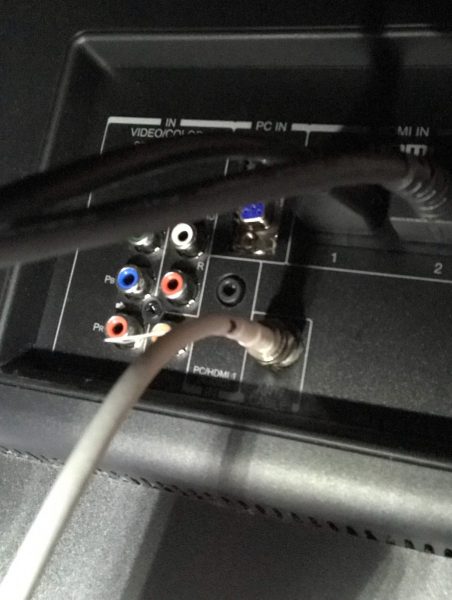 There is also an AC adapter that can be utilized, but the USB port on my TV seemed to be enough to power the antenna.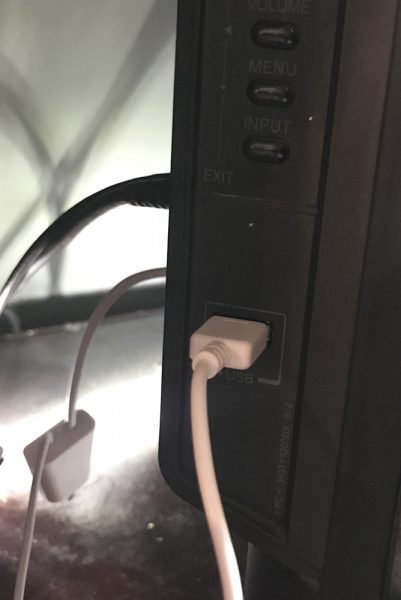 After a 5-minute channel scan, the channels were automatically indexed and added to my TV's memory. I suspect that a lot of modern TVs will have the same type of easy channel scan in the setup menu.
My first test was to see how many channels were detected vs. how many were listed on Mohu's website for my area. There is a search function on their website that will list out expected channels for your area. When I entered my ZIP, 20 channels were displayed, which sounded pretty great.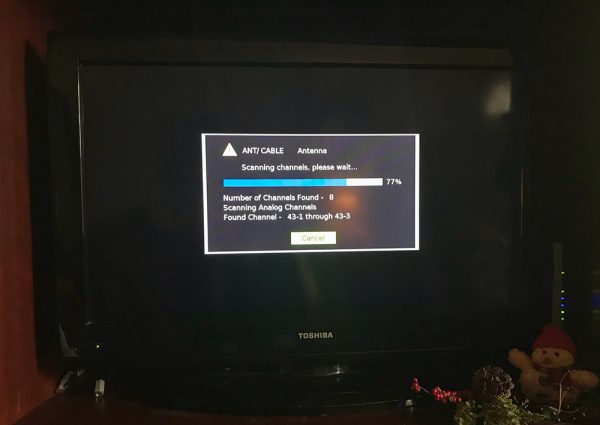 However, my TV scan saved only 10 channels into the memory. I tried adjusting the position of the antenna on my wall, moving several feet at a time, to see if that would affect the number of detected channels, but it didn't seem to matter much.
I do wonder if I were to move the antenna upstairs if that would help. I live in a townhouse, so I have a house on either side of me. I may be a bit too insulated by housing material to pick up on that full list of 20 channels.
That said, the channels that did come in performed fairly well. Most of them were 3 "bars" on my antenna strength indicator on my TV  and also were in full HD. The signal remained strong and clear on most channels. A few of the weaker signals cut in and out a bit, enough to make it less than watchable. Really, I think I had about 7 good channels.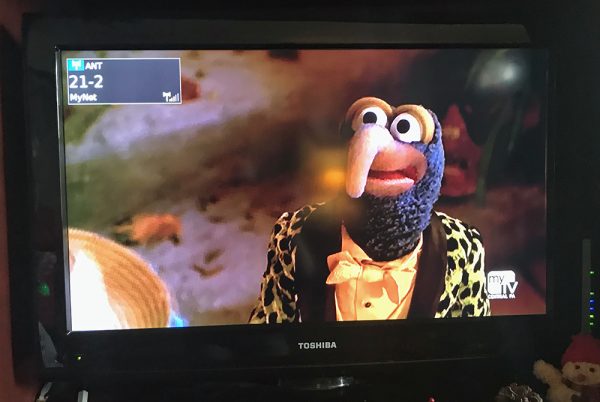 That's not to say it's false advertising on Mohu's part. Their information is gathered from the FCC and the radius and results don't take into account terrain. For instance, I live in a large valley, which might be too low for some of the signals to reach.
Their site also recommends trying different locations for the antenna until you get the best results, which means repeated attempts at moving, scanning, moving again, and scanning once more until you get the best results. I might try to do this to see if I get better/more reception.
It definitely brings to mind trying to position those old rabbit-ear antennas on the tiny TV I had in my room so long ago. I could juuuust manage to pull in Fox in order to watch The X-Files. This feels like a high-tech version of that old song and dance.
Anecdotally, for comparison's sake, I had once tried a non-powered antenna on my TV, and it found zero channels. I just couldn't get it to work from multiple spots in my living room and quickly returned it. So to find any channels at all with this antenna seems pretty great.
Positives
Easy to install
Can be powered by TV's USB port
Paper-thin, unobtrusive design
Negatives
Didn't quite find all the channels promised on the website channel search, but those results are based on a perfect topography
Still requires multiple antenna location tests as well as living in a good reception area
Final thoughts
I was impressed by the design and ease of setup of the Glide. It feels like cheating, in this day and age, to be able to plug in a sheet of plastic and get even a handful of free HDTV channels. I'd love to see how many more channels I could get with a little repositioning when I have the patience to attempt that.
For anyone thinking of cutting cable or satellite TV from their monthly bills, this is a great little tool for doing just that, well, depending on your location. It's the perfect combination of size and power in an internal HDTV antenna and might be able to find quite a few more channels than a non-powered antenna.
Price: $74.99
Where to buy: You can purchase the Leaf Glide directly from their website and Amazon.
Source: The sample of this product was provided by Mohu.