We use affiliate links. If you buy something through the links on this page, we may earn a commission at no cost to you. Learn more.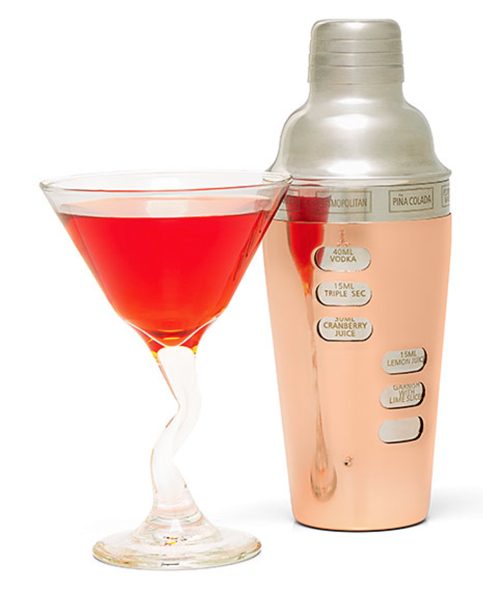 If you like to mix up your own drinks in your home bar, you know you need various tools, including a cocktail shaker.  Unless you have an incredible memory, you'll also need a recipe book, or you'll find yourself asking Siri or Google how to make drinks.  With the Mixology Cocktail Shaker, you'll have recipes for eight drinks, like Mai Tais, daiquiris. cosmos – even shaken Martinis – right there on the shaker.  You just twist the outer cover to select the drink you want, and you'll uncover the ingredients needed.
The Mixology shaker is made of stainless steel and copper plating.  It has a 750ml capacity (about 25.4 fluid ounces), and the recipes are listed in milliliters.  And you'll be glad to know you can throw the shaker in the dishwasher after you've worn out your arm muscles shaking up all those drinks!  The Mixology Cocktail Shaker is $29.99 at ThinkGeek.