We use affiliate links. If you buy something through the links on this page, we may earn a commission at no cost to you. Learn more.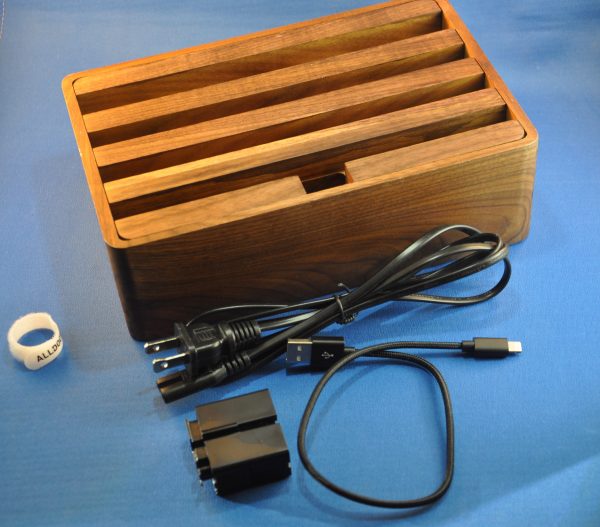 Organizing our workspace and dealing with the perpetual need to charge our devices frequently seem to work at cross-purposes. Cables sprawl around mice, keyboards, and desk trinkets. A stand just for charging can seem like a lot – unless it can organize all the cables and charging devices into a single location. This is the mission of the AllDock, a new product series from Dittrich Designs. I was sent a medium model in walnut to test.
Note: Photos may be tapped or clicked for a larger image.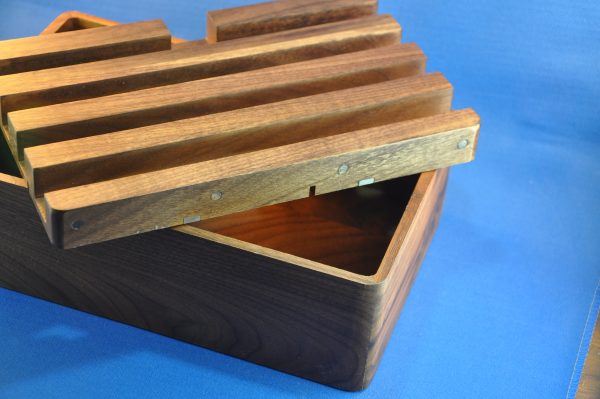 The AllDock is attempting to cover the ground that other charging platforms have in the past, but it uses warm, full grain, real wood to hide the technology. The base itself is a solid box of walnut or bamboo, 2.75" x 6" x 9". Lengthwise across the top are four channels with three tear-drop cord holders in the bottom. Under the top, a 4-port high-quality USB charger is installed, so that you can attach cables to each port, and thread them up through the ports. From there, you can plug your device in, and stick it down into the channel with the power plug in the teardrop hole, and your screen upright for use. This could work great for a conference room, break area, or coffee shop, where you want to provide charging, but don't want a bunch of ugly chargers and cables strewn about.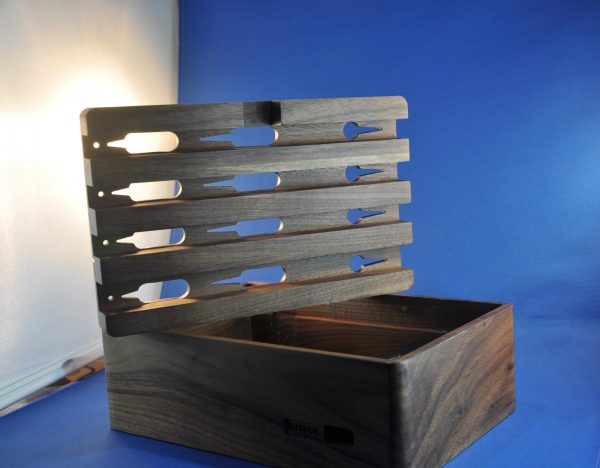 The top is held in place by six pairs of rare earth magnets along the long sides. They are strong enough that I can lift the box by one of the top crosspieces and shake it, and it won't let go. Once you "help" it with the other hand, it lifts readily, and you can change the cable arrangement at will.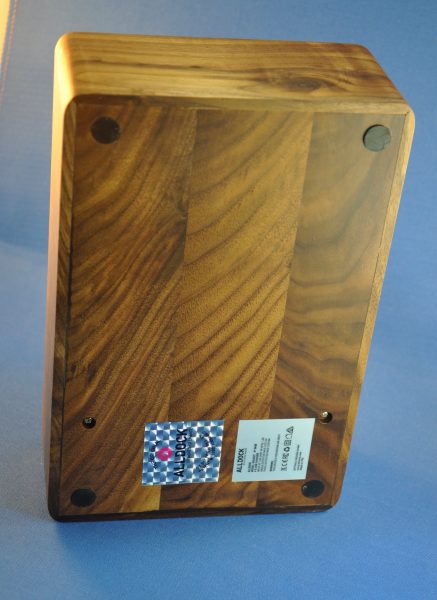 The channels are of two sizes: the rear-most is .75", while the other three are .5" each. My iPhone can fit into the smaller ones, even with the Apple Leather cover attached, but most cases forced usage of the rear slot. Without a case, my iPad Pro 10.5" can fit any channel in portrait, but even the thinnest case is too much for them, mainly because all my cases have covers, so they have to fold over. My Lovely Bride's OG iPad mini fits either orientation without a case, but the case, again, is too thick, since it is a fold-over.
The front bar has a one-inch gap in the middle, which makes it perfect to press the home button of the device in that front-and-center position. The weight and bulk of the box make it very sturdy for using an iPad in portrait mode (as I'm doing now) so that you can use a standalone keyboard.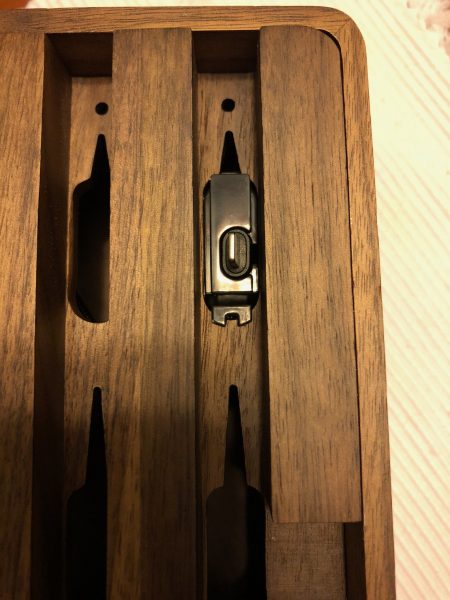 A few add-ons are available. One, a one-handed dock for Lightning, was included. You insert your cable, clip the holder up into the teardrop slot, and the cable is perfectly placed to receive your phone or iPad. Other add-ons include a hanging mount for an Apple Watch and a "sidecar" for Apple AirPods. You can even get a wireless charger to install, and lean your Qi comparable device against it.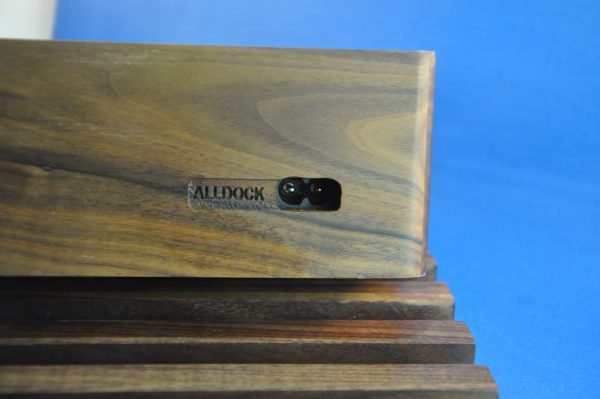 I lied earlier when I said it was only available in wood. I didn't want to spoil the mood. They also make slightly cheaper versions in a black or white ABS plastic, and the rack tops can all be mixed and matched. There are other sizes as well. A 6-port "Large" model, and an 8-port Tower with no rack are available. One thing to note is that each device has a full 2.4 mAh connection per port. The 8-port model delivers a whopping 19.2 mAh, the 6-port totals 14.4, and the 4 port 9.6. Few multi-port chargers deliver this amount of power per port.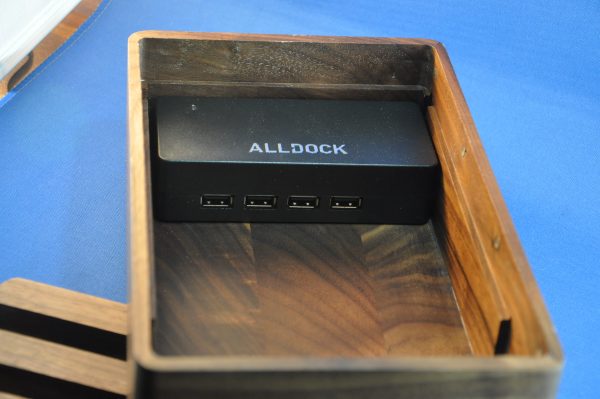 I have a friend who claims I have a stand addiction. He said at dinner the other night "Smythe has never seen a stand he didn't like – or buy." He's only partly wrong. There are some I like but didn't buy because they weren't something that would fit in my life. There were also some that I really wanted to like, but just had too many negatives to overcome. Sadly, for me, the Alldock falls into this category. It's beautiful and made from quality materials, and the electronics are first-rate. The issue I have is that the grooves are too narrow to use with all but naked devices. I have cases on my iPads and my iPhones. Taking them out of the case is a hassle if I'm only doing it for charging, or even to leave on my desk while working. What do I do with those cases while I'm working with the naked iPad or iPhone? I have several different stands – some at work, others in various places around my home, and the only one that requires me to remove the case is the Flote stand, which I use least of all.
Source: The sample for this review was provided by Dittrich Designs. Please visit their site for more info and Amazon to order.