We use affiliate links. If you buy something through the links on this page, we may earn a commission at no cost to you. Learn more.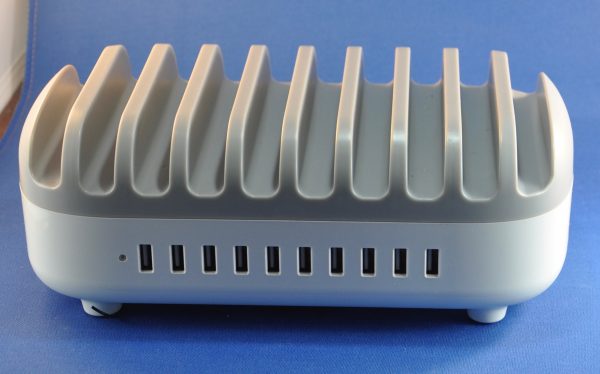 Everyone has devices of some sort today. Whether it's the shipping crew in your warehouse or the executive team meeting in the boardroom, they all have phones, tablets, and wireless earbuds that frequently need a power bump during the day. Students hover around outlets between classes and in the cafeteria. I was at a baseball game a few weeks back, and a young lady spent the better part of 3 innings sitting on the floor between the restrooms, with her phone plugged into an outlet. I have worked with several companies over the past few years, and have seen this need only increase. A few places I hang out in provide power and USB outlets in public areas. Coffee shops and airports are the first things that spring to mind. One large Fruit company I worked with had places for all company-owned devices to charge, but it was little more than a bunch of power adapters plugged into multi-port outlets. These days, however, there are better options. One such is from a company called Orico. It comes in the form of a ten-device box called the Orico DUK-10, with uniform slots for power cables, and spacious cradles for devices to rest in.
Note: Photos may be tapped or clicked for a larger image.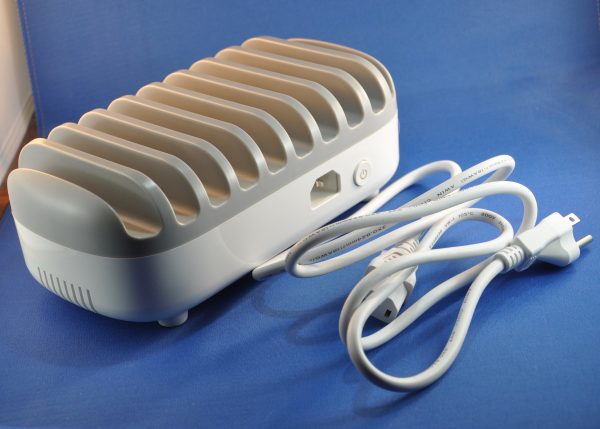 The Orico DUK-10 is a box in white, 9.125″x 4.75″x 3″ overall, with a contrasting grey-colored array of slots atop, where you can rest the devices that are charging. It also comes in solid black. In your coffee shop, conference room, classroom, break area, or geek cave, it allows users to all share a single wall outlet, and charge their devices with 2.4A to each port. The cradle spaces are .637″ wide, and have a depth of 1″. You can use any length of USB charging cable, but longer than 6″ will ensure you don't have arguments over which device takes the center slots. A standard 4.5′ power cord with an on-off switch powers the entire unit. The DUK-10 was shipped with a 110W US cable but is labeled as taking 100-240 W input, so it appears world-ready. I was unable to test this currently. (If anyone wants to fund a quick trip abroad, I'll happily bring back results!)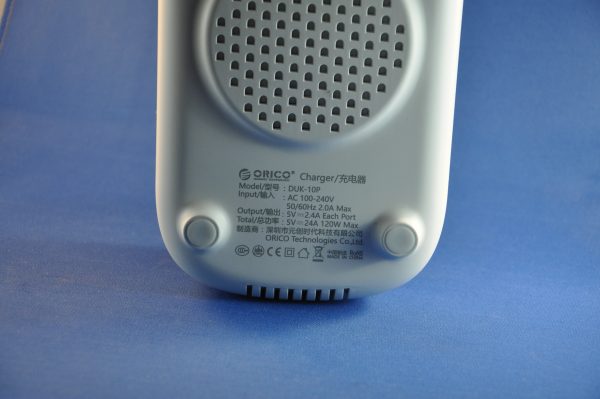 While our household has shrunk to two people now, we still have over a half-dozen things needing charging at once. A lot of these, of course, are mine (Apple Watch, 2 iPads, Bluetooth keyboard, wireless earbuds (one set for each iOS device) and an iPhone are charged at least weekly, if not daily), but my Lovely Bride has an iPad mini and an iPhone, and sometimes a work iPhone that needs power as well. Currently, we are able to each do this at our desks or bedside tables, but in some households I've been in, the family electronics are in the kitchen or den, fighting over the one or two plugs that were not powering the Vitamix and the toaster oven. The Orico DUK-10 would fit easily into this scenario.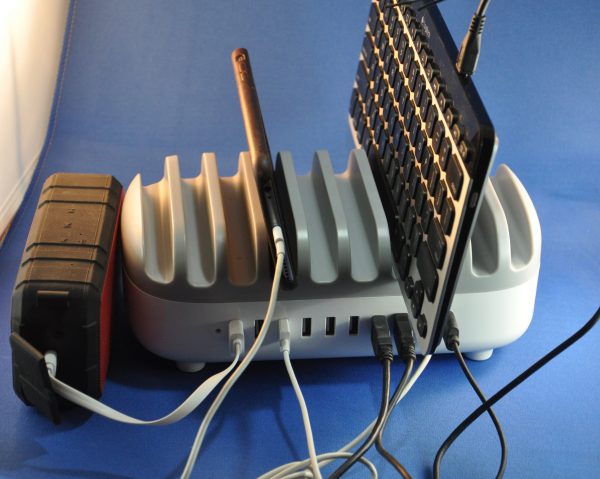 The DUK-10 has vents on either side, as well as a grille for air flow up through the bottom, and is set off the surface by small nubs with rubber pads to allow convection cooling. There is no fan to assist cooling or add noise to your environment.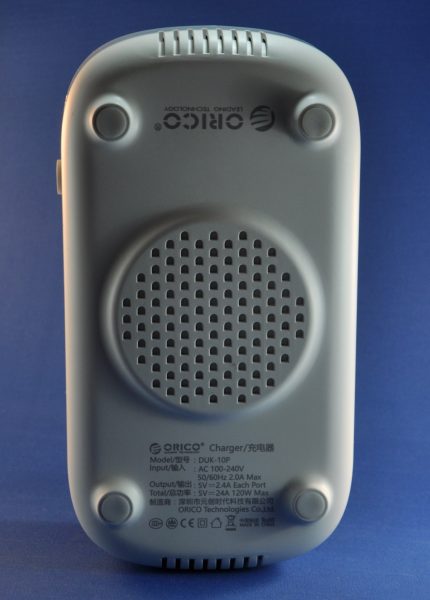 Source: The sample for this review was provided by Orico. Please visit their site for more info, and Amazon to purchase.
Product Information
Price:
$99.99
Manufacturer:
Orico
Retailer:
Amazon
Requirements:

Wall outlet for power
USB A-device cables for anything needing charging

Pros:

Protected circuitry for independent charging to each port.
Compact design lets it fit into most areas, but can hold very large/awkward devices.
On/Off switch shuts down entire unit easily.
World Ready - only needs a power cord.

Cons:

No device cables included.
No FCC rating printed on unit.