We use affiliate links. If you buy something through the links on this page, we may earn a commission at no cost to you. Learn more.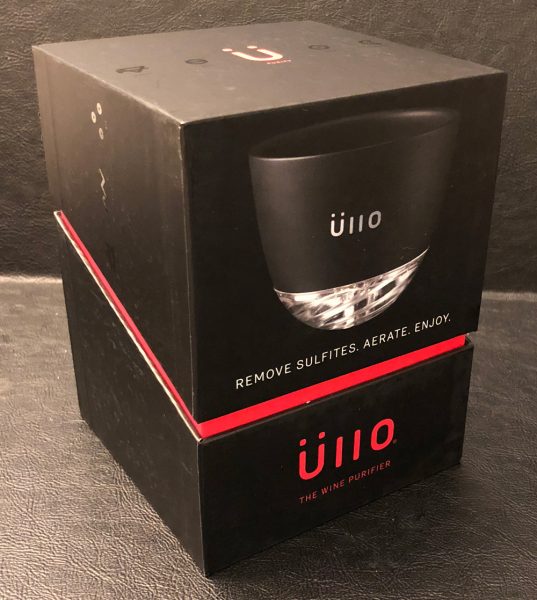 We drink a fair amount of wine in our world. From my wife's Friday evening wine club to our many social engagements, we have the opportunity to indulge in some very good vino. A majority of the wine we consume comes from what most would consider classic vineyards. That said, we have several friends and coworkers who only drink sulfite-free wines. They usually pay extra and do not have nearly the selection we do across the board. So, when Julie asked if we wanted to try the Üllo Wine Purifier, the chemist in me thought it would be fun and interesting to see if it really removes the sulfites without impacting the wine itself.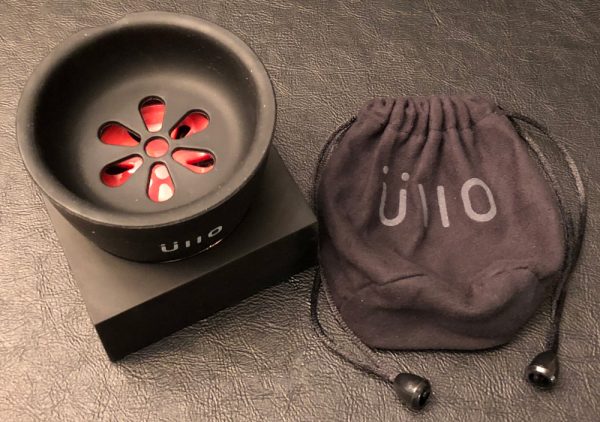 The Üllo Wine Purifier is relatively simplistic in its design. The housing is engineered to hold a filter meant to remove a majority of the sulfites as you pour wine thru the assembly. The Üllo can de-sulfite both white and red wines, removing the sulfites added during the bottling process as a preservative.
According to the Üllo Kickstarter page — "An estimated three million Americans are sensitive to sulfites resulting in allergies or respiratory problems, while countless others blame these chemicals for headaches and hangovers".
Üllo is a Chicago startup with a simple mission to bring wine back to its natural state. Doctor James Kornacki is the inventor of Selective Sulfite Capture™ technology and holds a doctorate in chemistry from Northwestern University. He founded Üllo in 2014 in Chicago as a Kickstarter effort that raised over $150k with thousands of backers.
POUR – All wine contains sulfites, which are artificial preservatives added during production. They are no longer needed once the bottle is opened.
PURIFY – Proprietary polymer technology filters away free sulfites and their bitter taste, while allowing other compounds in wine to flow through unaffected.
PURE WINE – Through Selective Sulfite Capture™, free sulfites are reduced to a more naturally occurring level for most wines.
The ultimate goal is to "return wine to its natural state as if you opened the bottle right at the vineyard." The Üllo is designed to remove the sulfites, restoring wine to its natural, preservative-free state thus reducing the bitter aftertaste that the chemical many times causes.

In the Box:
Üllo Wine Purifier
Travel bag
Display base
4 Selective Sulfite Capture single bottle filters
Specifications:
Dishwasher safe, BPA-free materials
Height: 5 7/8" x Width: 4 3/8"
Üllo filters are made in the USA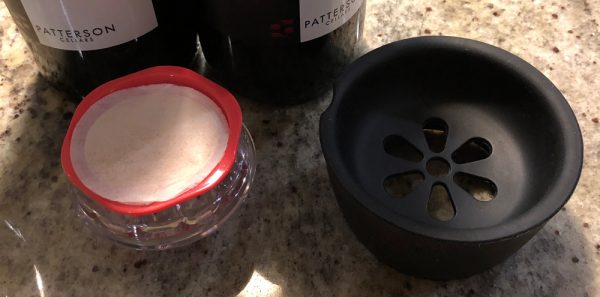 The Üllo assembly is made from three pieces of BPA-free plastic and rubber that all click together, are easily pried apart, and dishwasher safe. Here you see the filter that contains a porous, food-grade polymer which selectively removes sulfites while allowing the other compounds in the wine to flow through unaffected. Each filter is supposed to reduce sulfites to less than 10 ppm (parts per million) for one bottle of wine.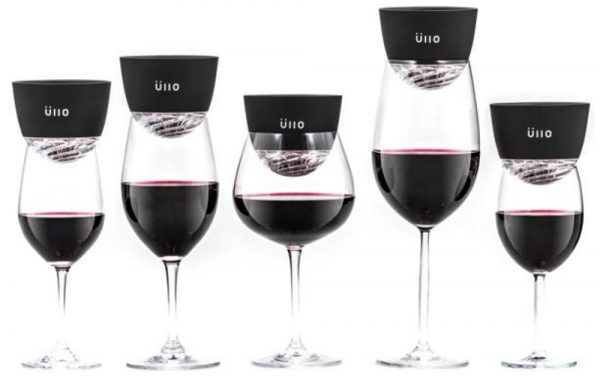 The Üllo is engineered to be flexible in how you use it. If you prefer wine by the glass, the Üllo is designed to sit on top of a variety of wine glasses.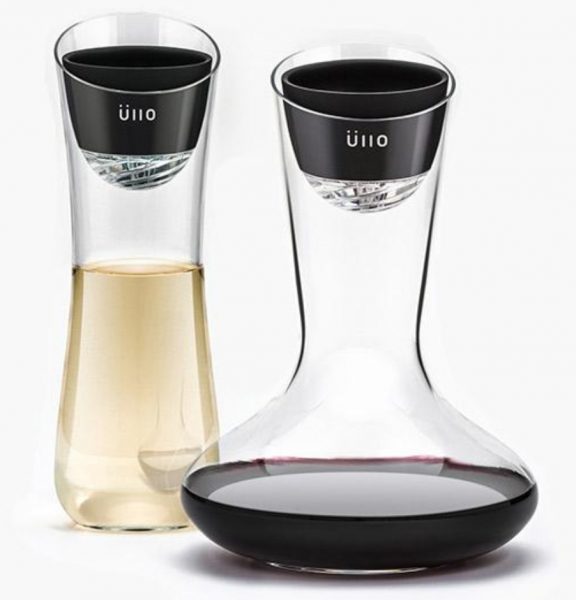 Or by the bottle, the Üllo can also fit inside or on top of the mouths of a multitude of carafes and decanters as well.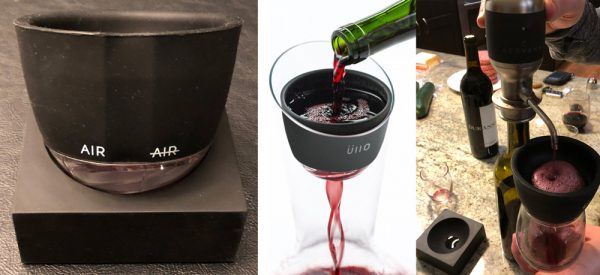 As I mentioned above, the Üllo Wine Purifier can not only remove/reduce sulfites, but the internal design can aerate red wine or allow white wine to flow thru. That said, I have to add this is the Üllo's only design weakness. We tried a multitude of different bottles of wine thru the Üllo and even sitting minutes after pouring, we found the aeration it provided lacking. We have gotten used to and prefer the substantial aeration that the Aervana electric aerator produces. But we did try the Üllo in tandem with the Aervana and I believe that achieved the best results.
Does it work…
Well, that is the 24,000 dollar question. And truth be told, I cannot give you a concrete answer without sending samples to a lab for analysis. Being the nerdy scientist I am, I would LOVE to give you some cold, hard numbers into what is a pretty subjective review.  All I can give you (for the moment) is the report out from the Wine Club. And sadly results were all over the board. We tried the Üllo wine purifier on several occasions with a variety of nice wines: I found it smoothed out the flavor, a few found no change, and one thought it made the wine more acidic. Like I said…extremely subjective :-/ .
My hope…
We have friends and coworkers who happen to make wine, with several of them owning full-scale wineries. We stopped by one of them to pick up a case for the holiday get-togethers and my wife mentioned the Üllo wine purifier to Steve, the owner. Well as the story goes, Steve was very interested in not only the chemistry of it but the potential for selling it to those sulfite-sensitive/allergic folks. He says sulfite content is a question that is regularly asked. Steve was so interested, that he volunteered to not only try the Üllo but send a few samples to his lab to see if it truly works. If/when he has results I'll update this review with some rubber meets the road data. But until then, all I can say is that I found the wine smoother with the Üllo than without it.
Bottom line…
The Üllo Wine Purifier seems like an ideal gift for those sulfite-sensitive/allergic folks you know. The Üllo itself comes with four filters and costs $80. The Selective Sulfite Capture single bottle filters cost approximately $3 each and are available in packs of 6 or 15. The Wine Club thought the filters were a bit pricey on a per bottle basis. But considering how expensive and limited sulfite-free wine is, the cost may be worth it for those needing/preferring low sulfite wines.
Source: The sample for this review was provided by Üllo. Please visit their site for more info and Amazon to order.