We use affiliate links. If you buy something through the links on this page, we may earn a commission at no cost to you. Learn more.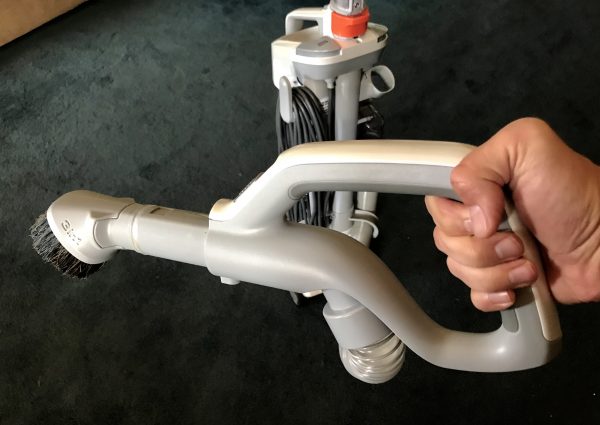 Think about all the regular housekeeping chores that you have to do on a regular basis. Now think about the ones that appear close to the bottom of that list. Maybe it's taking out the garbage or cleaning the toilet. But if you would have asked me what I least enjoy, it would probably be vacuuming.
Just the thought of dragging out that heavy, cumbersome machine and lug it around the living room for 10-15 minutes is enough to make me think "ehh… the carpet's not thaaat dirty" and push that idea right out of my head for another day or two. But I learned sometimes, you just need the right tool to make the job enjoyable, and Electrolux's ProSwivel vacuum really hit that sweet spot for me.
Specs and Build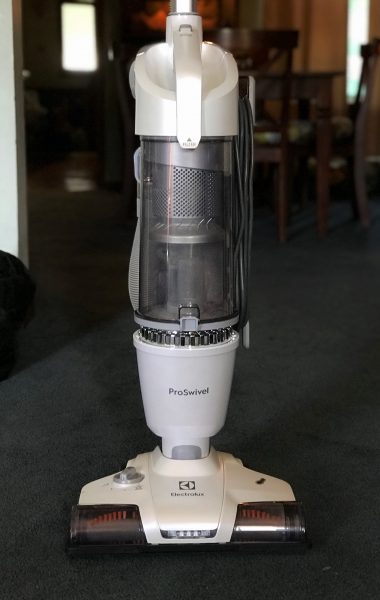 The ProSwivel has a lot of features for such a small, unassuming vacuum. Hidden in the body is a long, 2-foot aluminum cleaning wand that is attached to the hose, giving you 12 feet of reach, making those ceiling fans and door frames a breeze to suction-dust.
I was pleasantly surprised by the cleaning attachment. Initially, I was looking around for 2-3 individual brushes and funnels to pop into the body but realized that they were all the same piece. Depending on which end you place on the hose, it can serve as a dust brush, crevice tool or furniture nozzle. Pretty clever space-saving trick.
The ProSwivel features…
Onboard (and quite innovative) 3-in-1 tool
10-foot hose and 12-foot attachment reach
Easy floor height adjustment
Floor-height front LED lights
Easy-empty 1.2 quart cyclonic dust container
13 inch cleaning width
Washable filter
11 amp motor, 30 foot cord
16 pound total weight
The vacuum is solidly built. I didn't hear any rattling or strange noises while it was running. And as you can see in the photos, it has a clean, modern design. After several weeks of normal use, it still looks brand new. Of course, this is a product that you would use for years, hopefully, so it's hard to ascertain how rugged the ProSwivel is.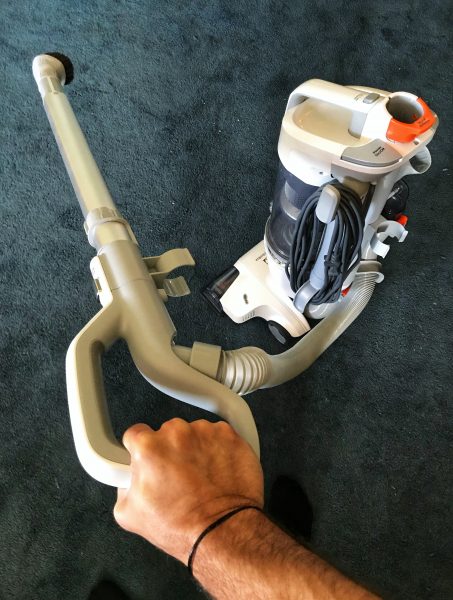 I did find one area that could be a cause for concern, over time. Where the hose is attached to the handle hangs at a sharp angle, and with the weight of the rest of the hose pulling on it, it seems like a stress point that could stretch or maybe even tear over time.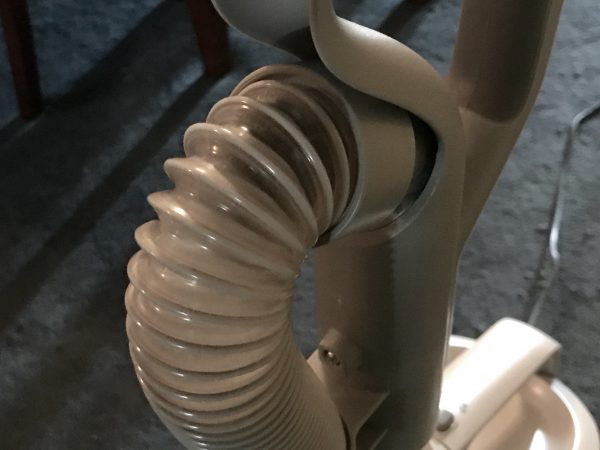 In Action
I think the initial joy from using this vacuum was in just how lightweight and maneuverable it was. My other cleaner was an old basic Eureka upright… fairly no frills, and an absolute beast. I have fairly thick carpet and the ProSwivel glides over it while still effectively brushing and suctioning up plenty of dirt and dust.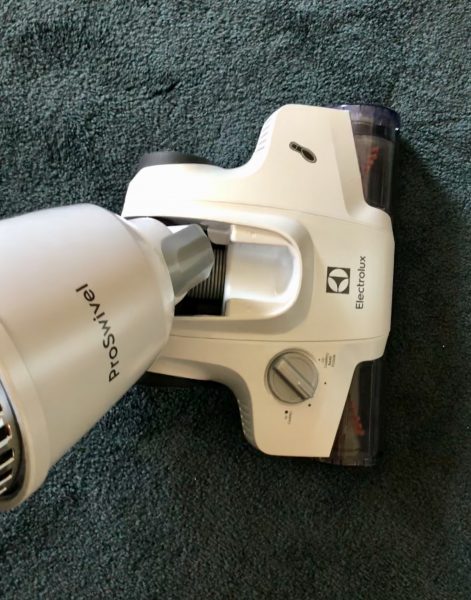 I also like the very visible cyclone dust canister. It gives a good idea of when it's getting a little too full and needs emptied. It also demonstrates just how much dust, crumbs, and hair are being picked up, which, you know, can be both impressive that the vacuum is working so well and embarrassing that the carpet (mine, anyway) was that filthy.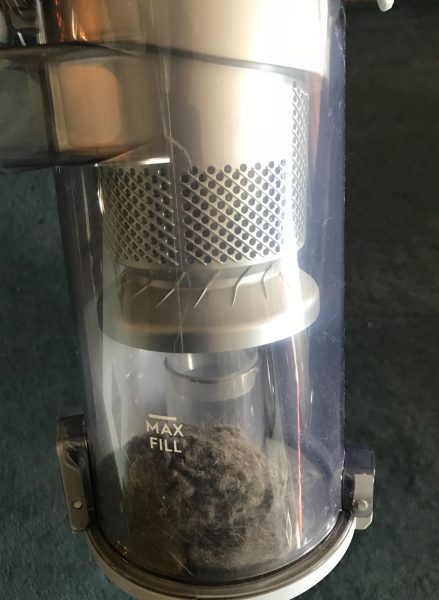 Going back to the swivel feature, the head is easy to snake around corners and furniture legs. It takes some getting used to, sort of like driving with a trailer attached, but once you get the hang of it, something as pedestrian as vacuuming becomes, well, sort of fun. The width of the suction head is only a little over a foot wide, which gives it the advantage of being able to fit in a lot of narrow areas. Of course, that means more passes on large open areas of carpet. And since rounding corners and skirting against walls and furniture is so darn fun, it makes the wide expanses of carpet with that tiny head seem tedious by comparison, like painting the side of a barn with a paint roller.
That's a fair trade.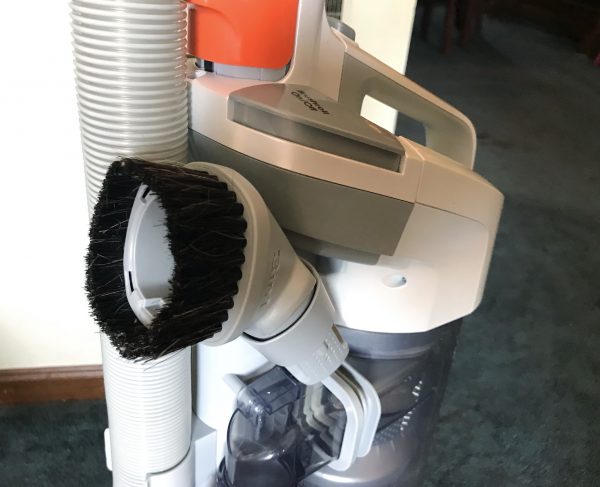 The actual suction seems very good. I tested it on several surfaces with the brush roller on and off (there's a handy brush switch near the power button) and it handled the floor height difference very well. I have a dark carpet and can plainly see crumbs and all the normal bits that land on the floor, so it's very easy to tell when something doesn't get picked up on the first pass. The only thing it missed was bits of food that had dried and stuck to the carpet fibers…. I have a five-year-old, so that's a common sight. One good lap around the living room picked up all the visible mess and then some.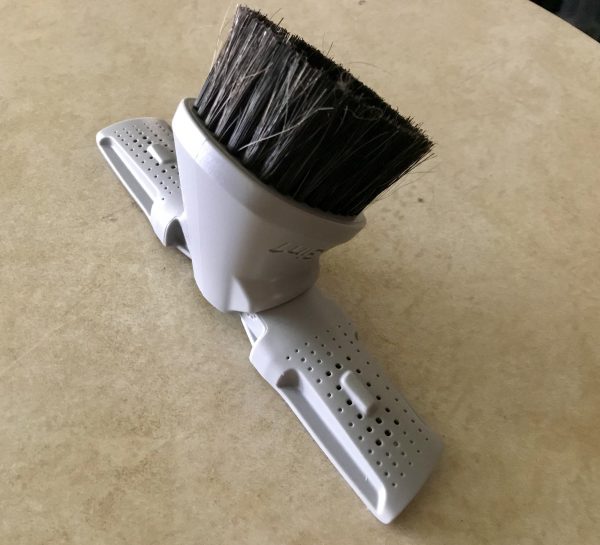 Conclusion
One of the largest hurdles in getting around to vacuuming the floors, at least for me, is the thought of getting up and lugging out a heavy, loud, clunky machine and pushing it around the room. The ProSwivel goes a long way toward removing that barrier with its light weight and fun design. I love anything that is designed to make me more productive.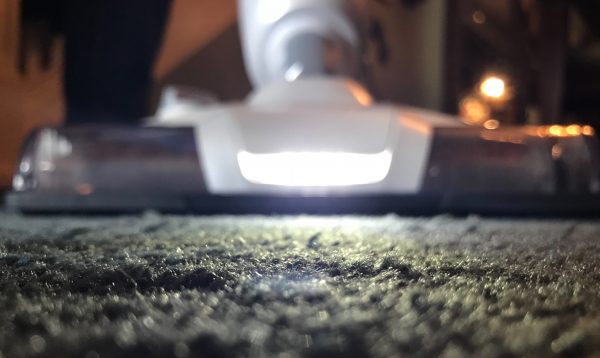 That transition from "Ugh, vacuuming" to "Ooh, vacuuming!" could be an accurate wrap-up of my experiences with the ProSwivel.
Update 3/4/20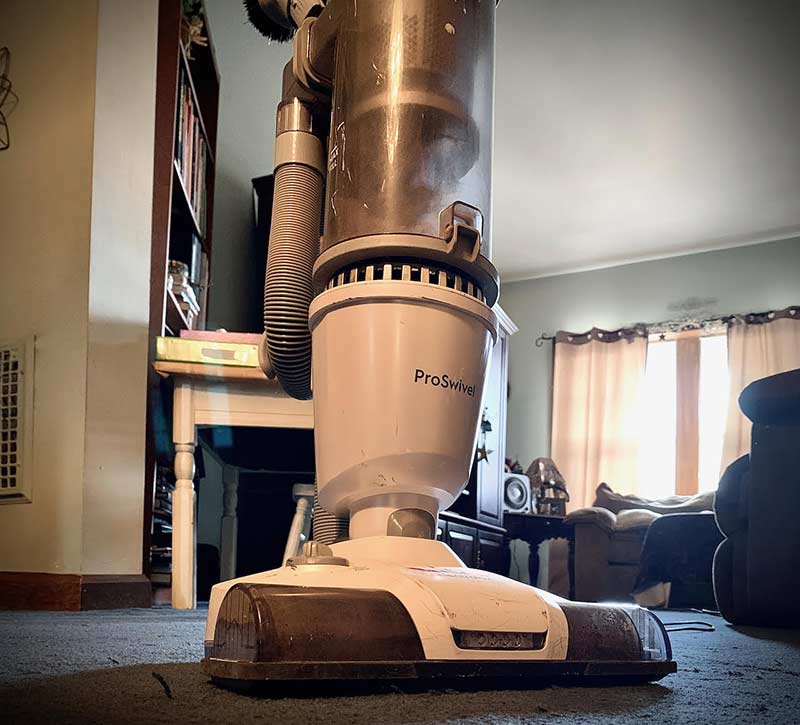 It's been over a 2 years since I reviewed Electrolux's ProSwivel Vacuum, back in November 2017. Since then, I've used it at least once a week and it's still alive and sucking!
In fact, aside from a few (or quite a few) dings and scratches, it's still running good as new. And the cost of ownership is very low as well, thanks to its washable filter and plastic collection bin. I haven't had to buy any replacement bags or filters or belts this whole time. All it takes is some minor maintenance like washing out the dust bin and filter every once in a while, and making sure the brush isn't getting gummed up with too much hair. Excellent value.
Source: The sample for this review as provided by Electroluxappliances.com. Please visit their site for more information.
Product Information
Price:
$269.99
Manufacturer:
Elextrolux
Retailer:
Electroluxappliances.com
Pros:

- Lightweight and easy to maneuver
- Long, built in cleaning wand has good reach
- Very easy to empty and store

Cons:

- Not very wide, so it can be tedious for large areas
- Narrow base also makes upright unstable when using wand, falls over