We use affiliate links. If you buy something through the links on this page, we may earn a commission at no cost to you. Learn more.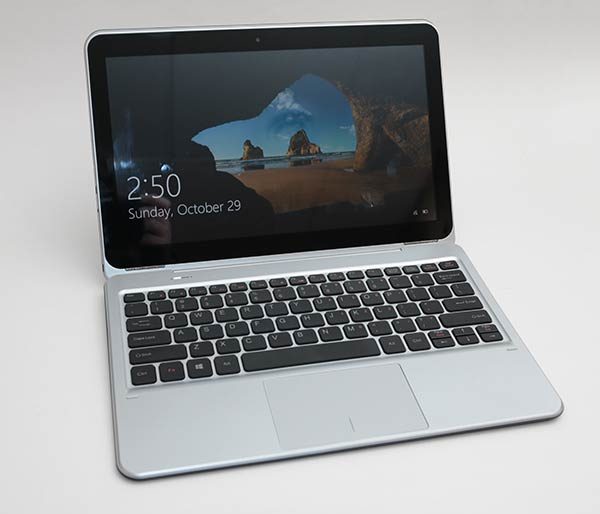 I've been using a Mac as my main computer at home for quite a few years now. I started with an iMac, went to a 15″ MacBook Pro, then to a 13″ MacBook Pro, next was a MacBook Air, and now I'm currently using a 12″ MacBook.  I keep downsizing because I prefer a lightweight laptop that won't break my shoulder when I travel but is still large enough to work on. The 12″ MacBook is almost perfect. But, I recently had an itch to switch to a Windows laptop and was shopping around for an ultralight machine and started thinking about 2-in-1 laptop/tablet devices. As luck would have it, the folks at Nextbook asked if I would like to review their budget-priced Nextbook Flexx 11a 1.6″ Convertible Touchscreen Tablet PC. I was happy to accept their offer and decided to make the Nextbook my travel companion for my yearly vacation to Florida. Read on to find out what I think of the Nextbook after using it exclusively for a full week.

What is it?
The Nextbook Flexx 11a is a laptop with an 11.6″ touchscreen that can be used as a laptop or detached from the keyboard and used as a tablet PC.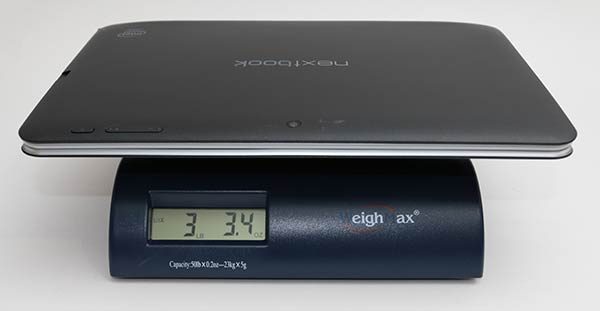 Hardware specs
1.84GHz Intel Atom CherryTrail Z8300 quad-core processor
2GB DDR3L of system memory
64GB of internal memory
Genuine Microsoft Windows 10 OS
11.6″ touchscreen 1366×768 resolution (IPS)
Back 2MP webcam and front 2MP webcam with microphone
USB 2.0 port, micro USB 2.0 port, micro HDMI port, headphone jack
Built-in WiFi and Bluetooth v4.0
Dimensions (L x W x H) 11.36 x 0.39 x 7.65 Inches
Weight 3.02 lbs
Design and features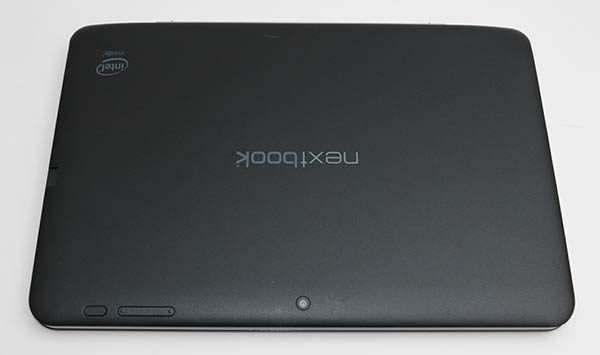 My first look and feel of the Nextbook didn't cause me to say words like "wow" or "oh my". This is a budget computer, so the Nextbook isn't flashy which is fine by me.
The case is made of plastic and it feels like plastic right down to the creaking and cracking noises that it makes when you lift the lid and perform the Gadgeteer squeeze test.
The back side of the display has a dark gray matte finish on the top, with Nextbook and Intel logos, and a back facing 2MP camera.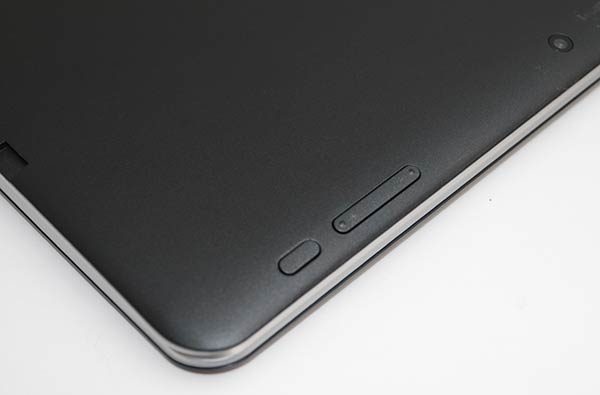 You'll also find the power button and a volume button bar on the top edge of the back side of the display.

On the right side of the keyboard, you'll find a full-sized USB connector that can be used for a wired mouse, flash drive, etc.

On the opposite side of the Nextbook is a 3.5mm headphone jack, microphone, power port, micro USB, micro HDMI, micro SD card slot, and a status LED for charging status.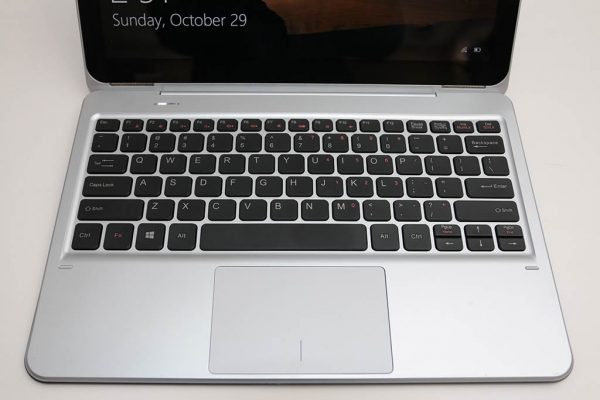 The Nextbook display opens up to reveal a a silver and black plastic QWERTY keyboard with a touchpad below it. Click the image above if you would like to see a larger view of the keyboard.
Although the Flexx 11a is a small laptop, the keyboard is roomy enough for a touch typist like myself. The keyboard is a little spongy feeling, but I didn't have any problems with the layout.
The touchpad is adequate, but nowhere nearly as responsive as the touchpad of every MacBook that I've ever used. I'm kind of a touchpad snob and compare every one that I try to the ones on a MacBook because they are that good.
During my week using the Nextbook, I had a lot of issues selecting multiple lines of text using the touchpad. Sometimes I'd highlight a whole section and as soon as I'd try to copy it with a CTRL-C, the selection would change to just the first word or two. This became very frustrating and I found myself relying on a wireless mouse when I wanted to do extended writing and text editing.
Display
The Nextbook Flexx 11a's display is about the same size as my 12″ MacBook, so I had no problems with the size. For a sub $200 laptop, I was impressed with this little laptop's display. The colors and sharpness of text and graphics are very good. It's not a retina display, but when I place the Nextbook next to my MacBook, I really can't tell a huge difference between them except for the huge bezels on the Nextbook.
Setting up Windows 10
It's been awhile since I've set up a new Windows computer so I was surprised when the setup for the Nextbook was mostly handled by Microsoft's Cortana voice assistant. She tells you what she's doing during each step of the setup and asks questions that you can answer with a Yes or No answer using your voice. It was slick and easy.
Is it a laptop or a tablet?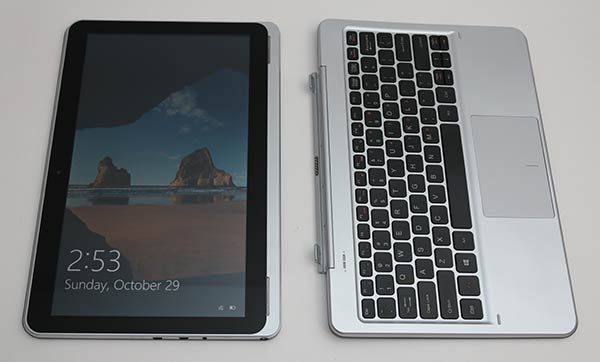 The Nextbook Flexx 11a can be used like a traditional laptop but unlike Microsoft Surface and other tablet-style PCs that have a kickstand, the Nextbook works just fine on your lap even though it's slightly top heavy.
For those times when you want to use the Nextbook like a tablet, you just detach it from the keyboard with a simple tug.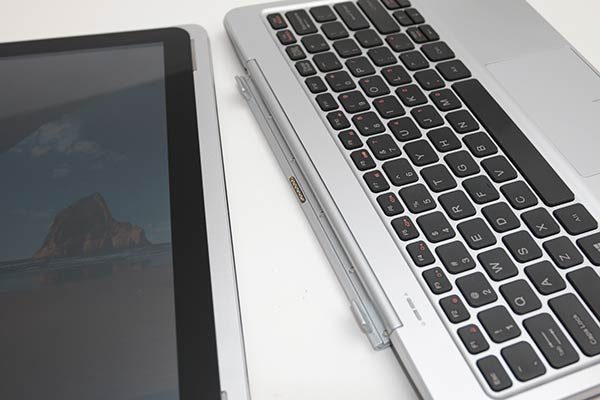 The Flexx attaches to the keyboard with magnets that hold it securely in place but also allow for easy detachment.
The nice thing about the Nextbook is that you don't have to charge the keyboard separately or bother with pairing it to the tablet. Charging is done through the tablet/display when it's attached to the keyboard and the keyboard just works as soon as it's connected to the display.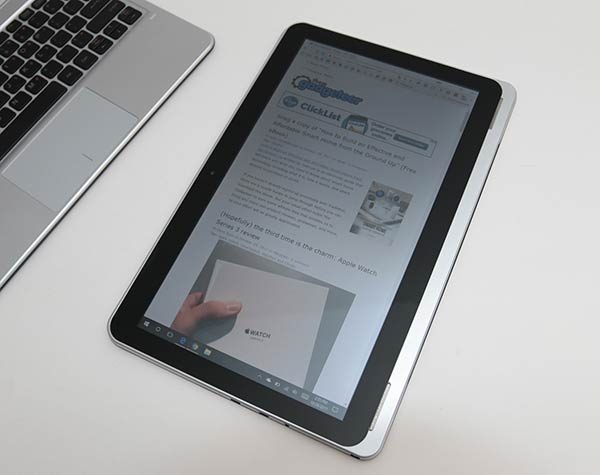 The display/tablet has a touchscreen so you can use your finger to tap icons and use an onscreen keyboard.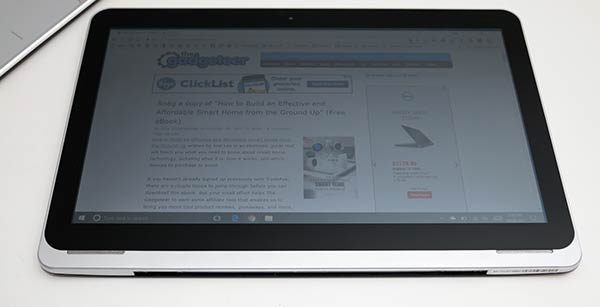 The tablet will also auto-rotate feature when you turn it from landscape to portrait orientations. For audio, there are two speakers built into the edge of the display.
I've tried Windows 10 on small tablets before and didn't really enjoy the tablet PC experience but I hoped the Nextbook would offer a better feel since it has a bigger display.
I had no real issues using the Flexx 11a's display to watch media, read, and surf websites while in tablet mode, but to do real work in this format didn't work out well for me. I didn't like using onscreen keyboards because I can type so much faster on a physical keyboard. I also find selecting items in menus and tapping small buttons with my finger to be tedious and frustrating.
Performance and battery life
The first thing I noticed about the Nextbook Flexx 11a is that it seems to take forever to fully charge it. I'm talking over 4-5 hours for an 8 hour run time return.
As far as performance, the Nextbook felt "ok" after a reboot and an hour or less of surfing using Chrome. But once you opened a few tabs, performance became noticeably sluggish. I would use the task manager to kill the Chrome processes and things would be "ok" again for awhile. I think the problem is due to the fact that this laptop only has 2GB of ram and it has a budget processor.
I'm not an expert on CPUs, so I went to someone who knows much more than I ever will on that topic: Lisa Gade from MobileTechReview.com. Lisa reviews laptops so she knows what she's talking about. Just for fun, I asked her how my early 2016 12″ MacBook with a 1.1 GHz Intel Core m3 processor compares to the Nextbook Flexx 11a's 1.84GHz Intel Atom CherryTrail Z8300 quad-core processor. Yes, I know it's crazy to compare apples to oranges or in this case an Apple to a Nextbook, but both machines have mobile processors, so I was just curious as to what Lisa would say:
The MacBook is a rocket scientist compared to the Cherry Trail Atom CPU. I've reviewed a few Cherry Trail over the years, but nothing recently (I guess I'm a CPU snob). I can live with having to use a Core m3 and 12" MacBook here and there. The Atom is "just shoot me now" territory, for my unduly colorful and subjective opinion ;).

This might be the most useful for lots of metrics for each:
https://www.notebookcheck.net/Intel-Atom-x5-Z8300-SoC.146643.0.html
https://www.notebookcheck.net/Intel-Core-m3-7Y30-Notebook-Processor.178426.0.html (this is the slightly slower 1.0 GHz rather than Apple's 1.1 GHz, but close enough).
Final thoughts
When it's all said and done, I find it hard to complain very loudly about the Nextbook Flexx 11a due to the fact that it only costs $179 and can be used as both a Windows 10 laptop or a Windows 10 tablet.
As long as you understand its limitations and keep in mind that it's no speed demon, the Nextbook Flexx 11a is a capable little computer for email, browsing, watching videos and even some lightweight gaming.
Source: The sample for this review was provided by Nextbook. Please visit their site for more info and Walmart to order.