We use affiliate links. If you buy something through the links on this page, we may earn a commission at no cost to you. Learn more.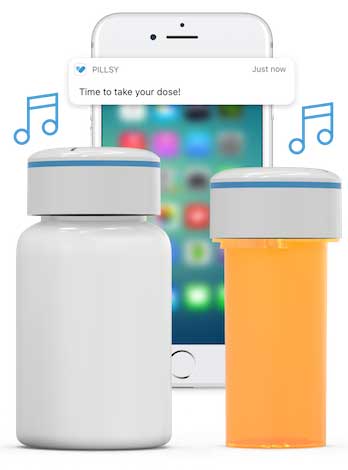 At least once a day I roll my eyes at an announcement for a new IoT (Internet of Things) gadget. Do we really need another toaster, refrigerator, or toilet that's connected to the internet? Ok, I made up the last one… at least I don't think there's a toilet that's connected to the internet – yet. But back to the point of this news post. Pillsy is a pill bottle that's connected to an app that's connected to the internet. Wait, don't click your back button yet because this IoT gadget actually sounds pretty useful.
Pillsy is really a pill bottle cap that uses Bluetooth to pair with your mobile device and the Pillsy app to remind you when it's time to take your meds or vitamins. Yes, I know you can just use the calendar app on your phone to remind you to take your meds. But Pillsy goes two steps further. It records WHEN you took the medicine AND it will warn you if you try to take another dose before it's due. This is really convenient if you have memory issues or if two people give meds to pets and humans in the same household.
Pillsy is available with a child-resistant vial or a twist off bottle for vitamins. Either version is $49 for one cap/bottle combo which I think is a little pricey. However, the price goes down a little when you purchase additional caps. For more info go to pillsy.com.