We use affiliate links. If you buy something through the links on this page, we may earn a commission at no cost to you. Learn more.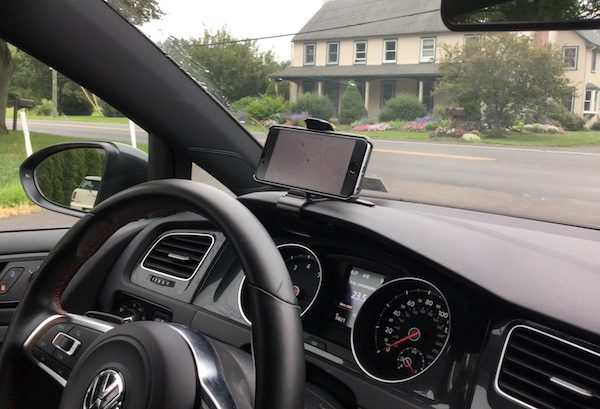 Sometimes you find a product that fulfills a simple need and does so very well. The Tsumbay Car Mount is one of those products. It has one mission: to mount your smartphone as a heads-up display, so that use your favorite navigation app in a way that promotes safer driving.
It's a simple gadget, but what really makes it stand out is the attention to detail and execution in the design. Let's go for a ride and find out more!
Design and Construction
The Tsumbay Car Mount consists of two parts. There's a base that slides onto the cowl of your dashboard, and a gator-style clip that secures your phone. When everything is in place, your phone sits like a heads-up style display, just above the steering wheel in your line of vision. You can adjust the angle of the phone to best suit your driving position, but that's about all the thinking required to get ready for motoring. It takes about 30 seconds to install.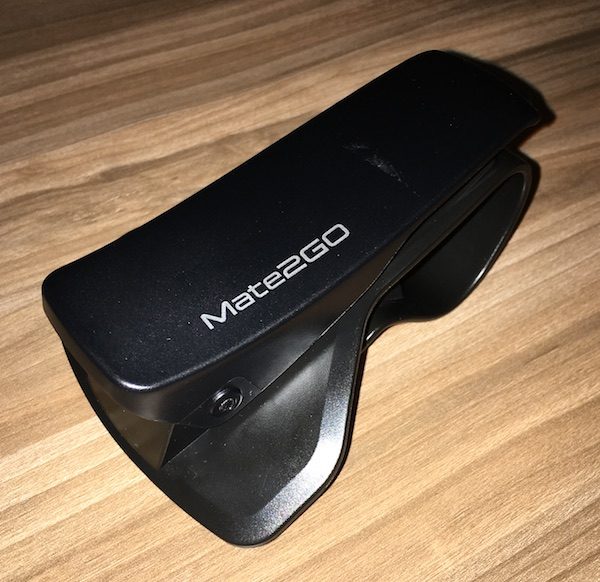 If that was all there was to it, this would be a pretty clever device. Easy to install, one moving part (the gator clip), and it solves a common problem with distracted driving. But there's more to like here, as we'll see below…
The first thing you'll notice about the Tsumbay Car Mount is the quality of construction. Made from heavy duty plastic, the whole unit feels substantial. The gator-style phone clip uses a heavy-duty spring to keep your phone in place, even after extended use. There are also thick silicone pads at all the contact points to both improve grip and to protect your dashboard & phone from unwanted scratches. It's a nice build for a simple piece of plastic.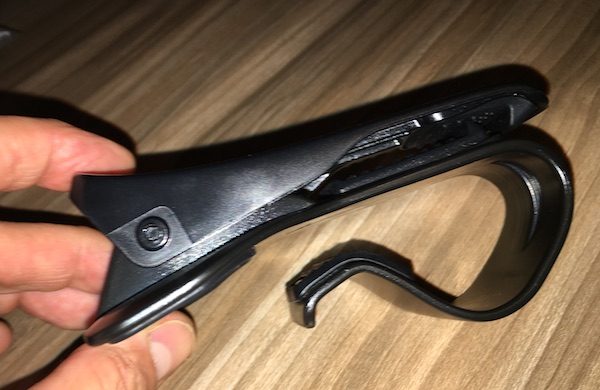 The base uses a "J" style hook shape to slide onto your dashboard cowl, with plenty of depth to accommodate a variety of dashboard styles. The base is also wide and contoured slightly to match the curve found in most dashboards, and flares towards the rear of the unit to provide additional stability. Once installed, its not going anywhere unless you choose to remove it.
The phone clip is just as substantial as the base and will accommodate a variety of smartphone sizes up to and including the iPhone 7 plus (for photo reference, my phone is the iPhone 6s in a case). The grip is firm and stable and takes a significant bit of force to knock the phone loose from the clip. The silicone pads also include additional a textured grip, so the phone won't slide forward and back in the clip once you have it where you want it.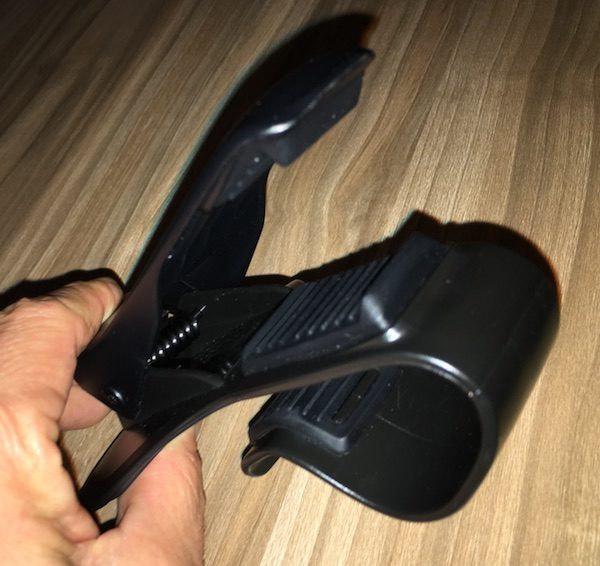 One last note on design: it actually looks pretty good in your car. Some inexpensive car mounts, while they do the job, look like cheap plastic add-ons. The all-black look and contoured design make this an attractive accessory that looks like it belongs on your dashboard.
In Use
Boy, is the heads-up display useful when you're using your navigation app.
The car mounts that I have used & tested in the past typically mount to the air vents, so they are positioned to the right of the steering wheel. This presents two problems: they often interfere with the other controls on your dash and take your focus off the road if you're glancing at your phone.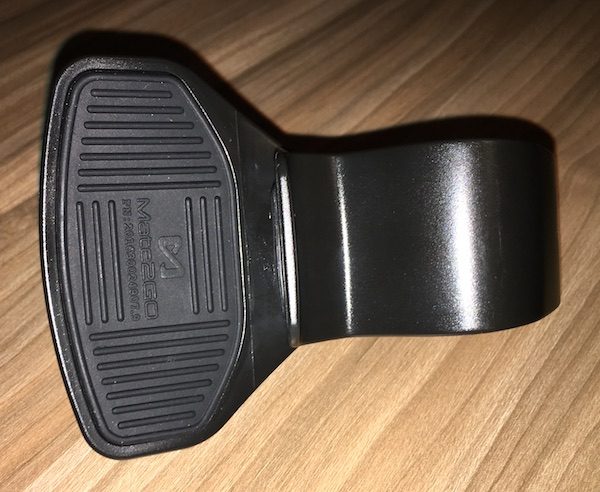 The heads-up display mount solves both of these problems. Since your phone is positioned just above the steering wheel in your field of vision, you're not taking your eyes off the road to check your map. The position on your dashboard cowl doesn't interfere with any of the dials, displays, or controls of the vehicle. It just feels safer, enabling you to concentrate on the road.
I also really like the simplicity of the device. The gator clip is the only moving part in the assembly. There are no other clips or adjustment features that could fail or wear with extended use. It also has the flexibility to accommodate a number of small and large phone sizes, which means you probably won't need to buy a new mount when you upgrade your phone. Coupled with the overall build construction, I expect that this gadget will last a long, long time.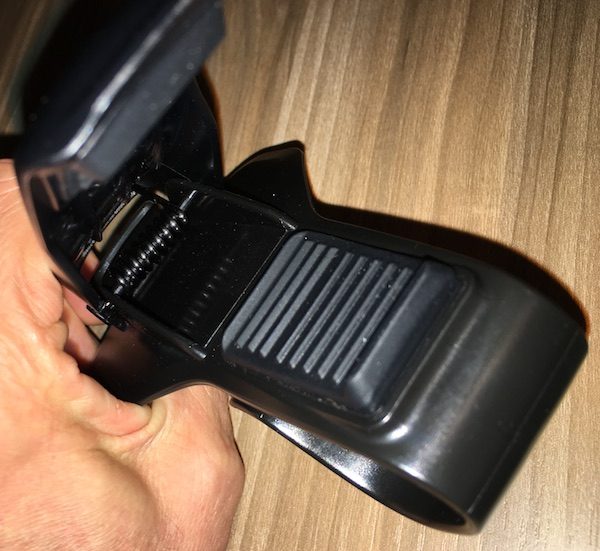 Something to consider: the mount is designed to hold your smartphone in the horizontal position. Depending on your phone and your apps, you may find this to be an issue. Google maps on my iPhone run horizontally, for example, while my podcast app and music apps do not. This can be a pain… I use voice activation for calls when driving, and the Apple CarPlay to control my music and such from my steering wheel controls. Your needs may vary, however.
Another minor point, but worth considering, is charging your phone while it's mounted. Since many cars have the USB charging port at the bottom of the center stack of the dash, you may need an extra-long cord to reach the car mount. It's something to check before you buy.
Caveats and Precautions
Of course, no gadget is perfect.There are some things you need to consider before you purchase the Tsumbay Car Mount.
While there is a lot of flexibility in the base design, it's important to note that there are some car models whose dashboards won't accommodate the Tsumbay Car Mount. The product description on Amazon (link below) contains a list of these car models for reference.
I think it's also important to consider your driving position before purchasing this device. Steering wheel position, seat angle, and your height relative to the style of car you are driving could impact the effectiveness of using a heads up display mount like this.
Finally, it goes without saying that you should never allow yourself to be distracted while driving. I use this device exclusively to run Google Maps for navigation, and use the hands-free tools in my car for all other functions. Be safe, folks!
Conclusion and Pricing
For a simple piece of gear, the Tsumbay Car Mount is a pretty useful item. It features easy one-handed operation and adds some additional safety when driving by taking advantage of the benefits of a heads up display when you're using your navigation apps. It's also really well built with few moving parts, and I expect that it will outlast several phone upgrades. The little details in the finishing make it a cut above most inexpensive car mounts, and it actually looks good in your car. I think it's a safety upgrade worth considering if it works for your driving position and if it fits your car model. At about $17, I think it's also a good value. Check out all the specs and purchasing information on Amazon.
Source: The sample for this review was provided by Tsumbay. Please visit the product page on Amazon for more information.

Product Information
Price:
$16.99
Manufacturer:
Tsumbay
Retailer:
Amazon
Pros:

Simple, one handed operation
High-quality construction
Fits a variety of large and small smartphones
Nice safety upgrade for using your navigation apps while driving

Cons:

May not fit all dashboard styles
Designed for horizontal positioning of your phone, which may not work with all apps
May not work with all driving positions