We use affiliate links. If you buy something through the links on this page, we may earn a commission at no cost to you. Learn more.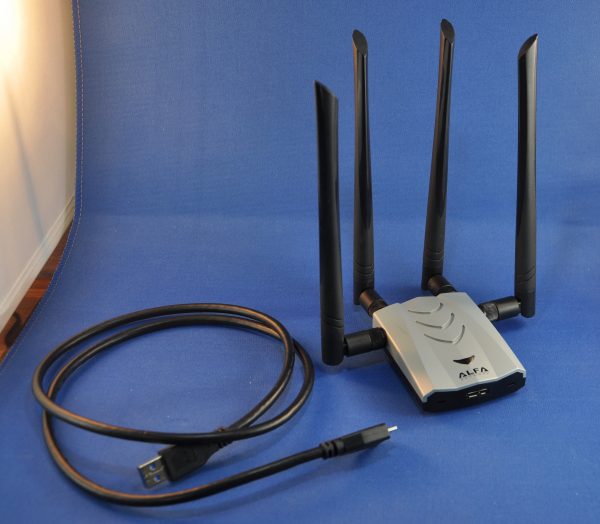 Wifi is built into most laptops and tablets these days. Sometimes, however, you have a box you're building or a desktop system that, for whatever reason, doesn't have a decent Wifi adapter. Or, perhaps, it's in a location that just doesn't pick up your base station well enough for stable internet access. That's when you may need an external adapter, like the Alfa AWUS1900. We recently were offered one, and I've given it a test. Let's see how it measured up.
Note: Photos may be tapped or clicked for a larger image.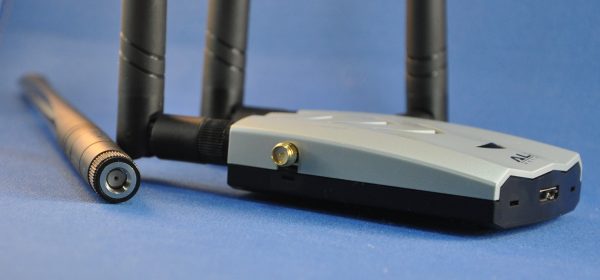 The Alfa AWUS 1900 looks like a dead spider, at first glance – a body with all legs in the air. But the four antennas that attach to the main body pull in wifi signals from the ether with surprising power for such a small, light little unit. The main unit is the size of a .75″ thick stack of business cards (2.5″ x 3.5″), but there are four miniBNC connectors where angled antennas fit on it, plus a cable, which makes it appear far larger.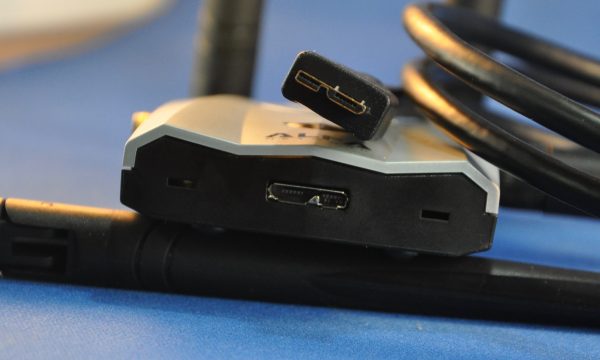 On the underside, there is a place to mount a holder for either a suction cup or a clip to use in attaching it to the best location. Without the holder, it sits on 4 rubberized bumpers. You can switch between flat on a surface, stuck to a surface, or clipped to a surface without much trouble.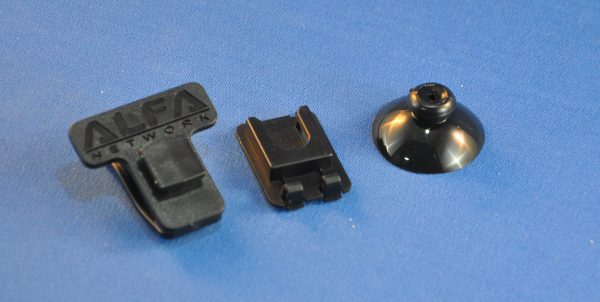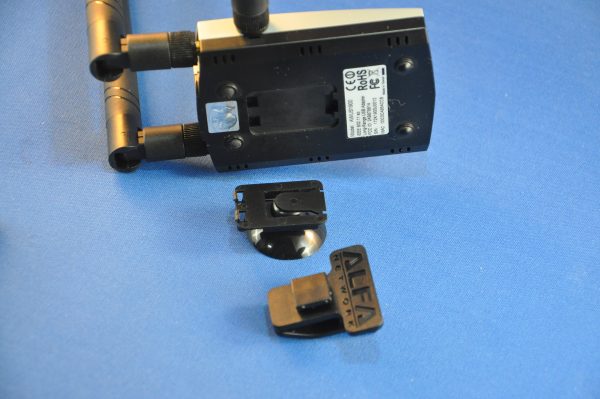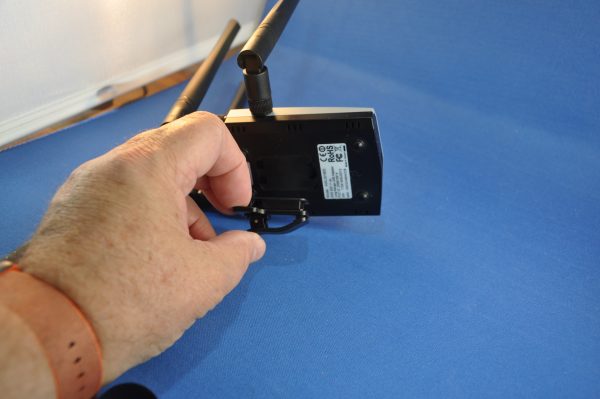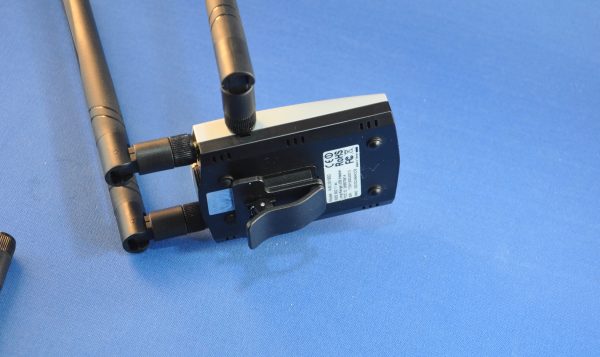 The four antennas can be removed in seconds, as can the cable, making this something that you can pack up and have on hand for those times you're just outside of "normal" wifi range. The base unit weighs a mere 2.14 oz., but with the antennas and cable, it's a package of 6.4 oz. It's bulkier than it is heavy, but the antennas will easily fit into pen loops in a gear bag. They may be a little long for some pockets, though. Be aware that this looks like a remote detonation device through an x-ray, so the TSA may want you to "Please step over here, and do not touch the table."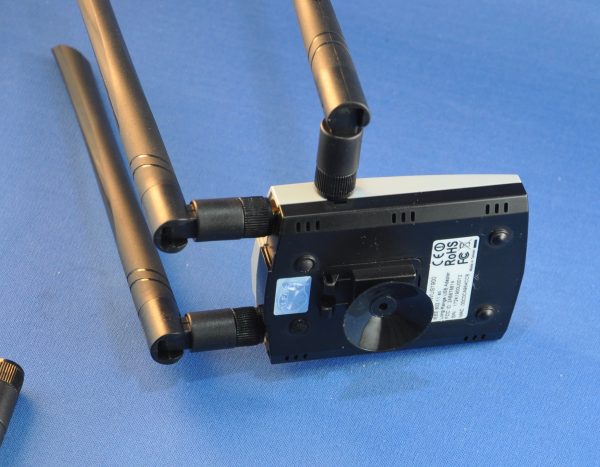 I have a MacBook Pro (Retina, 15 inch, mid-2014) with built-in wifi. While the radio does a pretty good job with hotspots close by, I know there are more out there, and I was curious as to the speeds I was getting. (Fat City is a play on my name, Richbourg. My German prof in freshman year dubbed me that. When we moved from the suburbs, we had to change from Uverse (which suggested our former wifi network, Across the Uverse). I had to find some name for our network….)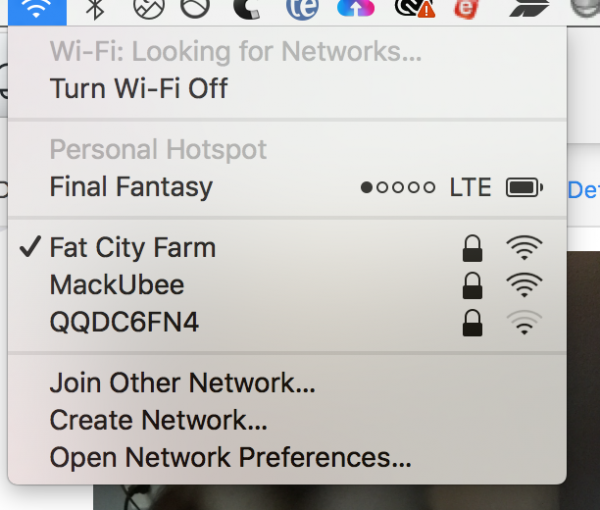 I installed the software from the enclosed CD (since the site would not let me create an account and download the latest version!), let it reboot, and a new item appeared in the menu bar. I pulled down the list and – WHERE DID ALL THOSE HOTSPOTS COME FROM?!?!?!

Seriously, I had no idea there was this many in my neighborhood! (I live in an area of single-family homes, with large lots and loads of parklands and undeveloped areas. I know one of my neighbors doesn't have internet access other than through the phone, let alone wifi. The retired couple on the other side seems pretty tech-agnostic as well. I'm stunned at all those hotspots.)
After signing into my network, I ran some tests through Speedtest.net. Thankfully, I can report that my internal wifi module was just as fast as the Alfa in most tests. I'd not want to have to figure out how to carry this package, but it's nice to know that I'll get good response if I do.


Software install aside, the unit was exactly like using my onboard wifi. I could easily stop and start the radio, change hotspots, and save wifi locations as favorites.
I was actually a bit surprised that there were Mac drivers. They cover the last seven or eight major MacOS releases, all the way up to 10.12. I'm curious to see if they update it this fall after 10.13 drops.
If you're needing to access wifi from a long distance (say a remote building on your campus or your backyard geek-cave) this just may pull the signal in. And at $70, it's not going to break the bank. If your current computer works well except for the internet connection, this may help you put off a full upgrade for a few months.
Source: The sample for this review was provided by Alfa. Please visit http://alfa.com.tw for more info, and Rokland or Amazon to purchase.
Product Information
Price:
$69.99
Manufacturer:
Alfa, Inc.
Retailer:
Rokland
Requirements:

Windows or Mac computer with USB port

Pros:

Light weight but powerful
Wide range of support OSes for Driver install
Complete kit, nothing more to add
No external power needed

Cons:

Lightness makes it tend to feel "cheap"
Not really better than builtin response on higher-end laptops
Proprietary port on unit will make getting a replacement or longer cable difficult