We use affiliate links. If you buy something through the links on this page, we may earn a commission at no cost to you. Learn more.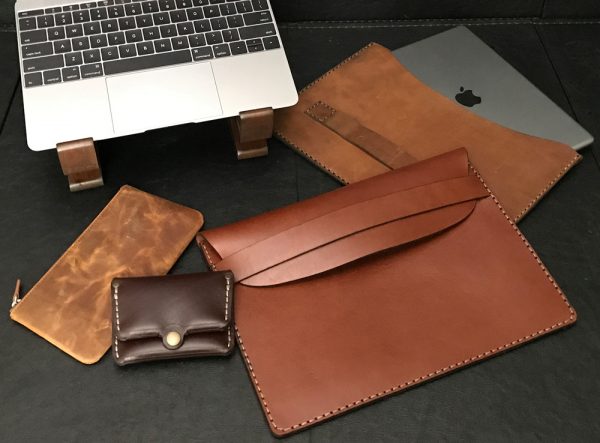 I am a total sucker for nice leather gear and fine woodworking. I find the old world craftsmanship and artistry very appealing in today's disposable world. So when Julie asked if I'd like to review some handmade items from Istanbul, Turkey I jumped at the chance. In this case, Galen Leather is a small leather company that creates handmade covers, cases, wallets, and tech-accessories that they ship worldwide. 
Note: Images can be clicked to view a larger size.

The Galen Leather backstory talks to me in several ways… Like Zeynep, I was diagnosed with cancer back in my twenties and while fine and dandy a lifetime later the experience forever changed the path of my life and how I walk thru it. In addition to that, I have always wanted to work with leather and am impressed how she transformed that hobby into a full-time career. And while I'll never go into the business, I hope/plan to take a class or two of leather working in my retirement. All of my ramblings aside, let's get down to the review.
Galen Leather sent, for lack of a better term, a care-package or sampler of their products to checkout. So, instead of a focused review on a single item, I thought I would discuss them and their overall material quality, craftsmanship, and design. Galen Leather sources their materials locally. The leather they use is 2-4mm thick vegetable tanned cow leather, all stained, edge painted and finely stitched by hand.
Leather MacBook Sleeves:

Galen sent two MacBook sleeves, one in brown and the other in Crazy Horse leathers. The are both perfectly fitted for the 12″ MacBook.

The brown sleeve is their basic design meant to hold just your MacBook. It has a medium softness/stiffness that will wear in with time. The sleeve was a bit tight initially but loosened with time. The closure flap slides under the strap that holds it in place.

The Crazy Horse sleeve they sent is the more deluxe variant with the optional back pocket (+$23) and handle (+$12). The Crazy Horse leather is softer with a more rugged look. Here you can see it holding my 12″ MacBook and 10.5″ iPad…it was a bit snug but works very well for carrying both.

As mentioned above, all the stitching is hand done with waxed polyamide thread. The edges are beveled, waxed, and burnished for a nice finished look. Of the two, I prefer the softer Crazy Horse leather sleeve with the back pocket…it is currently my goto sleeve for may laptop.
Leather Zippered Large Pencil Pouch / Case – Crazy Horse: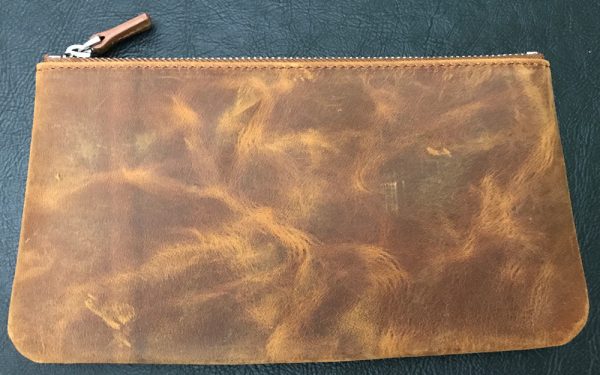 The zippered case is designed to carry pens, pencils, cables, etc. It is also a nice size for helping organize your EDC gear.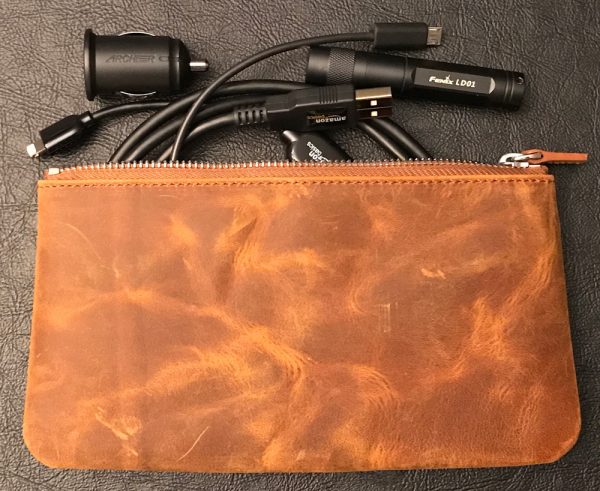 That is my plan for it…replacing my old nylon pouch, to carry my multitude of bits and cables around.
N0. 38 Minimalist Leather Wallet – Dark Brown

Funny story regarding the wallet, I opened the package from Galen with my wife's Friday night wine club. As soon as I opened the box with the No.38 minimalistic wallet, my wife immediately said "I want that!" Even with all the review items I receive, that is relatively rare circumstance…so I guess she has dibs 😉 .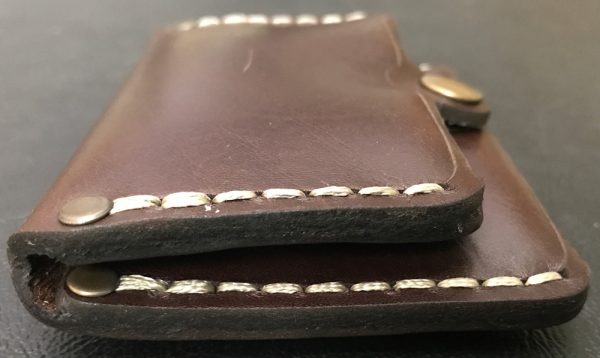 Like all Galen Leather products, the leather is hand finished and stitched with a great old world vibe to it.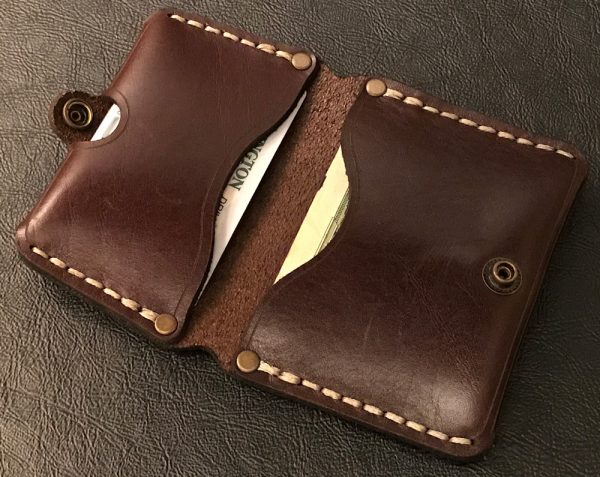 The No. 38 wallet has two internal slipper pockets, each designed to hold a handful of credit cards, your ID, and a few bills as well. Here you can see it with 6 cards and a few bills. The wallet is held securely closed by a brass snap.
Walnut Hard Wood MacBook Stand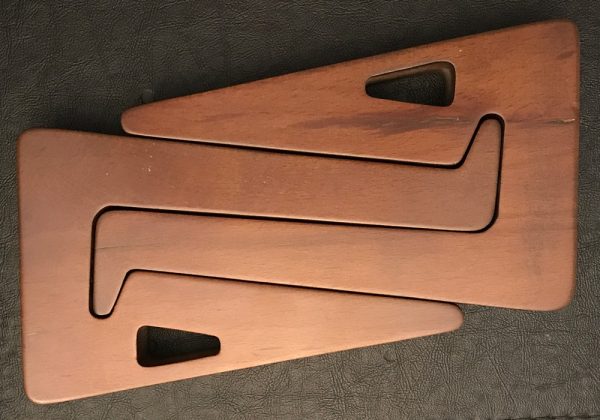 The walnut laptop stand has an interesting design, made from two identical pieces of hardwood that slide together like a jigsaw puzzle. Like all Galen Leather products, the wood stand is nicely sanded/finished and stained by hand.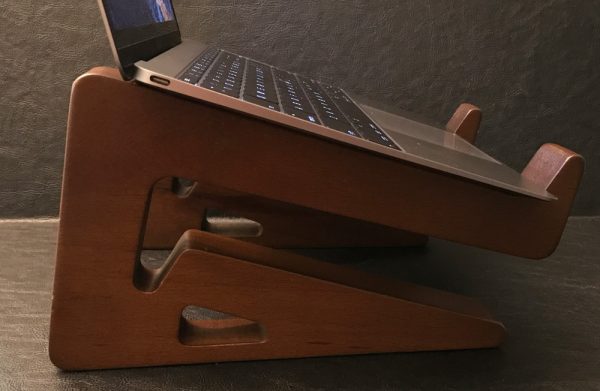 When separated, the two legs support the MacBook above your work surface at a more useable height and angle for viewing.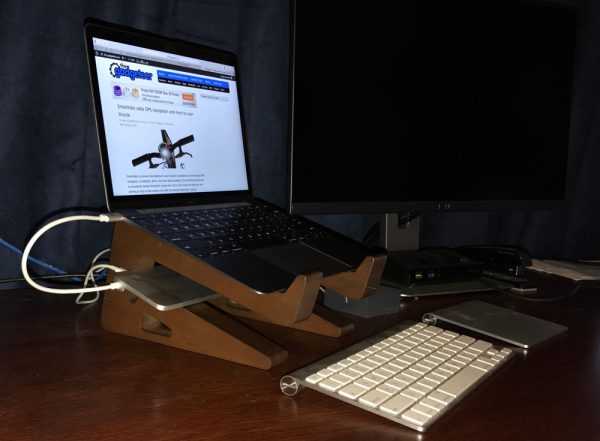 The stand is meant to be used with a separate keyboard and mouse/trackpad. Here you can see it with the iogear ultra-slim mini USB-C dock I reviewed a few months ago. And with a bit of double sided tape, this setup works for me much better than I thought it would.
The bottom line: I really like all of the Galen Leather products Zeynep & Yusuf sent to me. Like I said, their Crazy Horse leather sleeve is my goto method for carrying my 12″ MacBook when not in my gear bag. The Walnut MacBook stand works very well and continues to suspend my laptop above my desk. And lastly, my wife has taken possession of the N0. 38 minimalistic wallet as promised. All of their products are handmade with great care and artistry…well worth considering.
Source:  The sample for this review was provided by Galen Leather. Please visit their site for more information and to order.
Product Information
Price:
Varies
Manufacturer:
Galen Leather
Pros:

Handmade Old World craftsmanship
Constructed from high quality materials
Great minimalistic design
Perfectly fitted
Design to last decades

Cons: