We use affiliate links. If you buy something through the links on this page, we may earn a commission at no cost to you. Learn more.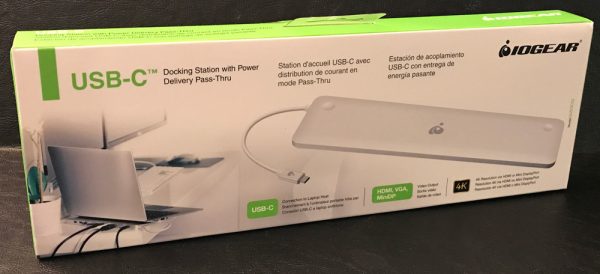 Recently Julie and I both purchased 12″ MacBooks and while extremely light and portable, the sleek and slim laptop is lacking in ports to say the least. That is a known "design feature" and for me, really is not an issue when on the move. But there are definitely moments where going port-less is a bit of an inconvenience. That said, IOGEAR has several USB-C docking stations engineered to provide you with what Apple has taken away 😉 including monitor support, USB ports, SD card slots, and everything in between. For this review IOGEAR sent me their Ultra-Slim dock to checkout. 
Note: Images can be clicked to view a larger size.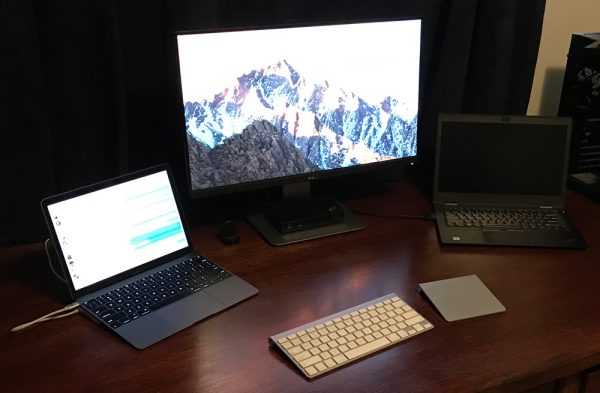 Here you can see (or perhaps you can't) my MacBook resting on the Ultra-Slim stand, not only being powered but connected to wired ethernet and pumping video to my 25″ QHD monitor. If I didn't know better, I would say this IOGEAR dock was designed specifically for the 12″ MacBook. The docking station is the exact width of the MacBook with insets/divots perfectly placed for the back feet of the laptop to sit in.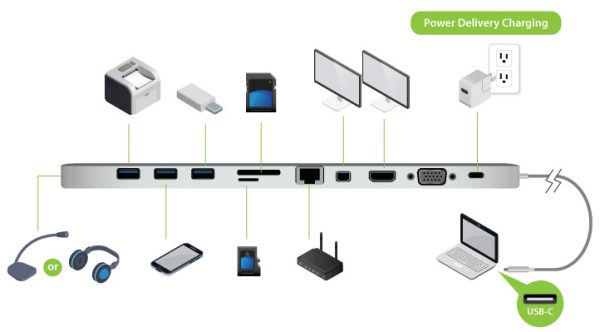 Features:
Stylish and ultra slim docking station
Instantly dock up to 10 devices including

3 x USB 3.0 (USB Type-A) with 1 x BC 1.2 Quick Charge Port
Built-in memory card readers (SD/MMC/Micro SD)
3.5mm audio input/output
Gigabit Ethernet
HDMI (4K), Mini DisplayPort (4K) and VGA

Charge your laptop while docked-Power Delivery Pass Through*
Stunning 4K resolution
* PD Pass-Thru requires USB-C charger from your laptop. Up to 60W can be charged to the laptop.

The Ultra-Slim docking station provides all the ports your MacBook or ultra-portable USB-C enabled Windows laptop are missing: three standard USB 3.0 ports (one has quick-charge), SD & microSD slots, gigabit ethernet connection, DisplayPort, HDMI, VGA, and docked-power delivery pass through.
Requirements:
USB-C compatible laptops with DP Alt-Mode support
USB-C AC Adapter from Laptop is needed for Power Delivery Pass-Thru Function
Mac OS X 10.10.5+ (*MST is not supported by Mac OS)
Only one additional video output can be utilized for extended desktop using Mac OS
For dual screen extended desktop in Windows, you must use HDMI with Mini Display Port
When VGA output is utilized, only one additional extended desktop screen will be available

The IOGEAR docking station is made from high-grade aluminum and is as small and compact as its name implies. It measures: 11″ (27.94cm) x 3.0″ (7.62cm) x 0.6″ (1.52cm) and weighs in at a mere 0.70 lbs (0.32kg). Here you can see the two insets in the top of the dock for the feet of the laptop to sit in.

The dock is sloped downward for a better typing angle if you do not use a separate keyboard and mouse. According to IOGEAR, "the intelligently contoured design provides the best ergonomic typing experience for your laptop." The right side of the dock has an earphone jack andthe left side has a non-detachable USB-C cable for connecting to your laptop.

The rubber feet on the base of the docking station do a decent enough job of keeping the unit where you place it on your desk. Though due to its lightweight, the dock does slide around if you're not careful inserting cables, SD cards, and thumb drives.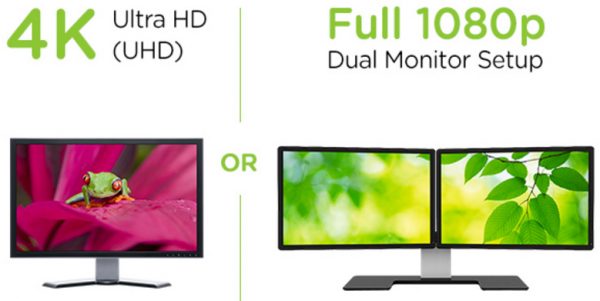 The IOGEAR Ultra-Slim dock enables you to connect a single 4K monitor or two 1080p monitors to your laptop concurrently.

The dock allows you to mirror or extend your Windows USB-C laptop to two monitors or extend your USB-C MacBook to one additional monitor (due to MacOS limitations).

Here you can see the ethernet, DisplayPort and power cables connected to the dock in addition to a thumb drive and SD card inserted as well. Overall the Ultra-Slim docking system works very well, delivering great connectivity and video quality.

The wired gigabit ethernet provides very zippy connectivity.

The only design tweak I would make on this docking station would be to shorten the USB-C cable that connects the dock to the laptop. Or better yet, engineer a standard USB 3.0 port on the side of the dock so you could choose any length of USB-C cable you want. The integrated cable is unnecessarily long and sticks out pretty far, lessening the tech-Zen the dock brings to my desk space.
A few other noteworthy limitations or nuances worth calling out:
the dock is not able to power Apple's optical SuperDrive,
inserting and removing the microSD card is a bit of a pain/hassle. I found it difficult to do with the MB on the dock,
the metal on metal design of resting your finely crafted 12″ MacBook on the dock's metal casing worries me that the dock may eventually scratch or mare the underside of the MacBook. But a skin of some type would eliminate this issue.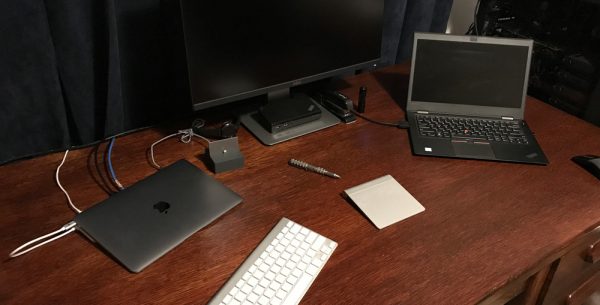 The IOGEAR USB-C Ultra-Slim Dual Display Docking Station is a great way to expand the port and viewing options of a USB-C laptop lacking such features. There is little doubt in my mind this minimalist trend is with us to stay. And for the most part, I believe the average laptop user would trade ports for portability a majority of the time. Especially if when they are tied to their desk an integrated single-cable solution dock is waiting for them to plug into giving them a full suite of port options and expanding their workspace experience. The bottom line is the IOGEAR Ultra-Slim dock is making the transition from 15″ MBPro to the port-less 12″ MacBook nearly seamless.
Source: The sample for this review was provided by IOGEAR. Please visit their site for more info and Amazon to order. See below for latest price.


Product Information
Price:
$129.95
Manufacturer:
IOGEAR
Retailer:
Amazon
Requirements:
Pros:

Quality construction
Well thought out design
Excellent single cable solution
Dual monitor support (Windows only)
Adds a multitude of ports - dock up to 10 devices
Supports HDMI (4K), Mini DisplayPort (4K) and VGA

Cons:

USB-C cable is longer than need be
Difficult inserting/removing microSD card
Metal on metal design