We use affiliate links. If you buy something through the links on this page, we may earn a commission at no cost to you. Learn more.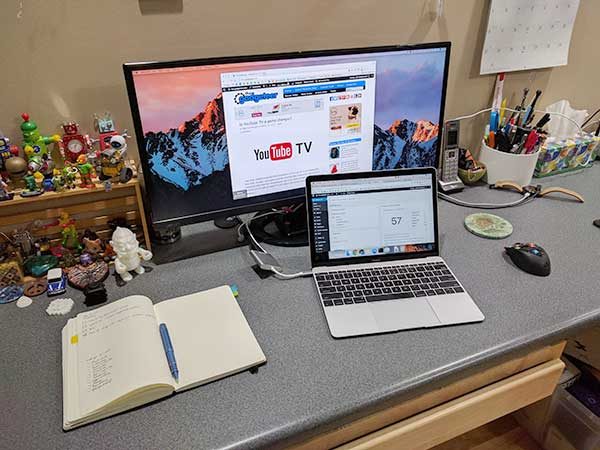 After years of trying and failing to force an iPad or Android tablet to work like a laptop when I travel, I have finally found what I think is going to be my perfect travel computer. The 12″ MacBook. I ordered a refurbished unit from Amazon last Friday and it was delivered Saturday morning. I've been using it since then and I am almost giddy about how much I like this laptop!
If you have been following my gadget diary posts for any length of time, you've probably grown tired of my whining every time I travel. I either moan about how my laptop is too bulky to carry through an airport or I cry about how my tablet won't do Gmail the way I want in full desktop mode.
I've even annoyed myself year after year when I complain about the same issues. But it looks like I can move on thanks to Dave Rees and a some of you who have told me to check out the 12″ MacBook. I decided not to splurge for a brand new one but did like Dave had done and bought a refurb. He bought his through Swappa and I opted to order through Amazon's Warehouse Deals.
With refurbs, you can end up with some scratches, dents or other wear and tear, but the one I ordered is perfect as far as I can tell.
Compared to the early 2015 13″ MacBook Pro that I've been using for over a year, the 12″ MacBook feels like an iPad when it comes to weight and size. The MacBook only weighs 2 lbs compared to the almost 3.5 lb MacBook Pro. 1.5 lb doesn't sound like a lot, but it really makes a big difference to me.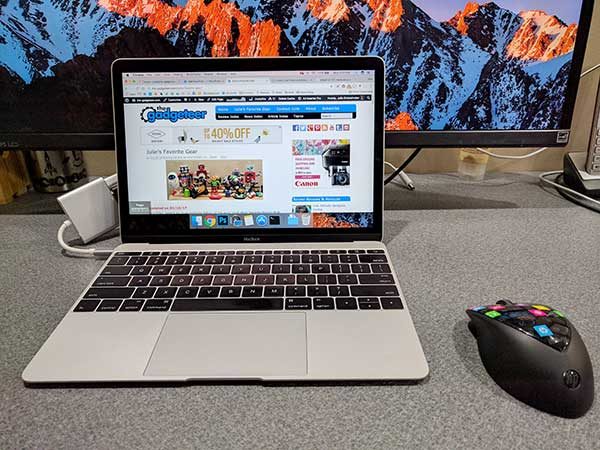 I was concerned that the display and especially the keyboard would feel too tiny, but that hasn't been the case at all. I'm completely happy with the display. It is a retina display after all.
The keyboard and trackpad feel very roomy. More so than I had anticipated. The keys on the keyboard are even a little larger than the keys on my MBP, but they don't stick up as high. That took a little getting used to, but it didn't bother me for more than an hour or so. Now I can touch type as fast as I do on other keyboards.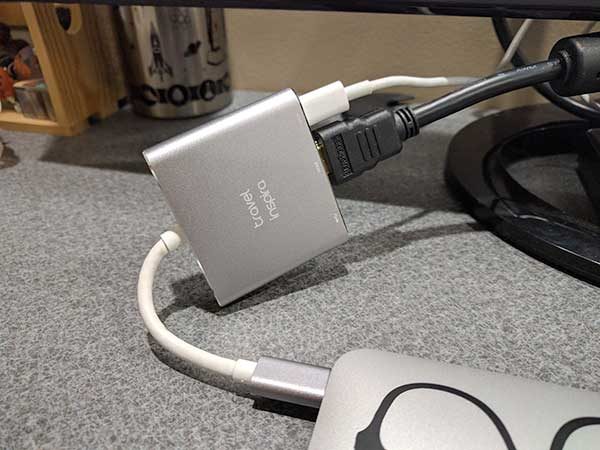 Yesterday I decided to order a Type-C dock adapter with HDMI, pass-through charging, and a USB-A port so I could hook the MB up to my 29″ LG monitor like I've done with the 13″ MBP using a LandingZone Dock. You might be thinking "Julie, why are you connecting this laptop up to a monitor when you're just going to use it when you travel?" Good question! It's because I am about 90% sure I'm going to make the 12″ MacBook my main/only computer. That's right. I like it so much that I don't think I even need my 13″ MBP any longer.
The Travel Inspira USB-C to HDMI Hub works great! It only offers HDMI and one USB-A port, but that's fine. I don't really plug that many USB devices into my computer anyway.
The HDMI output with this adapter is fantastic and looks better/sharper than my 13″ MBP using the LandingZone Dock's HDMI connection.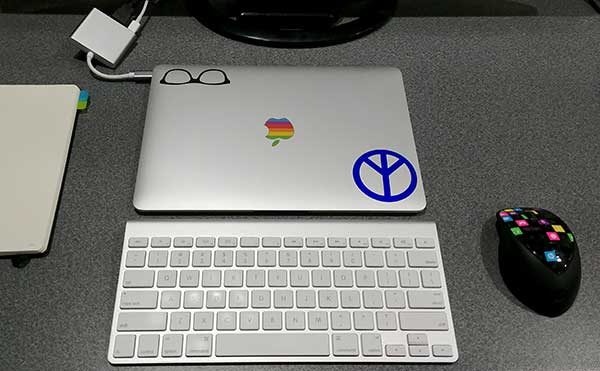 I've installed almost all of the apps that I use on a regular basis: Photoshop, Chrome, iMovie, Garageband, Wondershare Filmora, OpenOffice, FileZilla, Canon EOS Utility, TypeIt4Me and more. So far I've not noticed any real lag or sluggishness from the MacBook's mobile processor.  I haven't done any video editing yet though…
I'm really happy with the 12″ MacBook and plan to use it for the next couple of weeks to see if there's any reason why it can't be my main computer. If it succeeds which I think it will, I'll be selling my MBP.
Now I need to find a new bag to carry the 12″ MacBook. It's kind of like when you get new rugs or carpet in your house and all of a sudden your couch looks shabby 😉 It's time for a new bag too.
Updates 08/24/17
I'm still enjoying using the 12″ MacBook. It has become my primary (only) laptop and I ended up selling my 13″ MacBook Pro to a friend at work and haven't looked back or felt like the machine is under powered for what I need.
I don't miss the lack of USB ports since I rarely need to plug anything into the MB except for an occasional flash drive. The HDMI hub that I use has a USB port, which I use to connect my Canon 70D when I'm shooting product shots.
I haven't travelled with the MB yet, but will soon as our yearly trip to Florida is coming up in October.