We use affiliate links. If you buy something through the links on this page, we may earn a commission at no cost to you. Learn more.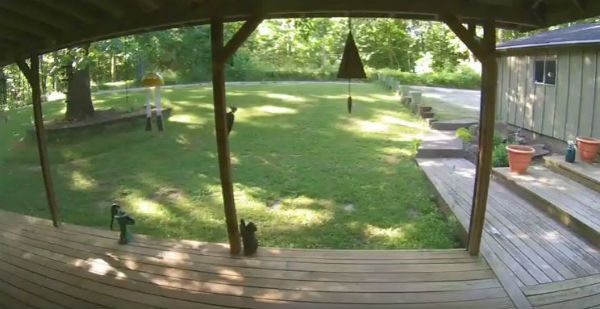 I love my Nest cameras because they record everything they see 24/7 and not just a few seconds after motion has been detected.
You never know what kind of interesting things that serurity cameras might capture. A few years ago I wrote a story about a mystery that was solved with the help of my Nest cam and today I have another video clip for you. Click through to check out the crazy bird battle that was captured with one of my Nest cameras this morning.
Fast forward to the 1:30 mark and keep watching till about the 2:00 mark and beyond.
The big bird is a pileated woodpecker, which is the largest woodpecker in North America. Unfortunately, the lighting in this video doesn't show his bright red head. This a big bird. He's about the size of a small crow.
The little board is an eastern phoebe. She has a nest with babies in the eaves of the roof above those posts on my front porch and she's NOT happy that Mr. Woodpecker is there.
I was really surprised and impressed how she keeps flying at a bird so much bigger than she is. She does finally give up though. And thankfully so does the woodpecker. I'm worried about what I'm going to find when I get home tonight to inspect the posts. We've never had problems before with woodpeckers pecking on the house, so I hope this one doesn't decide to stick around.
Update (later same day)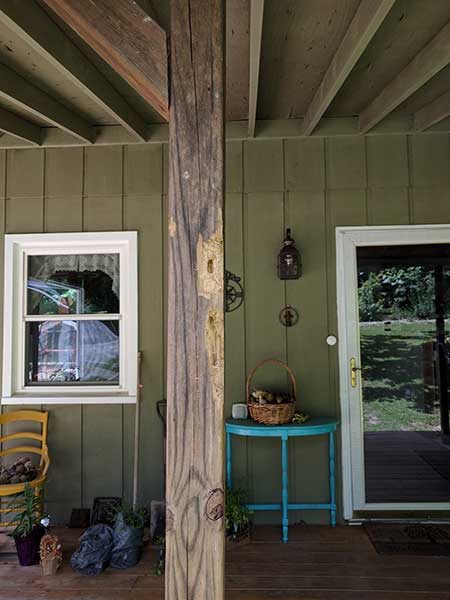 This is what I found when I got home. This really sucks. The woodpecker has really damaged one of the supports for the roof of my front porch. 🙁
Never miss one of our posts again. Sent MON, WED, and FRI with the latest gadget reviews and news!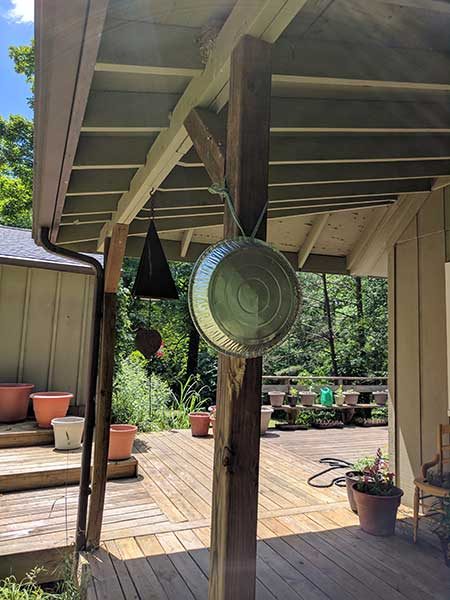 I read that shiny moving things can deter them from drilling so I hung a pie tin over the area. That won't keep him from moving to another support post though.
Anyone else had to deal with something like this?
Update 06/09/17 (next day)
I didn't see the woodpecker today and I can't see that there's been more damage. Last night after I added the pie tin, he did come back and landed in the same spot so I'm not so sure the pie tin really helped although there was a slight breeze today. I also left Max (our cat) outside all day and after reading some comments here and on my Facebook post, we put the suet feeder back in place. Hopefully one of those things made the difference and he won't be back.