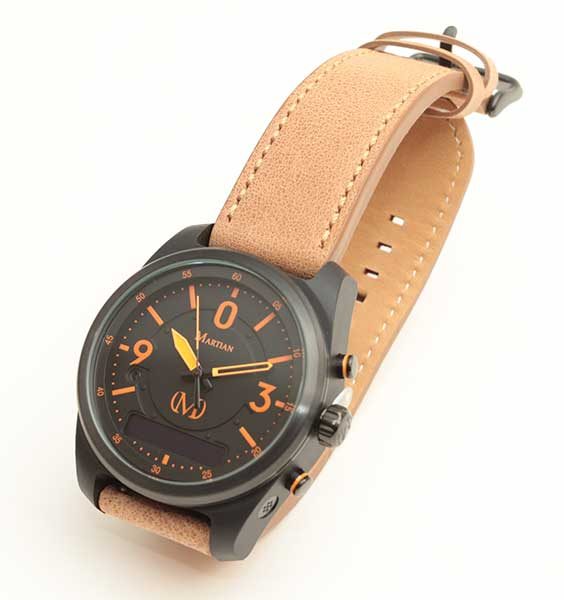 If you think that smartwatches only come from companies that have a fruit or a green robot as their logo, then let me introduce you to Martian smartwatches. While they may not be a true smartwatch with a color touch screen and the ability to run apps, Martian watches offer a basic set of functions and some fun extras too. It's time to take a look at the Martian mVoice PTL 02 Smartwatch and all it has to offer.
What is it?
The Martian mVoice PTL 02 is a "smart" watch disguised as a retro airman's analog watch. It features a small OLED display that shows SMS text messages, emails, incoming calls, and other info. Other features include making and receiving calls directly through the watch, a notification LED that can be used as a flashlight, a remote camera shutter button, stopwatch, phone finder, and a leash feature that alerts if you accidentally walk away leaving your phone.
What's in the box?
Martian mVoice PTL 02 Smartwatch
micro USB charging cable
Design and features

At first glance, the Martian mVoice PTL 02 Smartwatch does not look like your typical smartwatch. You might not even realize that this watch has smart features by just looking at it because it looks like a traditional analog watch with an anti-scratch glass crystal and a 42mm black resin case.

The Martian mVoice watch is IPX4 splash resistant and features a Miyota quartz movement, a stainless steel back cover, and a 22mm Italian leather wristband that's thick and sturdy while remaining comfortable on your wrist.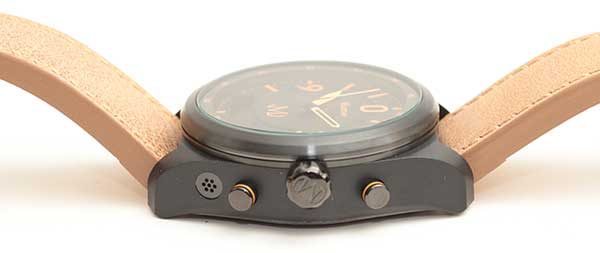 The watch has a crown that is used to set the time (yes, the old-fashioned way) and two function buttons. The top button (the one on the right) initiates the voice control feature and the bottom (left) button cycles through info and options on the OLED display.
There's a small noise canceling microphone next to the function buttons.
On the opposite side is a covered micro USB charging port and a directional speaker. The mVoice has two batteries. There's one battery that powers the timekeeping function of the watch and another battery that powers the smart features. The battery for the smart features is a lithium polymer battery that is charged through the micro USB port. This battery will last for about 5 days on a charge. The battery that powers the analog watch will last for about 2 years.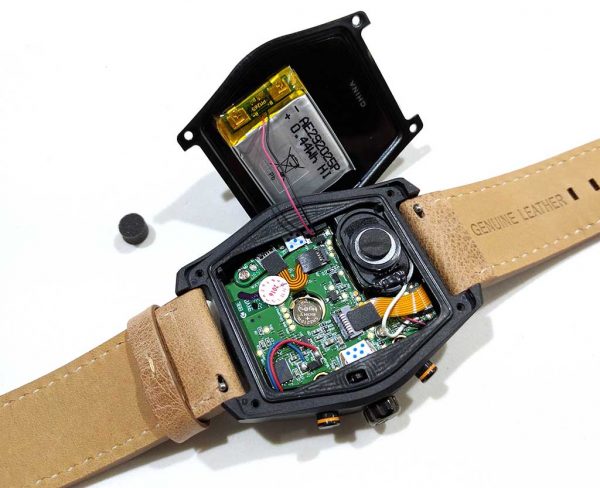 I took the back cover off the watch to see if the analog battery was user replaceable and I'm happy to report that it is. Under a little foam cushion is a Sony SR521SW coin cell battery which are inexpensive to replace.
The watch face features a bright orange dial and hands that include a sweep second hand. Unfortunately, the hands and numbers do not glow in the dark.
There's a status LED located directly below the 9 o'clock location on the watch dial. This LED glows red while the watch is charging and turns green when charging is complete. The LED can also double as a (weak) flashlight and a notification LED.
Along the bottom edge of the watch face is a bright 96 x 16 pixel white on black OLED display that is used to display scrolling notifications and other info.
Tip: The Martian's watch face and hands don't glow in the dark, but if you want to see the time in the dark, you can enable the world time feature and set it to your current location. You would typically use the world time feature to keep track of time in a different location, but it's handy for viewing the current time in the dark when you press the bottom button.
Setup
The Martian mVoice PTL 02 watch doesn't come with any instructions on how to set it up other than a sheet of paper that points you to visit a web page where the setup instructions can be viewed.
Setup isn't difficult. The first step is to install the mVoice app for iOS or Android.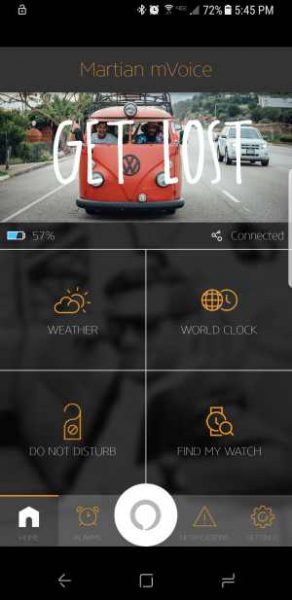 You will be asked to allow permissions for push notifications, microphone access, Bluetooth access, and calendar access. It then guides you through the pairing process with your mobile device which is initiated by long pressing the top button on the watch.
After the watch is paired with the phone and the app, you can customize some features like deciding which apps are allowed to show notifications on the OLED display on the face of the watch. By default, calendar, incoming calls, missed calls, low battery, and text message notifications are enabled. You can add other notifications like Gmail, and some games.
Each notification's vibration pattern can also be customized so that you will know the type of notification before even looking at your watch.
Voice control with Alexa and others
Using the Martian mVoice PTL 02 like a miniature Amazon Echo Dot is one of the main selling points of this watch.
You don't need to already own an Amazon Echo or Echo Dot to use this feature. You just have to link the mVoice app with your Amazon account. After you do that, you can ask Alexa questions by pressing the button in Alexa button in the mVoice app, or by holding the top button on the mVoice watch.
There are a couple things to keep in mind with this feature. First of all, you have to hold down the top button on the phone to launch Alexa. If you just press the button and let go quickly, the Siri or Google Now voice assistant will launch instead. This might be annoying, but it's really important to have both voice control options.
Alexa voice control is useful for controlling IoT items in your home and Siri or Google Now is useful for making your phone do what you want like making calls, navigating to locations, etc.
It's also important to know that at the time of this writing, the Alexa voice control feature is only supported in the US and UK.
If you don't have an Amazon Echo device in your home, having Alexa on your wrist is cool. But, having to press and hold a button, listen for a beep to ask a question, and then wait for the reply takes too long for my liking. You also must have your phone within Bluetooth range of the watch for this to even work.
Taking and making calls with the Martian mVoice PTL 02 Smartwatch
Although I'd never make or take a call using this watch while in public, using it in the car while driving is like using a Bluetooth headset that's on your wrist.
The Martian mVoice PTL-02 has four volume levels including Low (1), Medium (2), High (3) and Clear Voice (C) which is recommended for conversations. I found volume level to be pretty good, but it will depend on the noise level where ever you might be when trying to make or take a call with the watch. People on the other end of my test calls could tell that I was not talking directly through the phone itself, but they thought the audio quality was acceptable.
When a call comes in, the watch will vibrate, the LED will flash, and caller ID info will scroll across the display. To answer a call, you press the top button and to end or reject a call, you press the bottom button.
It should be obvious that the paired phone is doing all the work of receiving and placing calls. The watch is just a microphone and speaker.
Using other features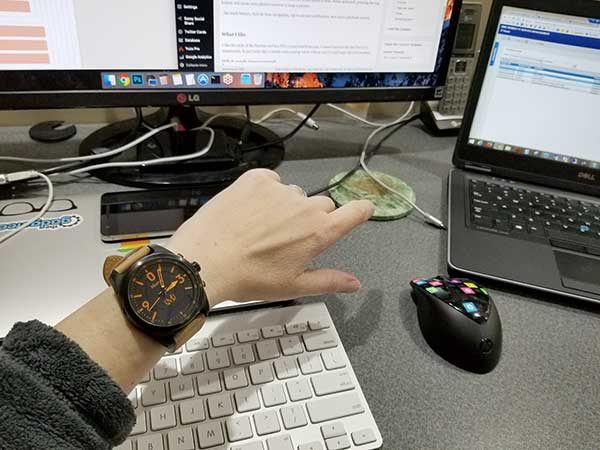 In addition to making and taking calls through the watch and seeing notifications, there are other features like a flashlight, stopwatch, remote camera shutter, find my phone, and weather features that are activated by continuously pressing the bottom button till you see the feature you like. You then press the top button to activate that feature.
The flashlight function turns on the built-in LED to shine like a flashlight. It isn't bright enough for any real work, but it's fine in a pinch.
The stopwatch feature shows a stopwatch in the OLED screen. Pressing the top button starts the stopwatch and pressing it a second time stops it.
The remote camera shutter feature does what you would guess it does. When activated, pressing the top button will launch a very basic camera app (it's not the phone's default camera app) that defaults to the front facing camera. Pressing the button a second time will snap the pic. If you hold down the top button, it will count down 3 seconds and then snap the image.
The find my phone feature will play a short tune through your phone's speaker so you can find it.
The weather feature can be enabled through the mVoice app. It's supposed to show the high and low temps at your location. This worked for me a few times but now it doesn't even though it's enabled in the app…
Other watch features include the leash feature, tap to see last notification, turn by turn navigation, and music playback control.
The leash feature will cause the watch to continuously vibrate and show a message that the phone is out of range when you put too much distance between the Martian watch and the paired phone. This is a safety feature to prevent you from accidentally leaving your phone when you leave a location.
The tap to see last notification will display the notification on the OLED display if you tap the watch face within 5 minutes of receiving the notification. If the notification was sent more than 5 minutes ago, you can press both the top and bottom button to see the last few notifications.
I wasn't able to test the music feature because it is only available for iOS and I use Android. My test of the turn by turn feature wasn't the correct way to test it. I plan to update this review with more info on the navigation feature in the next day or two.
Update 05/05/17: I tried the navigation feature on three different trips and the only thing that the watch does for you is let you use your voice with Google Now (remember, I'm testing this with an Android phone, so this might be different for iPhone users) to say "take me home" or "take me to 123 Get Me Out Of Here Boulevard". After that, all audio for turn by turn navigation comes from the phone and not the watch…
What I like
I like the style of the Martian mVoice PTL 02 smartwatch because it doesn't scream the fact that it's a smartwatch. It just looks like a chunky retro analog watch with an easy to read large dial and numbers.
What needs improvement
I first set up the watch with an LG G6 Android smartphone and it worked flawlessly for a few weeks. But after I had to return that phone to Verizon, I then set it up on a Samsung Galaxy S8 and it's not nearly as reliable. The watch frequently loses connection to the Galaxy S8 or vice versa. And even when it is connected, it doesn't always show incoming text message notifications, calls, etc.
When notifications are working, the entire message is not displayed. I haven't counted the number of characters that are displayed, but almost all my messages are truncated if they have more than a couple of words. But, the messages are preceded by the name or number where they came from so you can check your phone to read the full message when an important text is received.
I added Gmail and Words with Friends to the notification list, but have yet to see one notification come through the watch.
The voice control feature is temperamental.  You have to hold down the top button on the watch to activate Alexa. But if you hold it down too long or don't immediately say your command, you'll miss the listening window and will have to try again.
If you don't hold down the button long enough, the Siri or Google voice control feature will activate instead. But that's not a bad thing because I've found that Google actually works faster / better than Alexa. I did not test Siri.
Final thoughts
I hoped that the Martian mVoice PTL 02 smartwatch would make me want to wear a watch again, but I just ended up being disappointed due to connectivity issues and the reliability of some of the notifications.
The watch works great as an analog watch, but I think Martian needs to go back to school to improve its smarts.
Source: The sample for this review was provided by Martian. Please visit their site for more info and Amazon to order.
Some of our links in posts like this one are affiliate links, which means that we may receive a small commission on purchases at no cost to you.
Product Information
Price:
$215 MSRP
Manufacturer:
Martian
Retailer:
Amazon
Pros:

Analog watch with basic smartwatch features
Text, email and other notifications
Google, Siri, and Alexa voice control
Can make and receive calls directly through the watch
iOS music control

Cons:

Watch frequently disconnects from phone
Notifications stop even when watch is connected to the phone
Music control not available with Android