We use affiliate links. If you buy something through the links on this page, we may earn a commission at no cost to you. Learn more.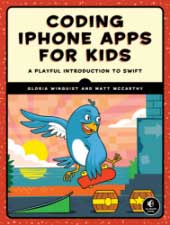 New from No Starch Press: Coding iPhone Apps for Kids A Playful Introduction to Swift
by Gloria Winquist and Matt McCarthy. This book teaches children and adults to code in Apple's free beginner-friendly programming language called Swift. This 336-page book full-color book is a fun guide that will explain the building blocks of app programming, from loops to variables, strings, and more.According to No Starch Press founder Bill Pollock
"App development is fun for kids because it's exciting to make something that hundreds of thousands of people might use. This book will show readers how to make something amazing, and it continues our tradition of making technology more accessible for everyone."
This book will help you learn how to create a fully functioning iPhone app even if you've never programmed before. Coding iPhone Apps for Kids will be available in May from No Starch Press but you can pre-ordered a copy of the book now for $29.95.