We use affiliate links. If you buy something through the links on this page, we may earn a commission at no cost to you. Learn more.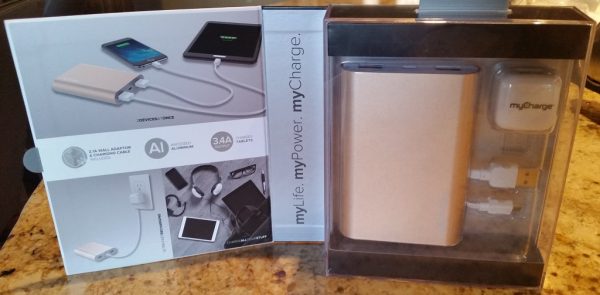 Extra power in your hands, right when you need it?  Yes, please!  This myCharge RazorUltra 12,000 mAh portable charger delivers.  Not only is it tough, sturdy and reliable, but it looks great, too.  There are a lot of portable chargers out there, but I found that this device really delivered for me.  And it has a TON of great features!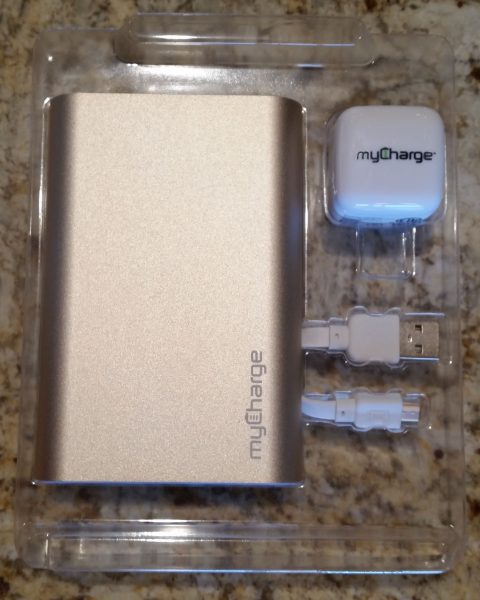 I really thought the top and bottom form-fitted plastic packaging this item came in was outstanding.  It firmly holds all of the components in their place.  There's no chance of the items moving around in the packaging during shipping, so there's little chance of damage.  The box it comes in, too, is very sturdy and well built.  (See feature picture.)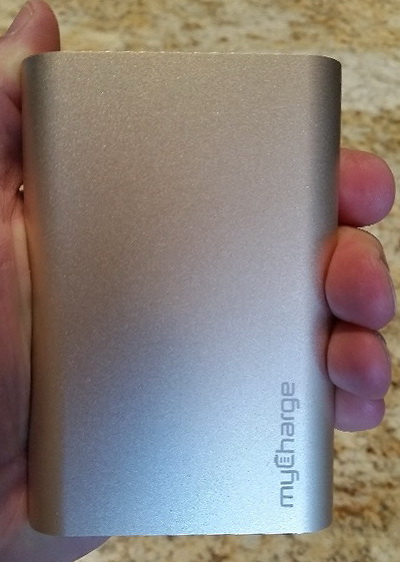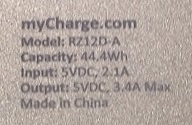 This picture shows that the unit is a pretty standard size for a 12,000 mAh portable charger.  Fits well in the hand, feels solid, and fits easily in your pants pocket.  The smaller picture shows some of the specs on the back of the unit.  And check out this outstanding list of features – straight from the manufacturer's website:
TECHNOLOGY
Smart-sense: ensures complete device compatibility
Hyper-charge: ultra-fast charging of your devices; up to 65% faster than competitors 
Power-stay: maintains battery power for up to 1 year
Max-power: maximum power transfer from powerbank to device
High-density battery: the smallest and lightest powerbank
Safe-cell: provides the highest level of battery safety
Rapid-recharge: powerbank recharges up to 50% faster than competitors
Pass Through Charging: will charge the powerbank and connected device simultaneously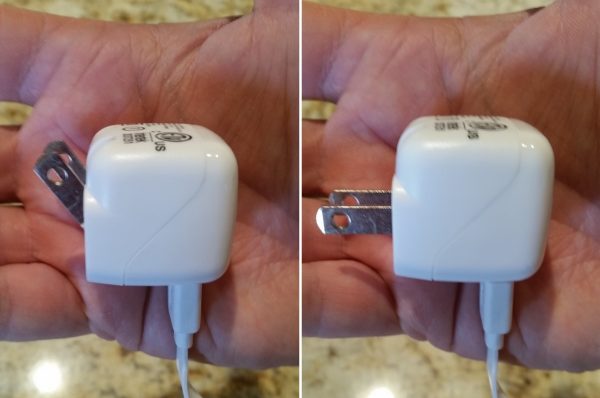 The plug to charge the unit comes with handy fold-out pins that fit into any standard USA power outlet.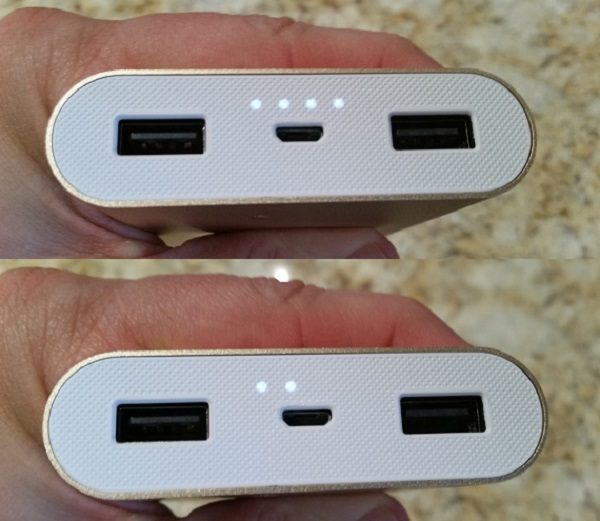 Something I really like about this portable charger are the "Power Remaining" indicators.  There are four of them.  Very intuitive, so four lights indicate 75-100% power remaining, three means 50-74%, two means 25-49%,  and one light means 24% or less power remaining.  They don't stay on constantly, either; thus draining the battery for no reason.  How do you get them to light up, then?  You shake it!  (But don't "shake it light a Polaroid picture"!  Unless you're dancing… or you just can't help yourself.)  Just give it a jostle, and they'll light right up for you, then fade after about 3 seconds.  Pretty cool.
As you can see, the RazorUltra unit comes with a USB 2.0 micro Type B jack (cord included) for charging, and two USB 2.0 Type A ports to charge your devices.*
*myCharge sells a variety of chargers, each with different ports, options, and styles to meet your needs, including one that uses the latest USB-C technology, which can charge and run a laptop!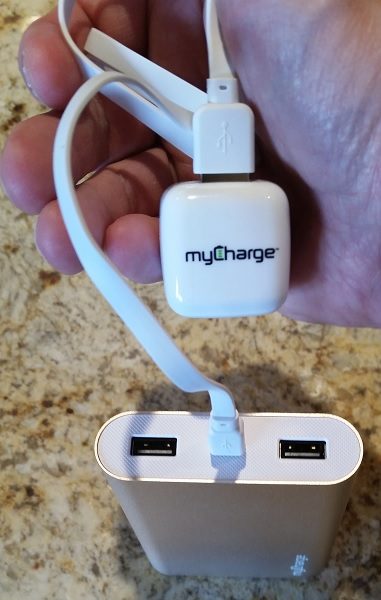 So let's talk about practical application.  I have a Samsung Galaxy S5 phone, and a Samsung Galaxy Tab S 10.1″ tablet. Starting with the RazorUltra fully charged, and my Galaxy S5 phone at 6% remaining power, the portable charger totally recharged my phone in exactly 1 hour, 11 minutes, and 17 seconds.  Now, AFTER the phone had been fully charged, I just attached the charger to my Galaxy Tab S and started charging it without recharging the RazorUltra.  The Tab S was also at 6% power remaining when I started.  The portable charger got my Tab S up to 96% after 5 hours, 24, minutes, and 16 seconds, and then it ran out of juice.  But the juice was pretty sweet. (Ha! See what I did there?)
All-in-all, I really like this unit, especially for the price of $59.99.  It holds its charge well and definitely stands up to other 12,000 mAh portable chargers out there.  I usually go for larger capacity chargers, but this is a really solid piece of equipment to have in your arsenal.
Source: The sample for this review was provided by myCharge. Please visit their site for more info and Amazon to order.


Product Information
Price:
$59.99
Manufacturer:
myCharge
Retailer:
Amazon
Pros:

Tough, anodized aluminum
12000 mAh storage
Various models, options and colors
See ALL the features under the TECHNOLOGY section in the article, including:
Smart-sense
Hyper-charge
Power-stay
Max-power
High-density battery
Safe-cell
Rapid-recharge
Pass Through Charging

Cons:

Limited power storage.
Will only charge your device 1-3 time(s), depending on the device