We use affiliate links. If you buy something through the links on this page, we may earn a commission at no cost to you. Learn more.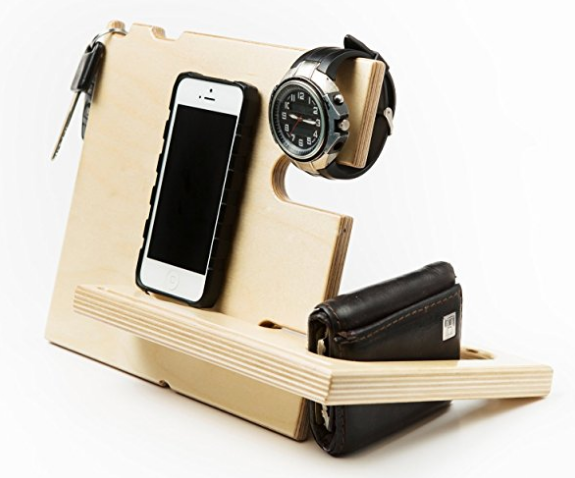 It's that time of year when decluttering and spring cleaning is at the forefront of everyone's minds and procrastination with a side of stagnancy has been removed from the menu.  I feel the pressure and I don't like it. How about this? In lieu of all that organizing and cleaning that I so dread, I'll buy a Catchall or two as gifts (maybe for Father's Day…notice me NOT procrastinating) so that I can enjoy the thought of a couple of lucky people in my life getting their "stuff" organized. 
This stand is a simple, two-piece design that allows the user to keep all of their important items in one place so they don't have to guess where they may have left their keys, wallet, phone, etc. You could put your watch or bracelets on there, use it as a place to charge your phone or tablet, keep the book you're currently reading close by, or even use it in the kitchen to hold your recipes while keeping your other important items neatly organized. It's made of two unstained and sanded pieces of high-quality plywood that you could stain yourself or leave natural. The handmade Catchall by Jigsaw Furnishings can be purchased for $34.99 on Amazon today. Making this purchase qualifies as spring cleaning in my book!