We use affiliate links. If you buy something through the links on this page, we may earn a commission at no cost to you. Learn more.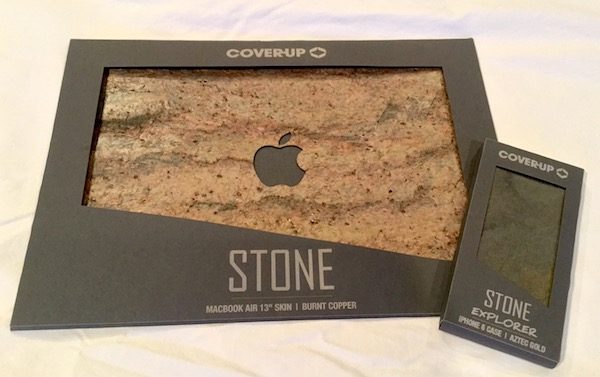 "That's the coolest MacBook cover I have ever seen! Is that real stone?" This was the comment I received in my first meeting after setting up my new Cover-Up laptop Stone Skin. Yes, it is cool. And yes, it's real stone. Cover-up sent me two covers for this evaluation, they are unlike anything I have seen before. They are real, all natural stone cases that have been crafted for your iPhone and MacBook. But how do they hold up to practical use? Let's dig deeper into these beauties…
First Impressions
Cover-Up is a company based out of South Wales, UK that produces elegant covers and skins for mobile phones, laptops, and tablets. All covers are made from natural materials such as wood, stone and wool felt. Hand cut and finished, each cover is a unique product that highlights the natural grains & textures of the material. I received a MacBook skin and an iPhone 6s cover from the Stone collection, in different color schemes that use natural slate as the base.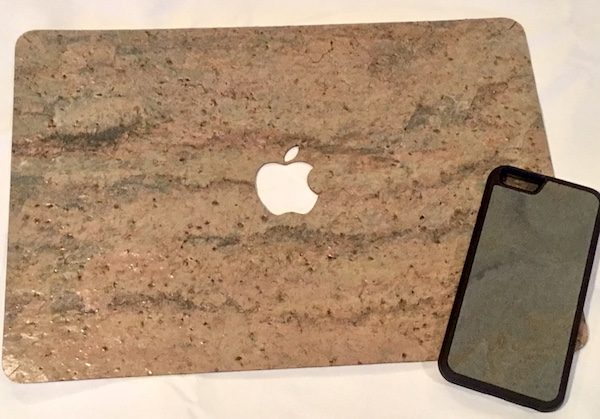 MacBook skin in Burnt Copper, iPhone case in Aztec Gold.
The real stone finishes are stunning. This is not a composite material or some sort of synthetic. Running your hand across the surfaces reveals all the contours & textures of the natural stone. Turn them in your hands and you see the colors shift and shimmer, highlighting the unique grains and patterns in the material as the light plays across them. They are just delightful to look at, and definitely get attention. I just can't figure out how they make them!
The MacBook Skin
When I pulled the skin out of the package, I was a bit surprised at how simple it is. It's a single-cut piece of stone backed to a thin rubberized base layer that's been precisely cut to the device specifications (I have a 13″ MacBook Air). There's a peel-off plastic backing that you remove to reveal the 3M adhesive material to apply it to your device.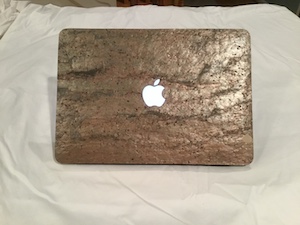 Top view of the skin in place. Shimmery!
The instructions state that you should run your MacBook for 10 minutes to ensure optimal adhesion. Application is pretty straightforward: peel off the plastic, line it up, and stick it on. The adhesive material is forgiving, so you can pull it up and reposition it if you feel like you are not aligned quite right. I found it took a couple of attempts to get it right where I wanted it.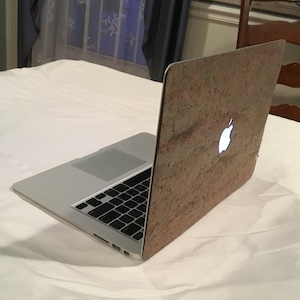 Side view of the skin in place.
I found that the skin doesn't quite align edge-to-edge with the MacBook, but I think this is intentional to allow for some tolerance in application. I don't think anyone has noticed it but me. There is also a slit in each corner which I think is designed to accommodate the rounded corners of the MacBook, but I have not found that it detracts from the overall package once it's in place. I did find that the edges took some buffing to get them to adhere tightly. Given that it's real stone, it's a pretty impressive piece of engineering.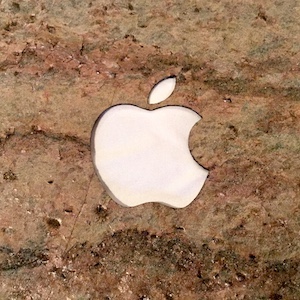 Closeup of the Burnt Copper material.
This cover is called the Burnt Copper pattern and highlights oranges, greens, and browns with shimmering metallics. The textures are more pronounced than I expected, and I was concerned about possible chipping or flaking. After two weeks of work commuting and meeting jumping, however, I've seen no signs of wear & tear. It also provides a nice layer of protection for the computer, which is cool.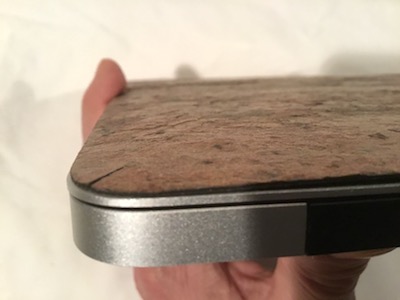 The edging and cornering could use some refinement.
A couple of minor issues did crop up during testing. First, the edges could be finished cleaner. The edging is rough (you'll feel it if you run your hand across it), and the adhesive pulls up a bit. It should also be noted that this is a skin. I believe it will protect the MacBook from a direct hit but it doesn't provide corner protection from accidental drops. It's also a thick cover compared to some others that I have played with. Other than those minor points, it's great. It provides a beautiful, distinctive look and presents a unique sense of style.
The iPhone Cover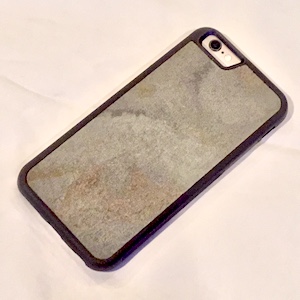 iPhone 6s case in Aztec Gold.
The iPhone cover design is a pretty straightforward affair. It's a snap-style cover that snugly fits my iPhone 6s, with the stone glued to an insert in the backing. Application is easy, and there's no looseness to the cover once it's on.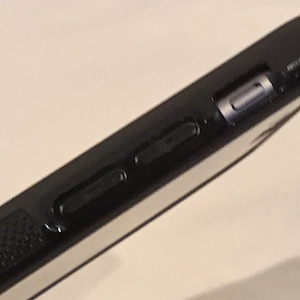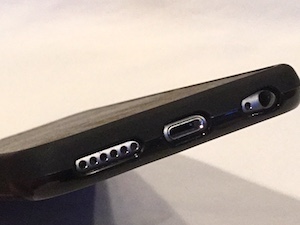 All port access and rocker buttons are precision cut.
Given the unique stone material that is the highlight, one of the nice surprises here is that Cover-Up didn't skimp on the cover itself. It's a well-engineered, rubberized material that provides bumper-style protection including a full rubberized backing under the stone. All the slots are cut precisely for your camera, audio jack, adapter port, ringer switch, etc. and don't interfere with normal operation. The integrated button stud for the volume rocker & on/off switch work perfectly. There's a nice ridged texture that runs up each side, which helps grip the phone but doesn't cause the phone to get stuck in your pocket. Overall, it's a good cover that matches the quality of the stone surface.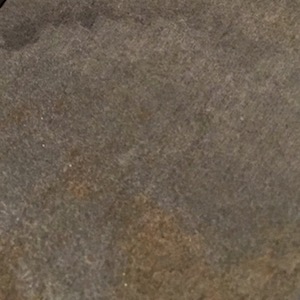 Closeup of the Aztec Gold pattern on the iPhone cover.
For the iPhone, I chose the Stone style called Aztec Gold. It sports a smoother texture than the Tempest MacBook skin. Colors are subtle, highlight greys and blacks with veins of gold running through the stone. It's really classy and understated.
Overall, I really enjoy using the cover. It's slim and unobtrusive, so you can comfortably slip it into your pants pocket. I've even dropped it once (maybe twice), and it does the job protecting the phone. Like the MacBook skin, I have not seen any signs of chipping or cracking of the stone finish after twin weeks of constant use.
Conclusion
Cover-Up has done a nice job of fulfilling their mission with the Stone Skin MacBook skin and iPhone case. Not only do they add unique style to your gear, but they are beautifully crafted pieces. You should know that they are not inexpensive: prices range between $50 and $60 for the iPhone cases and $60 and $100 for the MacBook skins depending on the size of your device. After playing with them for a few weeks, however, I think the materials and quality are in alignment with the premium pricing. They offer a range of stone styles, each one with its own distinctive personality. If you're looking to invest in a truly unique look for your gadgets with natural materials, check out cover-up.com for more information!
Updates 05/25/17
These are still great. Four months in on both of these, and they still look as good as the day I got them. The MacBook case gets compliments every time I travel with it and has shown a nice ability to absorb bumps and bruises. I have noticed that the ports on the iPhone case are very tight, and can be a problem for some third-party Lightning connectors and audio jacks. Other than that, it still provides great protection and has held up very well.
Source: The sample for this review was provided by cover-up. For more info visit their site and you can check their Amazon store as well.

Product Information
Price:
$49 - $99 for the MacBook skin, $15 - $55 for the iPhone cases
Manufacturer:
Cover Up
Retailer:
Amazon
Pros:

Adds a beautiful, unique look to your iPhone or MacBook.
High-quality craftsmanship.
The real stone actually works as a protective surface for your devices.
iPhone cover doesn't sacrifice looks for solid build and functionality.

Cons:

Premium pricing.
MacBook cover could use some more refinement around the edges.