We use affiliate links. If you buy something through the links on this page, we may earn a commission at no cost to you. Learn more.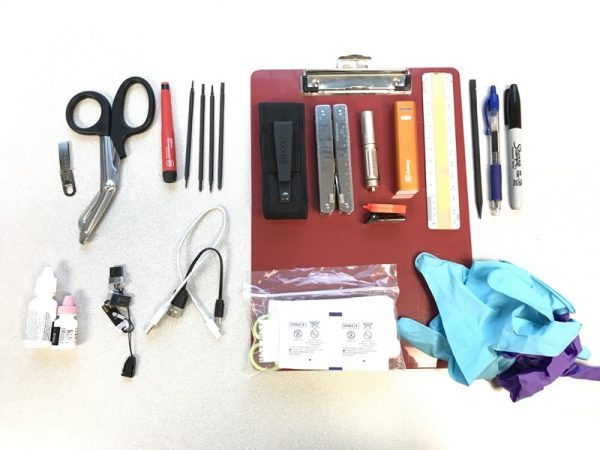 I seem to switch my everyday carry bag about once a year.  In early 2017, I decided to make a switch from shoulder bag to backpack.
I work in an office and drive to work, so I don't need to carry that much.  Still, I like to pack light yet be prepared.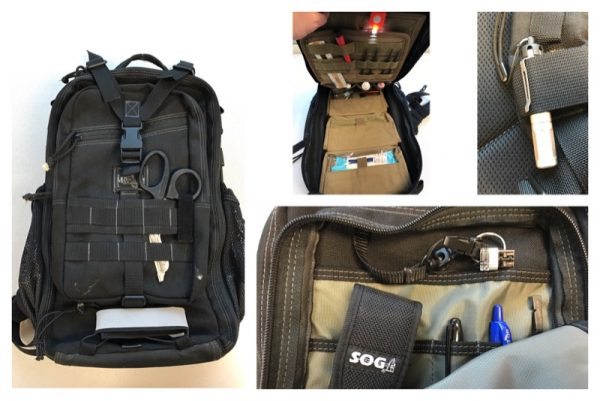 My trusty backpack is the Maxpedition Pygmy Falcon II.  It's one of their smallest dual-strap backpacks, yet has two side mesh pouches that are great for water bottles, and has just enough attachment points on the outside to keep me happy.
The backpack doesn't have a padded back or much in terms of organization, so I added the Condor Outdoor VA7 Pack Insert to keep things in check.  Note the small LED clip on light sits on top of the insert to help me find things in the dark.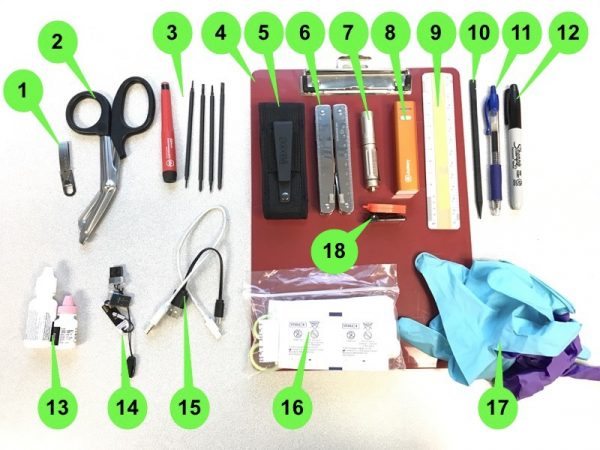 1. Stainless steel tweezers
These handy tweezers come with their own snap-in holder that you can attach to a keyring, loop, etc.
2. Trauma shears
A carry-over from my EMT training.  The blunted tip is less likely to poke you and cut with great strength.
3. Wiha screwdriver set
This five piece set has most of the small slotted and Philips sizes you'll need for most small screws.  Contains slotted 1.5, 2.0, 3.0, 4.0 blades. Phillips #: 000, 00, 0, 1.
4. Red plastic clipboard
I keep this in my backpack in case I need to carry sheets of paper without crumpling them beyond recognition.
5. Multitool sheath
This was originally for a SOG knife I no longer use, but I like the hard plastic clip on the back.
6. SwissTool RS
By far my favorite- if not overweight- multitool.  It may be heavy, but the RS oozes quality.  If you like Swiss Army quality (the scissors!) this is the one.
7. Surefire Titan Plus flashlight
Fed by a single AAA battery, this flashlight puts out three levels of brightness (300/75 or 15 lumens) for 1, 2 or 7 hours.
8. Jackery Mini USB battery
I thought it would be a nice idea to carry around a small USB backup battery for my iPhone, but I haven't used it once.
9. Small ruler
10. Spudger
If you've ever seen an Apple store tech in action, you may have seen the Spudger, Apple part number 922-5065.  It's a tough, antistatic pokey thing with one flat end and one pointy end.  Don't laugh, because now you'll want one.
11. Pilot G-2 pen
In blue of course.  0.5mm
12. Black Sharpie pen
13. Eye drops
14. USB thumb drives
15. USB cables
I carry one short micro USB cable and one Apple Lightning cable, just in case.

16. Prepacked basic trauma kit
It's got some bandages, gauze, alcohol wipes, tiny scissors.
17. Disposable non-latex gloves
Whether you're treating a patient or picking up something gross, these are always handy.
18. ARES-SO LED clip light
This is that tiny light I leave clipped in my bag organizer.  The clip swivels 360 degrees and has a bright orange plastic body.