We use affiliate links. If you buy something through the links on this page, we may earn a commission at no cost to you. Learn more.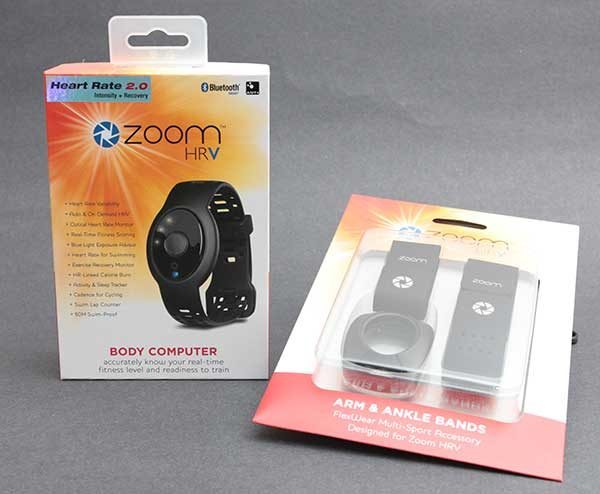 So many people seem to be sporting fitness trackers on their wrists from popular makers like Misfit and Fitbit. These trackers help you keep track of your daily activity (steps, running, calorie burn, etc)  and some even track your heart rate. The LifeTrak Zoom HRV goes even further by tracking your HRV which stands for heart rate variability. LifeTrak claims HRV is a better broad indicator of overall fitness. Let's take a closer look at the LifeTrak Zoom HRV.

What is it?
The LifeTrak Zoom HRV is a wrist, arm or ankle wearable that tracks steps, calorie burn, sleep, heart rate, blue light exposure, and HRV. What is HRV?
To describe HRV, and in contrast from what we know regarding traditional heart rate measurements, one must realize that the greater variability in the time gap between heart beats indicates a healthy, fit, well-rested heart. Elevating your average HRV values over time is indicative of improved cardiovascular fitness. A low HRV value (a heart beating closer to a fixed rhythm) is believed to be an indication of a poorly functioning heart–perhaps an over-trained athlete or a person who is unfit, overstressed, or has developed cardiac disease risk factors.
This video also provides some info:
What's in the box?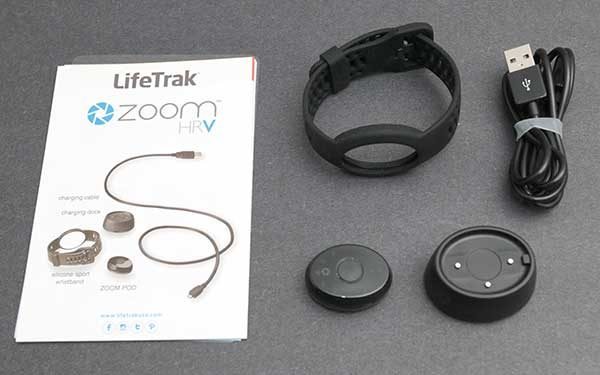 LifeTrak Zoom HRV
Wrist strap
Charging dock
USB cable
Instructions
*A free arm and ankle band is included while supplies last
Design and features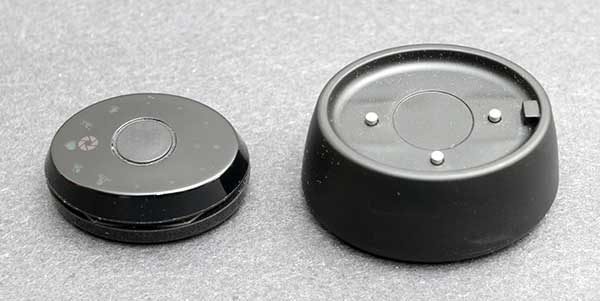 The Zoom HRV is an oval shaped device called the Zoom Pod that has several status LEDs on the face and a button in the center.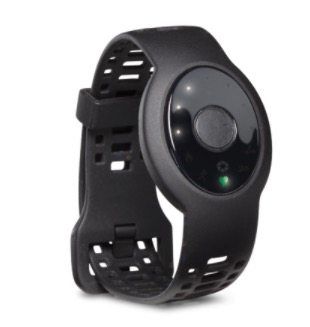 The LEDs will also show the time of day when you lift your wrist up to your face by lighting up an LED in the hour location and a blinking LED in the minute location.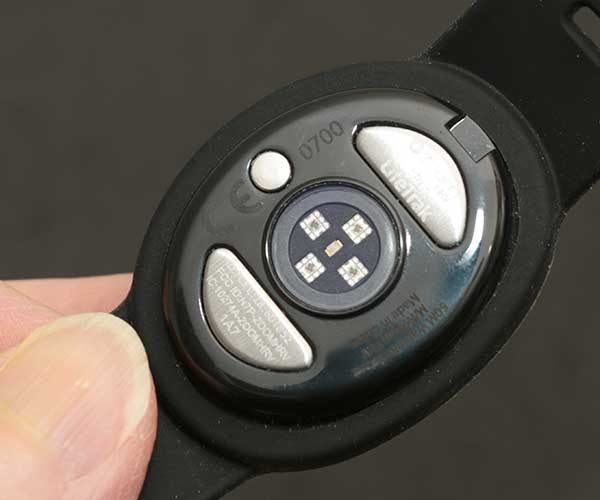 On the back of the tracker are sensors and electrical contacts that keep track of your heart rate and are used to charge the device using the included magnetic dock.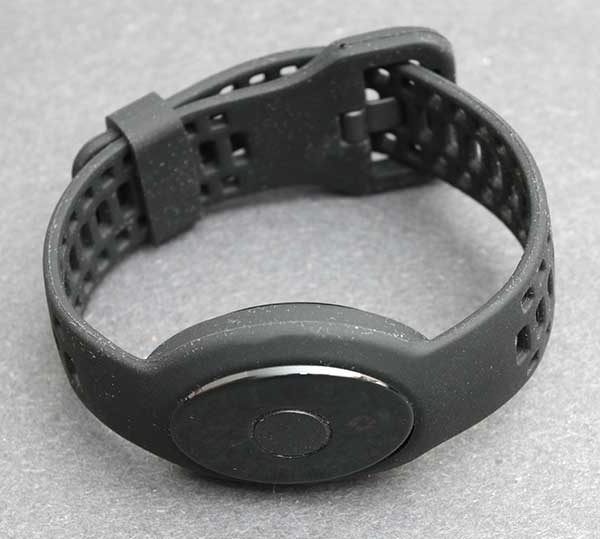 The LifeTrak Zoom HRV comes with a black silicone wrist strap that is comfortable and easy to adjust. The only problem with it (and other dark colored silicone straps) is that it attracts lint and dust as soon as you pull it out of the package. Before you can blink an eye, the strap looks like it has a bad case of dandruff. Eck!

The Zoom HRV is easy to charge because you don't have to remove the module from the strap. It just attaches to the charging dock and is held in place with magnets. The tracker has a 5-day battery life and is also waterproof up to 50m.
To begin using the tracker, you'll need to install the iOS or Android app on your smartphone or tablet.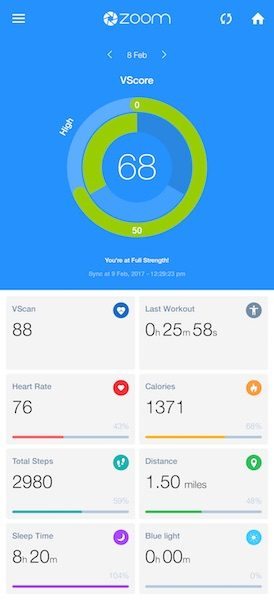 The app provides an easy to read dashboard with all the tracked stats. You can then tap each stat to get more information.
Most of the stats shown above are pretty standard when it comes to fitness / activity trackers. The only one that might stand out is the Blue Light stat. Blue light from TVs, computers, tablets and phones can negative impact on your sleep. The LifeTrak Zoom HRV is supposed to let you know if you need more natural light. The problem is that it won't be able to track it if you wear the tracker on your wrist and also wear long sleeved shirts that cover the tracker…
One of the handy features of the LifeTrak Zoom HRV is that it can vibrate to let you know if you're falling out of your target heart rate zone while you're working out. You have to manually put the tracker into workout mode by holding down the center button on the tracker. You can also see your workout info in real time through the app while you're working out.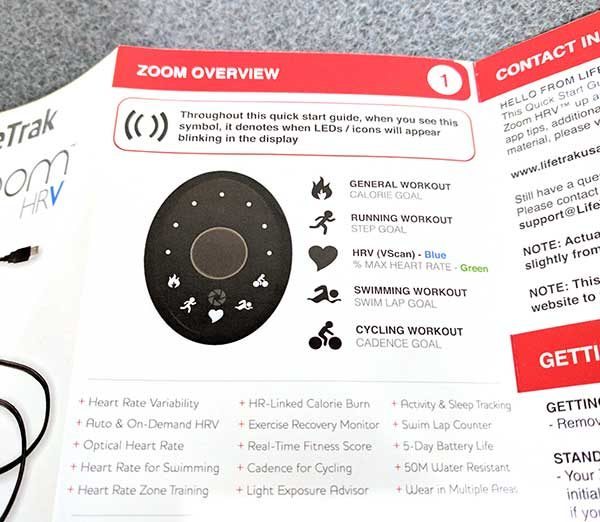 You can see how you're progressing towards your daily activity goals right on the device by pressing the center button once which will show the time of day and then tap the device to cycle through the stats like steps, calories, % max heart rate, swim lap goal, cadence goal and more.
Every night the tracker will automatically track your sleep and your HRV (heart rate variability). In the morning after you sync the data to the app, you'll be assigned a VScore which is a baseline fitness score based on the HRV recorded through the night.  This score can be used to track general health or to compare with a previous VScan to help you learn more about your rate of recovery after a workout.
You can also do a VScan at any time by opening the Zoom app and double pressing the button on the Zoom Pod.
Final thoughts
I like the LifeTrak Zoom HRV because it's comfortable to wear and the application is easy to navigate and understand. The only thing I don't like about this activity / fitness tracker is that you have to manually sync the data by triple clicking the center button while viewing the app. This isn't a huge hassle, but it would be nice if the data was automatically synced at least once a day.
If you're looking for a fitness tracker that provides a new insight into your fitness level, the LifeTrak Zoom HRV's heart rate variability tracking will give you more information that can help you reach your fitness goals.
Source: The sample for this review was provided by LifeTrak. Please visit their site for more info.
Product Information
Price:
$139.99
Manufacturer:
LifeTrak
Pros:

Comfortable to wear
Records HRV stat

Cons: