We use affiliate links. If you buy something through the links on this page, we may earn a commission at no cost to you. Learn more.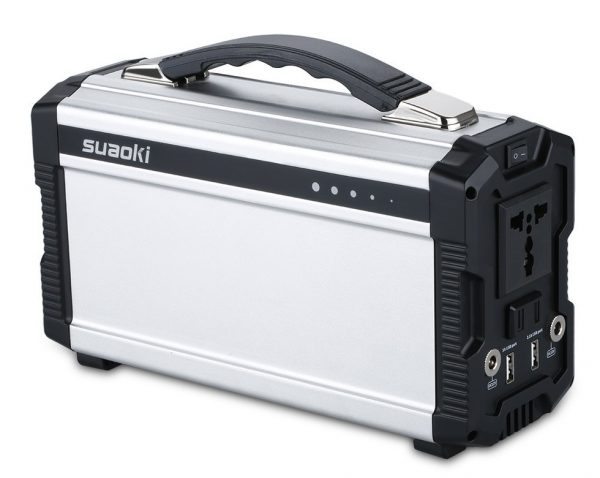 I've been seeing more of these supersized USB portable batteries that include AC outlets.  I was recently given the chance to test the Suaoki Powerhouse portable "generator".  I had never heard of Suaoki, so I was naturally curious.  What was this thing that looked like a silver and black lunchbox?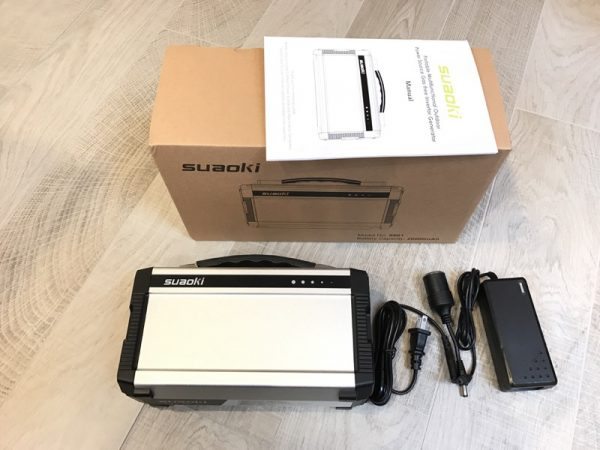 Battery: Lithium-Ion, 20,000 mAh, 11.1V
Battery Indicator: 5-LED indicator (20% to 100%)
Outputs: AC 100V/50Hz (Max 200W), USB 1A, DC12V/5A
Product Dimensions: 250 x 86 x 160 mm
Product Weight: 2.52 kg
Package Contents:
1x Suaoki Generator
1x Power Charger Adapter
1x AC Cable
1x User Manual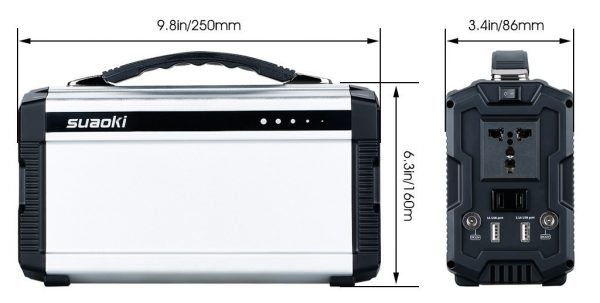 Much bigger than the packable USB batteries we've gotten used to, but much smaller than what most would call a "portable generator".
On the left is the business end of the power supply.  There are two AC outlets on the Suaoki.  The larger one is designed to fit a variety of plug shapes.  The outlet below that is a more conventional North American two-prong outlet, but it's not polarized (the slots are the same size and won't accept a polarized plug.)
There's also a pair of 12V outlets which can be used by the cigarette adapter (supplied) and two 5v USB outlets.  Note that one USB outlet is rated at 1A, and the other 2.1A.
On the other end is a cooling van and vent, and the DC charging input on top.  The Suaoki advertises solar recharge ability, but I did not have a panel to test this with.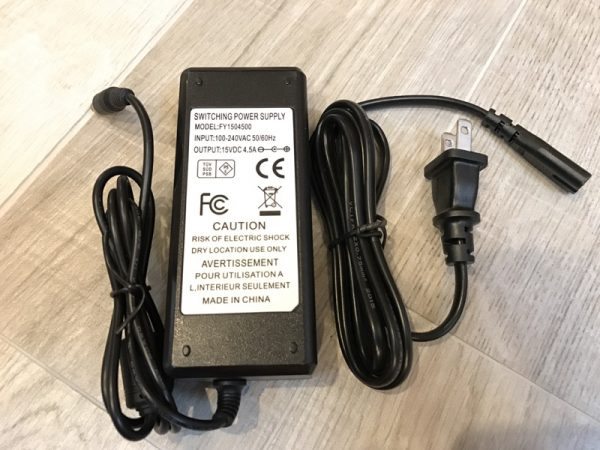 The supplied charge puts out 15V (4.5A).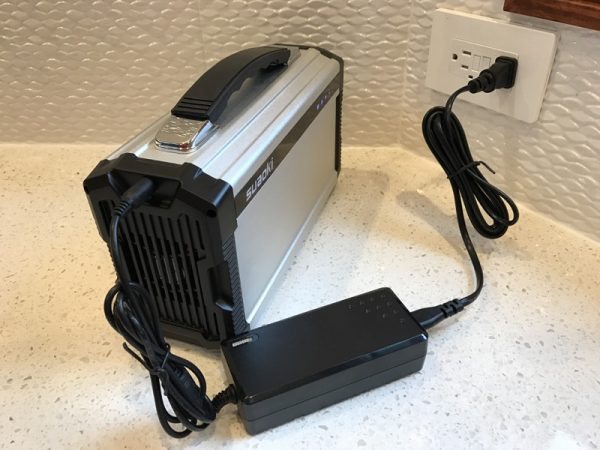 Here's the charger in action.  It would have been nice if the charger was built-in, but that would impact portability.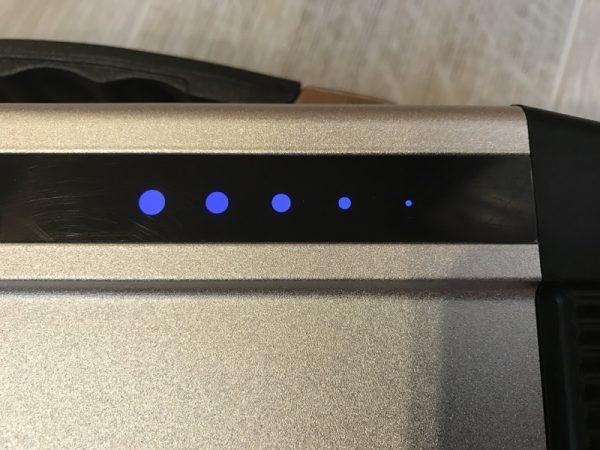 Once fully charged, you'll get all five blue LED lights.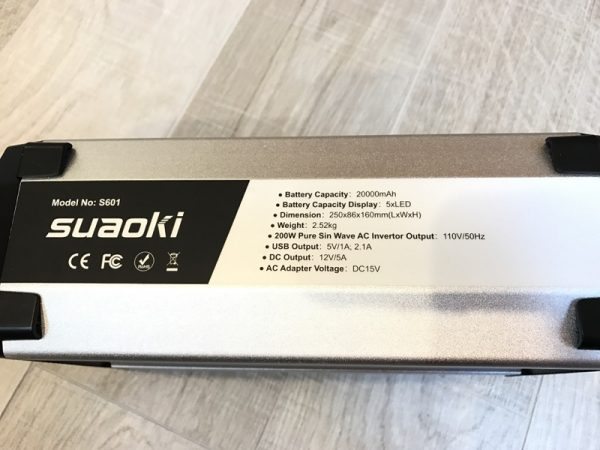 Here's a peek at the belly-side label.  Note that despite the multi-shaped AC outlet, it's only rated at 110V.  Curiously, it's listed at 50Hz, and not the typical 60Hz we see in North America.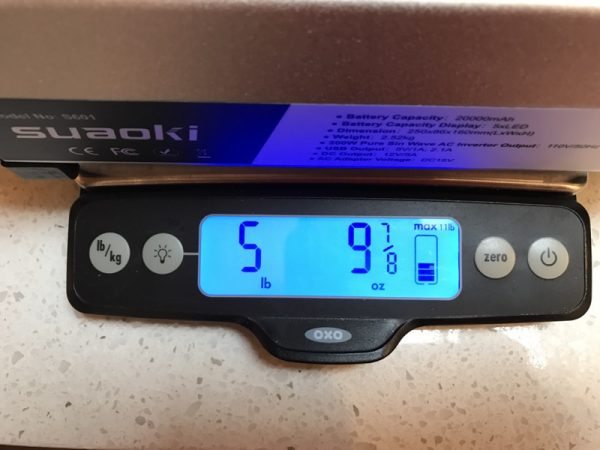 Want to lug this around?  It weighs under 6 pounds without the charger, but the built-in handle makes things easier.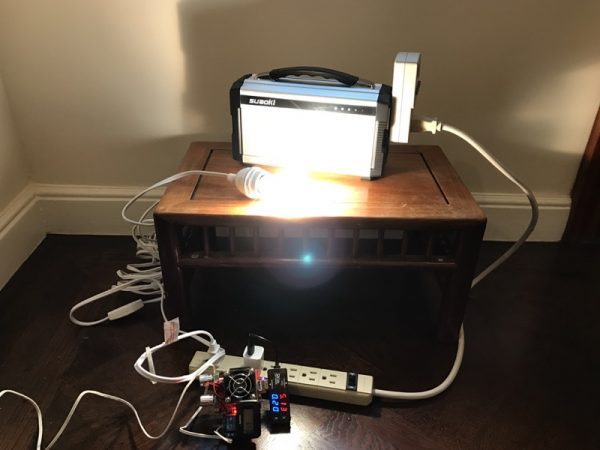 But how long does the battery last?  To test this, I connected a light bulb and a power meter combined with my homemade timer.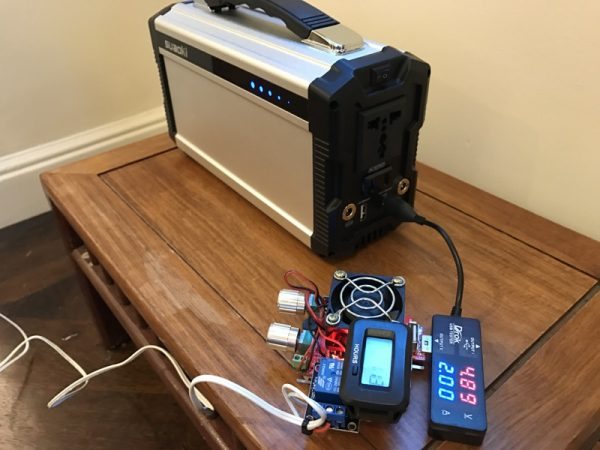 Then, to test the USB output, I connected my USB load tester to the 2.1A USB outlet.
Results:
AC power:  4.7 hours with a 40W load
USB: 16.1 hours at 2.0A load
I still haven't found a practical use for portable AC power, and the fact that the Suaoki generates power at 50Hz is slightly limiting if you have devices that aren't compatible.  Many AC appliances are just fine with 50Hz, but double-check to see if your device accepts both 50 and 60 Hz.
Another minor design feature is the rocker-style switch.  This is a very minor detail, but an important one: Unlike push-button toggle switches, the on/off power rocker switch mechanically indicates if the power is on.  This makes it much less likely for the power to be left on (or turned off) by accident.
During my testing, I did not hear or see the fan blowing.  I was either not drawing enough power, or it was pretty quiet.
The Suaoki Powerhouse 220Wh Portable Power Supply handy to carry with the built-in handle, and the 200W AC output should cover most of your gadgetery needs (short of hair dryers and toasters).  I like it, but just watch your AC frequency requirements.
Source: The sample for this review was provided by Suaoki. Please visit Amazon for more info.
Product Information
| | |
| --- | --- |
| Price: | $219 ($259.99 MSRP) |
| Manufacturer: | Suaoki |
| Retailer: | Amazon |
| Requirements: | AC devices must be able to accept 50 Hz |
| Pros: | Less than 6 lbs (without charger). 110VAC, 12VDC, 5VDC (USB) power options. Multi-shaped AC outlet. |
| Cons: | 50Hz AC output only. Check your devices first. |