We use affiliate links. If you buy something through the links on this page, we may earn a commission at no cost to you. Learn more.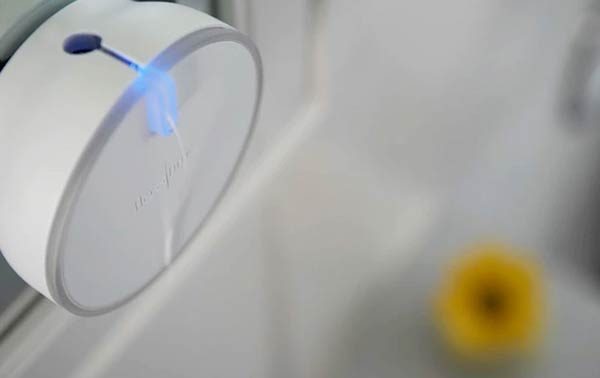 How are your oral habits? Do you floss your teeth at least once a day? I'll admit that I have a really hard time sticking to the habit. For me, it's a combination of forgetting and just being lazy. Can a gadget help me and you be more proactive with our oral hygiene tasks? Flosstime might be that gadget. It's a hockey puck shaped dental floss dispenser that sticks to your bathroom mirror. Wait, don't stop reading, there's more.
Flosstime does more than just dispensing floss, which in itself looks kind of cool because one press of the device causes a strand of floss to spool out from the top and it's right there on your mirror reminding you to use it. But in addition to that, it also has an LED ring around the edges that will light up like a blue smile when you floss at least once a day and will turn into a red frown if you skip a day.
Flosstime also times your flossing chores so you won't rush through it and even features a dual user mode so you can share it with another person.
The device comes with an entire year's worth of floss (I'm assuming that's enough for one person) and is priced at $29.99. Additional floss cartridges run $5.99. You can read more about it at flosstime.com and I will be doing a review so stay tuned.