We use affiliate links. If you buy something through the links on this page, we may earn a commission at no cost to you. Learn more.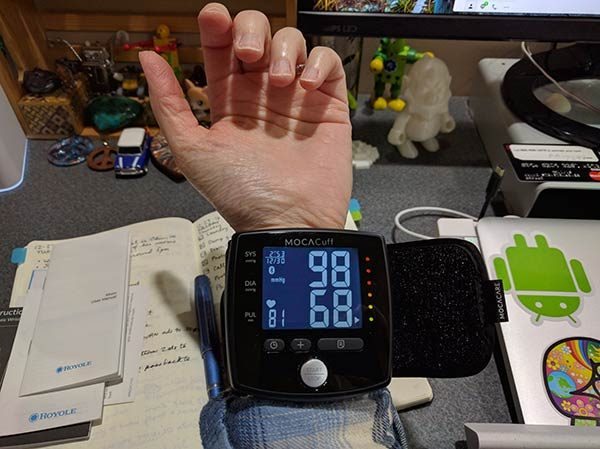 High blood pressure is a condition that has been referred to as a silent killer because people who suffer from it don't always have symptoms until it's too late. When your blood pressure is too high, it can contribute to strokes, heart disease and worst of all, death. Most of the time when we visit a primary care doctor, they will check our blood pressure, but if you don't have regular appointments, it might be a good idea to invest in a blood pressure that you can use at home like the easy to use MOCACare MOCACuff.  
What is a MOCACuff?
The MOCACuff is an FDA cleared compact blood pressure monitor that fits around your wrist instead of your bicep like most blood pressure monitors that are on the market. The MOCACuff can be used as a standalone device and it can also pair with your iOS or Android mobile device to store your readings.
What's in the box?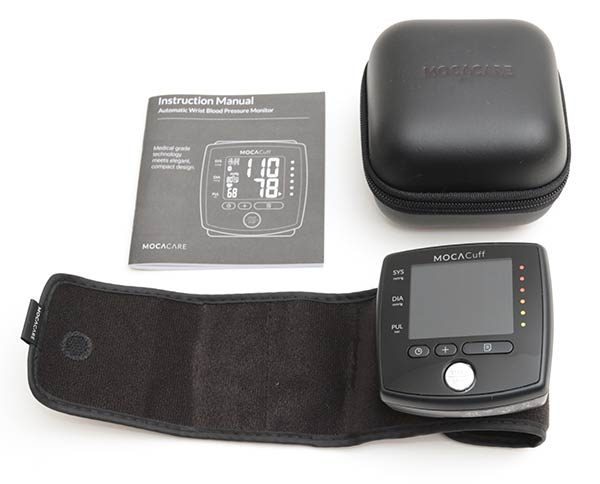 MOCACuff connected wrist blood pressure monitor
Zippered storage case
Instruction manual
Design and features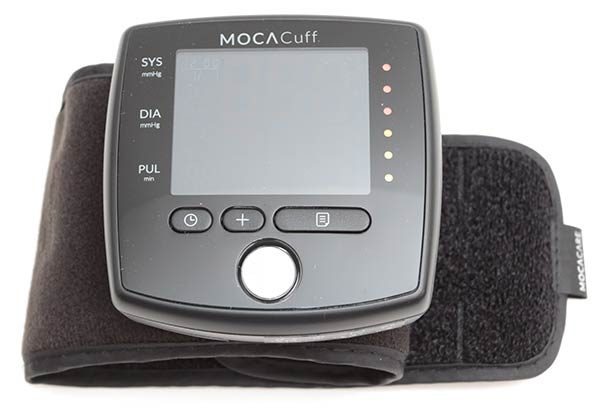 The MOCACuff is a 3 x 3-inch black plastic module with a back lit LCD display and four buttons. Three of the buttons are used to set the time/date and scroll through past readings. The large circular button is used to start/stop a blood pressure reading.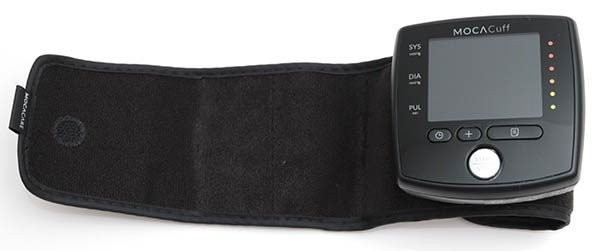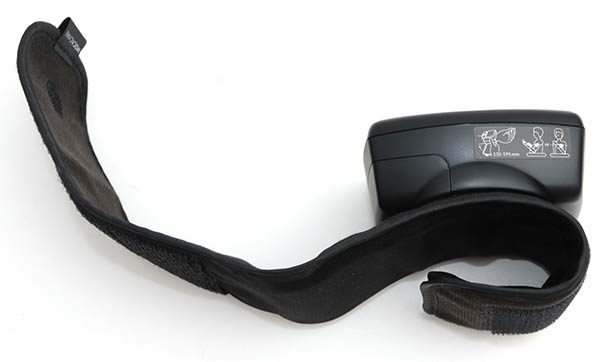 Attached to the blood pressure module is a Velcro cuff that wraps around your wrist (5.3 – 7.7 inches).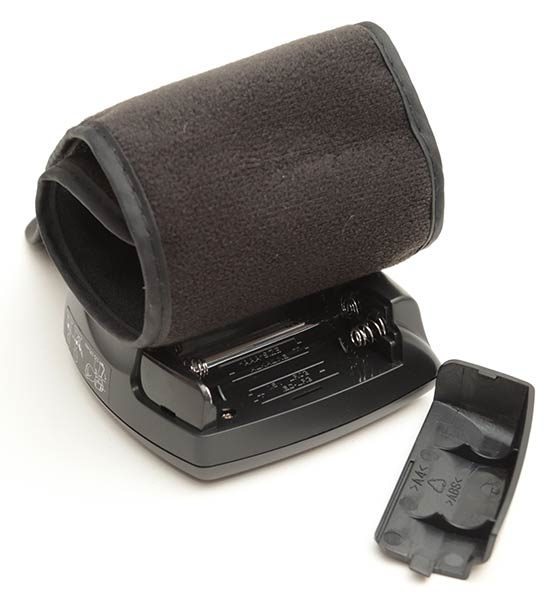 The MOCACuff runs on 2 AAA batteries that will last for approximately 200 readings.
Taking a blood pressure reading
You can use the MOCACuff all by itself if you don't have an iOS or Android mobile device running iOS 8+, Android 4.0.3+, Bluetooth 4.0 BLE or later, which is required to use the MOCACare app and pair with the MOCACuff.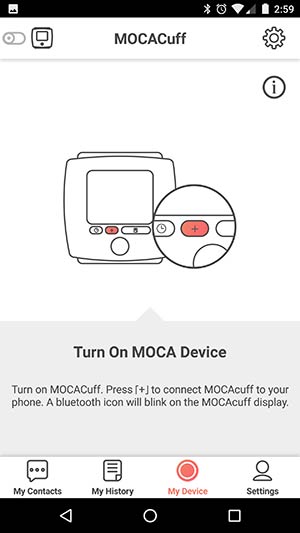 Using the MOCACuff with your mobile device (in my case, the Nexus 6P), you just install the app, launch it, create an account, and then press the + button on the MOCACuff to connect to the app.  I was up and running in just a couple of minutes.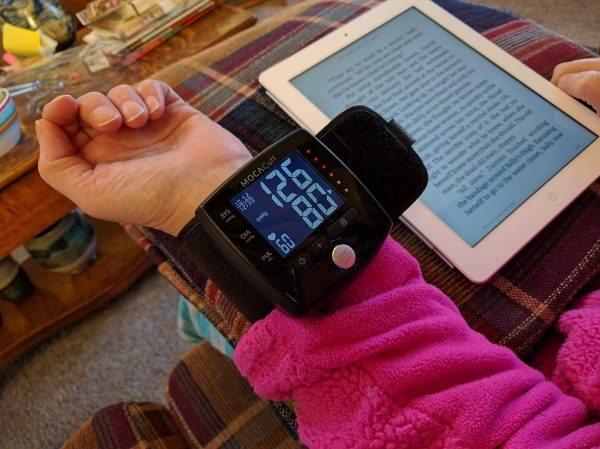 Once the MOCACuff has been connected to the mobile app, you're ready to take a blood pressure reading. To do this, you put the MOCACuff on your wrist with the display facing palm up and at the same level with your heart which might require you to put a pillow or something under your arm to prop it up to the right height. Pressing the round start button will inflate the cuff and start the reading.
The large LCD display makes it very easy to view the result which shows the systolic rate (top number) and  Diastolic rate (bottom number) along with the date, time and heart rate. If the MOCACuff detected an irregular heart beat, it will show that info too.
You'll also notice a small arrow on the right edge of the display that points to one of the colored circles that range from green at the bottom, up to red at the top. This arrow is a color-coded indicator that corresponds to the American Heart Association's (AHA) blood pressure categories for risk levels.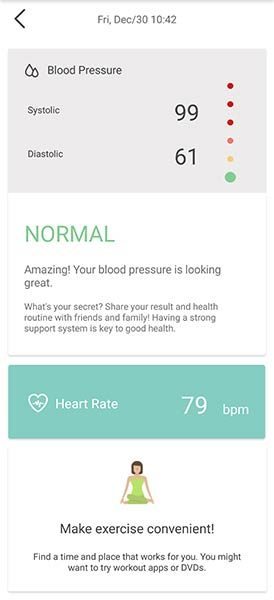 If your mobile device is connected, you'll see more info in the app after you've taken a reading. The app will give you insight on your reading and offer suggestions to improve future readings.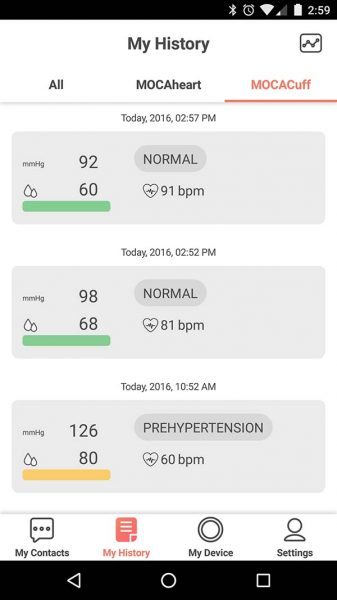 The app also allows you to see your past readings with a colored bar that corresponds with your risk level. It goes without saying that you want to be green.
Using the MOCACuff and the app to keep an eye on your blood pressure readings is easy to do, but there is one problem with the app. It only stores readings for one user. There's no way to assign readings to more than one person which is annoying if you want to use the MOCACuff for more than one family member.
Final thoughts
I really like the MOCACuff. It's only $50 right now, so it's not too expensive, and it's easy to use with an without a mobile device. The only improvement that I would make would be to the app to allow a reading to be assigned to certain family members. But other than that, I highly recommend it.
Source: The sample for this review was provided by MOCACare. Please visit their site for more info and Amazon to order.