We use affiliate links. If you buy something through the links on this page, we may earn a commission at no cost to you. Learn more.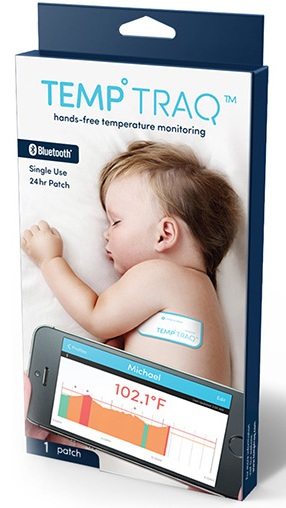 One of my children suffered from a febrile seizure many years ago (seizures that are brought on by a spike in body temperature over a short period of time). Apparently, these are fairly common, and to decrease the likelihood of a recurrence, the parent needs to monitor the sick child's temperature fairly closely and administer fever-reducing medicines at the appropriate times. Monitoring your child's temperature through the night is disruptive to the child who needs his or her sleep when sick so devices like TempTraq are especially useful. TempTraq is a single use nonlatex patch that displays real-time and historical temperature data (Fahrenheit or Celsius). The patch collects temperature data every 10 seconds for a 24 hour period of time, after which the patch is easily removed (gentle adhesive) and is thrown away. The data is sent via Bluetooth 4.0 (40-foot range) to a free Android or iOS app and is displayed in graphical and table formats for the parent to monitor. Alerts can be set within the app to inform you when your child's temperature gets too high. 
TempTraq temperature readings equate to those of an oral thermometer and according to the TempTraq website, it is highly accurate and "has been tested to the ASTM E1112-00 standard, which is required for all clinical digital thermometers." To ensure proper placement:
The patch should be placed in the underarm with the corner marked "underarm" high and centered in the armpit, simulating where you would normally place a stick thermometer. Please reference the instructional video in the app as well as the Instructions for Use pamphlet included with the product.
Even though the patch is water resistant, they recommend removing the patch during bathtime then reapplying afterward. The patch has a two-year shelf life. The only drawback to the TempTraq patch is its cost – it's $19.99 for one patch. If you are interested, you may purchase the patch at Amazon.com, CVS.com, Target.com, and in your local Target, CVS, Walgreens, HyVee, Meijer and Kroger retail stores.