The Gadgeteer is supported by readers like you! If you buy something through links on our site, we may earn an affiliate commission. Thank you! Learn more.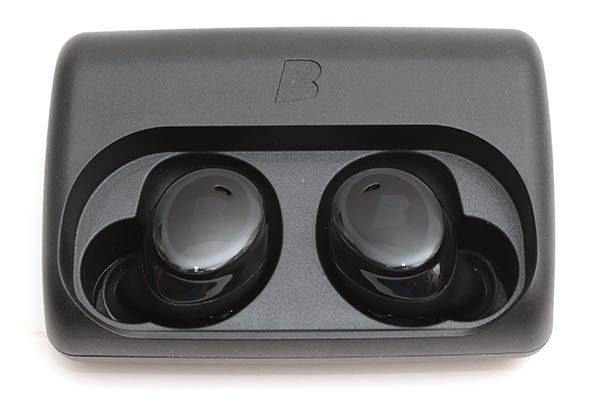 I've been on a quest to find the most comfortable and best sounding wireless earbuds on the market and the latest pair that I've had the opportunity to test are The Dash from Bragi. Bragi The Dash started out as a crowdfunding project in the fall of 2014 that earned over 3 million dollars. Let's see if the money they earned allowed them to create my favorite pair of wireless earbuds or if my quest continues.
What is it?
Bragi The Dash are truly wireless earbuds with more features than any earbuds I've ever tried and they store in a battery charging case when they are not being used.
What's in the box?
I usually don't talk a lot about product packaging, but I was both impressed and perplexed by the packaging for these earbuds. They come in a "book" box with thick pages that flip until you get to the contents. Unique? Yes. A waste of money and materials? Absolutely.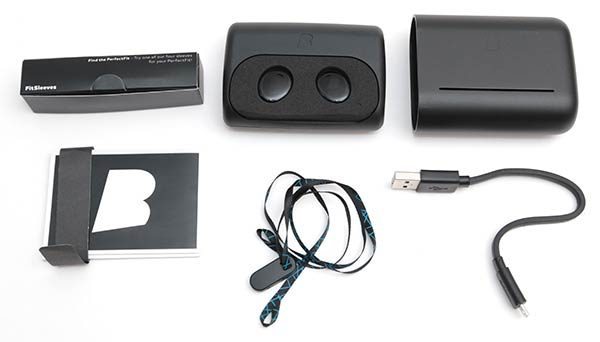 The Dash wireless earphones
Battery charging case
FitSleeves
Leash
The Slide case cover
USB charging cable
Design and features
The Dash aren't ordinary earbuds. They have quite a few interesting features that include:
4GB storage that you can use to store music files so the earbuds can play music without a connection to another device
Activity tracking: running, swimming, cycling
Heart rate monitoring
Touch controls for volume, next track, call answer/end
Head gesture controls
Ambient sound pass thru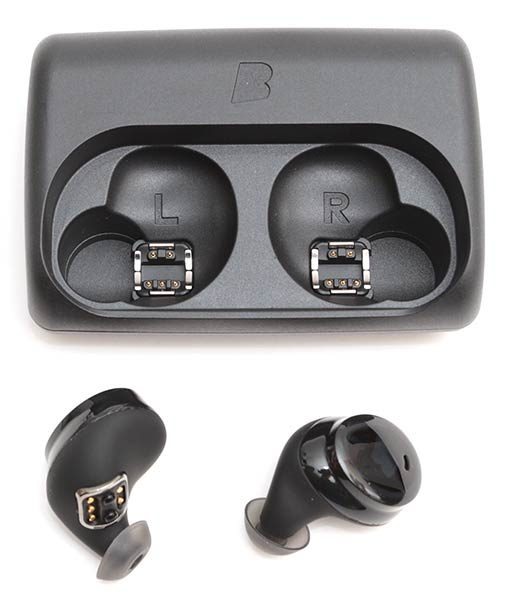 The Dash earbuds are made of black plastic with a shiny touch-enabled button on the outer surface that has an LED status ring around the edge that glows in different colors to show battery status.
The ear buds do not have any physical buttons, but they do have a large square electrical contact that matches with a magnetic socket in the battery charging case.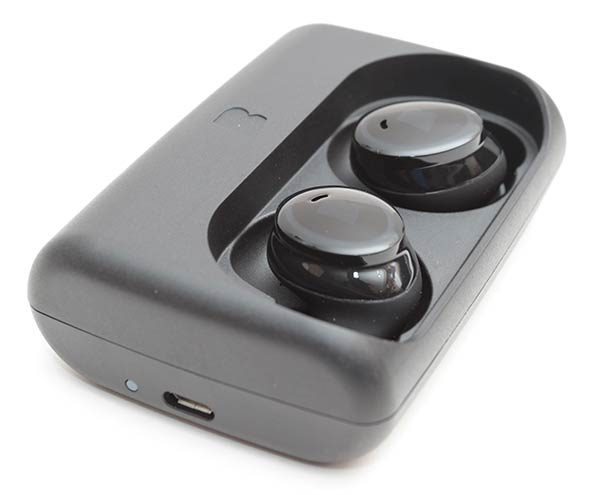 The case itself has a built-in rechargeable battery with enough capacity to recharge the earbuds up to 5 times. The Dash earbuds can be used for approximately 3 hours per charge, which is a bit short compared to other wireless earbuds I've tested.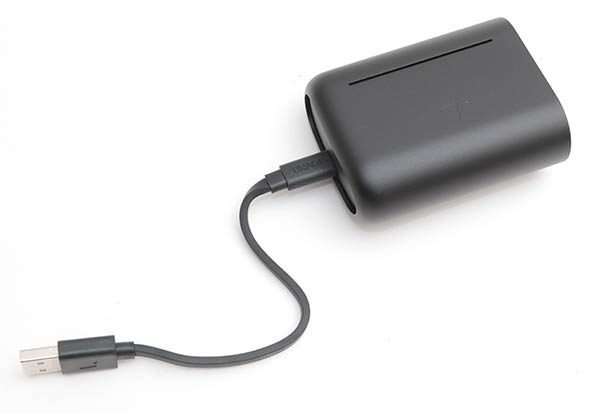 I really like that the wireless earbuds I've been reviewing lately have their own battery charging cases, but of all the ones I've tested so far (see related reviews at the bottom of the page), The Dash case is the biggest and the bulkiest. I'm also not a big fan of the Slide, which is the aluminum sleeve that slides over the case. I'd rather have hinged cover… but maybe that's just me.
Fit and comfort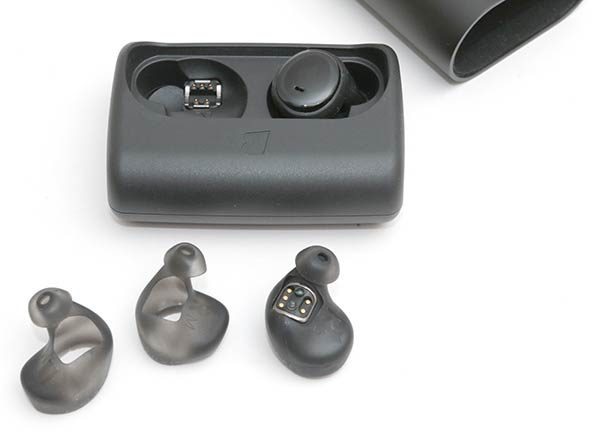 The Dash comes with several sized ear tips or Fit Sleeves as Bragi calls them. These Fit Sleeves cover the entire inner side of the earbuds. At least sizes small through extra large do. The extra small sized tips are just regular ear tips that fit on the end of the earbud. I'm not sure why the larger sizes have been designed differently.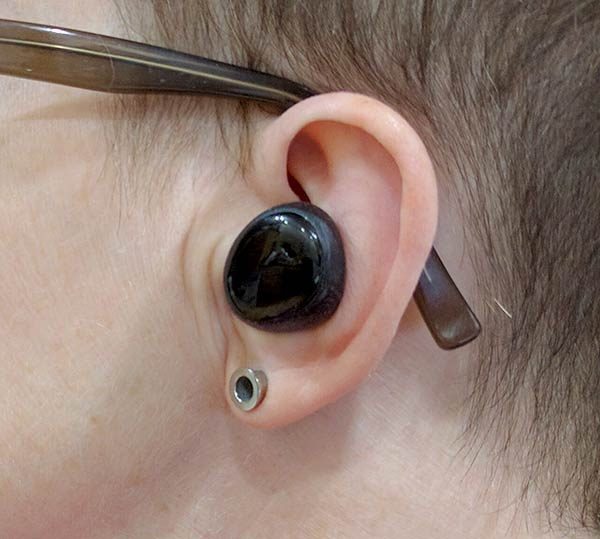 As far as comfort goes, The Dash earbuds are large, which means they are a tight fit for my ears. I won't say that they are uncomfortable or painful, but I do notice them in my ears and am glad to take them out after about 60 minutes.
I didn't test The Dash with activities like running, cycling or swimming, but they stayed in just fine while walking on a treadmill and during my medium impact workouts that include squats, ab crunches, pushups and similar exercises.
Setting up The Dash with your mobile device
Most Bluetooth earphones, headphones, and earbuds are simple to setup because all you do is turn them on, search for them in your mobile device's Bluetooth devices list and pair them. The Dash is the same and different in that respect. If all you want to do is use them to listen to streaming music from your mobile device, then pairing them in the way which is called Bluetooth Classic and which I just described above will work fine. But, if you want to take advantage of the other features like activity tracking or playing audio files stored in the 4GB of built-in storage, then you have to install the Bragi app and pair the earbuds using Bluetooth BLE (Bluetooth Low Energy) to the Bragi app.
Pairing with the app seems like it would be straight forward, but I had issues with reliability. Sometimes it would just say it was connecting forever without timing out. Other times it connected as soon as I put the earbuds in my ears which automatically powers them on.
I think the issue with connectivity has to do with the two Bluetooth connection types and which one connects first. If Bluetooth Classic connects first and then you launch the app and connect using Bluetooth BLE, there can be issues streaming music. It's confusing and frustrating when I start Amazon Prime music to listen to some tunes and the audio comes out of the phone's speakers instead of The Dash earbuds. Or, the app will say it's playing music while both the phone and The Dash earbuds are silent.
There are quite a few ways to customize The Dash earbuds, from announcing the time when you insert them in your ears or on the hour, to enabling touch controls and head gesture controls.
I thought touch controls would be great, but I didn't have the best luck with them. You have to remember which earbud controls music and which one controls the transparency feature that turns the audio pass through and windshield feature on and off. I also had problems getting calls to hang up. I ended up just using my phone to hang up and change tracks. The only gesture control that worked 9 times out of 10 for me was the volume up/down gesture where you just swipe your finger on the right earbud to increase or decrease volume.
Sound quality
Listening to music through The Dash earbuds is enjoyable and I have no complaints about sound quality. They have full rich sound with decent bass.
I did have some issues with music cutting out while streaming from my Nexus 6P which was either in my pants pocket or a few feet away on a table while I was working out. The connectivity range appears to be very short which can be really annoying when your favorite tune cuts out multiple times while you're trying to workout.
The earbuds are very noise isolating, which some people might not like. I don't really like to be cut off from outside noise especially when I'm at work. But the transparency feature is nice so that you don't have to take the earbuds out of your ears. There's a setting that can be enabled that will automatically toggle the feature on when you pause music and toggle it back off when you resume playing again.
Remember that The Dash has its own integrated music player that can store up to 1000 songs in 4GB of storage space. To copy songs to The Dash, you put the earbuds in the battery case and attach to the battery case to your computer using the micro USB cable. The Dash will mount on your computer like a drive where you can copy the files into pre-created playlist folders.
Listening to music through the built-in player requires that you disconnect The Dash from the Bragi app and your phone by either disconnecting in the app and also forgetting in the Bluetooth settings. As far as I can tell, you have to do both which is a pain in the rear.
Activity tracking and other features
The Dash can also track activities like walking, running, swimming and cycling. There's even a built-in heart rate sensor. and the data can be sent to Google Fit if you use that service. The activity features are nice if you don't already have a Fitbit or similar activity tracker.
Telephony features
Calls on The Dash side of the conversation sounded very clear. On the opposite side of the call, I was told that I sounded a bit muffled but nothing too bad.
Final thoughts
The future of Bluetooth headsets is bright. We can thank Apple for that. The Dash wireless smart earphones are the most expensive wireless earbuds and the most complex as far as features go. I think The Dash suffers from feature creep. When you throw everything but the kitchen sink into a product, it's often true that the product is a jack of all trades and a master of none. I think The Dash has that problem. They sound really good as far as using them to listen to music and I like the transparency feature that allows me to hear ambient sound when music is paused, but adding in the activity tracking, touch, head gestures and two types Bluetooth connectivity turns these earbuds into a mess of features that don't always work very well. At $299, I think The Dash wireless smart earphones are too expensive for a product that doesn't work correctly 100% of the time.
Bragi has another model called The Headphone that are priced more reasonably at $149 and will be available in January 2017. They have the same audio components, but they don't have the activity tracking, built in media player or touch controls. They might be the better choice.
As for me, my quest continues.
Source: The sample for this review was provided by Bragi. Please visit their site for more info and Amazon to order.
Support The Gadgeteer
:
The Gadgeteer is supported by readers like you! If you buy something through the links on our site, we may earn a small affiliate commission. Thank you! Learn more.