We use affiliate links. If you buy something through the links on this page, we may earn a commission at no cost to you. Learn more.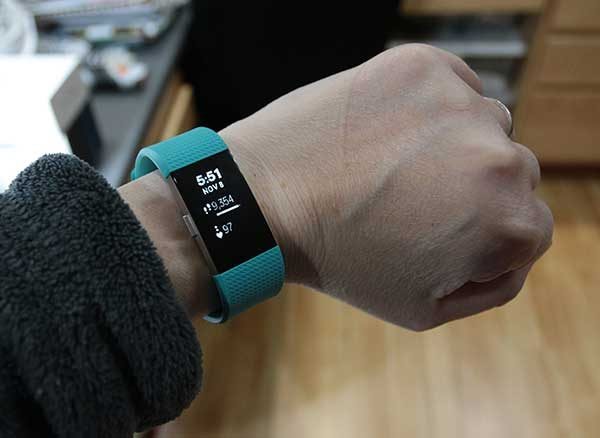 It's been almost a year and a half since I reviewed the Fitbit Charge HR and Fitbit Surge activity trackers. Fitbit's newest wrist-based tracker merges the features of both of the activity trackers from last year into one new wearable for 2016 called the Fitbit Charge 2. Let's take it for a walk.

What is it?
The Fitbit Charge 2 is a wrist wearable fitness tracker that is sized midway between the original Fitbit Charge HR and the Fitbit Surge. The new Charge 2 tracks steps, flights of stairs, distance, active minutes, hourly activity & stationary time, sleep, calories burned and continuous heart rate.
What's in the box?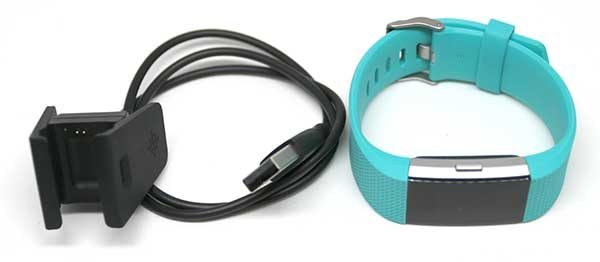 Fitbit Charge 2 tracker
USB Charger
Design and features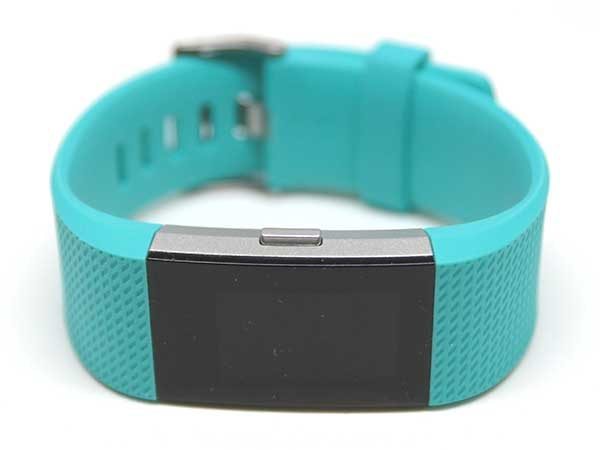 The Fitbit Charge 2 has a narrower band than last year's Fitbit Surge, so it's more comfortable to wear 24/7. The wristband is made of a flexible, durable elastomer material that is similar to the bands used in many sports watches. The Fitbit Charge 2 comes in a few different colors, but you can also change the bands anytime you like. Fitbit even sells a leather wrist band for this tracker.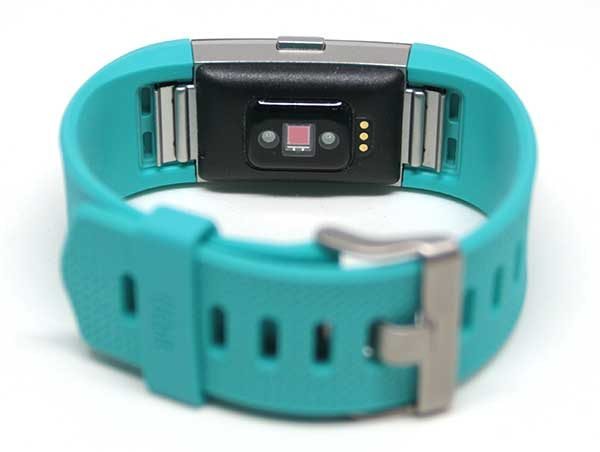 On the back of the Charge 2, you'll find the heart rate sensor which records heart rate data at 1-second intervals during exercise tracking and at 5-second intervals all other times.
Never miss one of our posts again. Sent MON, WED, and FRI with the latest gadget reviews and news!
Also on the back of the tracker are the electrical contacts for the battery charger.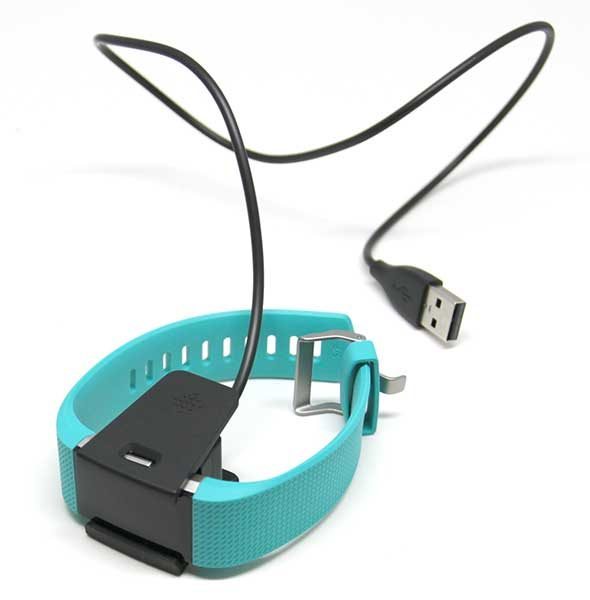 Continuing the trend with Fitbit's other fitness trackers, the Charge 2 uses a proprietary USB charging cable which clips to the bottom of the tracker.
When fully charged the Charge 2 will run for up to 5 days before you need to recharge it.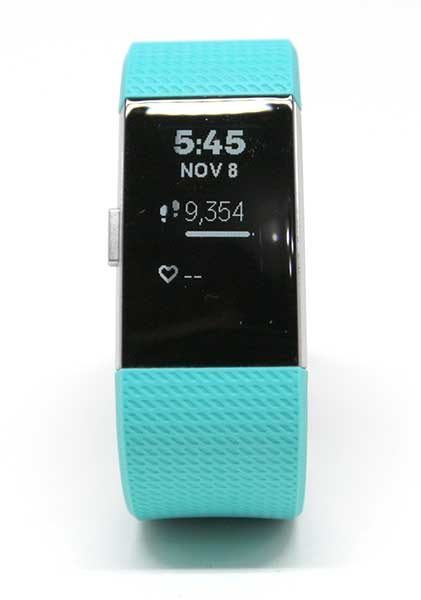 The Fitbit Charge 2 has one button on the side that wakes the white on black OLED display when you press it. You can also wake the display by tapping it with your finger or by raising and turning your wrist towards your face.
The display is bright, crisp and easy to read in any type of light.
The default screen can be customized to show different types of clock faces as well as your current accumulated steps and your heart rate.
Additional presses of the button on the side of the tracker or additional taps on the display will cycle through other fitness stats such as the number of flights climbed so far that day, distance, calories burned and active minutes.
The Fitbit Charge 2 has a built in vibration reminder that prompts you to get up and move if you've not walked at least 250 steps each hour. You can set this reminder to only occur during certain hours of the day, or you can also disable it.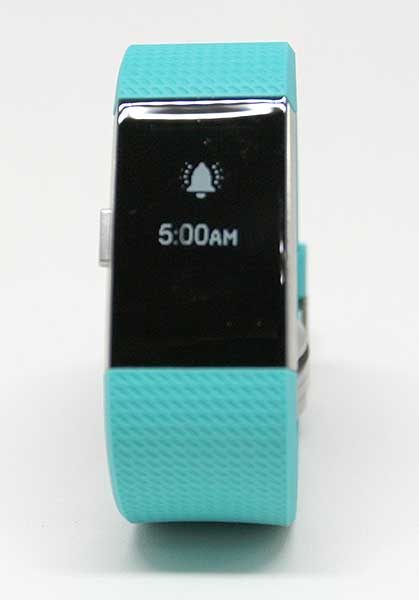 This fitness tracker also has a silent alarm (vibration) feature that can be set to wake you in the morning at the best time during your sleep cycle.
Using the Fitbit Charge 2 to track your activity is simple. Just charge it up, put it on your wrist and get moving. You can check the data anytime by looking at the tracker's display and you can also check the stats in the Fitbit app for iOS and Android.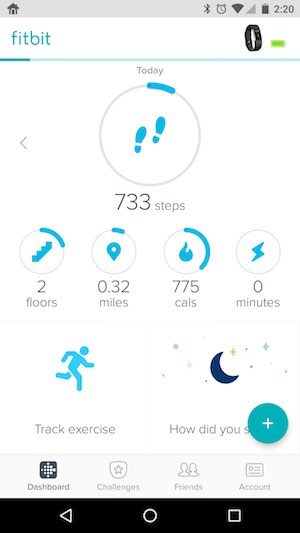 The Charge 2 syncs wirelessly with your mobile device and the app. The app shows all the stats on one easy to read screen. Even more information can be seen when you tap each activity type.
I like being able to see a timeline of when I'm active and when I'm sitting on my butt at work all day 😉 It's also cool that the sleep tracker is able to determine when you're in a deep sleep, light sleep and when you got up in the middle of the night.
In addition to keeping track of my steps throughout the day, my favorite feature of the Fitbit app and the Charge 2 is the cardio fitness level info.
My resting heart rate used to be in the high 80 to low 90bpm, but it's come down over the years as I've become more active.
I like knowing that my cardio fitness level is excellent and I also find it interesting that when I'm active that I'm almost always in fat burning mode for the longest time. Looks like I need to work on staying in the cardio zone more often.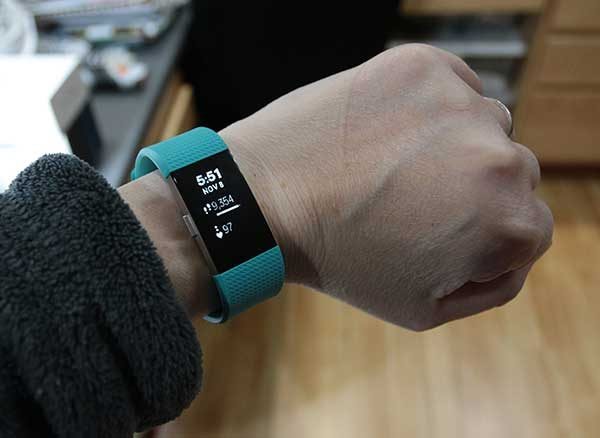 The Fitbit Charge 2 tracks all your active moments, but it can do other things too. It has a stop watch feature and it can help you chill out if you're stressed by guiding you through breathing sessions based on your heart rate. You can also enable notifications to receive call, text and calendar alerts on the display when your phone is nearby. It even works with Google Hangouts to show scrolling messages when someone pings you.
Final thoughts
When it comes to fitness tracking wearables, Fitbit is still the one to beat. The Fitbit Charge 2 has all the features most active (and people who aspire to be active) need to know. It shows you the time, date, daily step count, heart rate, stairs climbed, calories burned, distance traveled, and sleep tracking. Throw in smartphone notifications, reminders to move, guided breathing exercises to help you destress and automatic exercise tracking, allows the Charge 2 to easily earn an award for my current favorite fitness tracking device.
Source: The sample for this review was provided by Fitbit. Please visit their site for more info.
Product Information
Price:
$149.95
Manufacturer:
Fitbit
Pros:

Continuous heart rate monitoring
Tracks steps, sleep, stairs and more
Easy to use

Cons: