We use affiliate links. If you buy something through the links on this page, we may earn a commission at no cost to you. Learn more.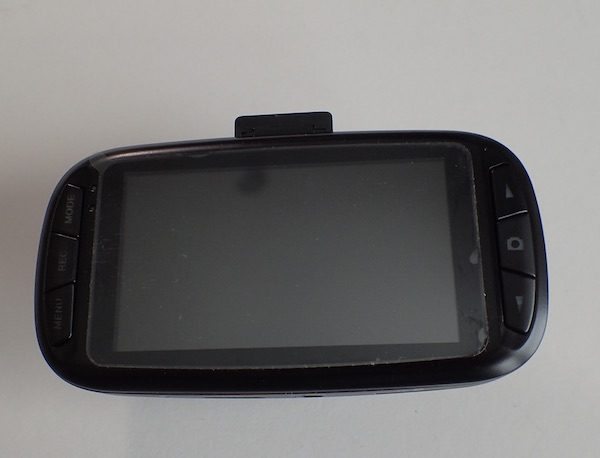 The Kehan Dash Cam, model C891N, is a very good camera. It's too bad I can't love it. The picture and sound quality are excellent. The dash cam is easy to install, as long as you are willing and able to wedge the included cable between the windshield and car interior and can contort yourself to secure it under the dash.  Since I've installed a dash cam on our other car, an SUV, installing it on the truck was not significantly different. It took me less than 30 minutes to install, including securing the cable. It did not come with any cable securing hooks, so I used small clear Command hooks in the places that needed a little extra hold. The configuration of the Kehan Dash Cam took longer but I could do it from the comfort of my dining room table. I tend to explore all the features when I configure anything, so I expect it to take longer. 
The Kehan Dash Cam comes with 2 windshield mounting options; a suction cup mount and an adhesive mount.  Included in the box are two cables; an installation cable (3.5 meter long with a mini USB on one end to plug into the dash cam and a cigarette plug car charger on the other end), and a cable to connect the camera to a PC (mini USB to standard USB).  A multi-language User Manual and warranty card are also included.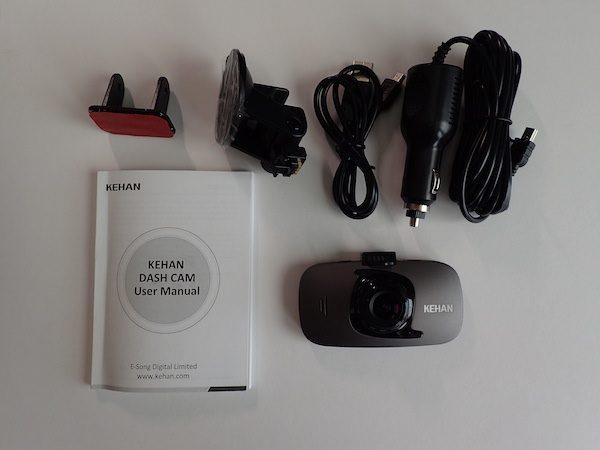 The nine configuration options are easy to navigate and select.  I found that configuring the dash cam before installation was easier.  The configuration instructions in the user manual were easy to understand with only a few translation puzzlements. (I very much appreciated a physical, paper, manual for this.)
There are 6 operational buttons on the back of the dash cam, 3 on each side of the display screen.  The buttons are small, by necessity.  Unfortunately, they've chosen to use a hard to read grey print on the small buttons, which made it an unwelcome and unnecessary challenge for me. I would have to memorize which button does what to make use of the camera in the car.  With so many other buttons in my life, I didn't relish having to memorize buttons for the dash cam.  Using a higher contrast print would have easily solved this.
The configuration includes a GPS off/on selection, but nowhere in the documentation or in playback or in video properties did I find an option to display the GPS information.  There is also a "GSENSOR" option (off or on), which I assume if it is like other dash cam G-sensors, will protect video clips if it senses a sudden acceleration or a collision.  But, since I couldn't find documentation for it either in the manual or on the website, I can't be sure.
Once the Kehan Dash Cam is configured and installed there shouldn't be much need for the buttons, unless I needed the still photo capture mode, all the other configuration settings shouldn't need to be revisited.
The picture quality of the Kehan Dash Cam is better than some other dash cams I've seen. It has a wide angle lens, almost fish-eye, that captures nearly 180 degrees.  The camera screen is a generous 2.7" for easy review of videos. Night vision is good, not as good as daylight, but discernable and better than some others.
The video loop recording can be configured for 3, 5 or 10-minute intervals, and are recorded in .MOV format for easy playback on most platforms.  I appreciated that the playback didn't need a proprietary program.
With all that going for it, you can imagine my disappointment when I discovered the dash cam Auto Off feature didn't work with my car, a Ford. My car's cigarette lighter is continuously powered so the Kehan Dash Cam auto power off was never triggered.  I emailed the company using their website contact info and was happy to have a response within 2 days.  They suggested I get a car charger with an on-off button and were good enough to find one for me on Amazon. Unfortunately, I would also have to buy a new USB to mini-USB cable to use that charger, in which case, I wouldn't need it since I could plug it directly into my car's USB port.
Rather than order a special cigarette lighter/USB with a power button, I tried using an extra USB to mini USB cable I had around to see if that would resolve the auto power off problem.  It did not. The camera responded as if it was plugged into my PC with a screen message of "mass storage device".
The power auto off problem knocks this dash cam out of contention for me. I simply won't reliably remember to unplug or turn the thing off when exiting my car. Perhaps there are still some cars that power off their cigarette lighters when the car's ignition is shut off, or perhaps there are people who are more diligent than I am and won't find this an impediment.  Perhaps the Kehan company will address this problem in future models.  But for me, this is a no-go. Which is too bad.  It's a nice camera.
Source: The sample for this review was provided by Kehan. Please visit their site for more info and Amazon to order.
Product Information
Price:
$109.99
Manufacturer:
Kehan
Retailer:
Amazon
Requirements:

User supplied TF card (AKA, micro SD)

Pros:

Good quality video, acceptable night time video
Videos recorded as .MOV files

Cons:

Auto off feature doesn't work with continuously powered cigarette lighters.
Direct connection to car USB port didn't work.
User must supply TF card.