We use affiliate links. If you buy something through the links on this page, we may earn a commission at no cost to you. Learn more.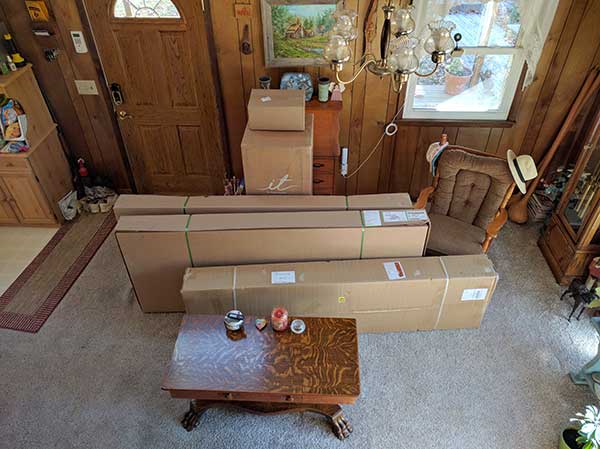 In my almost 20 years of reviewing products, this has to be the most and the largest boxes that I've ever received for one review.  What is it you ask? It's the "it bed" by Sleep Number. But Julie, you review gadgets, how is a bed a gadget? The it bed is no ordinary bed, it's a smart bed. With phones, watches, TVs and even cars becoming "smart", it's about time that the one product we all use for about 8 hours a day should have some smarts too, right? Let's take a closer look at the it bed by Sleep Number and find out if a smarter bed equals a better night's sleep.
What is it?
The it bed by Sleep Number is a traditional looking mattress that has special features baked inside that include a WiFi connected brain that tracks sleep quality and an air pump that provides firmness customization for both sides of the bed.
Design and features
The it bed is available in sizes from twin up to California King. I was sent the queen sized version. All of the it bed mattresses from Sleep Number feature foam-filled air chambers that can adjust to each individual's comfort (firmness) level by using the SleepIQ mobile app for iOS and Android.
Integrated into the it bed are biometric sensors that track sleep using SleepIQ technology which is continuously gathering heart rate, motion and breathing readings every second. A proprietary algorithm delivers a personal SleepIQ score each night which is an indicator of sleep quality.
Assembly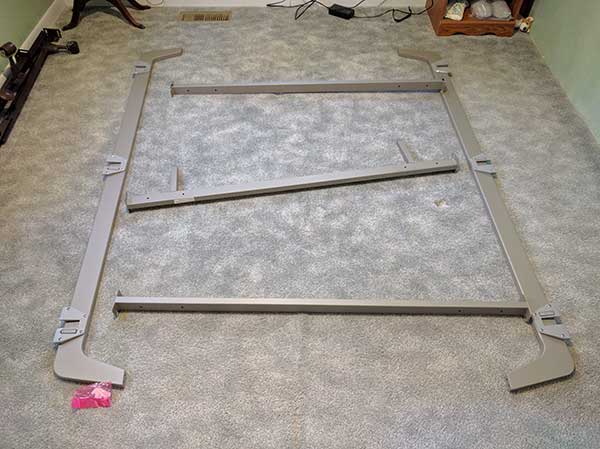 In addition to the it bed mattress, I was also sent a bed base with frame and sheets which are both separate purchases.
Assembling the it bed was easy and relatively quick because it didn't require any tools. The worst part of setting up the it bed was having to tear down and move our old bed out of the bedroom.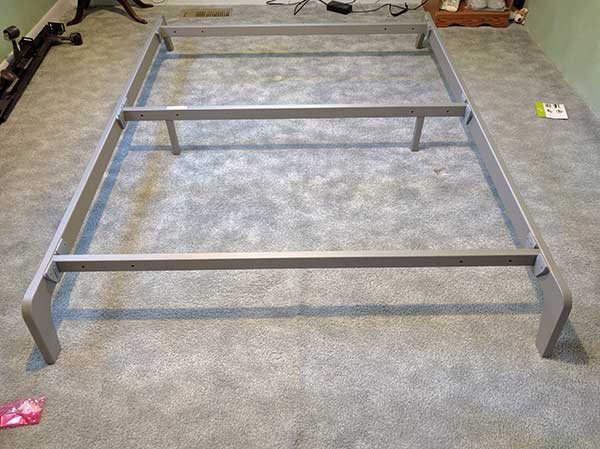 The bed frame is comprised of five steel sections. There are two outside rails and three cross rails that slide and lock into the sides.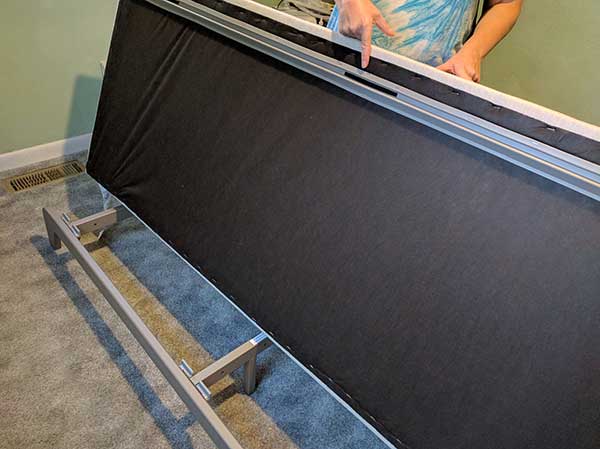 The bed base is made of two sections that lay side by side on the bed frame. Slots in the base snap into the clips on the frame.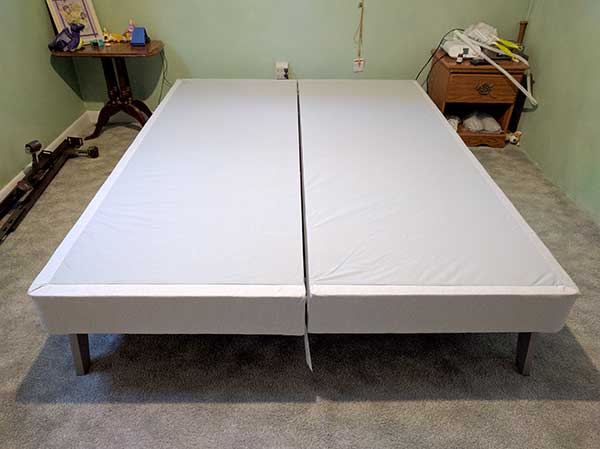 We're halfway there! I think there's going to be a nap in my future. But first, I have to get the it bed mattress in place.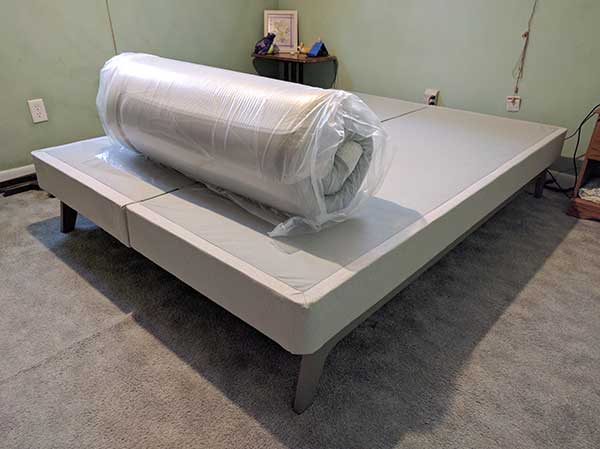 The rolled up package you see in the image above is the queen sized it bed mattress. No, I'm not kidding. It's been compressed and wrapped in plastic to make it easier to ship.
I recorded a time-lapse video that shows the it bed decompressing as if by magic.
Once the mattress has fully decompressed (it takes about 15 minutes) and is positioned on top of the bed base and frame, there are only a couple more steps to complete before it's nap time!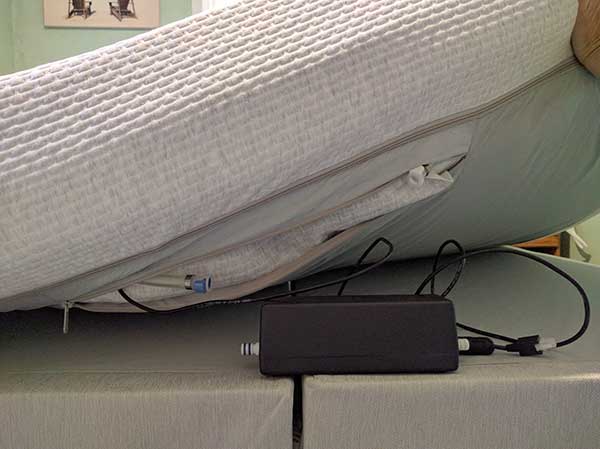 There's a zippered pocket at the foot of the bed which holds the ActiveComfort Technology module that uses air to adjust the firmness of the mattress's foam-filled air chambers. All you have to do is connect the two hoses in the pocket to the module, tuck everything back in the pocket and zip it up.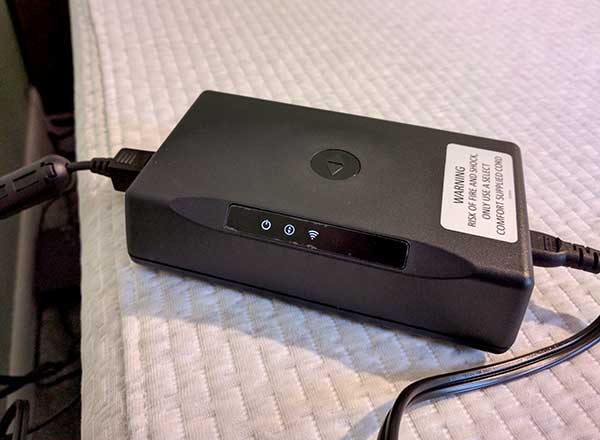 The next step is to pull out the power cord which is tucked into a pocket at the head of the bed and plug it into the power supply module. The power supply module has status LEDs to show power status and WiFi connectivity.
The rest of the setup is done through the SleepIQ app which I installed on my Nexus 6P.
SleepIQ app
Unlike other Sleep Number beds that you may have seen in commercials or in stores, the it bed does NOT let you set the firmness level with a physical remote control that's attached to the bed. To customize the firmness level of the it bed, you use the SleepIQ app which leads you through the steps to find your perfect firmness level by following the on-screen prompts as the bed softens until you find your sweet spot.
The it bed starts out at the firmest setting of 100, but you can make the bed softer anytime you like by using the app. Remember that if you have a bed larger than the twin size, that there are two sides to the bed, so each person can customize the firmness level for their side.
There is one thing to know about changing the firmness level. You can't easily change it on the fly. For example, if you wake up in the middle of the night and want to make the bed softer, you can't just launch the app and use arrow keys to change the firmness. You have to go through the setup process which requires that you get out of the bed first so the mattress can do some type of calibration BEFORE you can get back in and make a change. I find this to be a inconvenient, but it's not like you will probably change the setting very often.
In addition to using the SleepIQ app to change firmness level of the mattress, you also use it to view the sleep tracking data which is automatically measured while you are sleeping each night. The it bed monitors heart rate, motion, and breathing for both sides of the bed (if you create an account for both sides), to determine the quality of your sleep and assigns a SleepIQ score after each night.
The app knows how long it takes you to fall asleep, how many times you wake up and get out of bed, and if your sleep was restful or restless. It lets you see daily, weekly and monthly stats so you can track sleep quality trends as time goes by.
The SleepIQ app can connect with certain existing health, fitness and sleep environment apps including Fitbit, Nest Learning Thermostat, MapMyRun and Withings Health Mate. The idea is that over time, SleepIQ technology is supposed to learn each person's comfort preferences and understand how physical activity and the sleep environment plays a role in sleep quality and then offer personalized recommendations for a better night's sleep. But after linking in my Withings Health Mate data and a couple other apps, I didn't see how that data was integrated. Hopefully, that's something that Sleep Number will improve over time.
For people who love tracking their sleep metrics, the it bed does make it a lot easier than other trackers like Fitbit because you don't have to wear a physical tracker on your wrist and your bed buddy's data gets tracked too. The best part is that sleep stats are recorded automatically without having to launch a special app or tell the bed when you're going to sleep.
Comfort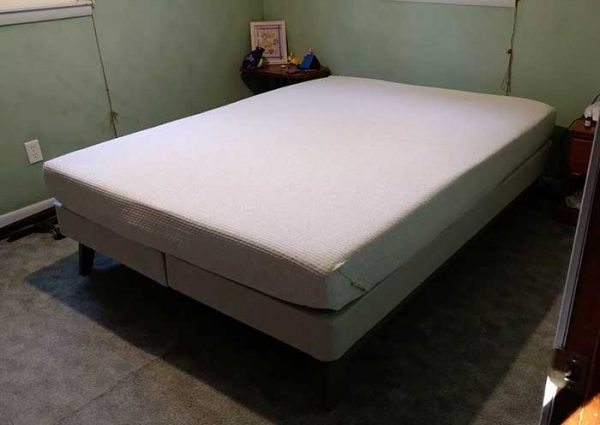 If you've read this far, you already know that the it bed's firmness level can be customized for both sides of the bed and it has built-in biosensors that automatically tracks your sleep. That's cool, but the most important question everyone will want to know before buying the it bed is, is it comfortable? Yes, yes it is.
The it bed has an 8-inch mattress profile with 6-inch foam chambers and a 2-inch comfort layer that features three zones for the neck, shoulders, back, and hips, that contour to your body to help reduce uncomfortable pressure points.
I like my mattress to be firm but also I don't want to feel like I'm sleeping on a concrete floor. The it bed does not disappoint when it comes to comfort. I had no issues and neither did Jeanne. We both thought it was cozy and looked forward to the end of the day when we could climb in and catch some Zs.
Some people complain that foam beds can retain heat, but we didn't notice this issue with the it bed. That said, it is winter here.
The only thing about the it bed that bugged me a little bit was the height compared to our other bed. It is pretty low to the floor. This wasn't a huge issue, but our under the bed storage boxes weren't able to slide under the frame which might be a concern if you like to use that space for storage like we do.
Final thoughts
The it bed by Sleep Number is a very nice bed as far as comfort and features are concerned. But this bed is not in the price range that everyone can afford. The queen sized bed that I reviewed here is priced at $1099, but then you will probably need to spend an additional $499 for the bed base and frame, which can make it a budget busting purchase for some people.
Let's face it, buying a new bed isn't something most people do without some research and in-store demos. The nice thing about the it bed by Sleep Number is the fact that the firmness level on both sides of the bed can be adjusted so that it can match the type of feel that almost anyone will find comfortable. Pair that with the built-in biosensors that automatically track sleep data and a 30-day money back guarantee (you have to pay $99 return fee), and the it bed by Sleep Number definitely earns the smartest bed award.
Update 01/05/17
I ended up giving the bed to one of my friends because we preferred height of our original bed to the it bed. I asked Andrew to provide an update after using the bed for the past month:
We have been sleeping on the bed for a month or so now and we like the bed! It is really comfortable and I love the fact that my wife and I can have different sleep number settings. It makes it perfect for her and me both. The material the mattress is made up of is soft and comfortable.  I like the features that the app has as well. Things like being able to see your sleep activity, heart rate, and breathes per minute. The mattress fits on other frames as well so it can be used in a variety of situations. Overall it is a great set and very comfortable to sleep on each night.
Source: The sample for this review was provided by Sleep Number. Please visit their site for more info.
Product Information
Price:
$799 - $1499 (price is for the mattress, the bed base and frame is a separate purchase)
Manufacturer:
Sleep Number
Pros:

Easy to assemble, requires no tools
Both sides of the bed can individual firmness levels
Sleep tracker built into the mattress for 2 people
30-day money back guarantee

Cons:

Sits lower to the ground than some beds if you use the it bed base and frame
Can't be in the bed when you want to change the firmness level