We use affiliate links. If you buy something through the links on this page, we may earn a commission at no cost to you. Learn more.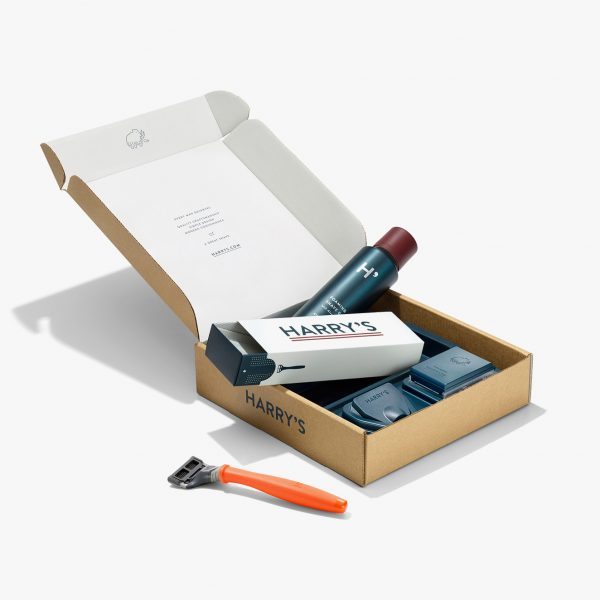 I'm what leaders in the razor sciences refer to as "follicly gifted"; I have five o'clock shadow by 9 a.m. While being the only kindergartner with a full beard was great, as I became older, the facial grooming necessary for work became a hassle.
Additionally, I have mildly sensitive skin; I'm prone to razor burn, dry skin, and ingrown hairs.
As you may have surmised, I abhor shaving.
For most of my life, I shaved with the Gillette Thermonuclear Warfare 87 blade shaving system. Okay, that may be an exaggeration, but I've always purchased whichever Gillette razor had the highest number of blades.
While Gillette provided an excellent shave, I was paying an obscene amount of money for replacement blades.
For the last few years, I've experimented with every shaving system possible. I've tried generic razors, the Dollar Shave Club, electric razors, and even an old-fashioned double-edge safety razor.
While every system has its pros and cons, I've yet to discover a shave with the right combination of cost, shave quality, shave comfort, and shaving time.
Recently, I was given the chance to review Harry's razor blades. Here's to hoping they transport me to shaving paradise.
What is Harry's?
For those not familiar with Harry's, it is a subscription based shaving system. I'll get into pricing later, but basically, you choose a shaving package, and every few months you receive a refill in the mail.
Before subscribing you have two options, you can either select Harry's free trial set (you're responsible for $3 in shipping costs) or you can purchase a starter set for $15 to $30.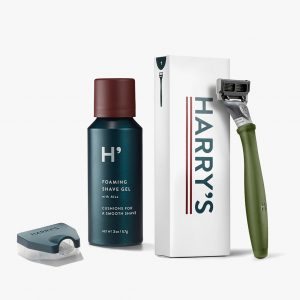 The trial set includes their Truman razor handle and blade in one of three color options(Total Orange, Nautilus Blue, and Olive 107), a 2oz sample of their foaming shave gel, and a travel blade cover.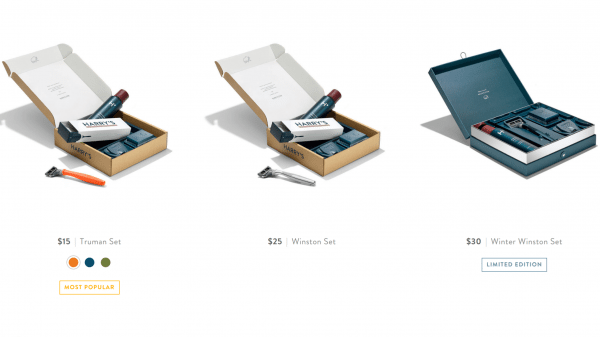 The starter sets all include the same equipment: a razor handle, a 4oz can of foaming shaving gel, 3 blades, and a travel blade cover. The differences between the starter sets is in the type of razor handle.
The Truman set provides the same handle as the free sample, the Winston set includes a razor with a polished chrome handle and rubber grip, and the Winter Winston set includes a limited-edition Winston handle which can be engraved with up to 3 letters.
The Shaving Set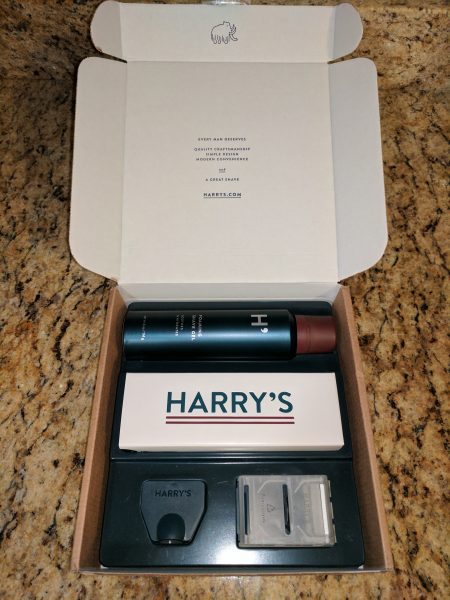 For the review, Harry's was kind enough to send me the Truman starter set. I opened the kit and was immediately struck by its air of sophistication and its gentlemanly quality.
Harry's is clearly trying to set itself apart from other shaving systems; this is a system for the refined shaver. I don't mean this a snobbish, upturned nose sort of way; rather, an "I take pride in my daily shave" sort of way.
My kit included the Tropical Orange razor handle.
I really like the design the of the handle. While some may consider it plain, I would consider it to be minimalist. I've had my fill of chrome razor handles with a multitude of fluorescent colors; this is certainly a nice change of pace.
The entire handle is rubber; this makes for an excellent grip when shaving.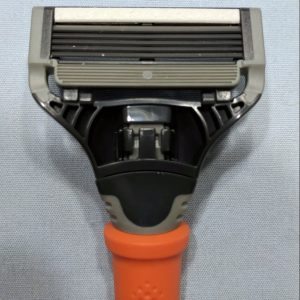 The razor head is composed of 6 blades, five standard blades and one precision shaving blade. It is flexible and has a lubricating shave for comfort.
The blades are stored in a plastic container.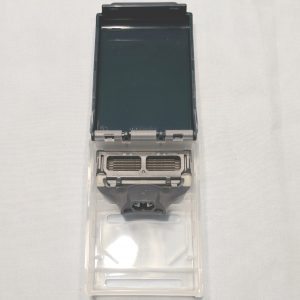 The container opens to reveal the blades.
The foaming gel comes in a 4oz can, similar to what you would find at the supermarket.
I don't have the ability to identify specific scents out of a product, i.e., "it smells of sandalwood, with hints of eucalyptus and orange peel". I can tell you the gel smells "manly".
I shave before taking a shower; therefore, the smell of the gel is washed away and doesn't follow me throughout the day. If you're someone who shaves after a shower, the fragrance isn't overwhelming at all. It's a subtle, clean fragrance that won't offend you or those around you.
The gel lathers well and goes on easy. It provides for a smooth shave, allowing the razor to glide across your face.
One of the more interesting items that ships in the Truman set is the travel blade cover.
It's a plastic cover that fits over the head of the razor blade. It opens and closes very easy.
I liked it for two reasons.
First, I have kids; the cover ensures that my kids will never accidentally cut themselves if the razor falls off a shelf, or they accidentally grab it reaching for something else.
Second, not every razor comes with some type of case or holder; however, the ones that do, don't have the ventilation area Harry's cover does.
My generic blades didn't have anything and the lubrication strip would sometimes stick to the shelf or countertop.
My Gillettes had a holder; however, if I didn't dry the razor, water would drip from it and pool where the razor head rested. The water would cause the lubrication strip to deform or fall apart.
Thanks to the ventilation on Harry's cover, the lubrication strip doesn't stain or deform, allowing you to get more life out of the blade.
The Shave
Before discussing the quality of the shave, I wanted to give you one more fun-fact about me.
Along with growing facial hair rather quickly, I'm also "lucky" enough to grow very coarse facial hair. Razor blades do not last long when I use them. I average a blade a week – a week and a half if I'm lucky – and the last shave is rarely pleasant.
After using Harry's razors for a month, I was extremely pleased with the quality and comfort of the shave. The shave itself wasn't the closest shave I've ever had, but it was definitely one of the more comfortable shaves I've ever had.
The closest shave I've ever had was from my double-edge safety razor; it would literally leave my face baby-smooth. Unfortunately, it was just too time consuming to use.
Harry's falls in line with the Gillette razors I've used, and far exceeds the Dollar Shave Club or generic razors. It provides more than an acceptable shave for your average person.
As far as comfort goes, Harry's may have been the most comfortable shave ever. Again, I think this is attributed to the fact that the lubrication strip is protected by the Travel Case. After multiple shaves, the strip was still in pretty good condition.
The Cost
Gillette is one of  – if not the most – recognized names in shaving. If you've made it this far into the review, I'd venture a guess that you've used a Gillette razor at one time or another. With that in mind, I'll be comparing the cost of Harry's to the cost of Gillette.
Harry's Truman razor seems most comparable to the Gillette Fusion Manual razor. Both have 5 standard blades with a precision trimmer, both utilize a similar type of cartridge replacement system, and neither have any type of vibrating razor head.
The initial cost for both is the razor handle and blades.
As I described earlier, for the cost of shipping ($3), Harry's will send you a razor handle with one blade, a 2oz sample of their foaming shave gel, and a travel blade cover.
For $9.95, you can go to the supermarket and get a Gillette Fusion Manual razor handle with two blades.
Right off the bat, Harry's is the clear winner. Yes, with Harry's you're getting one less blade, but you're also getting a shave gel sample and the travel blade cover that I really enjoyed, for almost $7 less.
Once you have your razor handle, you're going to eventually need to purchase replacement blades.
Harry's charges $15 for eight replacement blades. You can choose to have the eight blades shipped every two, three, or five months.
I average about a blade a week, so I'll be judging cost based on the every two months subscription. At this rate, I'd be paying just under $1.88 a blade.
Things get a bit trickier when determining the per blade cost of replacements for Gillette. They are more widely available in different package counts. You can find a four pack for $18.49 ($4.62/blade), an eight pack for $24.59 ($3.07/blade), or a twelve count for $27.32 ($2.28/blade).
As you can see, no matter what package you pick, you're paying more for Gillette blades than for Harry's.
A few notes about this section of the review.
First, Harry's does offer a subscription plan that comes with eight blades, plus two cans of shave gel, but I wanted to do an apples to apples cost comparison. Gillette makes a dozen different shave gels which are sold are various stores for various costs. It would be too time consuming to make a fair comparison.
Second, Gillette also offers a subscription based shaving system; however, the cost is so offensive and obscene I chose not to include it in the comparison. I was afraid a Federal agency may shut down The-Gadgeteer if I printed such vulgarities.
Finally, I didn't include the Dollar Shave Club or generic blades in the cost section because I don't feel they provide the same quality shave as Harry's or Gillette. Again, I was trying to do as much of an apples to apples comparison as possible.
Conclusion
I loved Harry's razors, everything about them. I loved their appearance, their shave quality, their shave comfort, their shave time, and their costs.
For me, Harry's provides the perfect combination of quality, cost, and efficiency. Anyone that's required to shave on a regular basis should at least try Harry's trial set.
I'm extremely tempted to become a full-time Harry's customer. They only thing holding me back?….On Black Friday I made an impulse purchase of an electric razor. I'm currently debating whether to send it back or not.
If I do send back the electric razor, I'm 100% becoming a Harry's customer.
Where to buy: Harry's and Amazon
Source: The sample for this review was provided by Harry's. For more information please visit their site.