We use affiliate links. If you buy something through the links on this page, we may earn a commission at no cost to you. Learn more.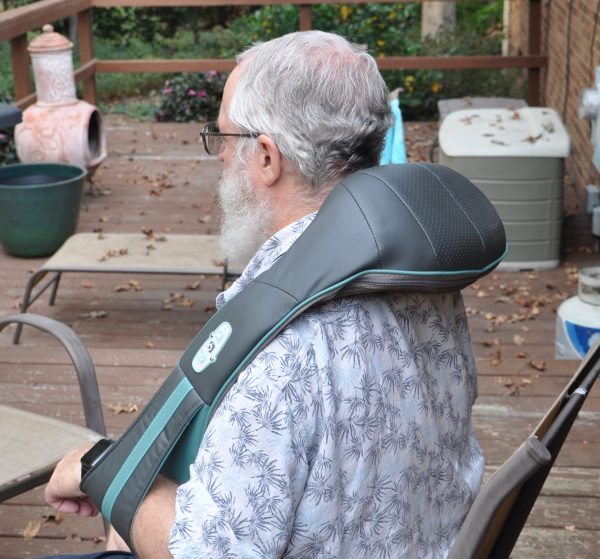 I'm a sucker for a good infomercial. My Lovely Bride is always scolding me when I purchase something wacky online or from TV. Lately, with the numbers of projects being released on crowdfunding sites, I've not had too bad a streak, though. So, imagine my delight when Julie offered the team the Insta-shiatsu massager. I love getting massages, but no one in my family has strong enough hands to really get out the kinks. Let's see how this little robot does.
Note: Photos may be tapped or clicked for a larger image.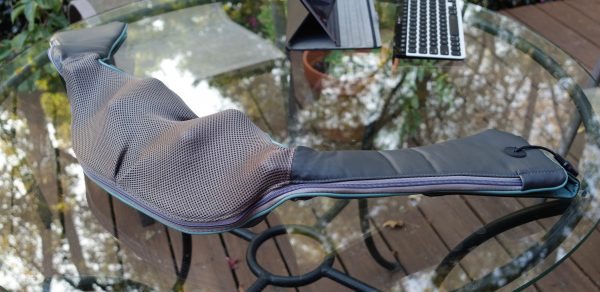 The overall impression is that it's a vinyl football with handles. You're supposed to balance it on your shoulders, and the handles fall over your shoulders. There are hand loops that allow you to pull the unit down onto your shoulders. In this way, you can adjust the pressure to suit yourself.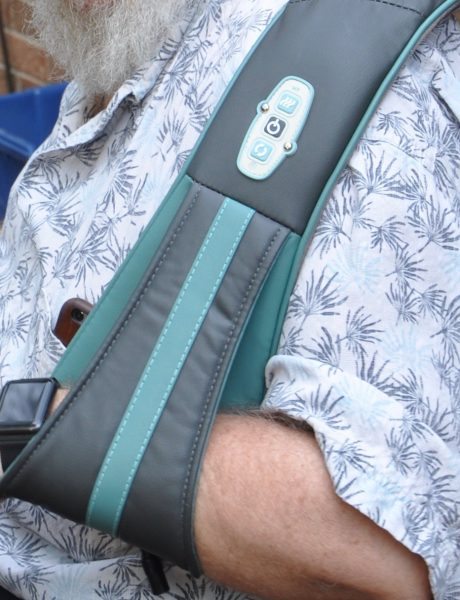 On the underside of the "football" there are two mechanical rotors, each with four "fingers" about 1.5″ in diameter. Two are long and two are shorter. When you activate the switch, located on the left handhold, they begin to slowly rotate. There is a switch to add heat, and another to reverse direction. There is no way to change speed or to add more force or vibration, other than pulling with the handholds. Covering these rotors is a fine micro net, so that the fingers move smoothly, and don't get tangled up in your clothing, jewelry, hair, etc. There is a small hum as the motor spins the rotors, but it's not loud or a distraction at all.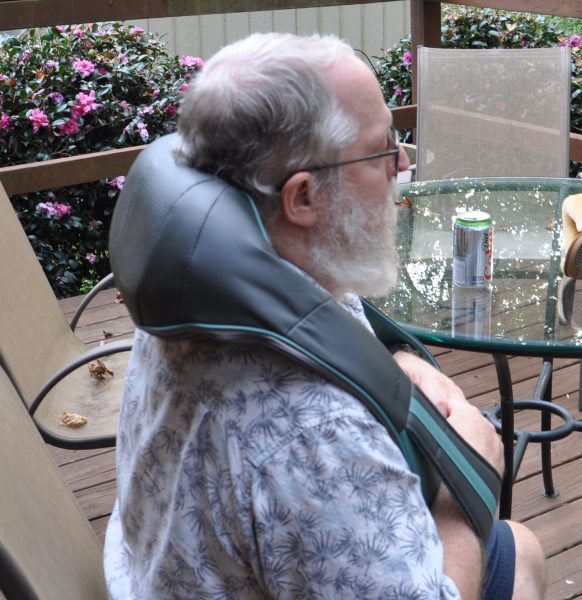 In the promotional video, everyone who has it placed on their shoulders goes from skeptical to a look of utter amazement when the rotors are engaged. Even wheelchair-bound senior citizens react with pleasure. Having seen an infomercial or two, I was prepared for this to be a bit hyperbolic, but when The Lovely Bride put it around her shoulders and hit that switch, she could have been part of the video. Skepticism moved immediately to joy and eyes-closed concentration as the "magic fingers" did their dance. It was all I could do to get it back to finish reviewing it!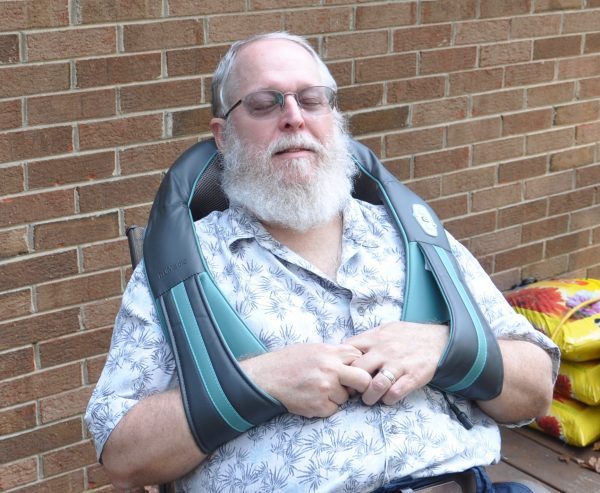 The unit can operate on the included battery pack, or you can plug it in while the battery is charging and let it relax you while tethered. The charger plugs into a small dongle on the left handhold near the switch, and an LED lets you know the charging status.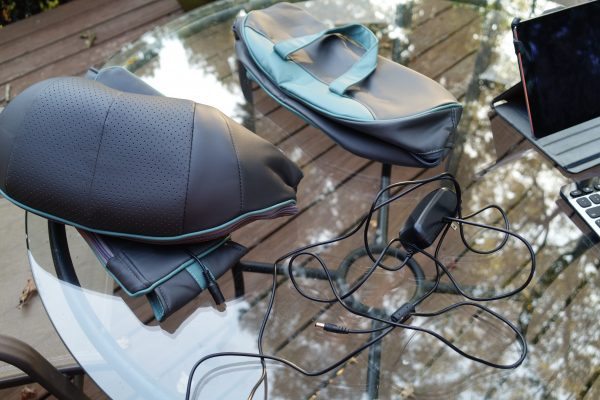 Another of the benefits of having the handles is moving the massage action to the exact spot where it's needed. Previous vibrating massagers I've used could not zero in on my lower back or middle shoulders, because I could not put enough pressure on them on these hard-to-reach places. The Insta-shiatsu lets you get relief to the small of your back, your lower calves or your Achilles tendons – anywhere it hurts.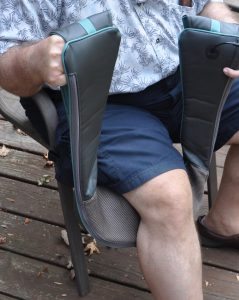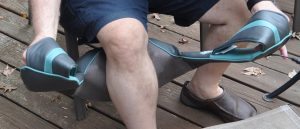 It's a little bulky and heavy, but comes with a nice carrying bag for travel made from the same soft, smooth vinyl. I could see this being good for sports teams to have for use after or before a meet. It's easy enough to pull out of the carry bag, and is instantly ready to put pressure at the exact point of pain. And if you spend a lot of time bent over a laptop, you'll also benefit from the relaxation provided by this device. For the price of one 90-minute session with a registered body work person, you can have massages anytime – if you can wrest it from another family member's hands.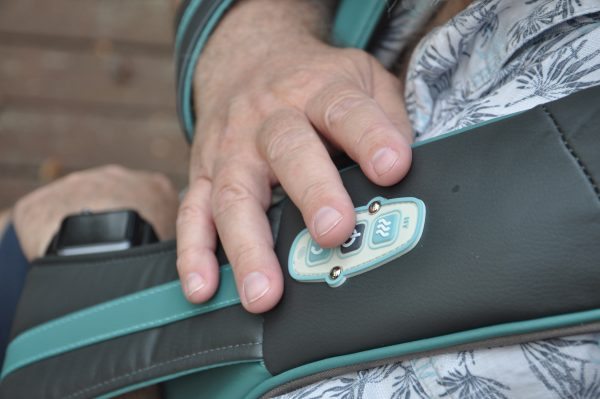 Source: The sample for this review was provided by truMedic. Please visit for more info and Amazon to order.
Product Information
Price:
$199.97 MSRP
Manufacturer:
truMedic
Retailer:
Amazon
Requirements:
Pros:

Pressure is adjustable by the user
No need to find someone to "help" knead out knots
Rechargeable, can use while charging

Cons: