We use affiliate links. If you buy something through the links on this page, we may earn a commission at no cost to you. Learn more.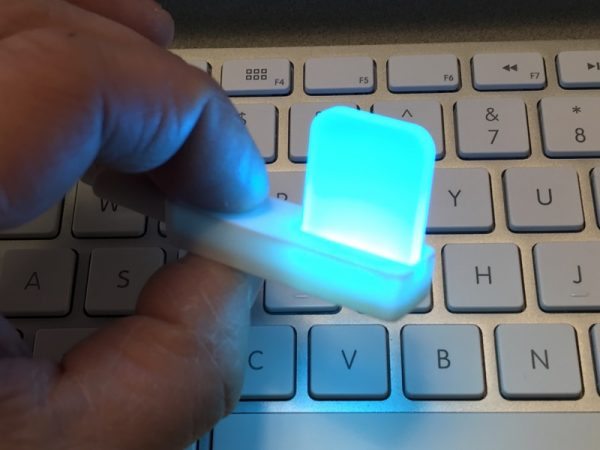 One feature I miss on my iPhone is the LED "blinky" that lets you know if you've got a message waiting, missed call, etc.  This was one of my favorite Blackberry features.  What if you could add some light to your computer in the same way?  Today I've got my hands on the Luxafor Flag RGB light.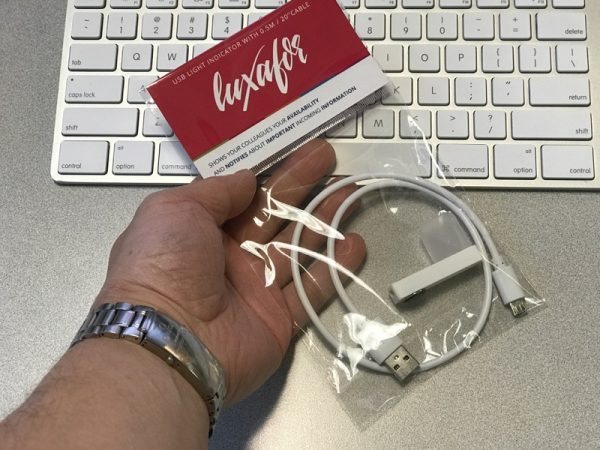 There's not a whole lot to the actual package:  A simple plastic baggie with the instructions on the back flap, the Luxafor Flag light, and a short MicroUSB cable.
The Flag itself is a small bar of plastic with a translucent "flag" sticking out from the top like a shark fin.  On the bottom is a removable magnet that comes with a little round dot of adhesive.  Stick this on your laptop, side of your monitor… anywhere the cable lets you reach.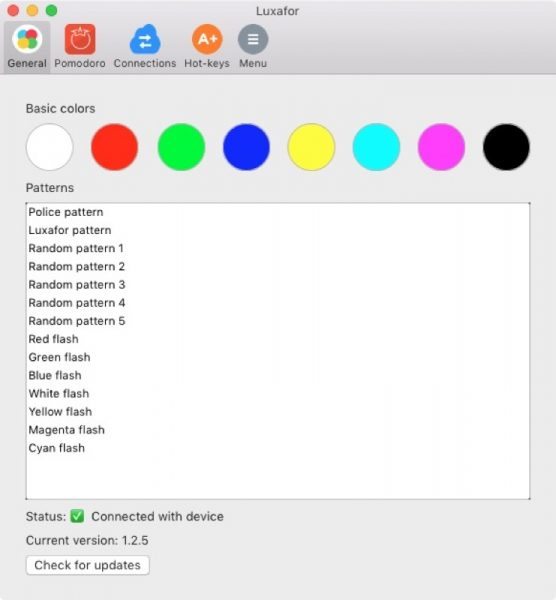 The app has five "tabs":  General, Pomodoro, Connections, Hot-keys, and Menu.  The General tab lets you select seven colors and off (black).
Why would you do this?  The idea is to let others know what "mode" (or maybe mood?) you're in.
The Patterns appear to be some kind of preview of some flashing lights, but they're not sticky.  That is, they flash for a few moments, then stop.
In this video, I click through some of the random color patterns.  Note the different colors at the bottom of the Flag.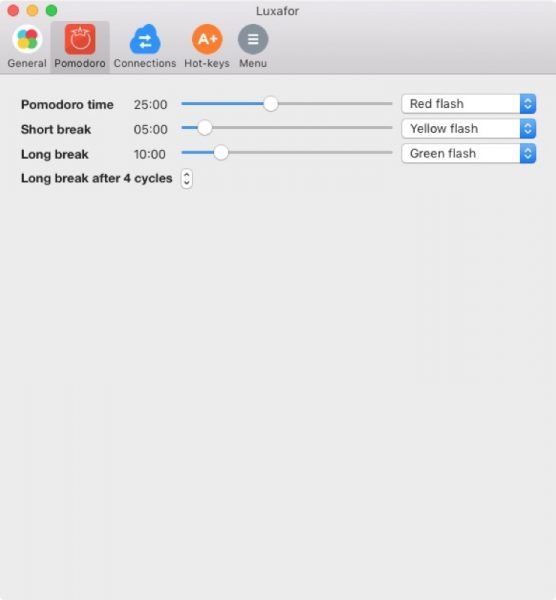 I won't lie:  I've never heard of "Pomodoro" other than a chain of restaurants.  Think of it as a series of staggered timers.  In this example, going on a short break makes the Flag flash yellow.  Once 5 minutes are up, the Flag reverts to Pomodoro time, flashing red for 25 minutes.  It's designed to set a pace for work/break productivity.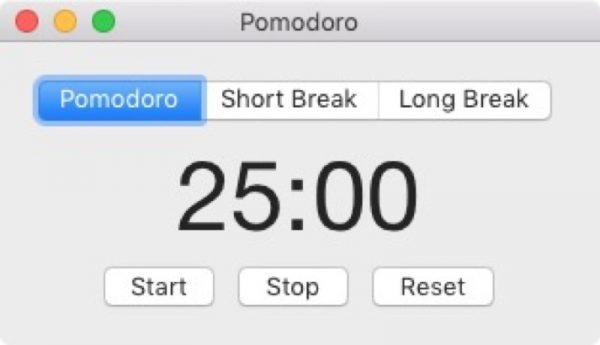 This is the little pop-up window you get when you invoke Pomodoro mode.  Choose from Pomodoro, Short Break or Long Break.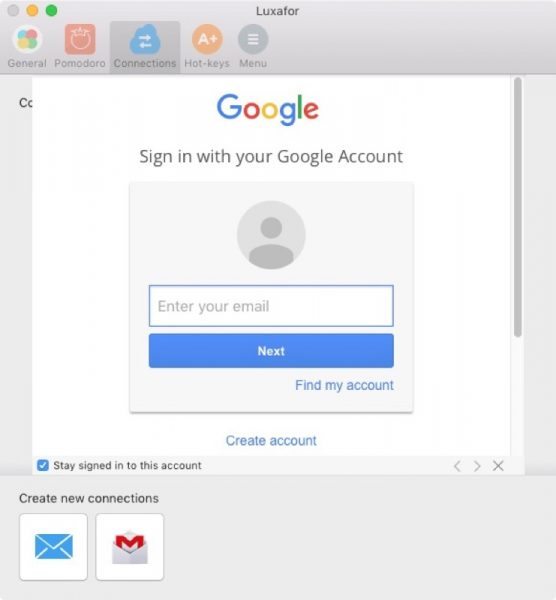 The current app consists email or Gmail  for "Connections".  Note if you have two-factor authentication on your Gmail, you'll be asked for the 6-digit code.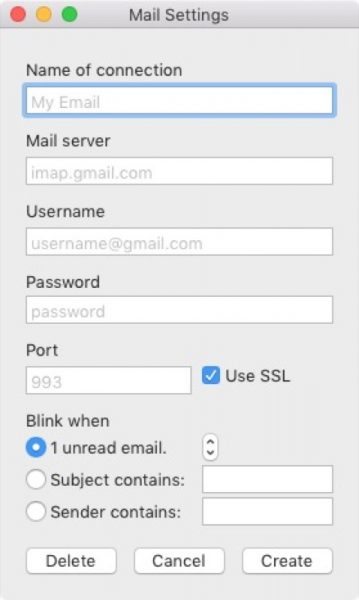 If you prefer setting up your own mail alerts, you can do that too.  Gmail settings are greyed out in this example.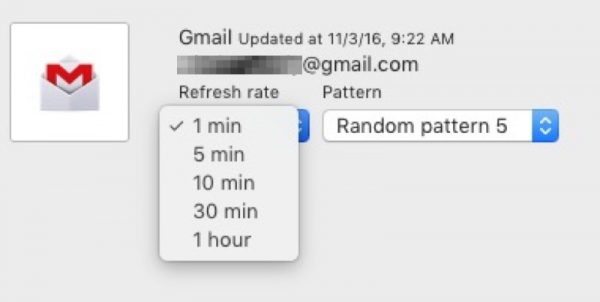 This is where I got a little bummed out:  You can set the refresh rate between 1 min to 1 hour.  I think I've been spoiled by push mail for so long (Blackberries, Android, iPhone).  You can also choose your Flag light pattern, but as I found out, the alert only cycles through the little light show once, and stops.  There's no option to adjust this.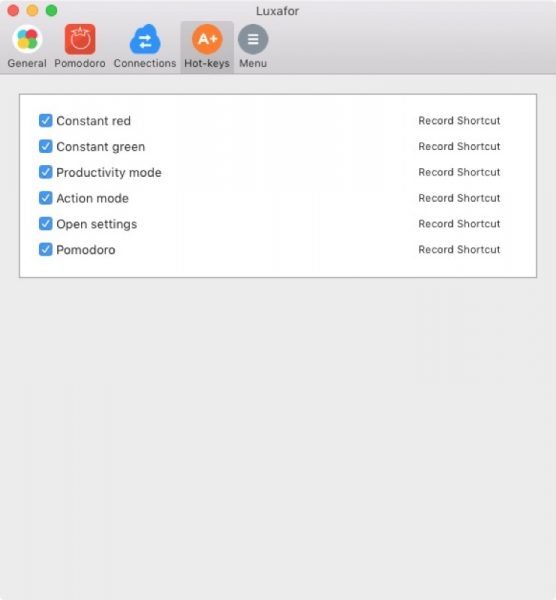 There's a neat Hotkey setup page that lets you record shortcuts too.  I kind of wish there was a way to create custom hotkeys for colors ("Constant ____" for example).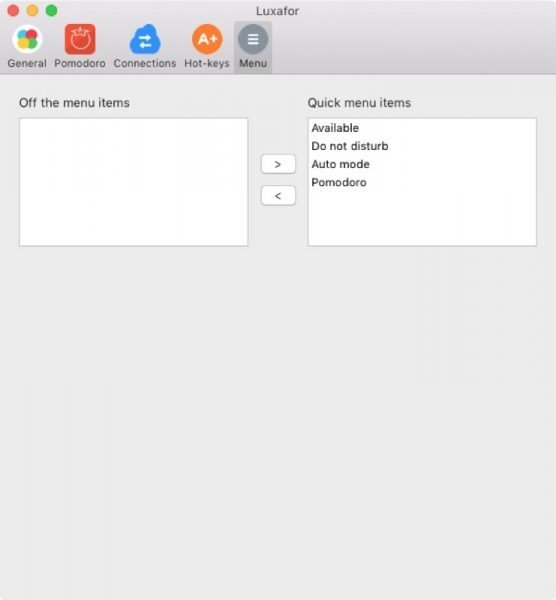 Finally, the Menu page lets you choose what Menu Bar drop-down options to show or hide.  In this version (1.2.5) there are four to choose from.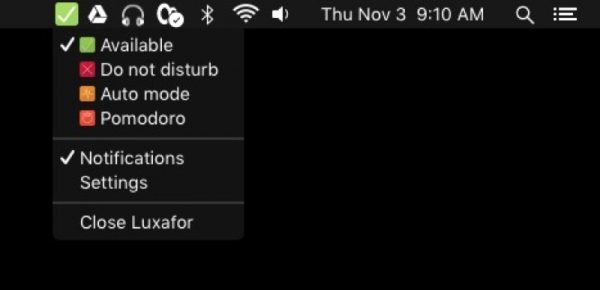 This is what my MacOS desktop menubar looks like.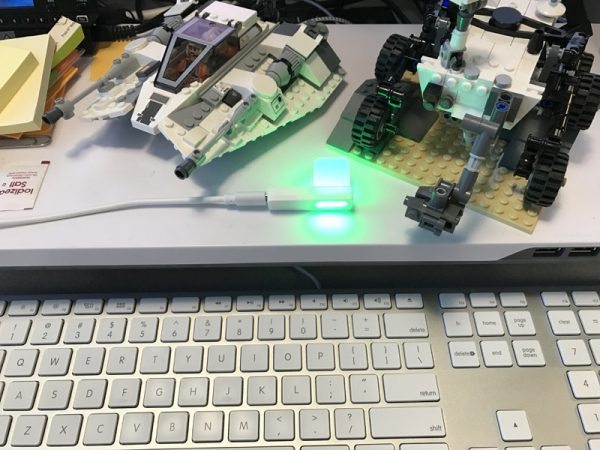 Here's my Luxafor Flag sitting on my desk tray, glowing green.
I don't use any Pomodoro-enabled apps, so the timer isn't very useful to me.  I also don't have a need to let my co-workers know I'm on a pee break (yellow light?)  At the moment, email alerts would be cool but I've discovered that the iPhone sitting by my side already does that- but just without any cool flashing lights.
The Luxafor Flag is supposed to integrate with other things ("Slack, IFTTT, Trello and many more") so maybe there's hope down the road for greater flexibility.
Source: The sample for this review was provided by Luxafor. Please visit http://www.luxafor.com/ for more info.
Product Information
Price:
$28
Manufacturer:
Luxafor
Requirements:

Windows 7, 8, 8.1, 10 / Macintosh Mavericks, Lion, El Capitan. (Tested on MacOS Sierra 10.12.1 for this review)

Pros:

Really cool and clever RGB lights
Let others know what you're up to

Cons:

Email notifications aren't the quickest
You'll have better luck with your smartphone by your side