We use affiliate links. If you buy something through the links on this page, we may earn a commission at no cost to you. Learn more.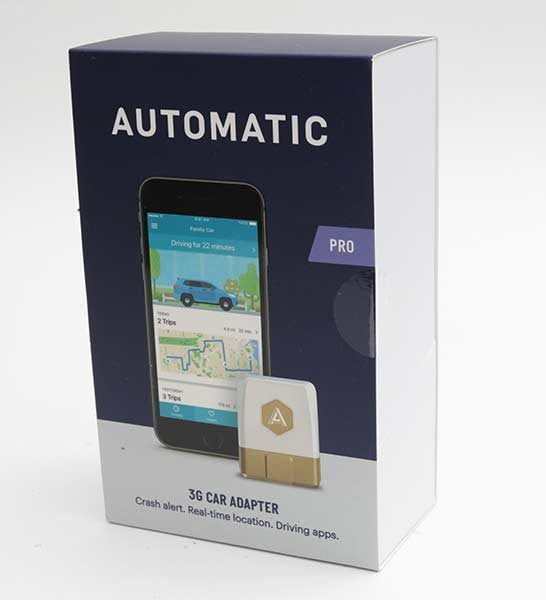 Back in July, I had the opportunity to review a first generation Automatic car adapter. The original version worked fine except that I had some Bluetooth audio issues with my phone (Nexus 6P). Today I will be telling you about the third gen version of this device – the Automatic Pro 3G car adapter. Let's see if the new features make this adapter more desirable and if my Bluetooth problems have vanished.

What is it?
The Automatic  Pro 3G car adapter is a sensor that plugs into your vehicle's OBD port and automatically keeps track of your vehicle's engine health, miles per gallon, car location, trip details and more. It connects to your mobile phone via Bluetooth to send the info to the Automatic app and the cloud. Automatic works with most US gasoline, hybrid, and diesel vehicles with model years of 1996 and newer. Electric cars are not supported.
Design and features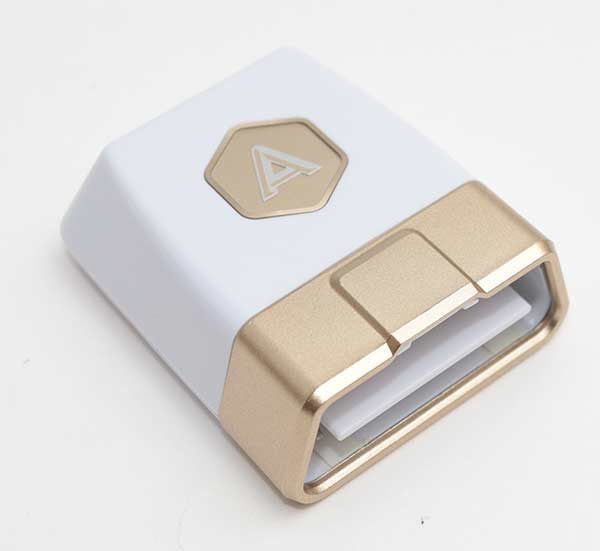 The Pro version of the Automatic looks pretty much identical to the original two generations of Automatic adapters except that this latest one has gold accents.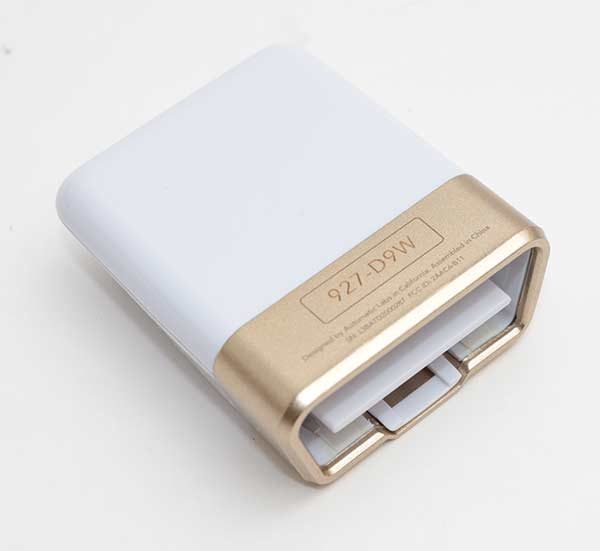 The adapter is pretty simple and has no buttons or LEDs but inside is a GPS receiver and a 3G radio which uses Telefonica to manage their data and a number of different carrier networks, depending on where you are located. Verizon, Sprint, AT&T and Tmobile are all in my area, with Verizon having the best coverage. I had no problems with the Automatic Pro 3G here.
Installation and setup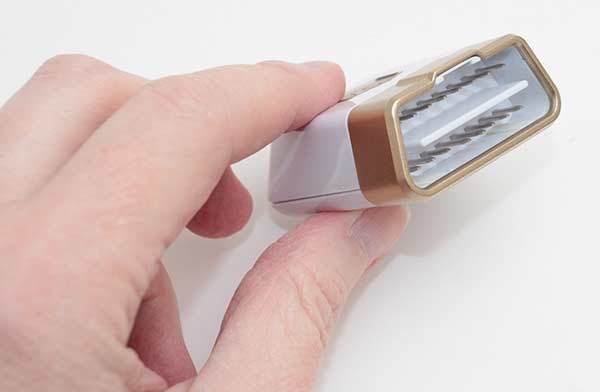 There's just a connector on the end that plugs into your car's OBD-II port which is usually located somewhere under the driver's side dash. If you are unable to figure out where the port is, you can always look it up in your car's manual like I did the first time I installed an Automatic adapter.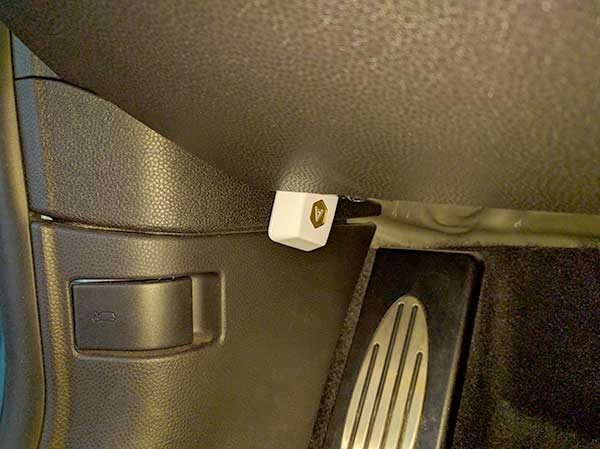 The white plastic adapter doesn't blend in too well with my 2013 MINI Cooper, which could be considered an issue if you plan to use the Automatic Pro 3G adapter to keep tabs on a driver without them realizing it.
The next step requires that you install the Automatic app on your phone and then follow the instructions which lead you through connecting the adapter to your phone. You'll need your car keys to turn on the ignition to your engine, but you don't have to drive anywhere during the setup process.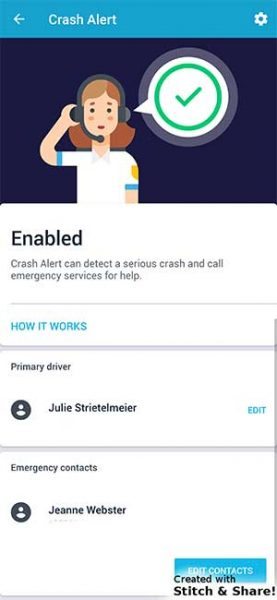 During the setup, you'll be prompted to turn on the crash report feature which is only available for people in the US. If you're ever in a collision, Automatic will automatically contact emergency responders and your designated contacts to let them know you've been in an accident even if you can't respond yourself.
Be aware that there are limitations to this feature:
HOW IT WORKS
Automatic Pro detects a crash.
Your phone receives a notification and our response agents calls you.
If you need help, we will request emergency services and contact your loved ones.
LIMITATIONS
Crash Alert is unavailable if the adapter is damaged, Bluetooth® is disconnected, the adapter is dislodged from the OBD port, or if there is no cellular or GPS signal.
I didn't have any accidents while testing the Automatic Pro 3G, so I was unable to test this feature.
Using the adapter and the app
Once the adapter is installed and paired with your phone, you can start using it. The Automatic Pro 3G is one of those gadgets that you can forget about once it's installed because you don't have to do anything to use it. It will automatically (see what I did there?) record your trip data when you drive.
The app has a scrolling activity page that will let you see all the trips that you made for each day. If you drill down into the day, you'll get more information about each trip including distance, duration, estimated cost and efficiency for each trip.
Each trip can also be flagged as a business trip by tapping the briefcase icon in the trip detail page. To retrieve this business expensing data, you have to use the web client. More on that in a bit.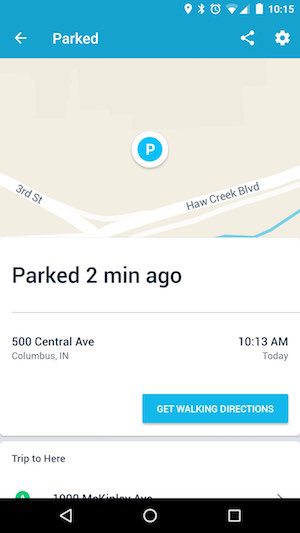 In addition to tracking your trip details, the adapter will record where the vehicle was parked so that it can help you find it later if are unable to remember where you left your car.
One of the best features of this latest version of the Automatic adapter is that you and your phone DO NOT need to be in the car in order for it to record trip data. If someone takes your car for a spin, you'll know about it because you'll receive a notification on your phone and you can load up the app and see where your car is in real time. This is a great way to keep tabs on your kid or significant other 🙂

The previous versions of the Automatic adapter made a big deal out of scoring your driving style, but this newest version seems to put that in the background along with alerts when you braked too hard, accelerated too fast and went over 70MPH.
The scoring info is still available, but it no longer shows up for each trip in the mobile app. You can see your overall driving style in the app (shown above), but it's not that useful if you ask me… not that I really care what the app things of my driving style in the first place.
The older version of the app had info about hard braking and accelerations, but now you have to use the web client to find that info.
The mobile app is also supposed to show you info when your check engine light comes on, but since I didn't have any unknown lights light up during my testing period, I wasn't able to test this feature.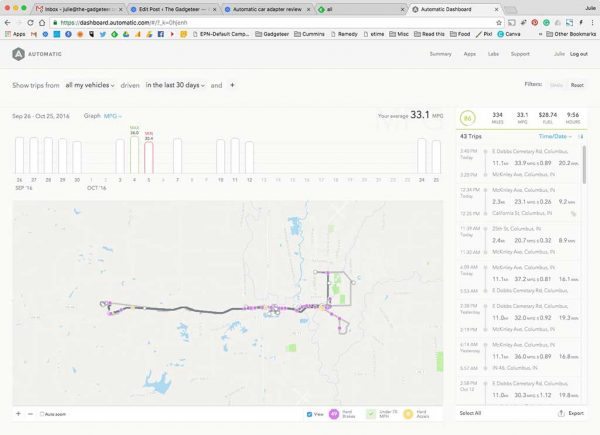 The web client gives you a lot more details than the app. You can see your overall driving score, driving score for each trip, accumulated fuel cost, miles driven, and more. The web client is where you can find details about the trips that were tagged as business trips.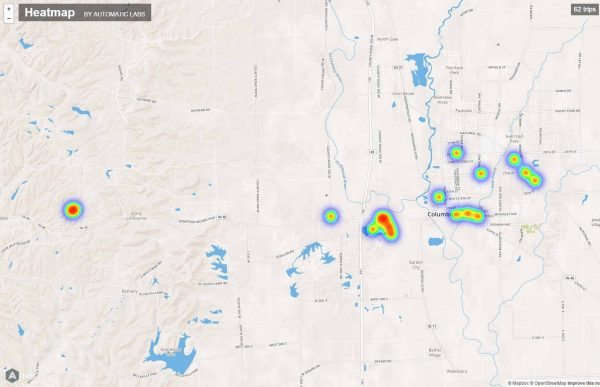 The web client also has Labs which are other ways to view your driving data such as a heat map of your destinations.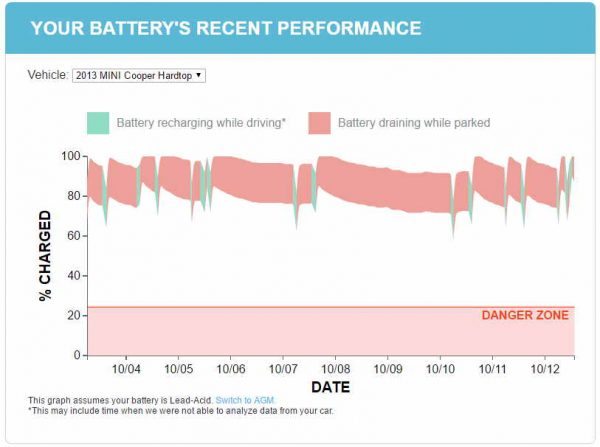 Your vehicle's battery performance… and more.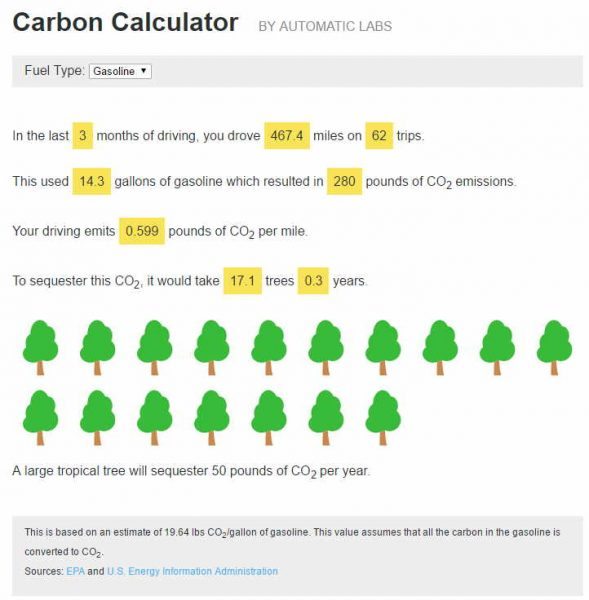 And even your estimated carbon footprint. I'm a tree hugger, so looking at this report makes me feel guilty.
Bluetooth issues?
If you read my review of the original Automatic adapter, you'll remember that I had some issues with it and my Nexus 6P when streaming music from my phone through my MINI's stereo using Bluetooth. I haven't noticed this same problem with the Automatic Pro 3G, but I have experienced some new Bluetooth issues in my car that only seem to happen when the adapter is plugged into the OBD port. I've had call audio that will not go through Bluetooth and experience more dropped calls than normal. I am inclined to think that the problem is
Final thoughts
I like the Automatic Pro 3G more than the original version mainly due to the 3G feature that will follow my car even if I'm not in it with my paired phone. I think that's a great feature to have if you happen to live in an area where there's a high potential of theft or you just want to know where your car is at any given time. The automatic trip recorder is handy for people with young drivers and / or if they have a business that requires trip tracking. Also, the fact that you're not being charged a monthly subscription fee for the 3G feature is a nice bonus.
Note that the product details on the Automatic site say that the 3G service is free for 5 years, but they don't say what happens when the time is up so it's unclear what happens at that time.
Source: The sample for this review was provided by Automatic. Please visit their site for more info and Amazon to order.
Product Information
Price:
$129.95
Manufacturer:
Automatic
Retailer:
Amazon
Requirements:

Works in the US only, on most cars made since 1996

Pros:

Crash Alert service
3G and GPS built in to show you current location of vehicle
Trip recording and business tagging
No monthly fees

Cons:

Only works in the US
Some functionality in app has been removed from the previous version of app