We use affiliate links. If you buy something through the links on this page, we may earn a commission at no cost to you. Learn more.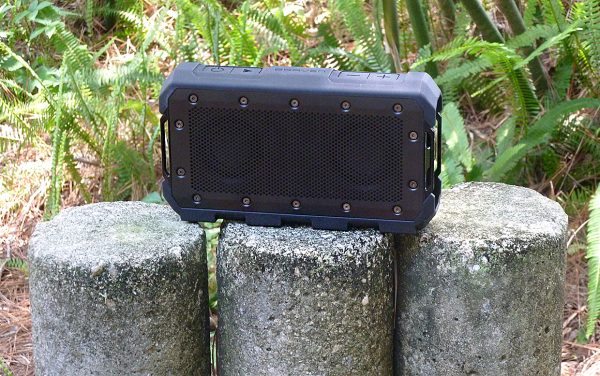 With all the Braven Bluetooth speakers I've reviewed, I'm amazed how each speaker has its own "personality" in both how it handles and sounds. Some Braven speakers excel in bass, some are more tuned for vocals. You might think that they would strive for a similar sound signature across their speaker line, but I'm now convinced that's not the case. What convinced me is the Braven BRV-Blade Bluetooth speaker.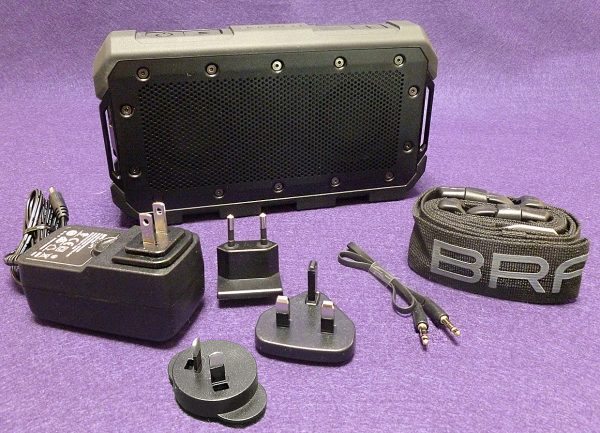 One look at Braven's extensive speaker lineup suggests that sales of some models could cannibalize the sales of others, but since many of their speakers don't sound the same, maybe that's not an issue.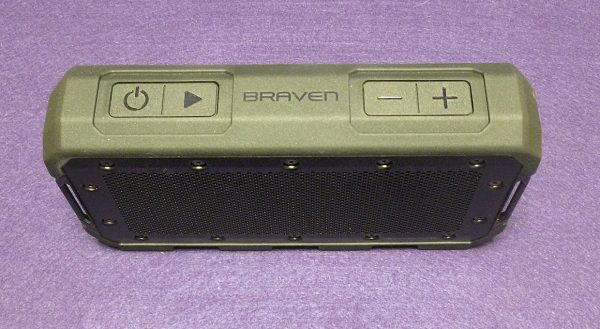 The BRV-Blade is one of the more unique looking designs by Braven standards. At first glance, it looks like a ruggedized, outdoor version of the Balance speaker, yet there are some differences. One is color. The BRV-Blade comes in black while the Balance comes in many bright colors. The BRV-Blade is slightly larger than the Balance, yet weighs less. Battery life is 22 hours on the BRV-Blade vs. 18 hours on the Balance—with the same size 4000mAh rechargeable lithium-ion battery. Weird. Both speakers sport IPX7 waterproof rating. Even though the two speakers match in many measurements, the BRV-Blade costs $70 more. However, this review is not a comparison test, so let's look at the BRV-Blade on its own merits and shortcomings.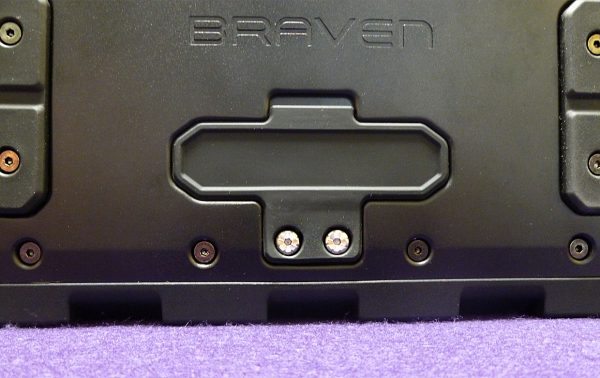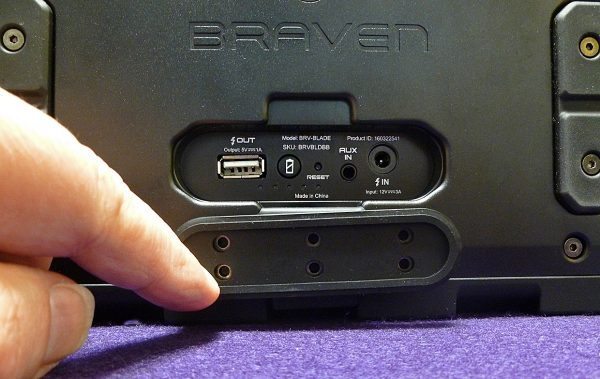 The rear of the BRV-Blade has the usual Braven selection of ports and buttons—AUX, power cord, battery check button and the usual Braven USB port for charging smartphones. These ports are protected by a secured rubber flap that totally waterproofs the speaker as long as the flap remains closed. A mini plug to mini plug cord,  charging cord and tie-down strap with a bottle opener are included. Note that the strap is not a carrying strap. I tried to use it as such, but no. There are no instructions—online or in the manual—that show how to attach the strap. I finally figured it out after many minutes of frustration—then I removed it permanently because it wasn't a real carrying strap.
Never miss one of our posts again. Sent MON, WED, and FRI with the latest gadget reviews and news!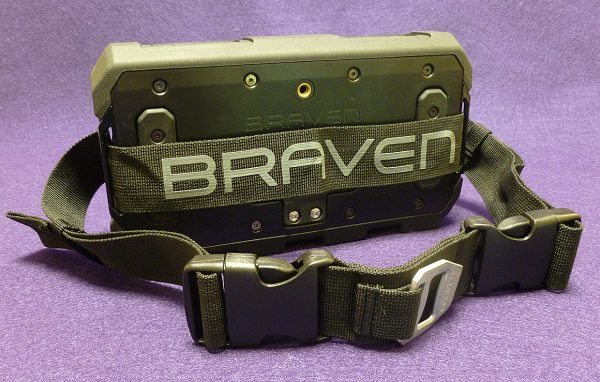 Pairing the BRV-Blade to my iPhone was simple and worked right away. Brave's method of pairing is almost the same with every speaker they sell. NFC is not available. The BRV-Blade has a built-in mic for hands-free phone calls.
One thing immediately noticeable about the BRV-Blade is its lack of bass—at least when compared with other Braven speakers. The BRV-X and BRV-HD both excel in bass, so it's somewhat surprising that bass is a weak spot with the BRV-Blade. Don't get me wrong, the BRV-Blade's bass is okay until you sample some other Braven speakers. Interestingly, the Balance speaker is weak on bass also. The only explanation I can think of is that both speakers are thin and upright rather than thick and chunky like some other Braven speakers. All this is to say that in a small enclosed area, such as a camping tent, bathroom or other space a rugged speaker is best suited, the BRV-Blade could be a good fit. In a more open outdoor setting, stick to the other models.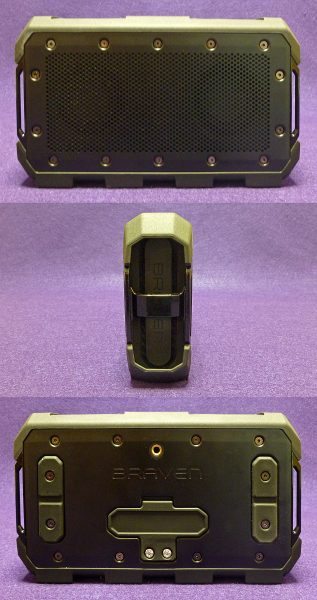 Another reason to limit outdoor use is volume. For some strange reason, the BRV-Blade doesn't get that loud. You can use it outdoors as long as you aren't doing anything else noisy but place the BRV-Blade in the middle of a deck party and it's likely to be drowned out. The equally priced BRV-X is louder. Go figure. There is a Boost feature that Braven says will boost the speaker to max volume. The result is noticeable, but not by much.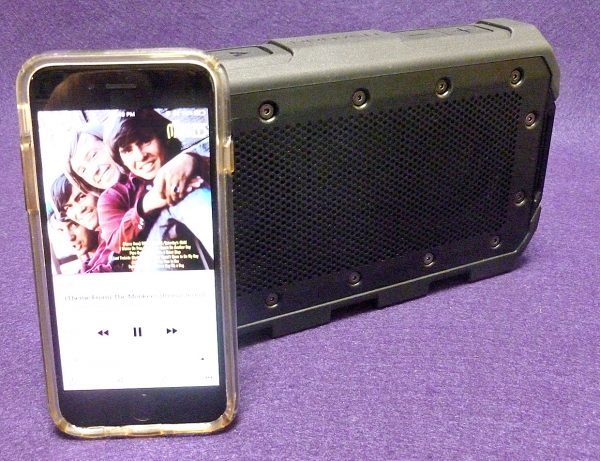 Audio sounds smooth on the BRV-Blade. When playing various styles of music (indoors), there's not a hint of harshness that the BRV-X can sometimes exhibit. Whether it's AC/DC or The Beatles, the BRV-Blade is forgiving of lower resolution music files, similar to many headphones. Although there was no bass oomph that comes from larger speakers (you can't fight the laws of physics), the sound was pleasing. The Beatles "Love" album fared better than AC/DC mainly because AC/DC requires volume for maximum impact and The Beatles music works at any volume.
Vocally centered music such as Frank Sinatra works well on the BRV-Blade. Sinatra's impeccable phrasing coupled with first-rate studio techniques almost guarantees a good sounding speaker and the BRV-Blade doesn't disappoint. Again, I'm talking indoors—ironic since this speaker is made to be abused outdoors.
Having said all of that, the BRV-Blade is excellent for voice—meaning that if you're a fan of talk radio, sports or audiobooks, the BRV-Blade is just about perfect. Legibility and clarity is excellent. As one who listens to many audiobooks, the BRV-Blade has become a constant companion when washing the car or doing other outside chores. It's also great that I don't have to worry about any dirt or water. You can literally throw the speaker around and drop repeatedly. It will get scuffed up, but those exterior scars won't affect the audio one bit.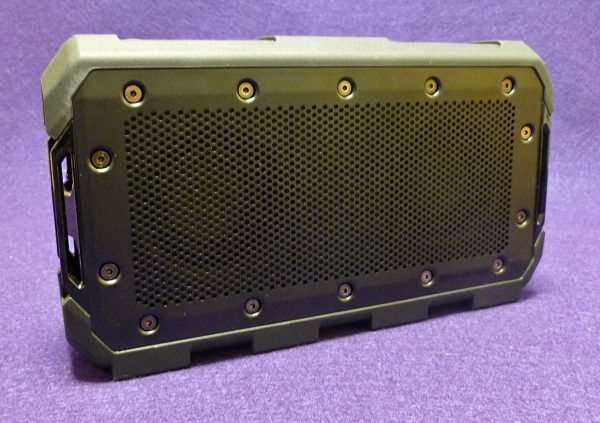 Braven has many speaker choices in almost every price range. The BRV-Blade certainly has its plusses—it's almost indestructible, it's waterproof, it plays smooth music and handles voice quite well. However, it falls short when compared with other, similarly priced Braven speakers. The BRV-X is louder, a better buy, just as rugged and you can use the strap—although there's no bottle opener. If you can, try out both speakers and then decide which one you prefer. You may totally disagree with me. The good news is that Braven has enough different speakers to choose from so you can make an informed choice.
The Braven BRV-Blade is available now from Braven and sells for $199.99 US.
Source: The sample for this review was provided by Braven. Please visit their site for more information and Amazon to order at a discounted price.