We use affiliate links. If you buy something through the links on this page, we may earn a commission at no cost to you. Learn more.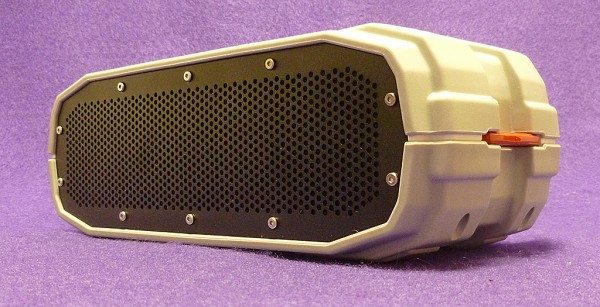 I have reviewed a few speakers from Braven and am consistently impressed with a build quality that matches their audio quality. While the 600 speaker was impressive for its size (there's that caveat again), the 850 speaker was stunning in both its power and beauty. The BRV-X fits somewhere in the middle of Braven's range, between the 625s and 855s outdoor speakers.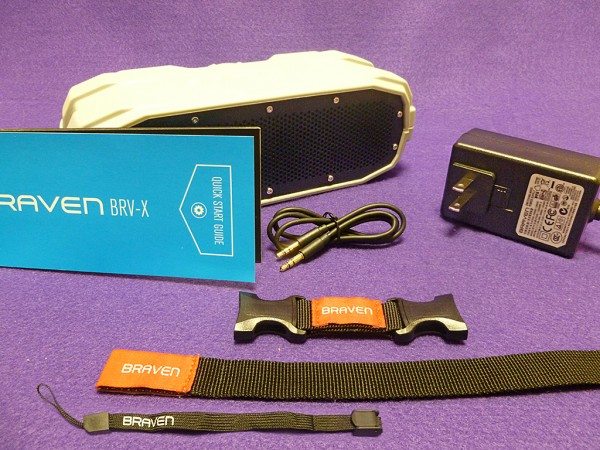 The BRV-X is basically a bigger and better sounding BRV-1. It sports a much more powerful battery along with bigger speakers. As you would expect, this has resulted in richer sounding audio whether indoors or out. It measures a large 9 in. X 3.6 in. X 3 in., so it's not the most portable speaker out there but is still small enough to carry around.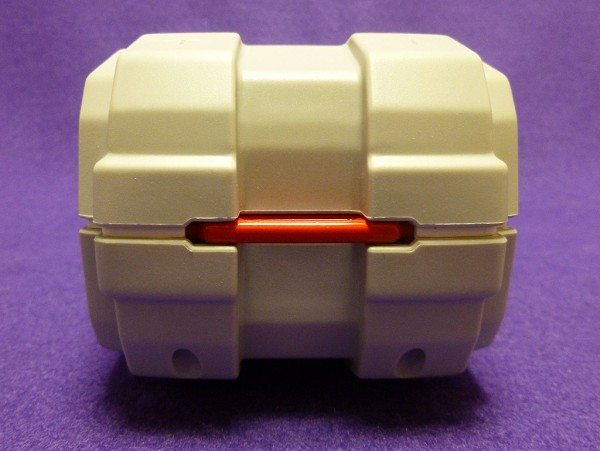 And the BRV-X is made for the outdoors. Its rubberized exterior is shockproof and provides an IPX7 certified waterproof exterior coating–upgraded from a previous IPX5 rating. Yes, there are measurements for such things. The IPX7 rating simply means that the BRV-X can withstand heavy rain and splashing along with an occasional dunking with no consequences. So if you are a hiker, mountain biker, kayaker, or do other messy outdoor activities, you should have no worries with the BRV-X speaker.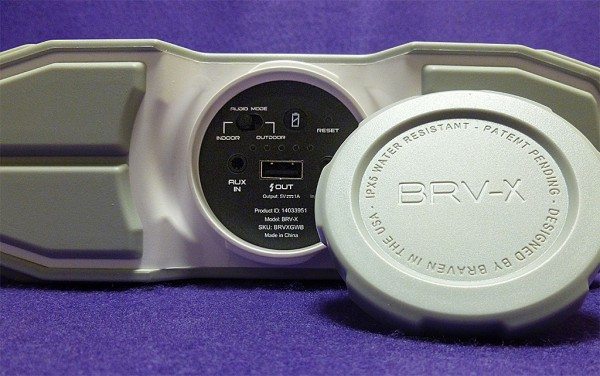 Working while wet isn't the BRV-X's only impressive quality. While there is the ubiquitous Bluetooth, there's also NFC for non-iPhone users, an indoor-outdoor switch (more on that later), hands-free talk mode, USB device charging, 12+ hour battery and true left and right wireless stereo when paired with another Braven BRV-X speaker.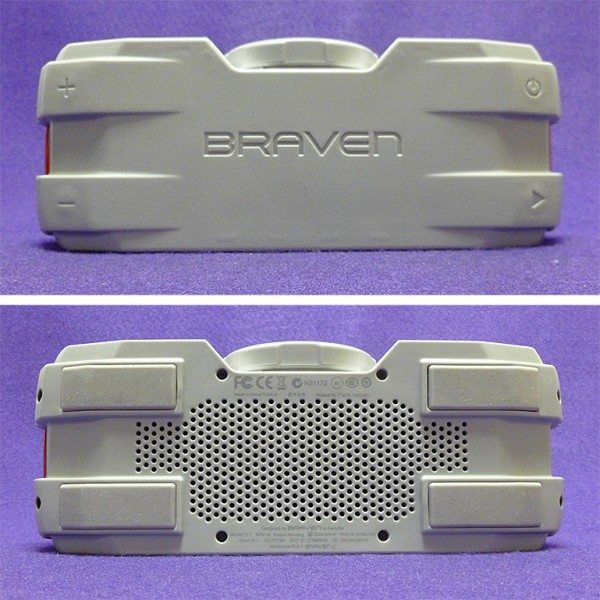 The BRV-X comes in two colors: All black or a light gray with black speaker grill and accents. At the time of this review, only the light gray color is available from Braven. There are four protected buttons on each corner of the speaker: Power, play/pause, volume up and down. The Pause setting will pause a song whether on an iPhone or Mac computer and doubles as a Bluetooth connection button. There is a hidden bass port along the bottom of the speaker and 4 non-slip pads that work well keeping the BRV-X in one place when cranked up.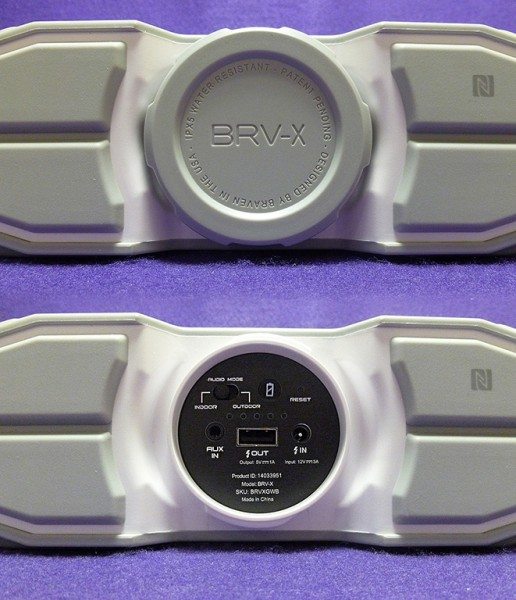 While the much larger Braven 850 is tougher than it looks, the BRV-X screams, "Kick me." It's that rugged looking. In order to maintain its waterproofing, any ports such as power, USB and AUX have to be protected from the elements. Those ports are located together at the rear and covered by a rubber-sealed lid that screws to the BRV-X tightly. This lid can be difficult to remove, but that's by design. A battery strength indicator is located next to the ports. I used the hands-free mic on an unrelated tech-support call to Apple. They had no problem hearing and understanding me. Since Apple was coming through the Braven's speaker, their voices sounded great (although the hold music still sounded terrible).
Included is a thick and durable strap that can be used as a handle or used to help attach the BRV-X to a tree branch, bicycle handlebar or whatever works for you. There is also a smaller, slim wrist strap included, but the speaker weighs a hefty 1.5 lbs., so I much prefer the strap itself. There are four plug adapters for international use–always a good thing.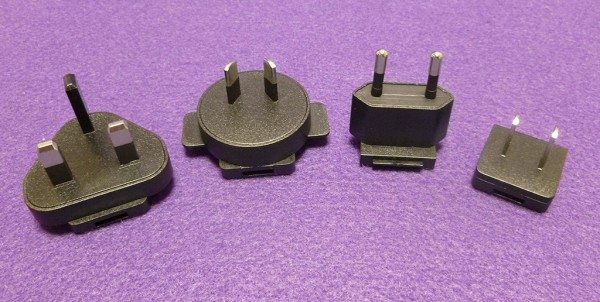 The BRV-X sounds quite good for a speaker in its size and price range. I recently got a 128GB iPhone 6, so I've been loading my music collection on it. This has given me the opportunity to test many genres since my tastes are eclectic. It was interesting to hear how some songs seemed tailor-made for the BRV-X. I figured out that depends completely on how the song was originally mastered. You might think that's true of any recording or speaker, but it's not. Some speakers – especially the smaller, portable ones – are artificially tuned for bass, simply because that's where a small speaker's weakness is. This can result in a thick, bloated sound. This approach can mask whether a song leans towards low, mid or high frequencies. The BRV-X removes that mask. The result is that while some music sounded great, some suffered being exposed for what it was.
When compared with bluetooth, audio quality was noticeably better when wired directly to either a smartphone or computer. No surprise here. The BRV-X uses standard Bluetooth, but the audio sounded pretty good regardless. Definitely a surprise here. But let's be honest: The BRV-X is made for the outdoors, so wireless is both convenient and necessary. The range is the rated 30 ft., so keep the speaker close to the source when going wireless.
The BRV-X has an Indoor-Outdoor Mode switch that Braven says will optimize the listening experience to your surroundings. I admit that the switch does audibly alter the sound. Indoor mode has a warmer sound with more bass. Outdoor mode raises the mid and higher frequency ranges while reducing the bass. This can increase audible range and improve vocal clarity. However, I wouldn't go so far as to call it an improvement. To my ears, outdoor mode sounded hollow and somewhat harsh depending on the song.
One thing I did notice was that when the BRV-X is turned to very low volume–office use, for instance–the bass drops to almost nothing. The indoor switch helped, but not by much.
Because of lo-fi radio and cheap record players, songs from the 60s and 70s were usually recorded with less prominent bass and drums than they are today. The BRV-X is accurate enough to know the difference. What I mean by this is that older songs are given weight by the speaker with a better defined bottom end. It doesn't help weak drums much, but at least the bass is better. Plus, the BRV-X seems to know if a song has accentuated bass already and doesn't add more on top of it.
Listening to early Alice Cooper was a treat. The hits, "I'm Eighteen" and "School's Out" have energy and punch on the BRV-X. As I was listening, I could actually hear real stereo, which is rare with portable wireless speakers–even if they are technically stereo. Granted, the stereo separation wasn't great (never is), but it was a nice surprise to discern it.
One speaker tester at loud volume is Joan Jett's 2:50 ode to teen rebellion, "Bad Reputation." Everything about this song is in your face, from the lyrics to the bass and drums to Jett's snarling vocals. She's a heck of a lot more convincing than Billy Idol ever was. The BRV-X handled the song well allowing the energy to be felt, but it did distort at the highest volume setting, which is where this song is best appreciated. However, the distortion was mild and not a big deal.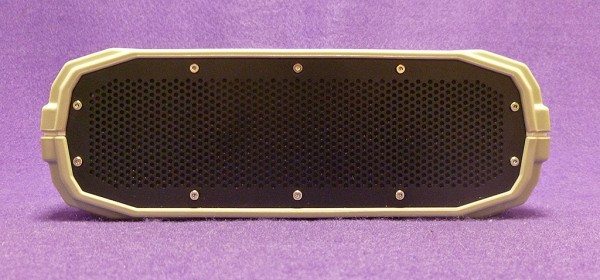 I will say that after listening to the BRV-X for a period of time at (almost) max volume, my ears were sightly ringing. Not many wireless speakers can induce that kind of a younger, concert-going flashback.
Braven has done it again with the BRV-X. They have managed to make a Bluetooth speaker with looks and sound that means business. This is a speaker that will work as easily in a clean home as well as in the messy, real world.
Source: The sample for this review was provided by Braven. Please visit http://www.braven.com for more info.
Product Information
Price:
$199.99
Manufacturer:
Braven
Requirements:
Pros:

Rugged
Looks good
Sounds good for it's size
Can play loud

Cons:

Outdoor audio setting not that great
Can distort at max volume
Doesn't use latest bluetooth technology
Expensive