We use affiliate links. If you buy something through the links on this page, we may earn a commission at no cost to you. Learn more.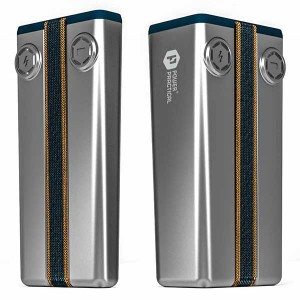 We all love our gadgets, but keeping them charged isn't a fun chore. Especially when you're mobile and not near a power outlet. The guys from Power Practical who brought us the PowerPot are back with a new crowdfunding project for a product called the Pronto. The Pronto is a portable backup battery that recharges extremely fast. Fast enough that only 5 minutes will allow it to store enough juice to recharge an iPhone. Power Practical is being backed by Mark Cuban of  the popular (and one of my favorites) TV show Shark Tank where entrepreneurs pitch new product ideas in hopes of getting them backed by one of the sharks.
"Within seconds of meeting them on 'Shark Tank,' I recognized immediately how special the Power Practical team is," said Mark Cuban. "The new Pronto is their latest innovation. There's no battery pack like it on the market in terms of speed and power. Not one."
The Pronto power pack will be available in two hard-anodized aluminum versions. The smaller lightweight Pronto 5 has a 4,500 mAh capacity which provides enough power for three full iPhone 5 charges. The heavy-duty Pronto 12 has a 13,500 mAh capacity which is capable of nine iPhone 5 charges. Both battery packs charge to full capacity in only 1 hour.
A $79 pledge lands a backer the Pronto 5 and a $119 pledge lands a backer the Pronto 12 with shipping estimated for May of 2015. The project has 20 days left and they've already almost quadrupled their initial goal of $50,000. For more info head over to their Kickstarter page.