We use affiliate links. If you buy something through the links on this page, we may earn a commission at no cost to you. Learn more.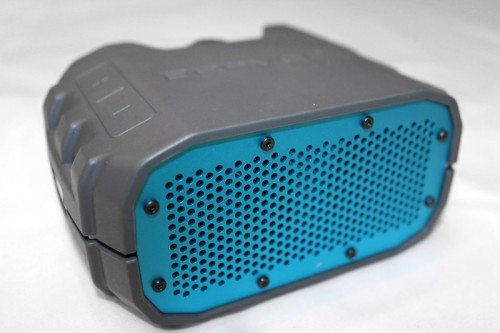 In my search for awesome portable speakers, I have had some luck as of late.  I have done a few reviews here on The Gadgeteer for portable Bluetooth speakers that are solid choices for the audiophile looking to untether take his or her tunes from the confines of the living room.  But until now, I have never tried one that was truly meant for the wild, with water-, dust-, and shock-absorbing protection.  Enter the Braven BRV-1 Bluetooth Speaker.  What Braven has done is pack a ton of features into a small package that begs to brave the elements.  So how did it perform?  Would MacGyver pack this in his travel bag?  Let's find out!
Initial thoughts:
It certainly looks and feels like it is water-resistant.  The soft-touch rubbery covering encasing the Braven feels nice, like those soft-touch rubbery cellphone covers. Every button and port is clearly labeled.  I especially like that they used white lettering on the back where the ports are.  I hate it when device manufacturers use black lettering on black plastic and you can't read it.  It kinda looks like a really small mini projector, and I would say it is about the size of a softball, so it is really easy to carry.  Once again, no wall charger.  Arg!!!  This thing is $149.  Hmm… and no wall charger.  Am I expecting too much here?  Maybe I am.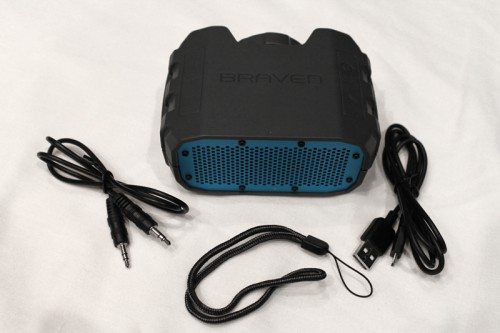 Specs:
It weighs 12 oz. and is about 5 in wide, by 2.5 in tall, and 3.5 in deep.  The power, play/pairing, and volume/skip buttons are on top.  On the back is a round cap that covers up the ports on the back.  Because the Braven is IPX5 certified water-resistant (you can't immerse it in water by the way), you can splash it with water, spray it with water, or leave it out in the rain, and it takes the punishment.  The round cap on the back will keep all the water and dust/dirt out of the ports as long as it is tightly in place.   Underneath the cap you'll find the full size USB port, the audio-in jack, the microUSB input for charging the Braven, and a battery button and indicator lights.  Press the button and the 5 indicator lights show you how much power is left.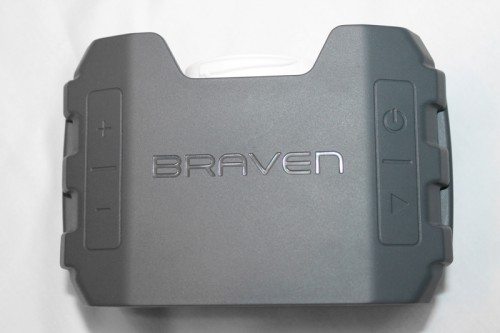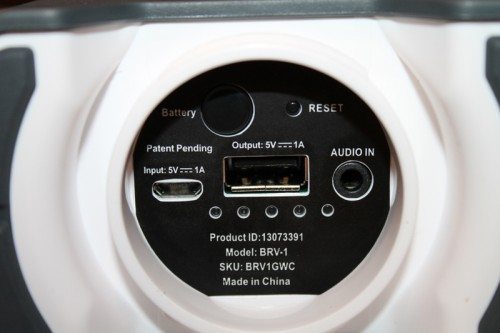 Performance:
It paired with my Windows 7 laptop, my Galaxy S4, my 5th-gen iPod touch, and my Nexus 7 without a problem.  The battery did last as long as stated, which was a solid 12 hours.  It starts up and shuts down lickety-split, so it is speedy.  The little blue light indicating that the Bluetooth was on blinks constantly when the speaker is on, which kinda annoys me, like those Bluetooth headsets that people wear on their ear that constantly blink.  Yeah, annoying.
To test the IPX5 certified water-resistance, I poured water on it and held it under the kitchen faucet.  And I sprayed water on it with the garden hose.  And I even left it out all night in the rain.  Yep, I did.  And it shook off every drop of water.  Can't question its ruggedness.
It stays powered on for a full 30 min. when not in use before it shuts itself off.  I think that probably is a slight waste of battery, so I would like to see it shut off a little sooner than that, honestly.  The sound is great and very clear, with no tinny sound at all and nice highs and lows.  I can't complain about the sound at all.  But the max volume is just not loud enough.  In a small room I think it sounds just fine.  But outside, where this speaker was created to go, the max volume just wasn't loud enough.  It gets swallowed up by the outside when it doesn't have walls to bounce the sound off of.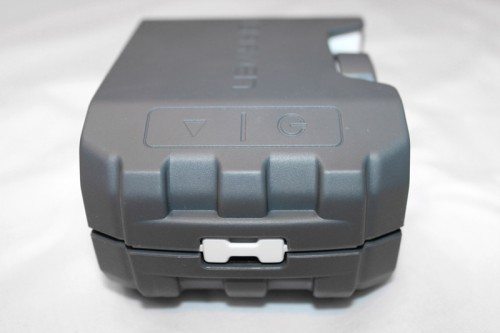 I did try using the call features on the device with my Galaxy S4 and it worked great.  The calls were very clear and the sound was great.  And the most surprising thing of all is that I was able to walk over 40 ft away from the Braven before it started to drop the sound, which was amazing to me.  The Bluetooth performance was outstanding in my opinion.  An added nice touch is that on some devices when you connect via Bluetooth you will see a battery indicator in the status bar to show you how much battery is left in the Braven.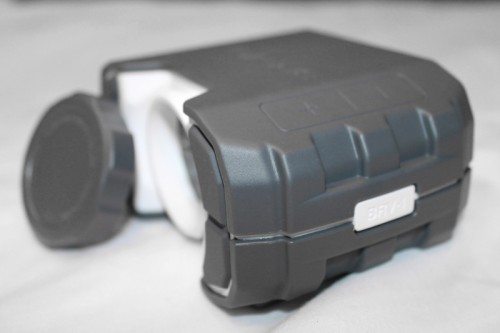 Finally, I should mention that the full-size USB port on the back of the Braven is supposed to allow you to charge your phone while you are playing the speaker.  I did try that, but because the Braven battery is only 1,400 mAh, it didn't charge my Galaxy S4 very much, considering it has a 2,600 mAh battery.  Basically, charging my phone using that port kills the Braven pretty quick.
Bottom line:
The sound is great. The form factor and size are wonderful, and product quality is top notch.  The battery lasts pretty much all day, and Bluetooth performance may very well be the best that I have seen in the speakers that I own.  But for $149, I expect more volume.  I just don't understand why they didn't put more power into this thing.  I would be willing to sacrifice some battery life for more sound.  I would honestly rather use my Beacon The Phoenix Bluetooth speaker when I want portability and lots of sound.  It sounds much louder than the Braven, and it is $50 cheaper, but then again the Phoenix isn't water-resistant.  If you want a rugged, very portable, water- and dust-resistant portable speaker to last you all day, the Braven just might be your answer.  But you have to be willing to pay the price, because it is expensive.
Product Information
Price:
$149.99
Manufacturer:
Braven
Pros:

Water- and dust-resistant
Great workmanship and quality
Very portable
Nice phone call features

Cons:

Max volume is too low
USB charging port is not very useful
Very pricey