We use affiliate links. If you buy something through the links on this page, we may earn a commission at no cost to you. Learn more.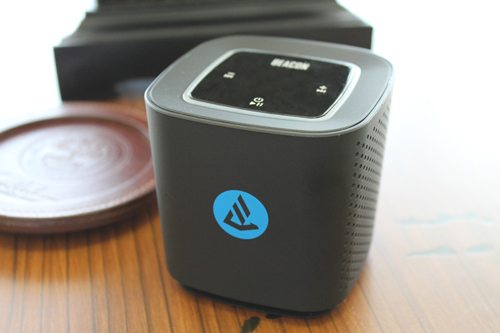 I have owned a bunch of portable speakers over the years.  Ever since my first boombox in high school my love affair with portable music has led me on the quest for the perfect portable audio companion.  My ideal companion must be small, have big sound, crazy battery life, cheap, high quality workmanship, and multiple ways to connect to my music sources. You can see now why I have been searching for years.  Portable speakers have come and gone for one reason or another, but the bottom line is that most of them are crap.  Cheap materials, grainy sound, and no durability.  I did review a great portable speaker last year in the Boats-To-Go Boombox, and I still use that. The price and features are awesome, but the battery life isn't great and there is no Bluetooth. So when I saw The Phoenix Portable Bluetooth Speaker by Beacon, I saw some hope. The specs look great, but could good things come in small packages?  Let's find out!
Build quality, dimensions, etc
Inside the box you'll find a USB charging cable and standard audio cable, plus some 'getting started' instructions.  There is a carrying case available, but I did not get that.  The outside of the Phoenix is made of that soft-touch rubber, like many of the smartphones out today.  It feels really solid and the quality of the build seems excellent. Dare I say that it feels 'Apple-esque'??  This feels like a premium product.  Even the audio cable that came with it is more than your average cable.  It's premium too.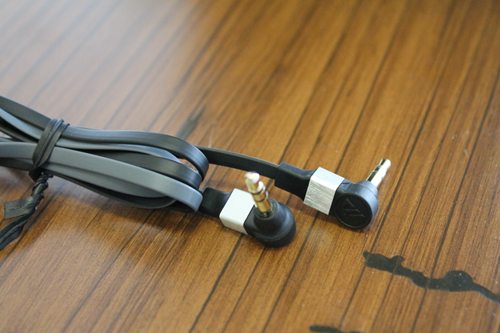 On the bottom you'll find rubberized feet that keep it in place where you place it.  The Phoenix has rounded edges so it feels really nice in the hand.  It is 3×3 inches square and 3 inches tall.  It also tapers as it goes from the top of the bottom, so at the bottom it is more like 2.5×2.5 inches.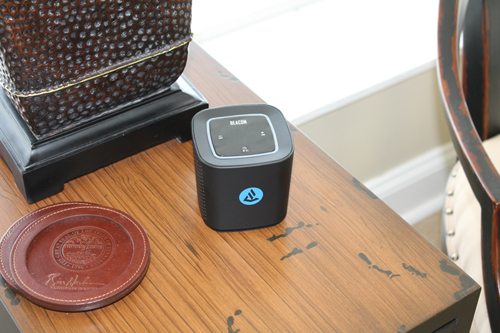 It comes with a built-in, non-removable 850 mA lithium battery. Because the device doesn't come with a charging brick you have to charge via USB with your computer, so your charging performance will vary depending on how fast your computer charges stuff. I have a USB 3.0 port on my laptop that provides high-speed charging so I charged the device fully in about 2 hours, but the manual says it should take about 3 hours to charge.
There are 3 controls on the top, and each button performs multiple functions: on-off/play-pause, volume-up/next, volume-down/back.  Each button is activated by either a single press or a long press, depending on what you want to do.  You'll also hear various beeps when using the buttons to get audible feedback about stuff that's happening, such as pairing, connecting to devices, audio maxing out, etc. On the back is the audio jack connection and USB connection.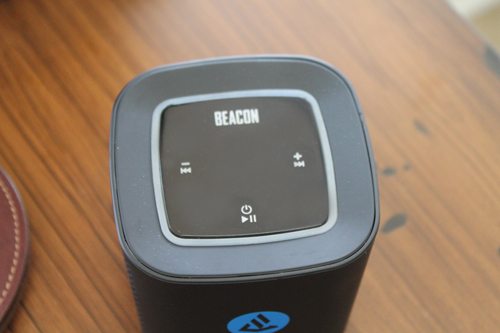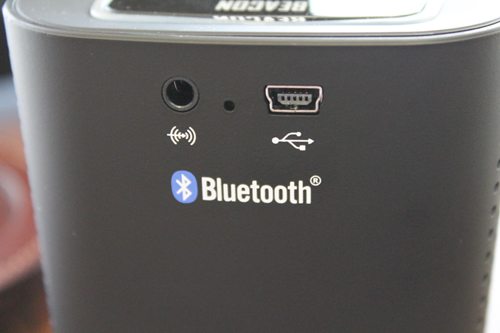 The top of the device where the buttons are is surrounded by a rubbery clear ring that lights up indicating certain things are happening, such as Bluetooth pairing, the device turning off and on, etc.  So when you press the buttons the entire top of the device gives a little bit like it is sort of floating on a spring. It sort of reminds me of the top of my electric razor in that regard.
Performance
In regard to playback, I got a staggering 14 hours of playback with this little sucker.  I was actually shocked that it played that long.  Considering the battery is only 850 mA, I am thoroughly impressed.  850 mA… seriously??
I was able to easily pair the Phoenix with my Windows 7 laptop, Android Smartphone, an iPhone 4S, a Nexus 7 tablet, iPod, an ASUS Transformer tablet, and an iPad.  Easy as pie.  As I mentioned, the buttons on the top of the device for volume also double as moving next and back in your playlist. So I could control Google music playlists from my devices, or from the Phoenix.  The included audio cable was a nice touch as well, because I can plug up to the audio device if it happens to not have Bluetooth or Bluetooth acts up trying to connect.
When I turned up the Phoenix all the way to see how loud it would get, my first reaction was…. Wow.  No way that much music is coming out of that little box.  But yes, it's true.  I had given up hope of ever finding a truly portable speaker solution that had quality sound.  But this thing blows my mind. I am not going to say that the bass tones are great, because they are not.  But you can turn this thing up all the way and get virtually no distortion at all.  Add to that the fact that this has Bluetooth and it almost seems too good to be true.
The annoyances
It's not all a bowl of cherries though.  There are some minor annoyances in my opinion.  Bluetooth in general is supposed to be good up to a 30 feet range.  I did experience good reception almost up to 30 feet on a few devices, mainly the Apple devices.  But some of the other devices started to experience choppy or dropped audio beyond 15 feet.   So is that the fault of the Phoenix or of all the other devices?  I don't know.
I also had some trouble getting used to the buttons on top.  As I have stated, each button doubles for various functions.  You have to single press to skip tracks and long press to increase or decrease volume.  I found myself regularly not pressing them right and skipping tracks when I didn't want to.  Annoying.  I also found that when I was using Bluetooth the buttons on the top could indeed be used to adjust volume and navigate between tracks. But when plugged up with the audio cord those buttons on top were useless. They just don't do anything when you press them.  Strange.
Finally, the Phoenix did not come with a power supply. You have to charge via USB on your computer, which I hate.  More and more companies are not including the power brink to save money and force you to charge via USB.  I simply don't have enough USB ports and it is starting to really annoy me. This device costs $99, so you should get a power supply.  That is very disappointing.
Final thoughts
I can deal with the limited Bluetooth range in exchange for the awesome battery life.  Willingly.  And for the portability and amazing sound, I will overlook the sometimes-frustrating buttons on top.  I think I found my answer to a portable speaker.  The price is $99 for this little gem, but is it worth it?  Well, for my own uses I think the money is well worth it. I haven't heard any portable speaker this size, this good.  Ever.  The lack of a power supply really annoys me, and I kinda have a bad attitude about it.  But just like my family members whom I love and overlook their faults, I will do the same for the Phoenix.  But if anybody from Beacon reads this and wants to send me one as a present, I won't mind a bit. 🙂
Product Information
Price:
$99
Manufacturer:
Beacon
Pros:

Incredible Sound
High-quality workmanship
Awesome battery life
Did I mention incredible sound?

Cons:

No power supply
Pricey
Frustrating buttons
Weak Bluetooth