We use affiliate links. If you buy something through the links on this page, we may earn a commission at no cost to you. Learn more.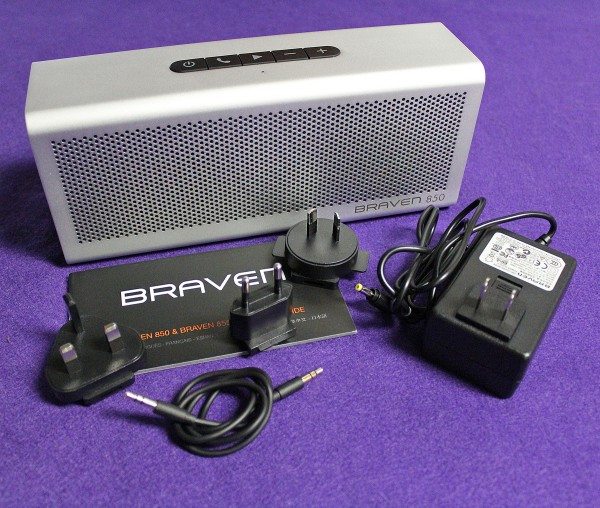 Big. Bigger. Biggest. These words sum up the Braven 850 Bluetooth speaker. Braven is becoming increasingly known for their range of beautiful, simple and powerful speakers with unique traits that set them apart in this overly crowded speaker market.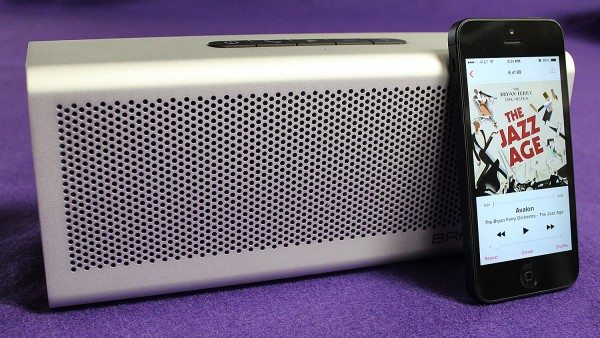 One thing I like about reviewing products is getting to test them in everyday situations. Case in point: A yearly December office party/cookout in the company parking lot. Hey, it's Florida — we can do that in winter. I volunteered to provide the music while we ate, talked and enjoyed our time together. The Braven 850 performed well, especially considering it was outdoors where sound can dissipate quite rapidly. The volume was more than sufficient with no distortion, even when turned up — and it was turned up. In fact, at one point, it was too loud and needed to be turned down. Remember, this was outdoors – in a parking lot!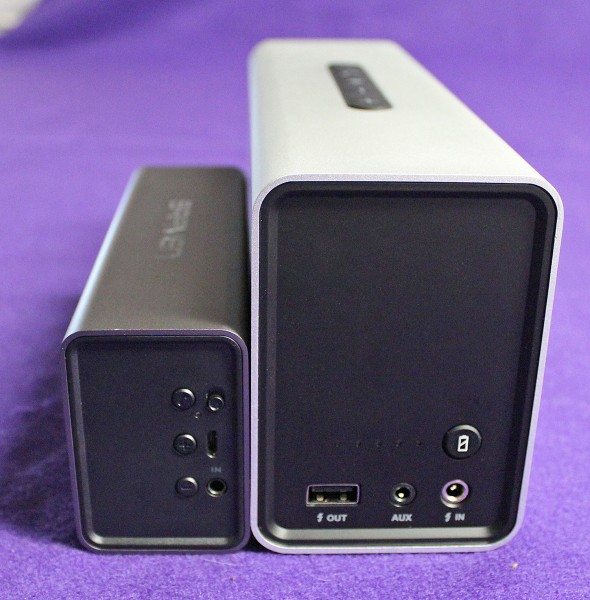 To get that quality of sound at decent volume and still keep the music sounding great is no small feat for a portable speaker. To accomplish this requires lots of power. There's no way around those physics. The Braven 850 has power — 20 watts of it. That may not seem like a lot, but for a wireless, portable speaker, it's impressive. Speaking of portability — the Braven 850 is technically … portable. But it's heavy (almost 3.5 lbs.), big, and not the most convenient thing to lug room to room. I prefer the term "semi-portable". That said, it blows the doors off the smaller and terrific (but no longer available)  Braven 600/650 — or any other smaller speaker. Again, you can't beat physics.
Here's a little reviewer secret: We dread breaking a product before the review is finished because of our own stupidity or clumsiness. Well, stupid me dropped the 850 – three feet onto outdoor carpeting. While the carpeting prevented any scratching, it did not provide any padding, which didn't matter. There were no dents and there really should have been – it was a hard drop. Whew! Plus, there was no noticeable internal damage. It still works flawlessly.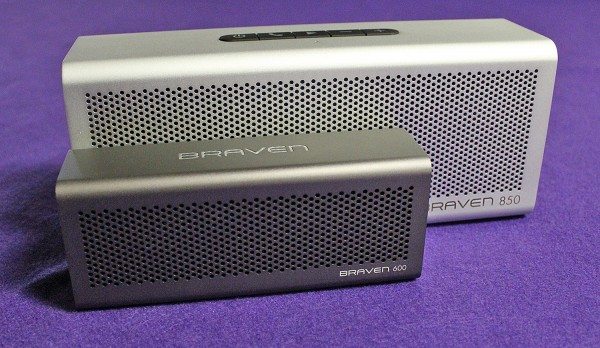 The Braven 850 is a visual clone of the smaller 600/650 – only it's more than twice as big. It could have easily been designed by Apple, because the thick, aluminum grill mimics the front of the Mac Pro tower – lots of holes. The main visual difference with its smaller siblings is the addition of power/volume/speakerphone/pairing buttons on top. One end panel has a USB, AUX, and power cord ports, plus a handy button to check battery use. It's a basic and simple setup, but with some quirks. For instance, to turn it on and off, the power button needs to be held down for 2-3 seconds before a resonant sound is heard. Press the button without holding it down and it won't come on. Bluetooth pairing is not immediately obvious, because to pair requires the play button to be held down for a few seconds unit the pairing noise is heard. The fact that these buttons have to be held down to work but the volume buttons have to be pushed repeatedly to raise or lower the volume strikes me as a bit backward. If you do press and hold the volume buttons down, then it will skip to the previous or next track. Got all that? Me neither.

One very interesting and cool feature of the 850 is the ability to pair to another Braven 850 (or its cousin, the water-resistant 855) for true Bluetooth left speaker/right speaker stereo. Stereo pairing requires holding down the battery button for few seconds (there's that press and hold thing again). I did not have a second Braven 800/850 speaker to pair with, so I wasn't able to test this feature. Note that a single 850 is technically a stereo speaker with left/right speakers, but the separation is lost unless it's close and directly in front of you. However, this is true of all single-speaker systems, regardless of price or size. 
One major drawback to this stereo pairing is cost. The Braven 800 is $280 – not cheap. Double that price to get stereo, and you're suddenly looking at serious coin. Plus, two 850 speakers will quash most portability options. I can envision only two scenarios for considering a dual 800/850 setup: (1) Wireless Bluetooth is a necessity because of placement, convenience, or other reasons wiring wouldn't work or (2) you already own one and now have a desire to expand. Then it might make sense. Otherwise, the cost is prohibitive for what you get.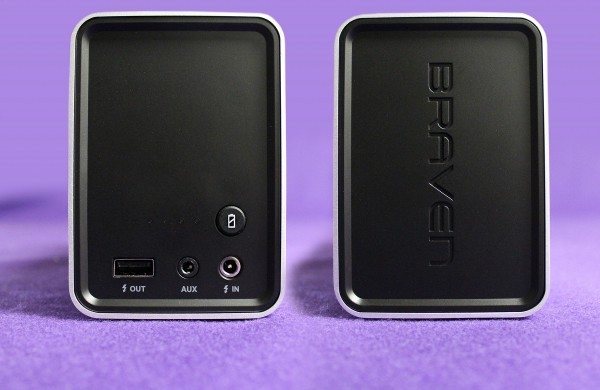 Some other nice features of the Braven 850 are aptX Bluetooth, which is an audio improvement over the tried-and-true Bluetooth, but aptX does not work with iOS devices – though that could change in the future. Currently, if you have iOS devices, you're stuck with plain Bluetooth.  Included is a rechargeable 20-hour battery. They're not kidding about this. It feels like I hardly ever need to charge the thing. A built-in noise-cancelling mic is handy for making and answering calls hands-free. Of course, that only works when paired with a smartphone.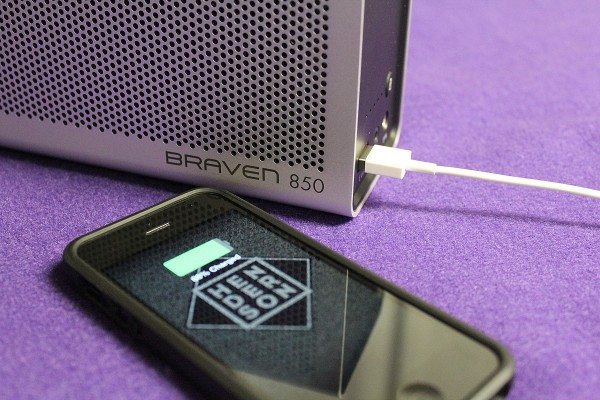 You can use the Braven 850 to charge any smartphone or iOS device through its USB port. Although Braven has had this feature on their other, smaller speakers, it makes more sense with the 850 with its much larger battery. I could top off my iPhone and still have plenty of battery left for hours of music playing. This is spoiling me big time.
One questionable feature is built-in SRS WOW HD which Braven claims will "enhance your audio experience with increased clarity and bass response." Maybe, maybe not. All I noticed was that SRS WOW HD made music sound weird and out of phase. Fortunately, it can be turned off, which is where I left it. The only reason I can think of ever using SRS WOW HD is if you're standing far from the speaker. But even then, I still prefer it off. The speaker sounds so good as it is, why mess with it?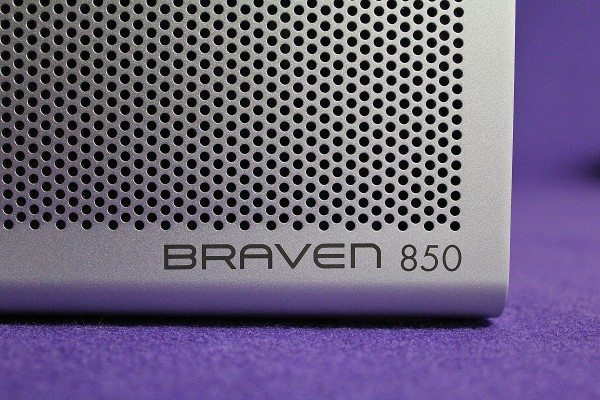 How good does the Braven 850 speaker sound? Besides the lack of distortion mentioned earlier, I was struck by the 850s clarity and fun factor. It didn't seem to matter what kind of music I was listening to: old, new, bass heavy or not, rock, classical, vocals. The 850 handled high-res files with ease and was also forgiving of lower-resolution MP3s. One thing that struck me was the audio clarity. I threw a couple of songs at it that I routinely use to test speakers and headphones. These songs have specific places that distort on lesser speakers. There was no distortion on the Braven 850 – even when turned to almost maximum volume. Like I said – fun. Note that the 850 has non-skid "feet" which keeps the speaker in place if the bass gets too bassy. Believe it or not, I've seen speakers walk across tables from too much bass.
I've been in a Moby mood lately, but one issue I have with his music production is that much of it is compressed to distortion with over-done bass piled on top. The Song, "Porcelain" even has artificially added distortion for a grainy, old recording effect. Usually, this bothers the heck out of me, but not so with the 850. Sure, the distortion was still there, but with the 850 it was tolerable. The song "Beautiful" has some clear and powerful guitar work laid over a driving beat. Moby's urgent and overdubbed singing is played to full effect with the 850.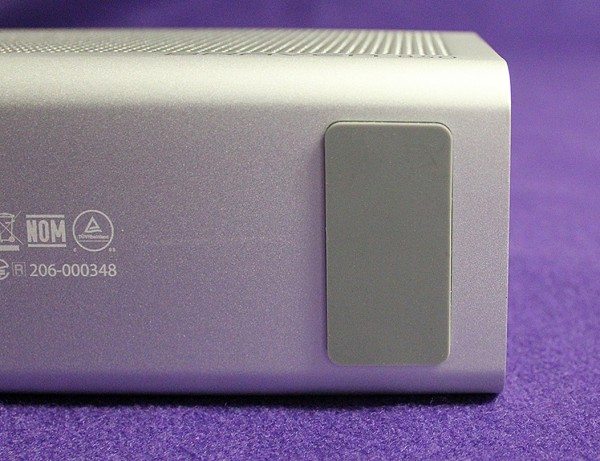 The strange, but compelling Raygun Ballet album, "World that Wasn't" mixes spoken movie and TV dialog from the 50s with modern electronica. It's not an entirely original idea, but this group takes it to a new level with incessant beats and catchy hooks. This mesmerizing album seems made for the 850 speaker. Piercing synth notes mixed with watery-sounding bass and old radio vocals in the song, "Figment" morph into a "wall of sound" that the 850 handles well. All the musical elements can be heard – despite the fact that there is a lot going on.
The long – and gorgeous – Symphony No. 9 in D minor, Op. 125, 'Choral': IV from Beethoven starts very quietly with strings, but by the time the chorus kicks in, it's full-blown, organized mayhem. The choral parts cover all the frequencies, and the Braven 850 plays them all with no discernible distortion. I played it loud, because it really has to be played at max volume for full effect. Did it rival separate stereo speakers? Nope. The 850 wasn't designed for that. The bass didn't approach the depths of my speaker setup, but it came closer than I thought it would or could. Given its parameters and limitations, the 850 did quite well.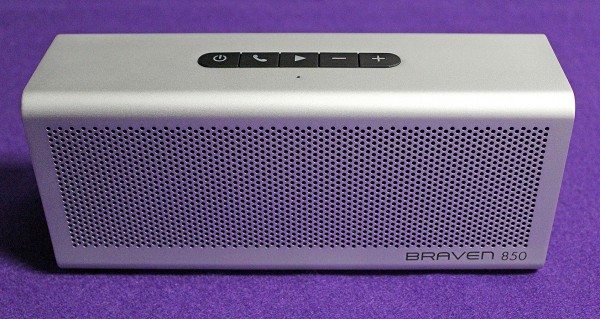 The Braven 850 Speaker is a remarkably good-sounding speaker for its size. Given the progress that Braven, and other portable wireless speaker companies, has achieved, the audio quality of the 850 is not be as surprising as it might have been 3-4 years ago. However, that doesn't diminish what Braven has accomplished with this speaker.
Product Information
Price:
$279.99 US
Manufacturer:
Braven
Pros:

Massive sound with clear audio and accurate bass
Lots of power
Well made
Long battery life
Can charge devices

Cons:

SRS WOW HD is disappointing
Expensive – and very expensive when paired for stereo
Pressing and holding button – or not – can be confusing
Best quality Bluetooth does not work with Apple devices
Wireless is Bluetooth only