We use affiliate links. If you buy something through the links on this page, we may earn a commission at no cost to you. Learn more.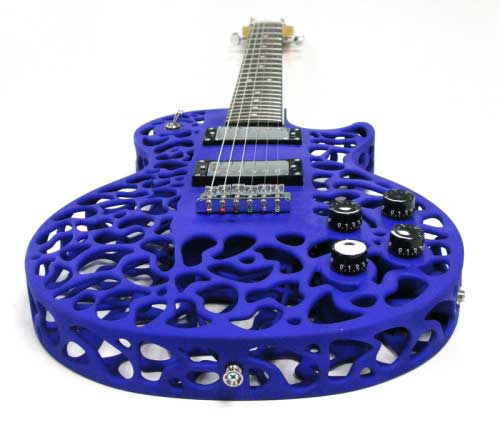 For years I dreamed about building my own guitar, which more recently turned into a dream to build my own ukulele. I even dabbled in the craft by putting together a mini electric guitar from a kit that I purchased from Stewart McDonald. Unfortunately it turned out to be a wall hanger and not a playable instrument. Then a few years ago I built my own cigar box guitar, which after some trial and error, turned out to be a decent instrument. The problem with building wooden acoustic instruments is that you need special tone woods to make the instrument "sing" and you also need wood working tools along with the skill to use them. I'm wondering if 3D printing is going to change all of that. At least for hobbyists who are impatient and want almost instant gratification. Want a new guitar? No problem, just turn on your printer and in a few hours you'll be ready to strum.
As an example, check out that really cool electric guitar in the image above. It was designed and printed by Olaf Diegel, a professor of Mechtronics at Massey University's School of Engineering and advanced technology in Auckland, New Zealand. Olaf combines his 3D printed nylon guitar body with a traditional (wooden) neck and electronics. You can see more images of his creations here.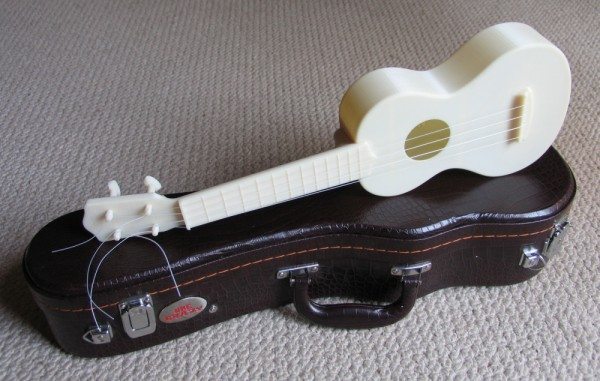 Here's an example of a ukulele made entirely of 3D printed parts. The only parts that haven't been 3D printed are the strings. This one really excites me and makes me want to jump into 3D printing. I'd love to be able to design and "build" instruments that actually sound good, like this one:
or this one:
What's great is that a lot of the model files for these instruments are available for anyone to tinker with and try on their own printer – for free. The person above modified the original ukulele printer models so they could be printed on a smaller 3D printer.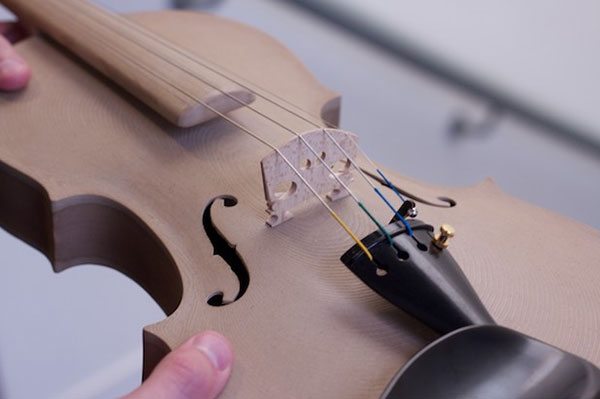 If guitars and ukuleles are not your thing? How about a 3D printed copy of a Stradivarius violin?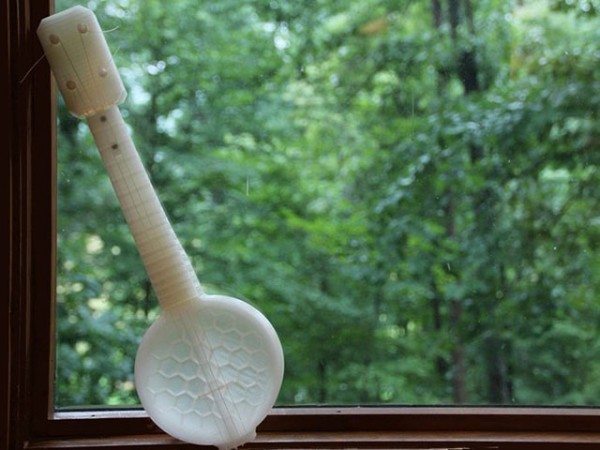 Or a banjo.
There's even a 3D Printed Instruments wiki page with links and videos to all sorts of projects from flutes to rattles.
There's no doubt that a plastic instrument is not going to sound as good as a wooden instrument, but as the prices for 3D printers continue to come down, I think we'll be seeing all sorts of innovations and new designs from digital luthiers that may also help traditional luthiers.
The idea for this article came from another article I read on Hackaday.